2nd WIP Finished: Flower Embroidered Pouch for my Net Bag!- easy DIY needlework how to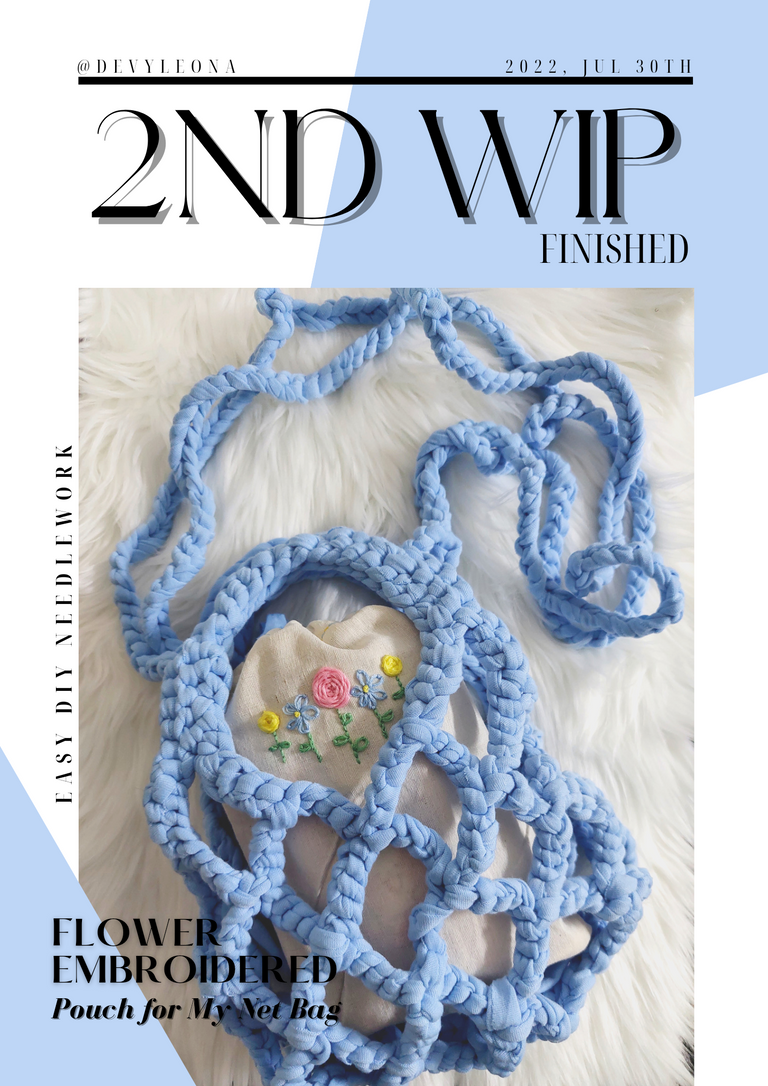 ---
Hello, friends especially needleworkers @needleworkmonday community!
---
I am still continuing my the WIP challenge by this community
https://peakd.com/hive-127911/@needleworkmonday/needleworkmondays-wip-challenge
And this time I would like make my embroidered flowers as the pouch for my net bag which was my first wip finished, as you could see how I made the bag here
https://peakd.com/hive-127911/@devyleona/first-wip-finished-mini-net-crochet-bag-easy-diy-needlework-how-to
The project I will share today is a continuation of my abandoned lost project haha, I only hand embroidered it without any ideas to continue, even I had forgotten about it. If you interest in how I made this cute embroidery you could see my past article at the link below
https://peakd.com/hive-127911/@devyleona/little-flower-garden---easy-diy-hand-embroidery-how-to
one reason that I finally finished this embroidery flowers was because @crosheille also loved it, I would be very glad if she also likes the final result..
---
At first I would like to add some patch on it but then I changed my mind because the fabric I had was enough to make a pouch, so how I made it… not hard but it was really match with my net bag.
---
Project Time:
I took around 3-4 hours in doing the handsewing to this.
---
Difficulty:
Easy
---
Materials & things needed to complete this project:
Cute flowers embroidered natural fabric
T-Shirt yarn
Measurement tape
Straight pins
Scissors
Sewing needle
Sewing thread in white, soft blue and yellow
---
Skills needed:
Back stitch
Running stitch
---
How to make it:
---
1ST
I measured the size of the embroidered fabric then I cut some of unused fabric. Then I folded around 1.25 cm on the top of it then put the pins on the top. I put the yarn inside because it would be the area for the drawstring yarn. And I made the embroidery more on the top because it would like to make sure it would be popped in the bag when I put it inside.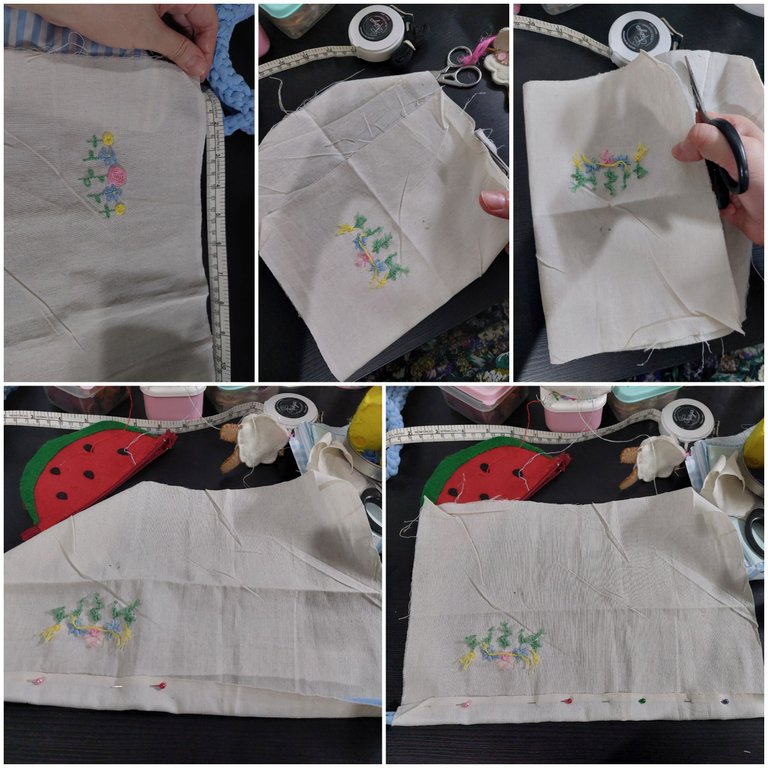 ---
2ND
Next I did the back stitches for the side of it, then I trimmed the fabric on the bottom. Also I did the same for the bottom part. For this back stitches I used double strands of the white sewing thread.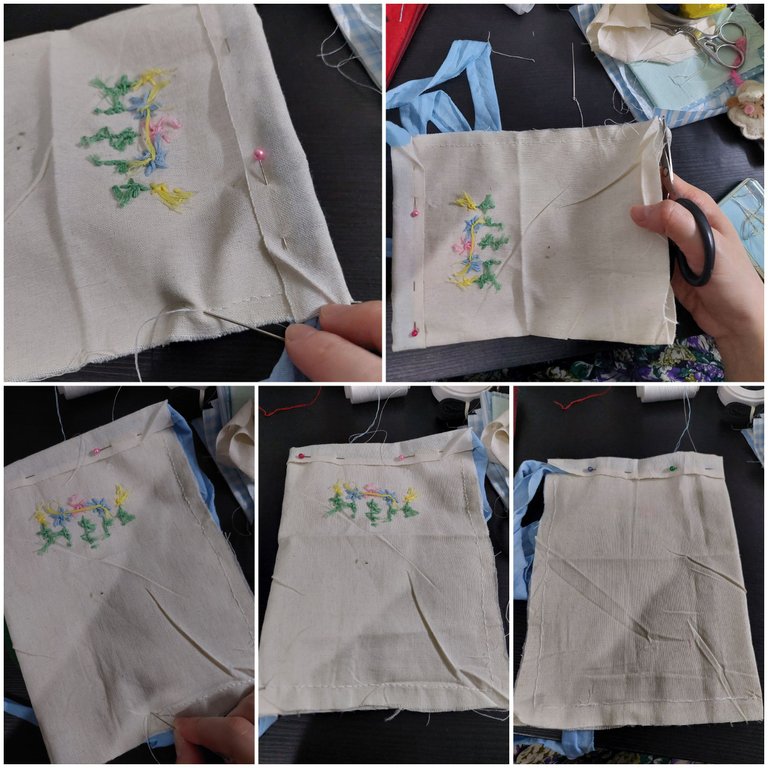 ---
3RD
Then I did the running stitch for the top. I made sure it wouldn't sew the tshirt yarn I put inside. First I started with yellow like below.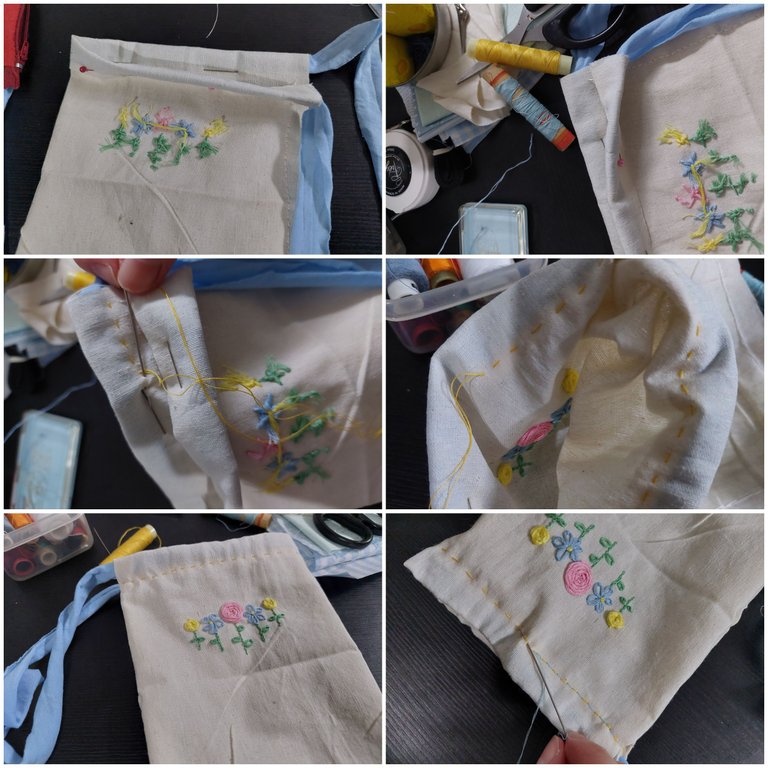 ---
4TH
Then I covered the area between each yellow stitches with soft blue, I also made the running stitches for these gaps. After finished, I cut the yarn but I left some so it would enough to knot.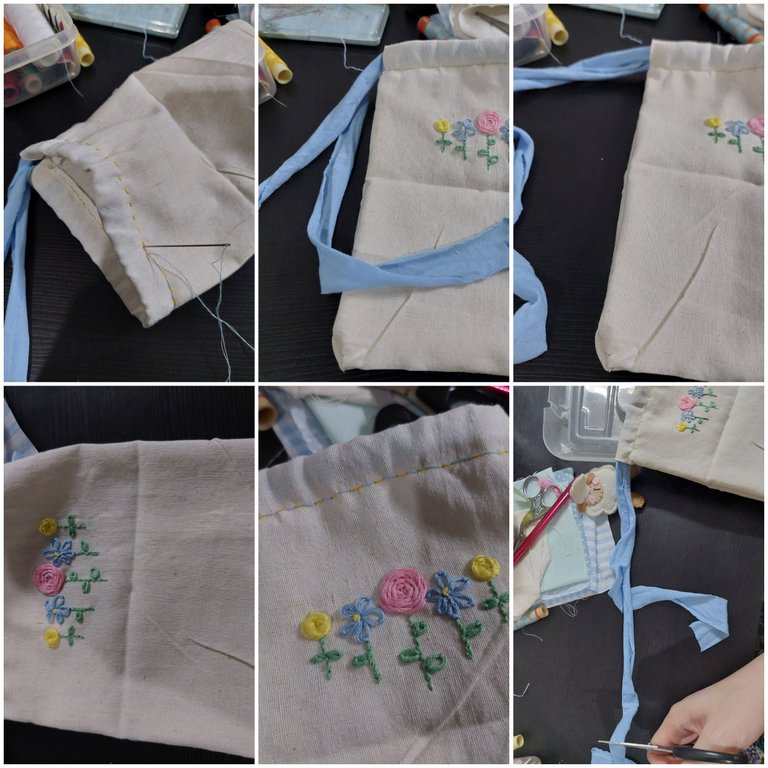 ---
I finished it, then I tried to put some things inside, quite large… But what make me waiting in heartbeats would it be really match with my net bag?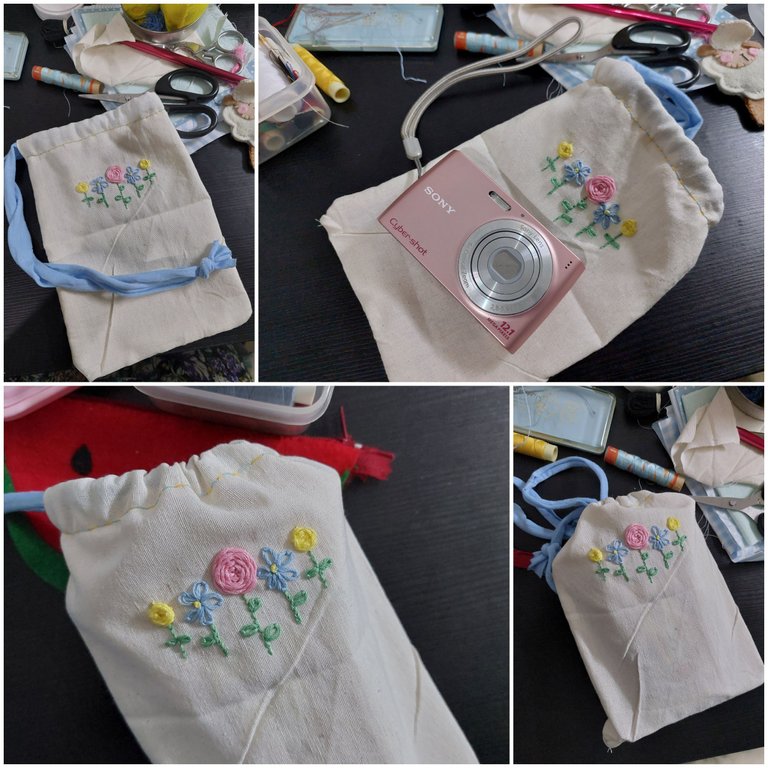 __
TA DA, they are really match each other. The embroidered flowers popped out as I had prepared for.. it also could cover my phone if I put it in. Look they could be put together, the embroidered drawstring pouch inside the bag then the amirigumi flower on the top.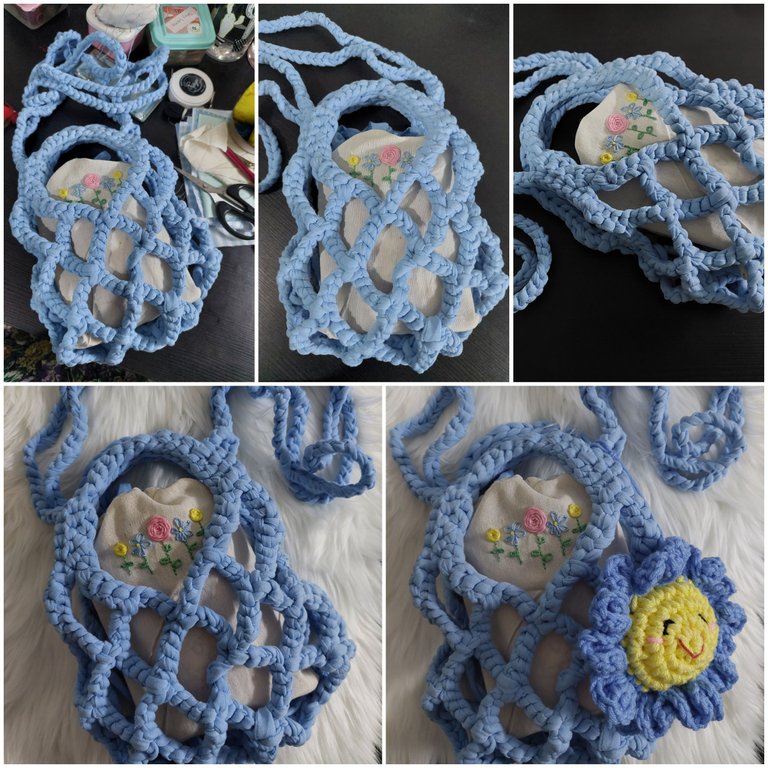 Aren't they cute?
---
Thanks for reading my article, if you enjoy my article, upvote, reblog, follow me and stay tune for more CRAFT things from me!
---
All of the pictures were taken with Samsung A52 5G android phone and I used canva to make my cover picture.
---
---
A bit about the author
---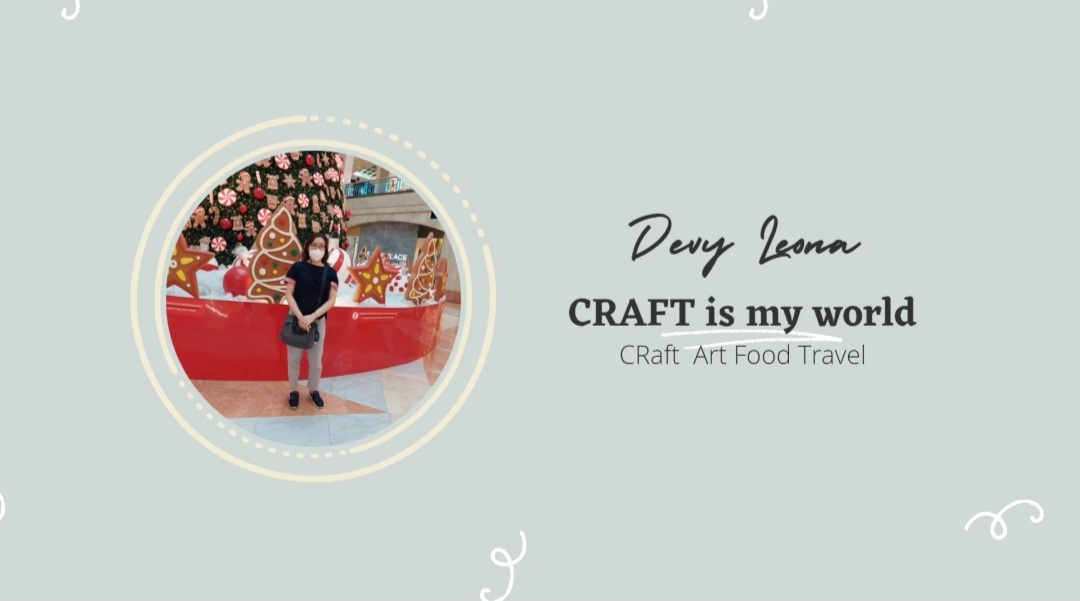 ---
---