What we had in this Sushi Heaven? (A place with a USD one price Sushi)

---
---
Hello, friends especially foodies!
---
Last weekend Mom and I went to one of our favorite shopping center because i needed to update my android tablet software. There we had our lunch on a restaurant at 5th floor west mall, you could find it behind Food Print, the food court there.
---
THE RESTAURANT'S OUTLOOK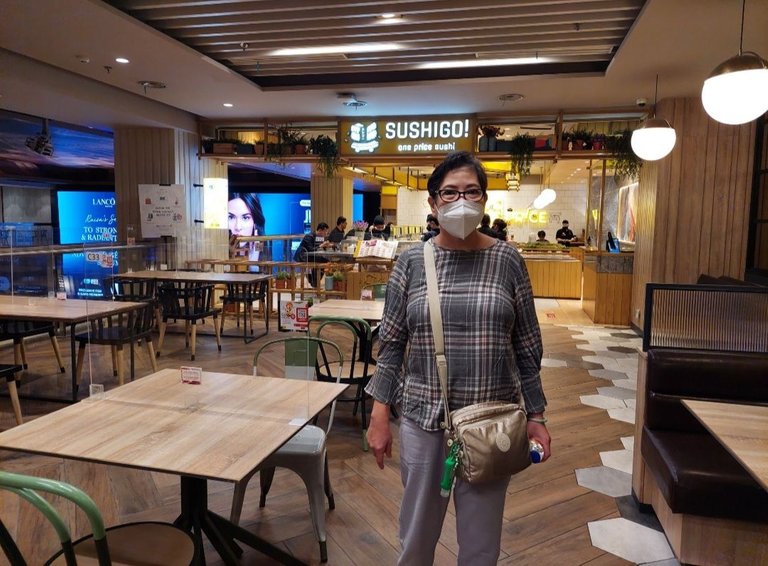 As you could see, in front of the restaurant, there were tables of the food court.. yes like i said before it was blended perfectly behind the food court or you could say a bit hidden, the benefit would be you could find the table outside when inside was full.
When you entered the restaurant, all the waitress and waiters here would said 'irashaimase' which means welcome in Japanese language.
---
THE MENU
Here they had the menu in book and also digital.
Some of their menu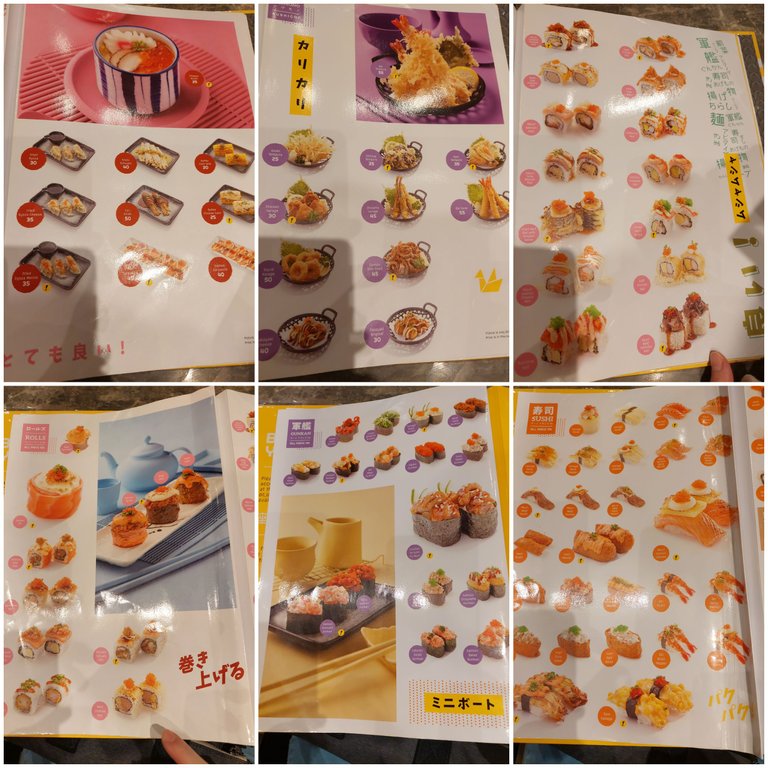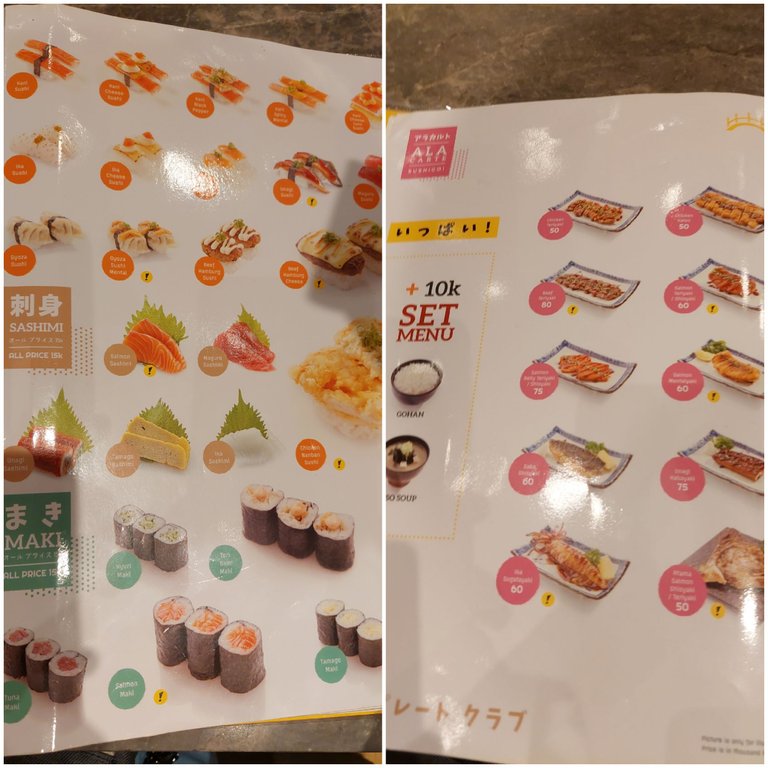 Some of their digital menu
Like the name of this restaurant, the special menu here was SUSHI, and they had many variants of SUSHI, from sushi roll until gunkan. They had many kind of sushi here, no wonder that i called it a sushi heaven, besides this place is the one and only place which sold all sushi plate in one price, only around 1.1 USD.
They had the sushi belt here where automatically turn around the area so you could pick what you want..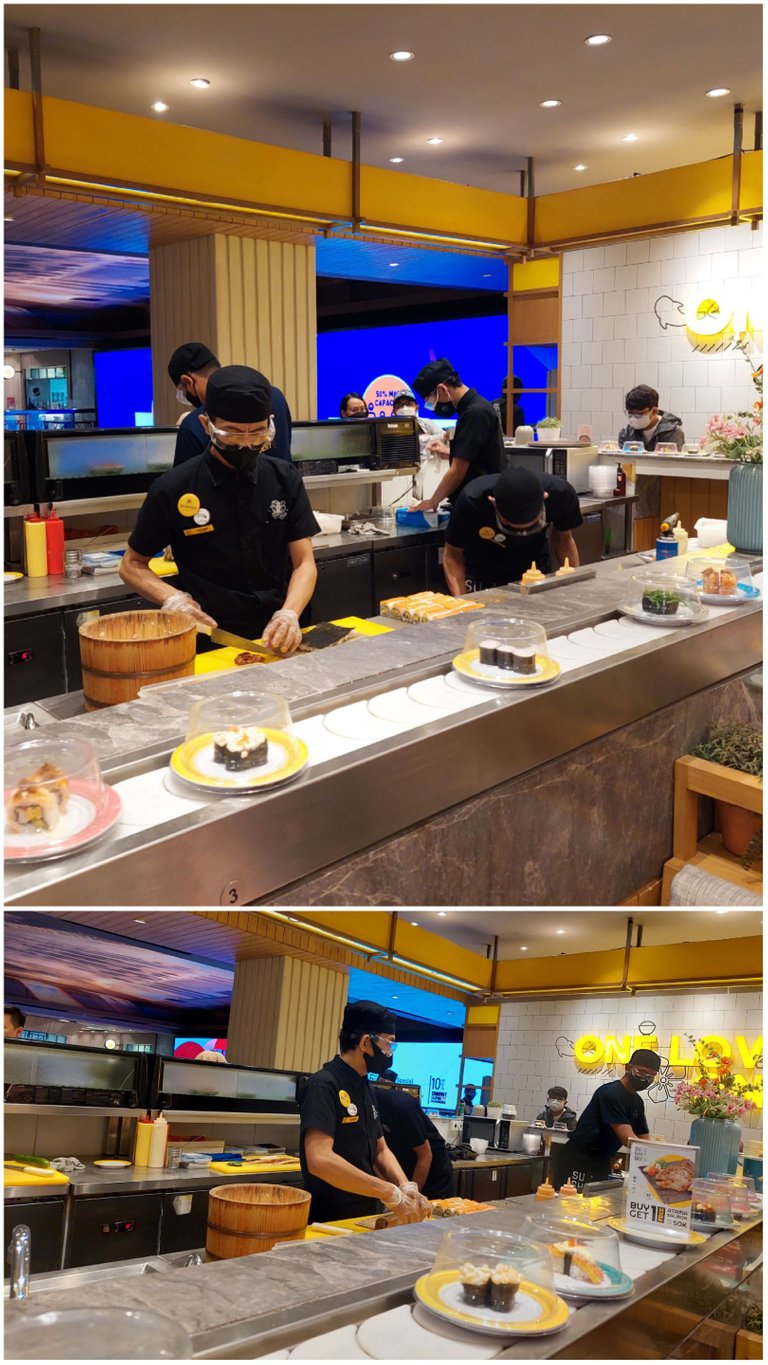 And also beside sushi, here they had many Japanese menus like fried rice, yaki soba, tempura, gyoza and others.
Our waitress could explained the menu well plus she didn't make any mistakes in writing our order, the person also nice and polite. Good service they had!
---
THE DINING AREA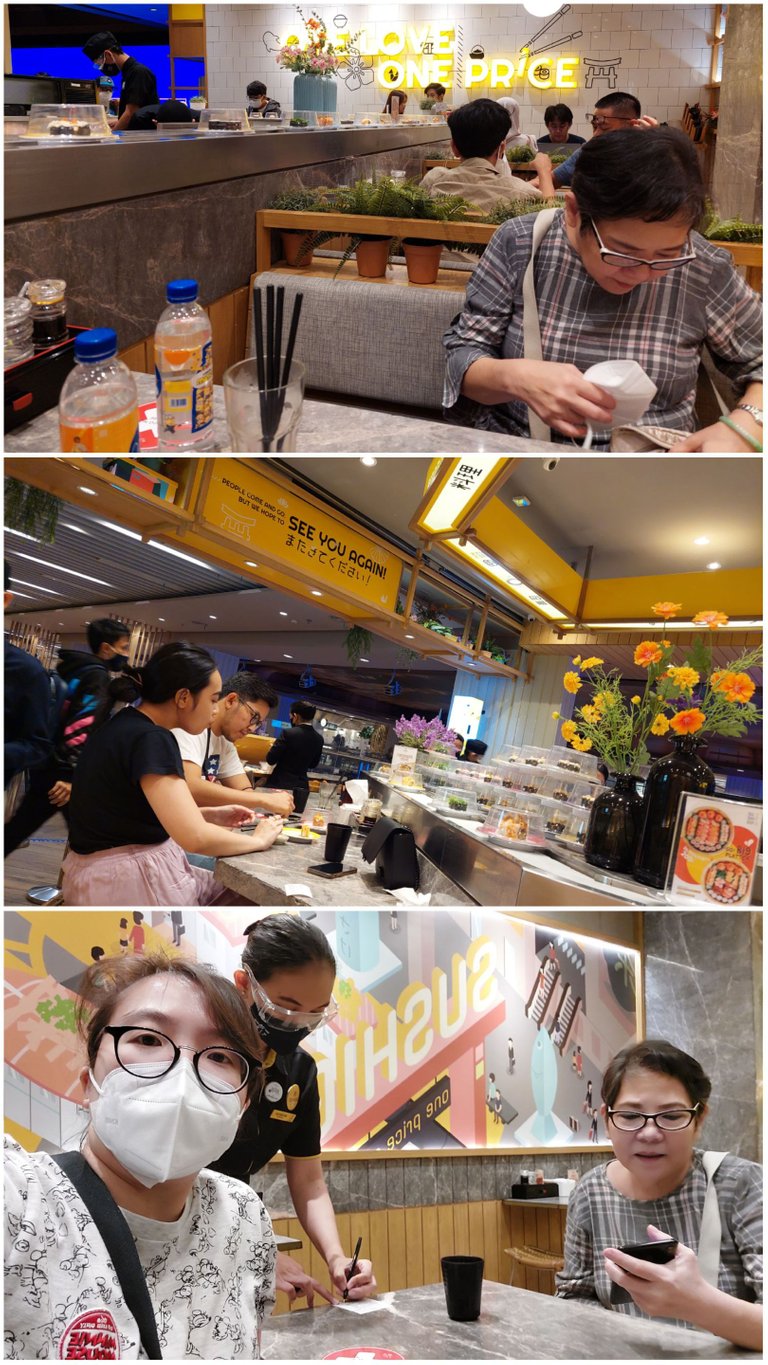 The place was not too large but it was warm, dominated in yellow color and had wooden furniture. Luckily we got our seats in the soft sofa, and this was our second visit to this place.
---
THE FOOD AND THE OUTLOOK
Here what we had, that day, because they delivered our menus not at the same time so i made a collage of what we had that day...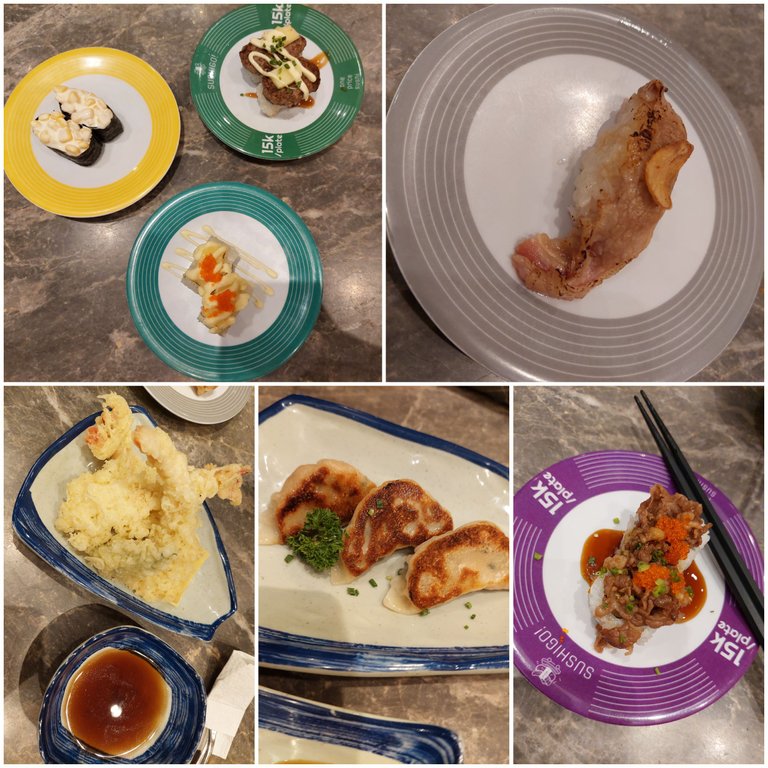 The menu that we ordered were corn salad gunkan, beef cheese roll, beef hamburg cheese, aburi beef sushi, ebi tempura with gohan (rice), gyoza and also beef yakiniku roll. I wrote it down based on their delivery time, which means the corn salad gunkan came first and the others came later, with the beef yakiniku roll as the last one that came. The different time between each menu cause all the sushi here were freshly made after you had ordered it.
---
THE TASTE & THE FLAVOUR
The first menu we had was this CORN SALAD GUNKAN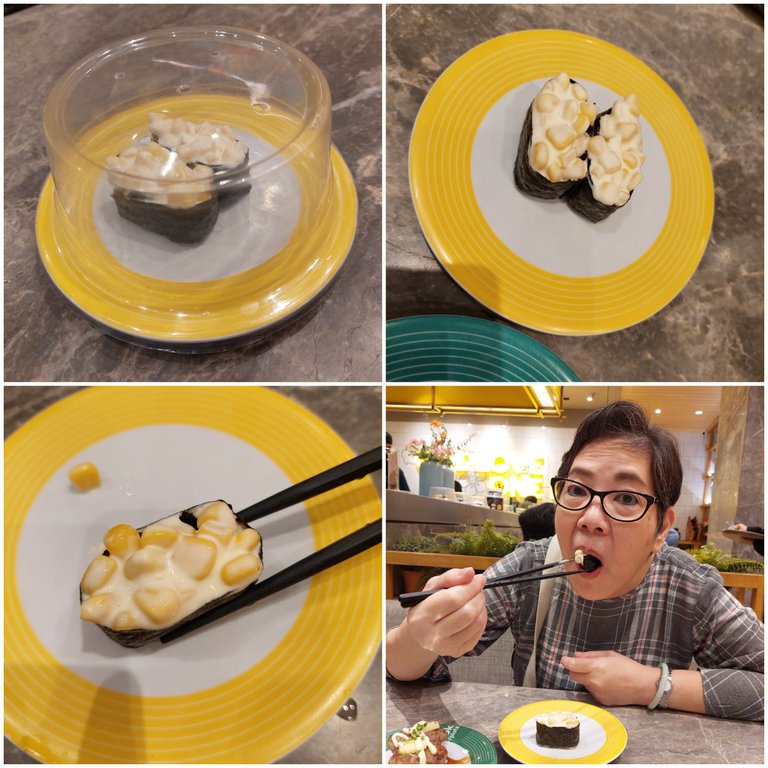 it had the corn salad inside with the nori (seaweed) as its wrap. It had sweet corn flavour with the sweet sour mayonaise dressing, so delicious and fresh. Both of us like it!
The second menu we had was BEEF CHEESE ROLL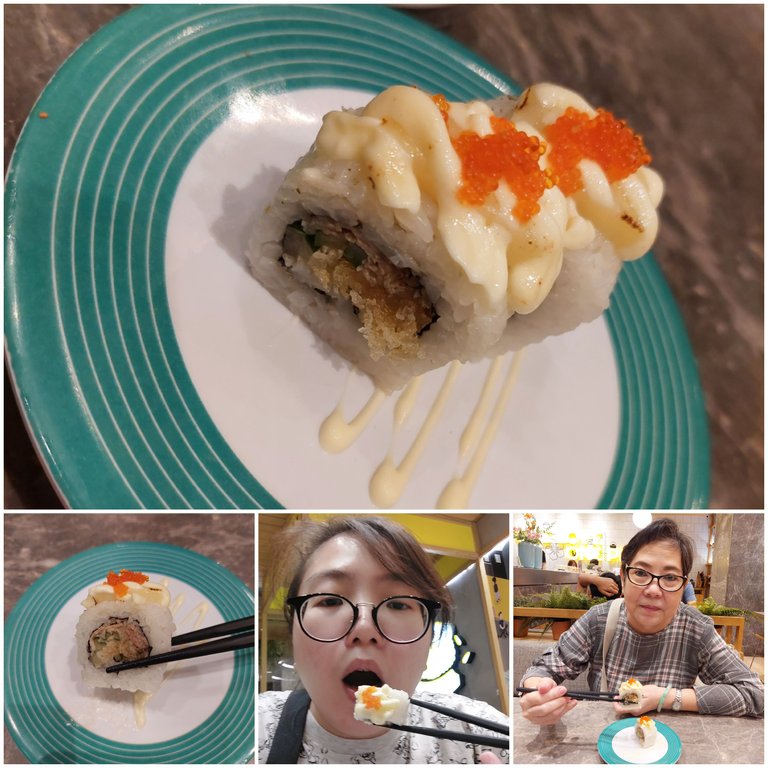 It had the fried crispy inside with the beef,c heese, cucumber and nori. Plus it had fish egg on the top. It had savory flavour and nothing special with this menu.
The third menu we had was BEEF CHEESE HAMBURG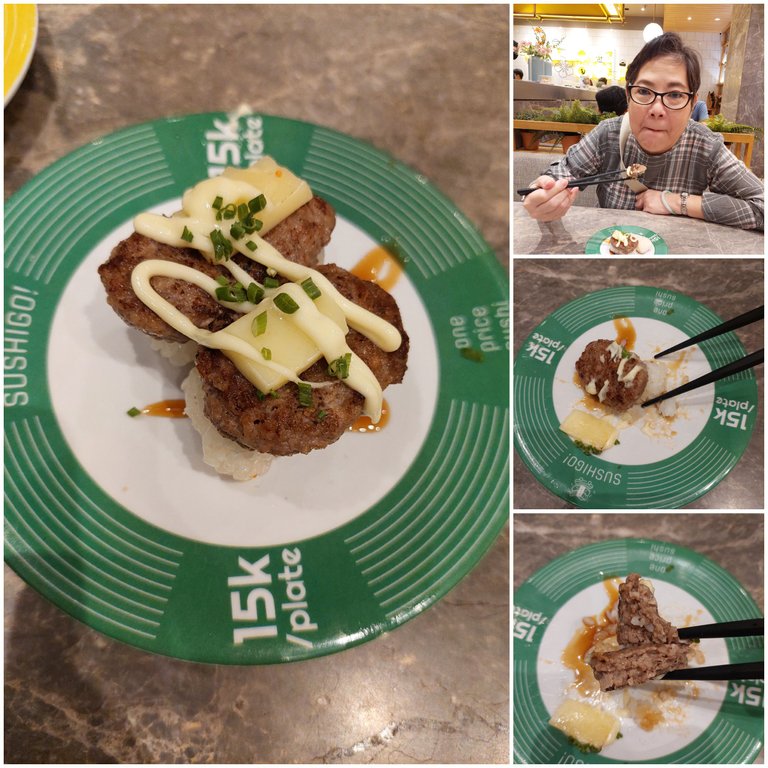 With savory flavour and served hot, this menu was the best sushi we ever tasted, i mean it is really delicious with the beef hamburg and cheese on the top. The beef was soft with tasty savory flavour under was the warm japanese rice. All plus cheese was a complete match. BOTH OF US LOVE IT MUCH!!!
The fourth menu we had was ABURA BEEF SUSHI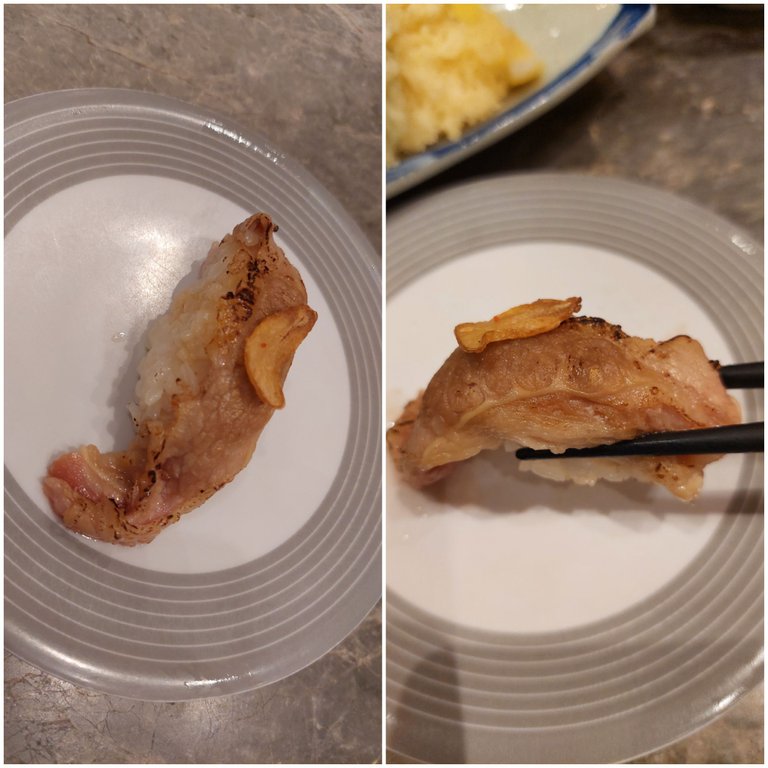 It had the sake flavour somehow, the beef was roasted with a fried garlic on the top. It was savory and sour, mom didn't like it but i said this was just fine, besides the beef slice was soft.
The fifth menu we had was their EBI TEMPURA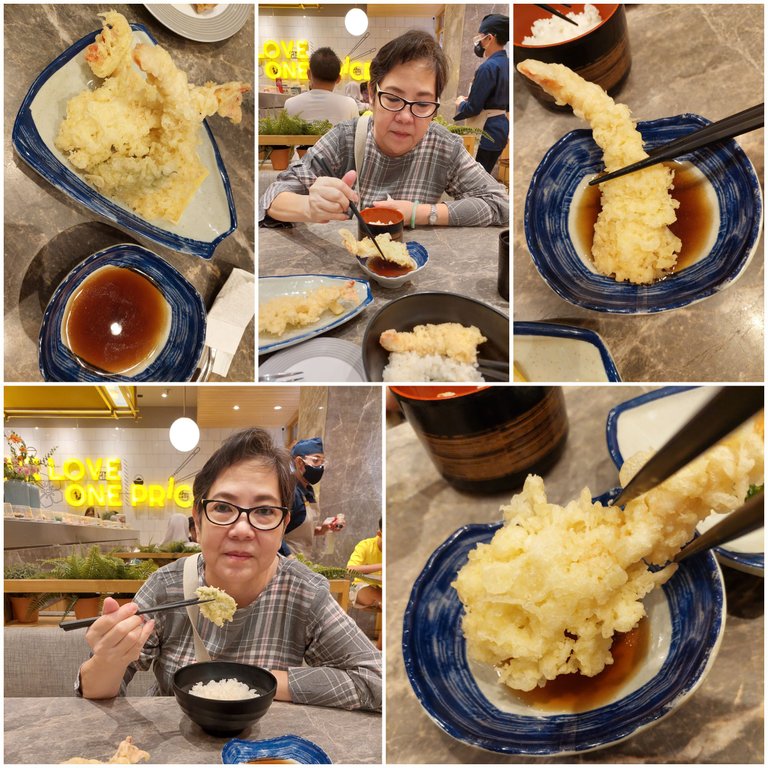 a portion contained 3 pieces of ebi tempura and one piece of paprika tempura. It looked not too good outside, like a bit hard on the flour but when we tasted it.... Hmmh so yummy cause it was crispy but soft in savory flavour. The shrimps they used were fresh. Perfect tempura they made! Try it yourselves and one is never enough, plus they served it with warm tempura sauce in savory, OISHII! and we had this tempura with gohan.
The sixth menu we had was their CHICKEN GYOZA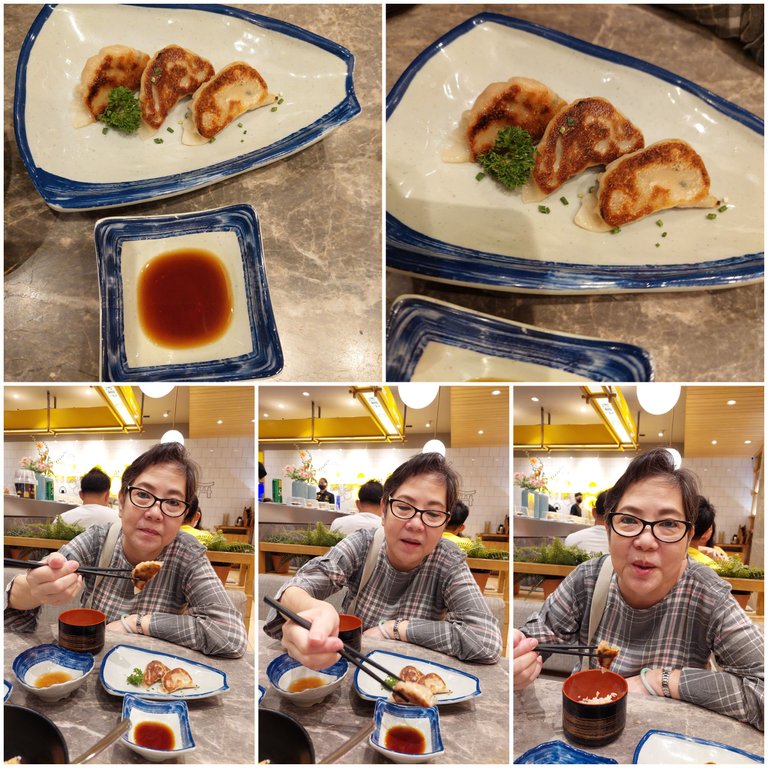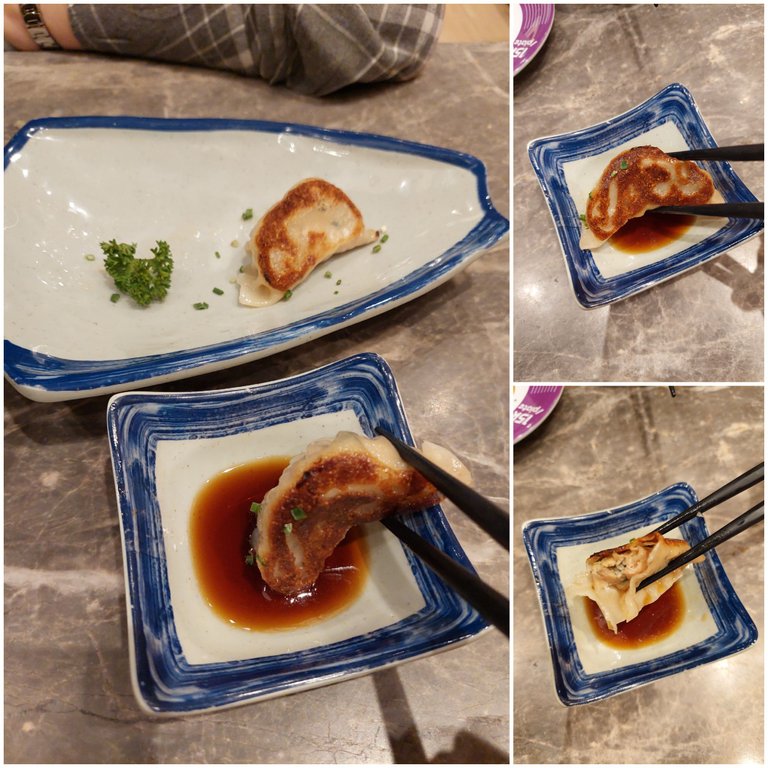 It had tasty savory flavour with chicken filling inside. They had medium thickness of skin and served with savory sour sauce. Not the best we ever had, but a bit healing to our miss of gyoza....
The last menu we had, the seventh, was their BEEF YAKINIKU ROLL.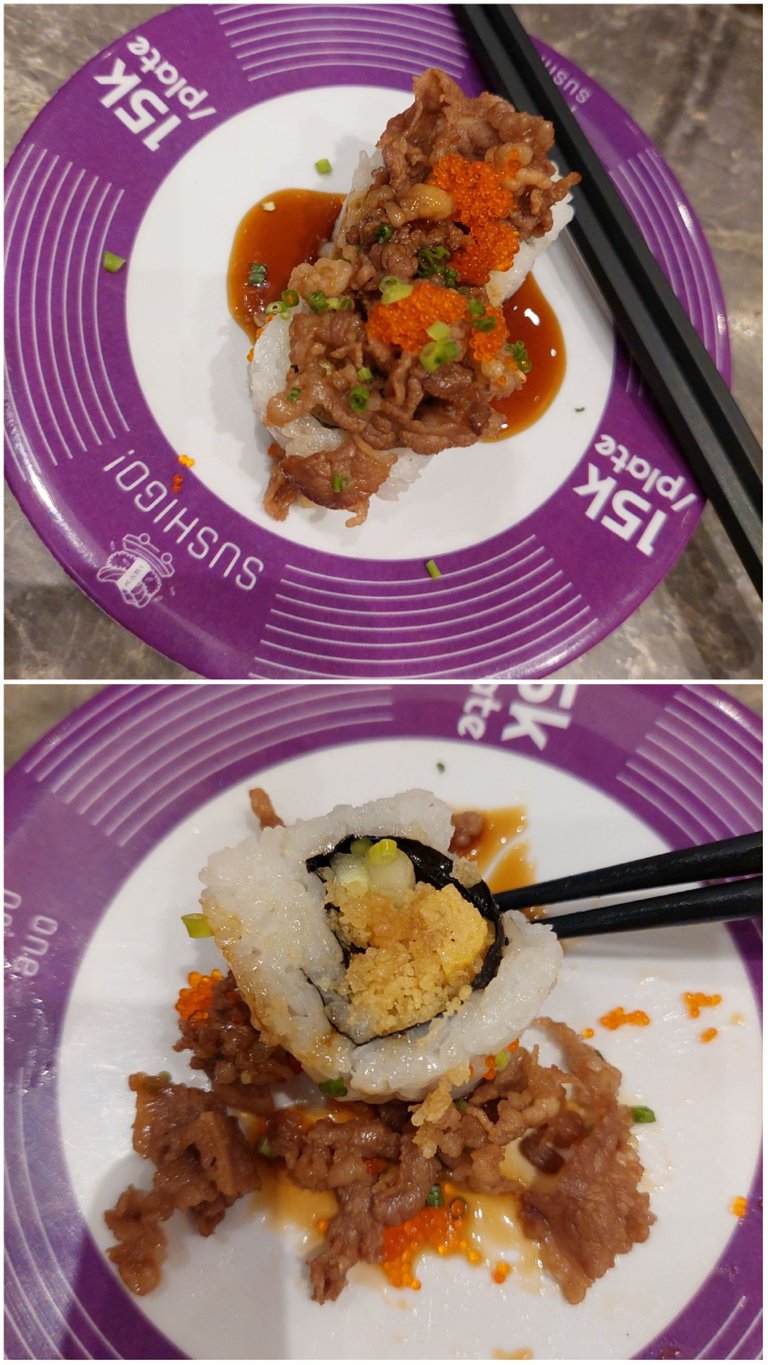 What we had here actually the savory sweet beef yakiniku on the top, inside were fried crispy, nori, and cucumber. This was also not a special one they served.
What we would miss and surely reorder next time would be their beef cheese hamburg and also tempura plus their corn salad gunkan. By the way they also had a 5K IDR (around 0.3 USD) free flow ocha (green tea) that was tasty and fresh too!
---
THE PRICE
After finished our lunch we paid 206,938 IDR or around 15 USD included the service charge and tax. I think the price is fair cause we had a great dine in there.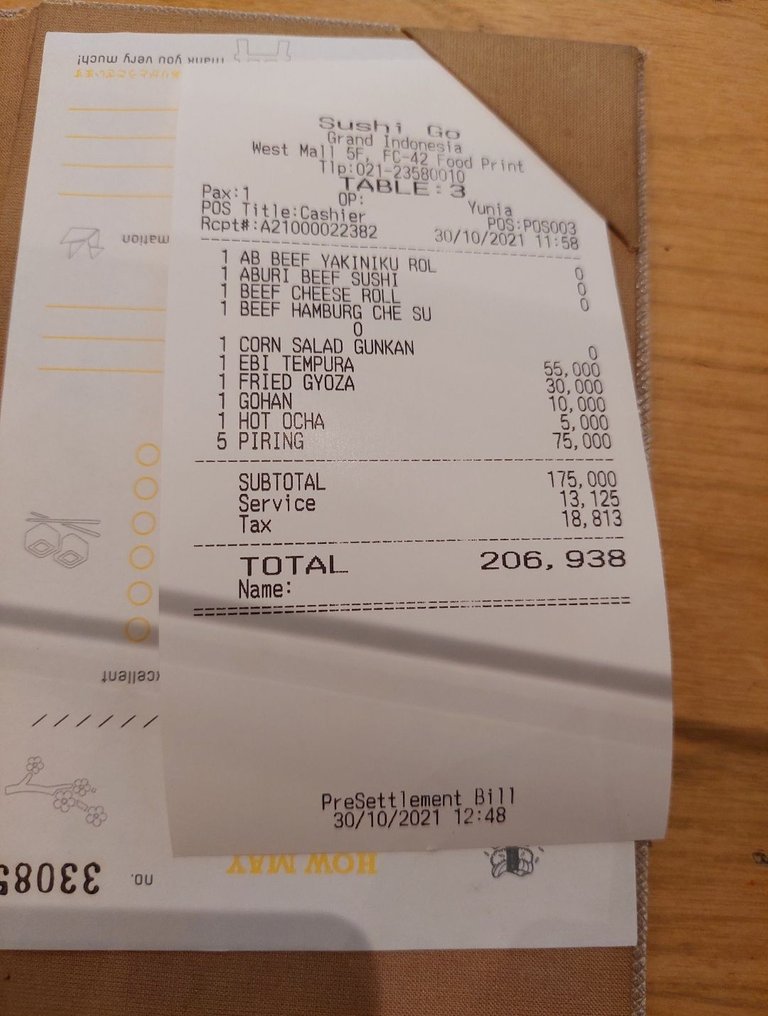 ---
SO WOULD YOU LIKE TO GO TO THIS SUSHI HEAVEN TOO?
Sushi Go!
Food Print
5th floor West Mall
Grand Indonesia
1st M.H Thamrin street
Central Jakarta
Open daily 10 AM - 9 PM
---
▶️ 3Speak
---
---