What Authentic Indonesian Heritage We Had For the Brunch?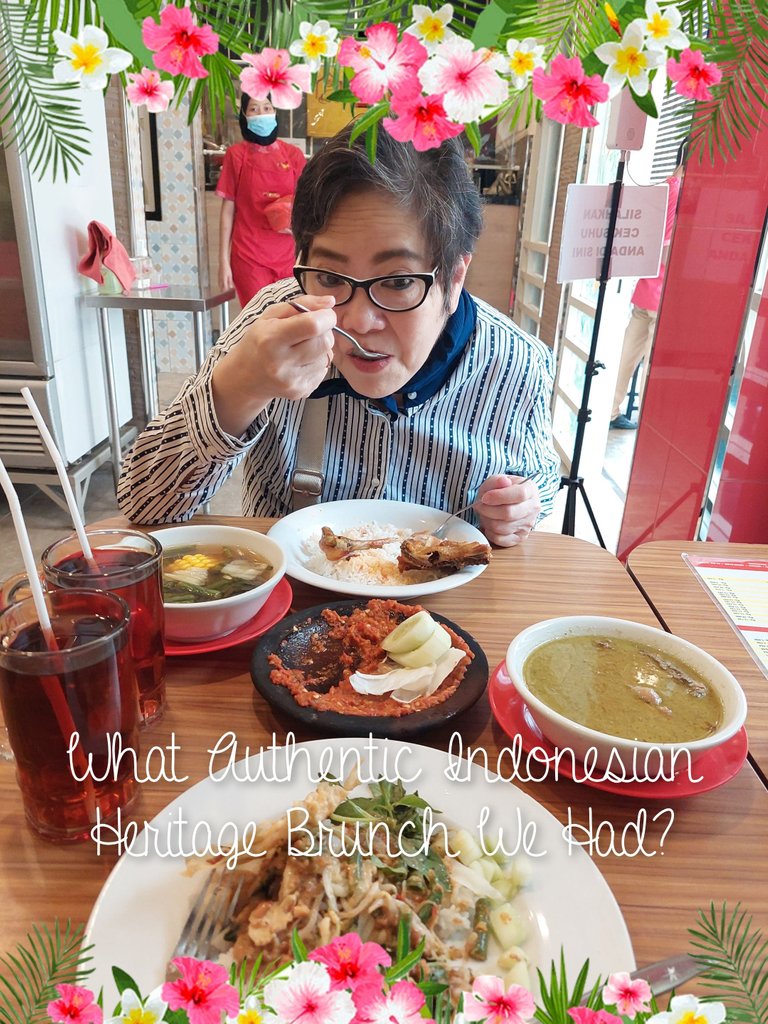 ---
Hello, friends especially foodies!
---
Yesterday I accompanied mom to get the check up in the hospital and after that we were starving so we went to the restaurant which was located not far from the hospital. This restaurant is a branch of the main restaurant which was located in Surabaya, the capital city of East Java province. In this restaurant you still could taste the authentic Indonesian heritage food, what are they? Read this article then you will know them!
---
THE OUTLOOK OF THE RESTAURANT
When we arrived there at around 10.30 am, luckily the cars on the parking area weren't many, which means not too many customers inside, when we came their online apps special stand at front of their restaurant was still empty (the picture on the top), while later some drivers came to buy some food orders of the online apps customers (the picture below).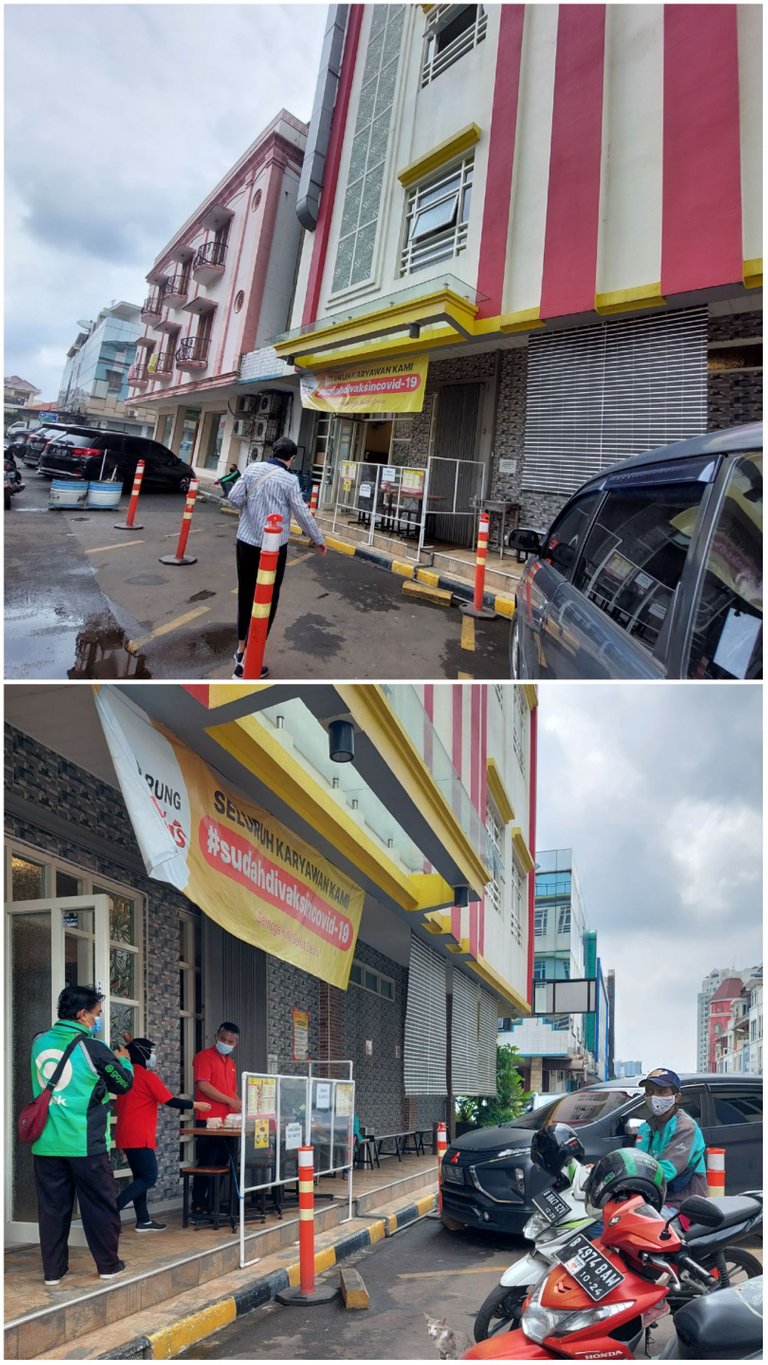 The restaurant building was not big and it was located inside the store buildings area.
---
THE DINING AREA
How lucky we were, cause mom was a bit difficult to go upstair, when we first there, we needed to go upstair to dine in, it was because they only had one dining table on the first floor..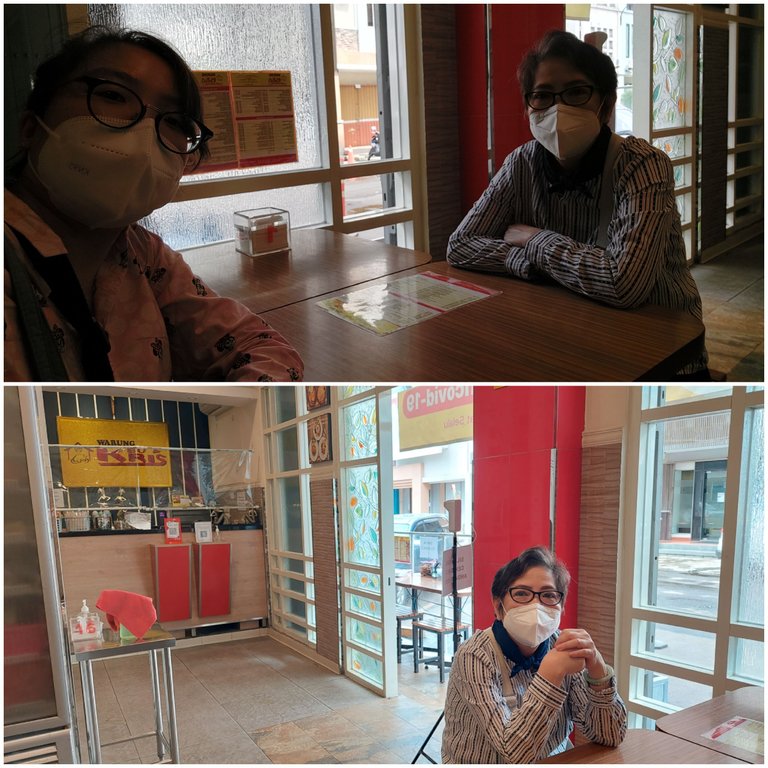 Like usually the dining area was clean and neat, plus they pasted their menu next to their table (on the window).
---
THE MENU
Here they served Authentic Heritage Indonesian especially East Javanese menus, it tasted like the authentic flavour in East Java. They hung some of their food pictures on the wall and also their menu on the window.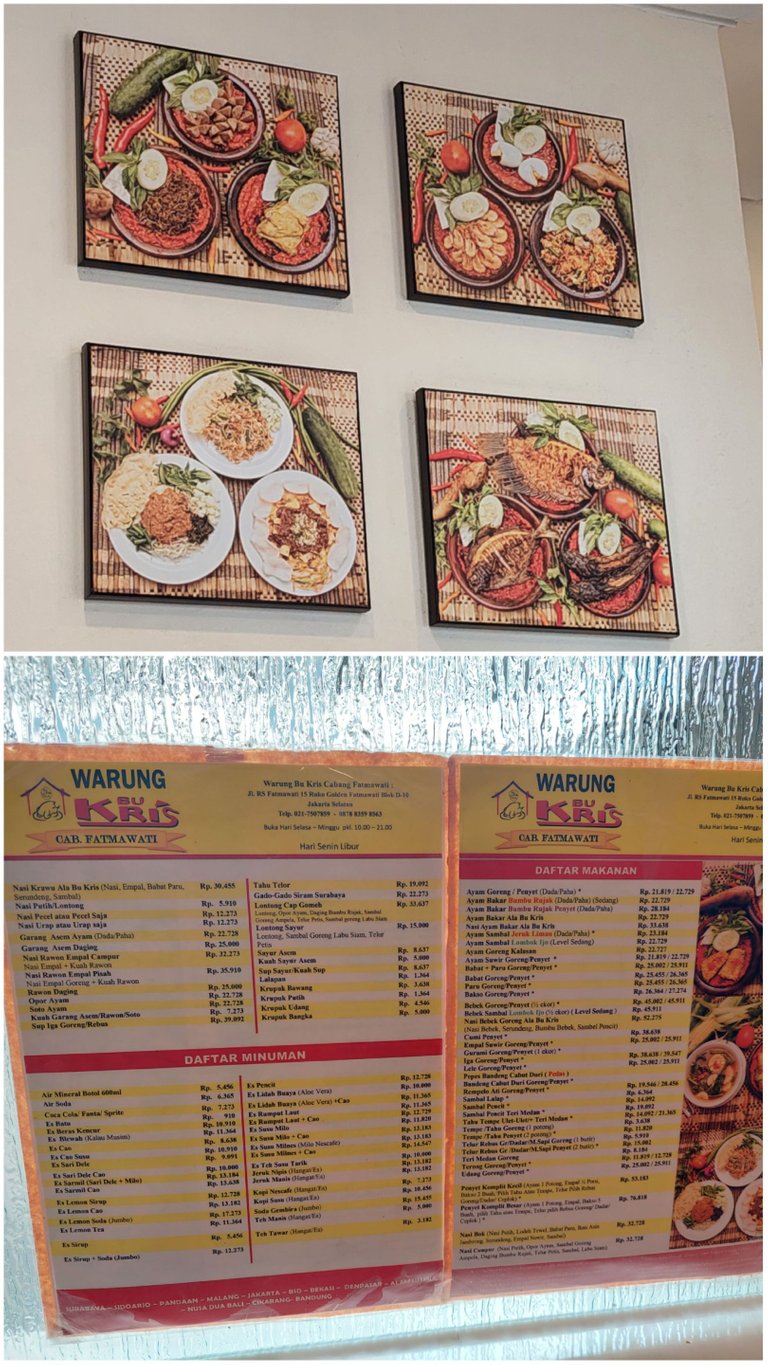 But like usually mom asked for the menu to the waiter, and here it was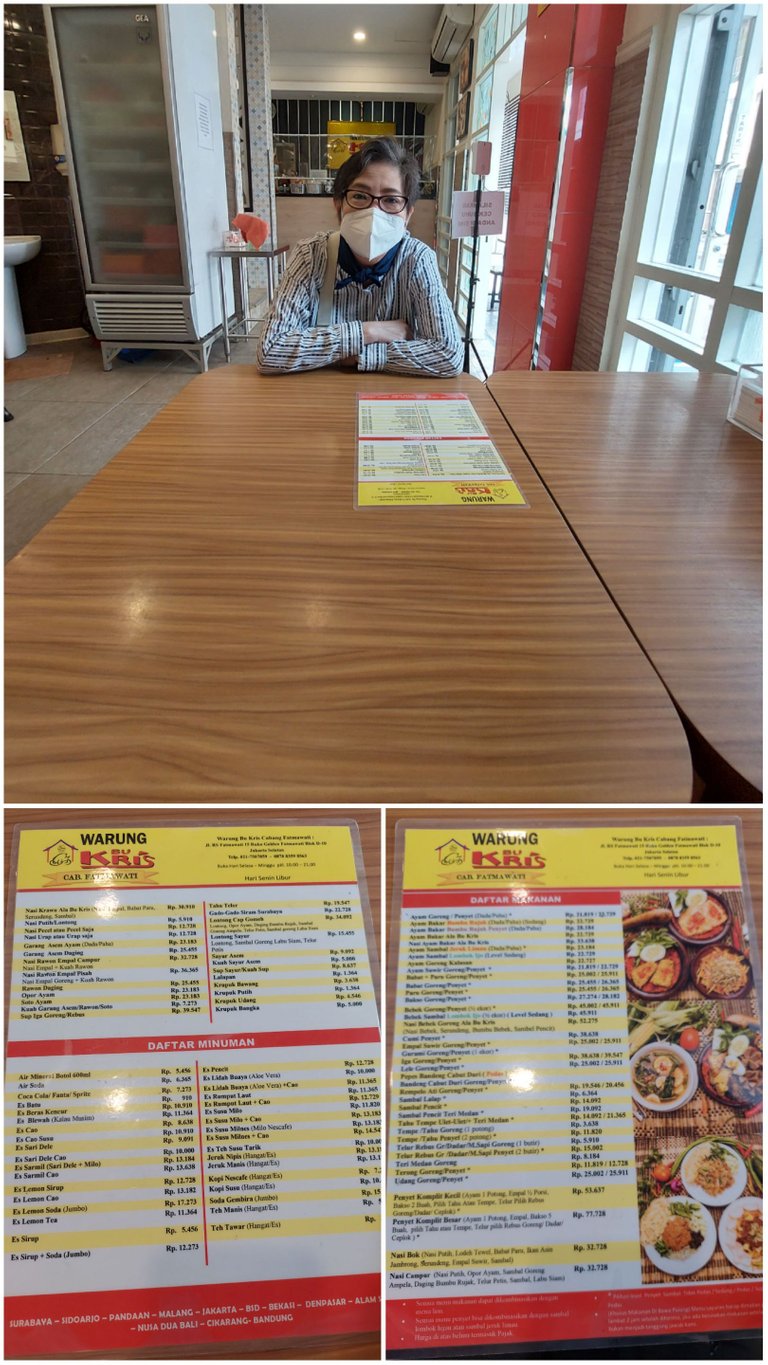 They had some heritage foodmenus here like
• Krawu Rice, actually the menu originated from Gresik, a small industry city in East Java
• Pecel Rice, originated from Madiun, a city in East Java
• Urap Rice, the seasoning was made from gritted coconut
• Garang Asem (Chicken or Meat), with the clear sour savory soup
• Rawon, Black beef soup from Surabaya, East Java
• Fried Egg Tofu
• Gado-gado siram Surabaya, with the melted peanut paste, which was different from Jakartanese
• Lontong Cap Gomeh
• Lontong Sayur
• Sour Vegetable Soup
• Soup
Plus they also had variants of smashed chicken, beef empal, meatballs even seafood, grilled chicken even opor chicken, plus they also had some rice packages here. The food menus were really many and we really wanted them all!!!
For the drinks, they had some authentic East Javanese like Blewah Iced, Grassjelly, Mango, Aloe Vera or orange. Unfortunately some of the drinks like what I missed lots like Blewah and Aloe Vera were sold out so I couldn't have them yesterday .
---
THE FOOD & THE OUTLOOK
Here were the food we had yesterday
Looked so yummy but guess what we had?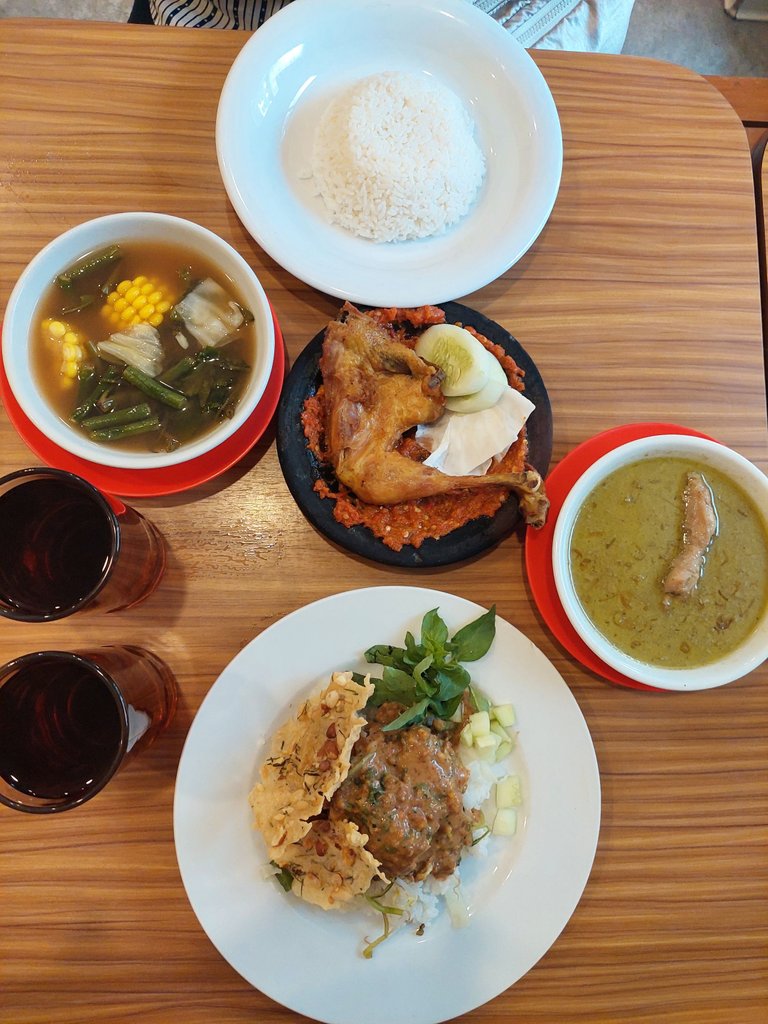 I chose a traditional with veggies but I also ordered soup with the coconut milk, while mom's I know you already known now what she had…
THE TASTE & THE FLAVOUR
Now let me share to you our authentic heritage…
PECEL RICE (In Javanese we called it SEGO PECEL, sego means rice)
From the original area it is called PECEL PINCUK, which usually pecel (boiled veggies in authentic fresh peanut sauce), with a bit of rice, wrapped in the banana leave and it usually served as the breakfast. So unique, right? But here they didn't wrap it in banana leave but don't underestimate the flavour. The vegetables like boiled spinach, beansprouts and long beans poured with the authentic peanut paste which had sweet, savory and spicy flavour with a touch of the lime leave fresh flavour, could you imagine it? Plus it also served with fresh small cube cut cucumber, kemangi leave (smelled so good), and also crispy tasty savory rempeyek (Indonesian authentic chips with peanut topping). I was so satisfied, the same taste as I usually had before in Surabaya, so authentically delicious!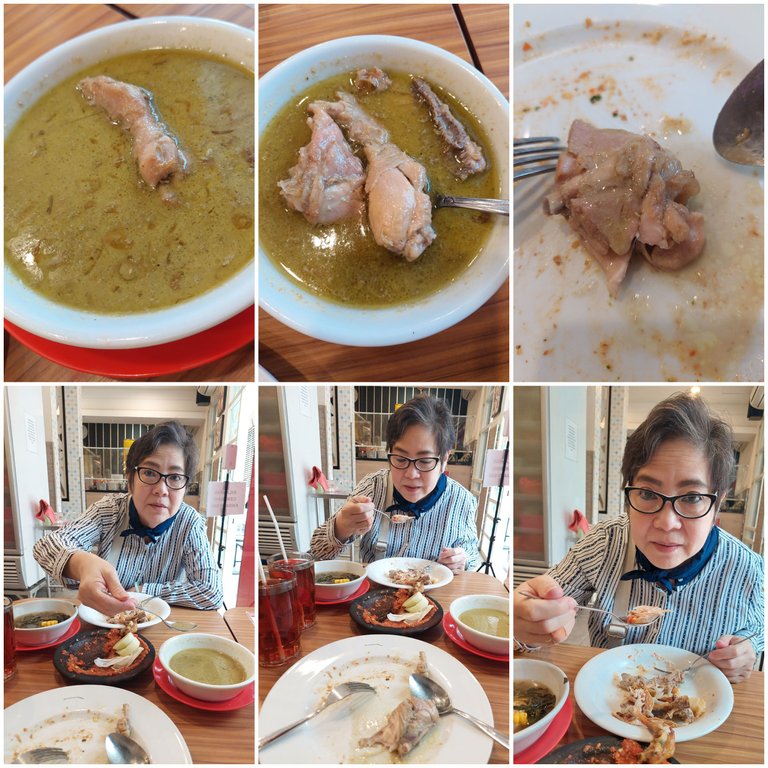 CHICKEN OPOR
This was one of Javanese another heritage, I still remembered I ate this in my childhood. And here, they made it really tasty with savory and sweet flavour. The chicken was also tasty with soft texture. Tasty even this was not the best opor I have ever tasted. To make it tastier, both mom and I put the spicy chilli paste to it.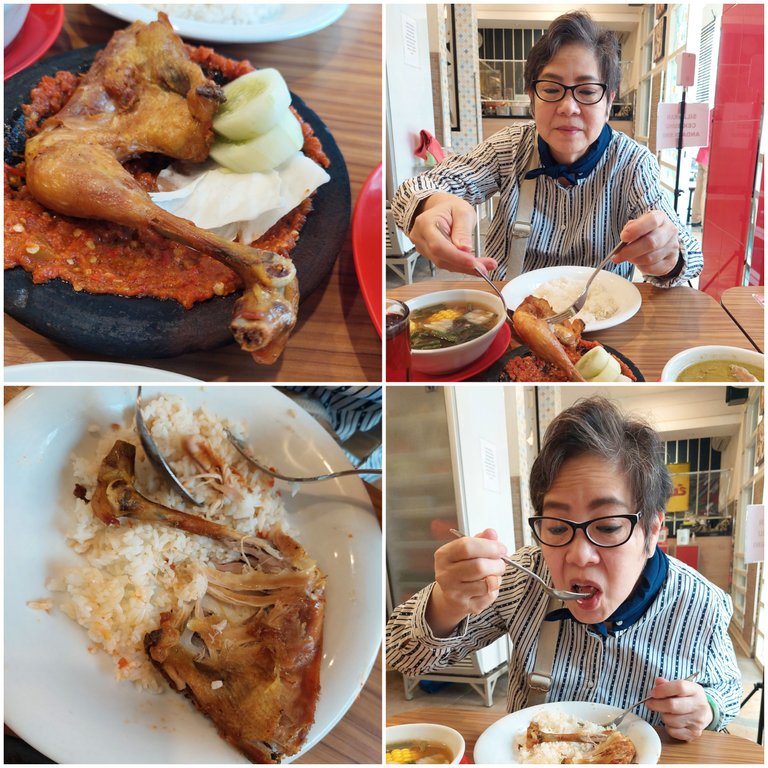 SMASHED CHICKEN
Served with cobek (the traditional chilli paste maker from the rock which looked like a plate), it actually fried chicken smashed in chilli paste. It had savory flavour with tasty sambal (chilli paste) which had spicy, savory and sweet flavour. Wanna try?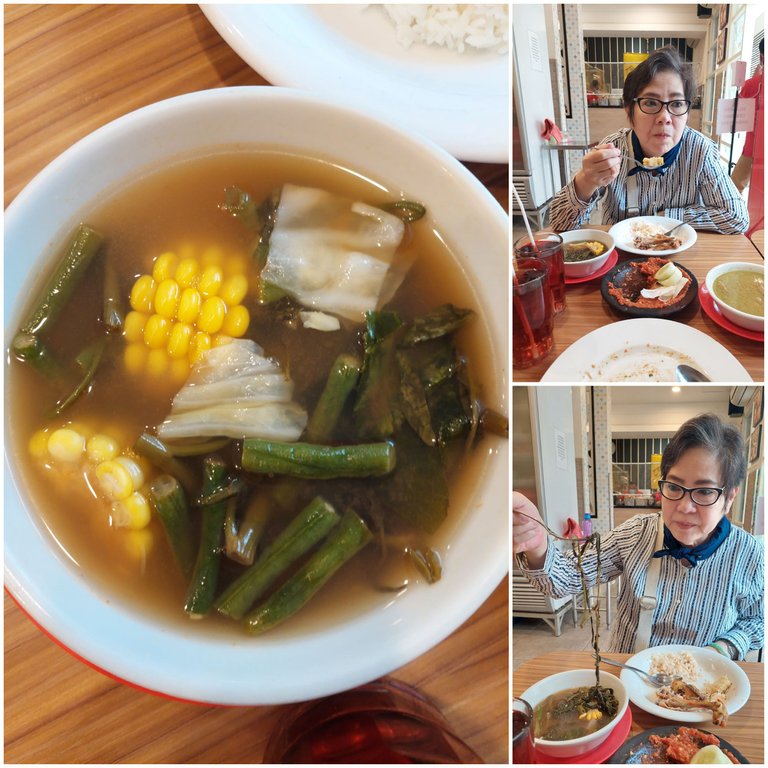 SOUR VEGETABLE SOUP
It had sour and a bit sweet flavour with vegetables inside, yesterday no peanuts and belinjo in it , it was just water spinach, cabbage, long beans and sweet corn. But their sour vegetable soup was still tasty even without some ingredients.
---
THE PRICE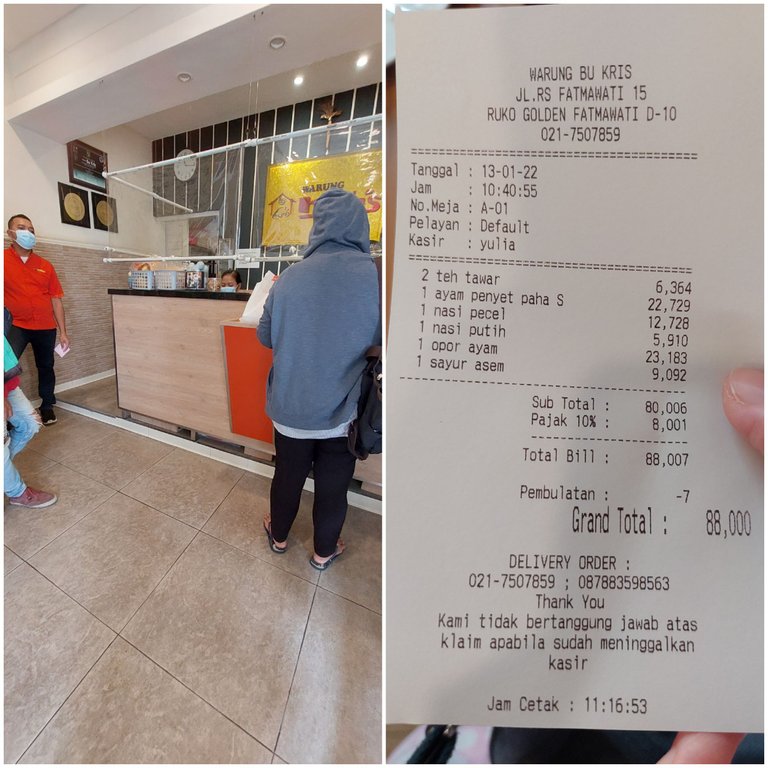 After finished our brunch, we paid, it was only 88K IDR or around 6.2 USD for our brunch plus two glasses of hot tea, look how affordable it was.. This restaurant won't make you broke and they had tasty authentic Indonesian heritage menus you could taste!
---
Thanks for reading my article, hope you enjoy it and stay tune for more CRAFT things from me!
---
Business Information
Warung Bu Kris
D10 Golden Fatmawati Store Building Area (Ruko)
15th RS Fatmawati street
South Jakarta
Open Tue – Sunday 10 AM – 9 PM
---
A bit about the author
---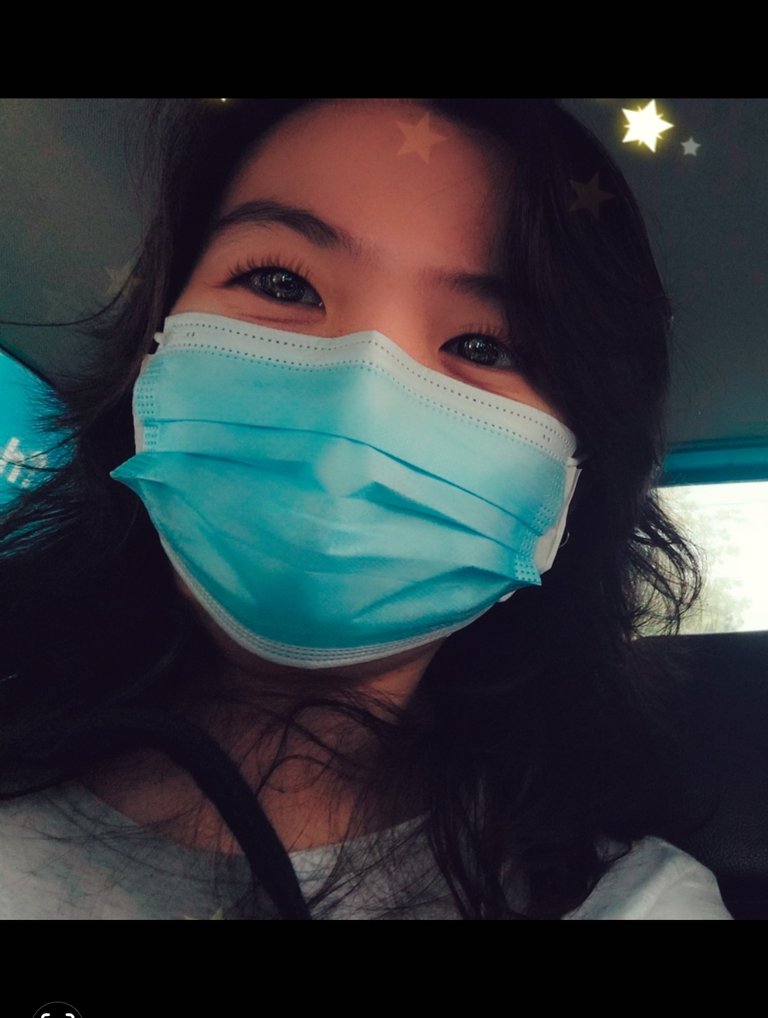 ---
---