Esculturas de Plaza Cataluña [ ESP | ENG]

No soy fotógrafo profesional ni me dedico a ello, pero la fotografía para mi es un hobby que renueva mi pasión por el arte.
Cuando la música, el audio y la pasión por el sonido se ve gastada y afectada por la rutina del trabajo este hobby me renueva, descubriendo técnicas, el arte de comunicar con imágenes y la magia de la luz.
Aprender algo nuevo y fresco me desconecta y me da alegría mientras me supero dando pequeños pazos en este arte que es otro mundo distinto al que conozco, el de las ondas sonoras.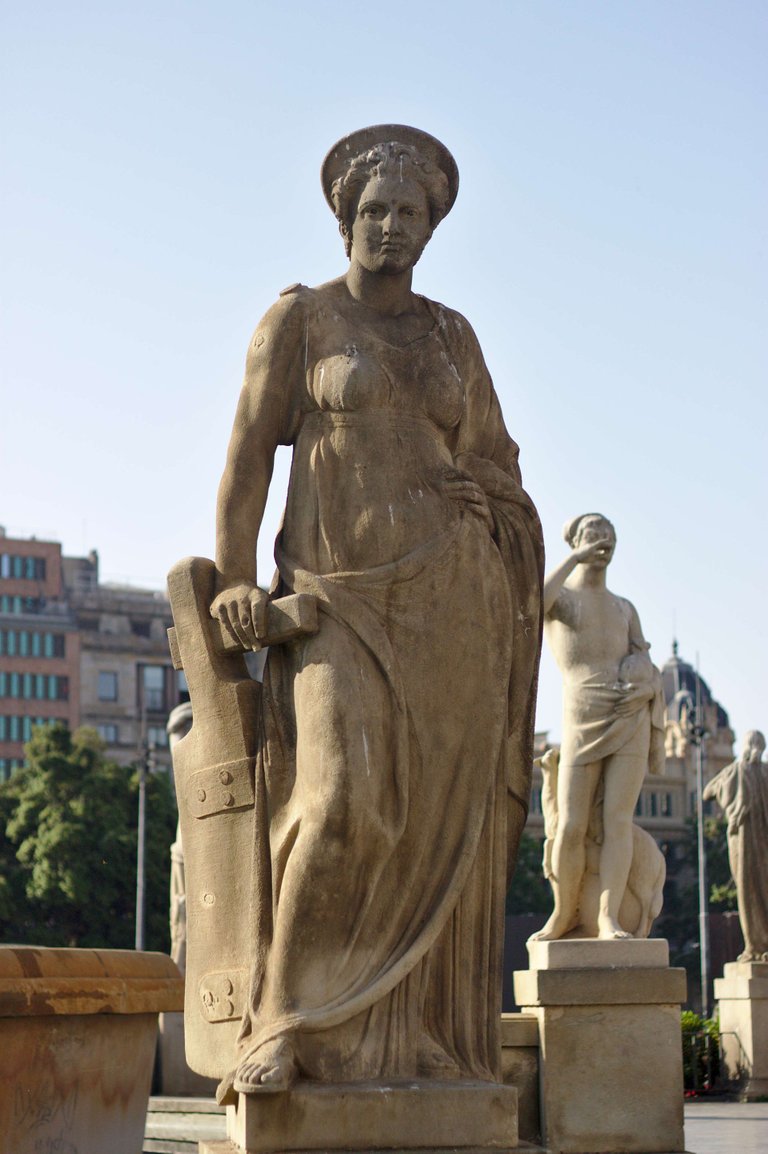 Curiosamente ambos mundos poseen similitudes, como que la luz y el sonido son ondas, comparten el rango dinámico entre otras propiedades físicas, como la atenuación, absorción y reflexión ademas de las "reglas" artísticas que sirven de guía para aplicar técnicas, obedecerlas al pie de la letra para lograr resultados o romperlas si se tiene el criterio bien desarrollado.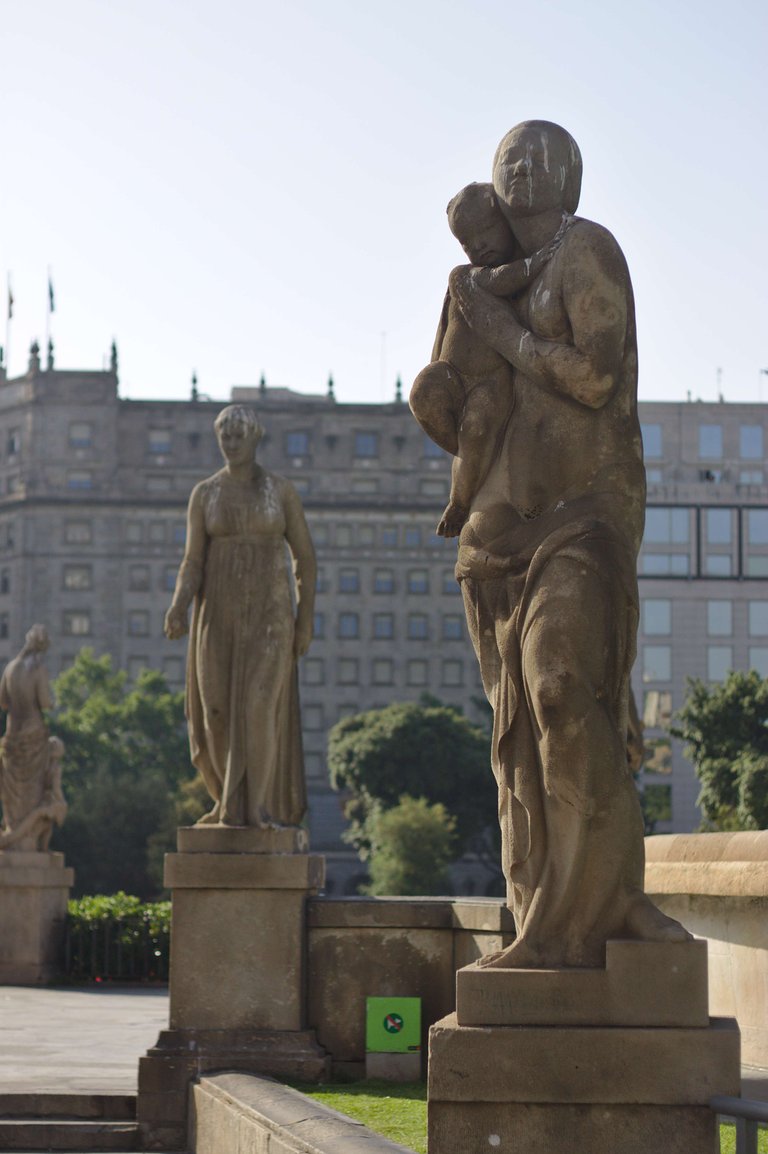 I am not a professional photographer and I am not dedicated to it, but photography for me is a hobby that renews my passion for art.

When music, audio and passion for sound is worn out and affected by the routine of work this hobby renews me, discovering techniques, the art of communicating with images and the magic of light.

Learning something new and fresh disconnects me and gives me joy while I overcome giving small steps in this art that is another world different from the one I know, the one of the sound waves.

Curiously both worlds have similarities, as light and sound are waves, they share the dynamic range among other physical properties, such as attenuation, absorption and reflection in addition to the artistic "rules" that serve as a guide to apply techniques, obey them to the letter to achieve results or break them if you have well developed criteria.
Prácticas casuales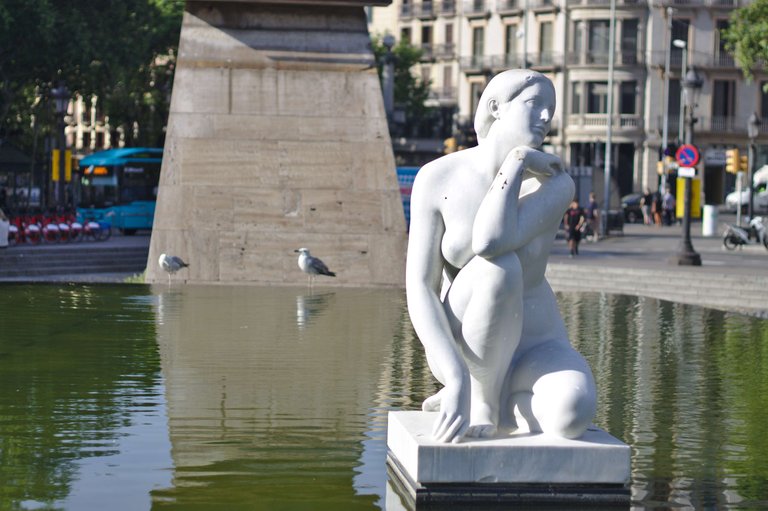 Sábado por la mañana, me preparo para ir a trabajar bien temprano como técnico de grabación en un curso de doblaje y al empacar mis equipos de audio observo mi cámara y me dije, "hoy vamos a practicar fotografía".
La metí en la mochila como un equipo más y me fui más temprano por varias razones.
La primera para tener tiempo de tomar fotos antes de entrar a trabajar, unos 30 min me bastaron.
La segunda es la luz, es importante el grado de inclinación, intensidad y color de la luz para generar fotos con contraste y profundidad.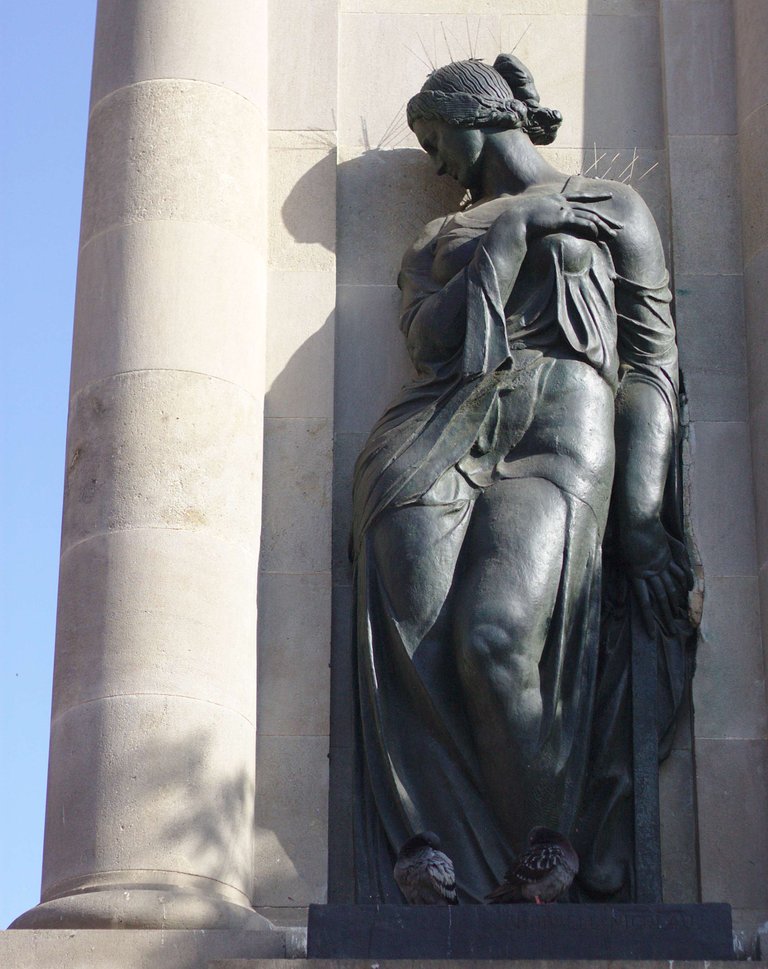 Casual practice

Saturday morning, I get ready to go to work very early as a recording technician in a dubbing course and while packing my audio equipment I look at my camera and I said to myself, "today we are going to practice photography".

I put it in my backpack like any other piece of equipment and left early for several reasons.

The first one is to have time to take pictures before going to work, about 30 minutes was enough for me.
The second is the light, it is important the degree of inclination, intensity and color of the light to generate photos with contrast and depth.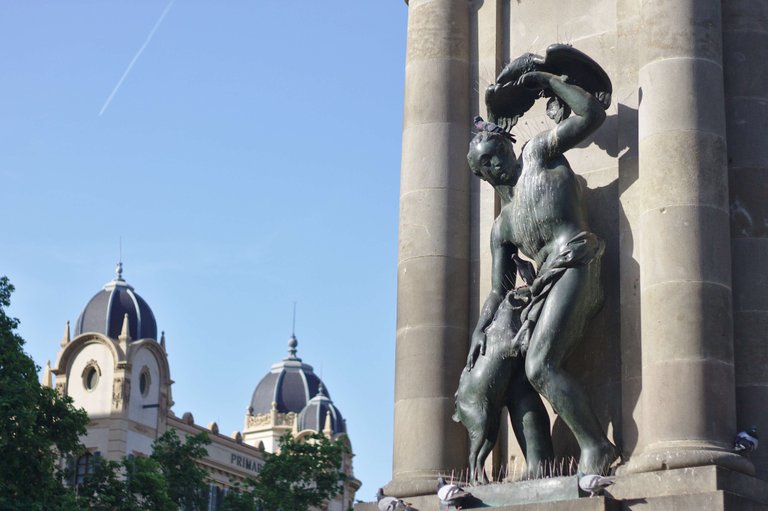 Al llegar a plaza cataluña tan temprano, me di cuenta de que era un buen momento para tomar fotos, pues plaza cataluña es una de las plazas más visitadas por turistas en Barcelona, suele estar abarrotada de gente.
Buscando cosas interesantes que fotografiar a modo de ejercicio me percate de la gran cantidad de estatuas que adornan la plaza.
Su nivel de detalle es impresionante, así que decidí hacer este post con las fotos de las esculturas de Plaza Cataluña.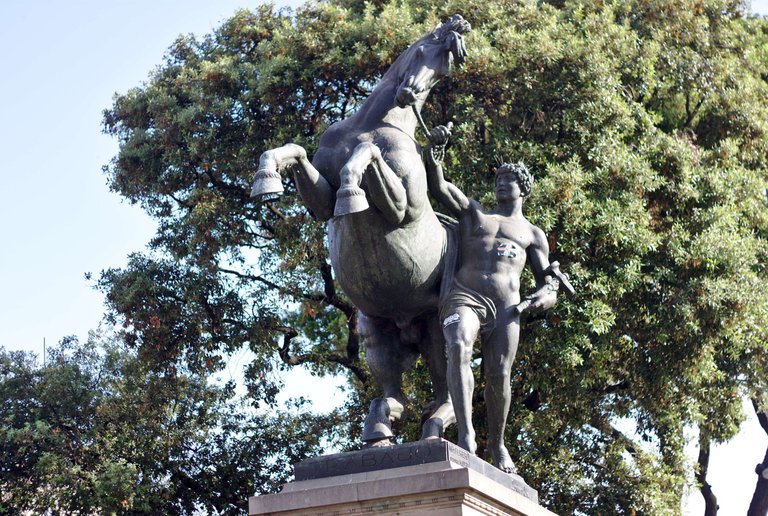 Arriving at plaza cataluña so early, I realized that it was a good time to take pictures, because plaza cataluña is one of the most visited squares by tourists in Barcelona, it is usually crowded with people.

Looking for interesting things to photograph as an exercise I noticed the large number of statues that adorn the square.
Their level of detail is impressive, so I decided to make this post with photos of the sculptures of Plaza Cataluña.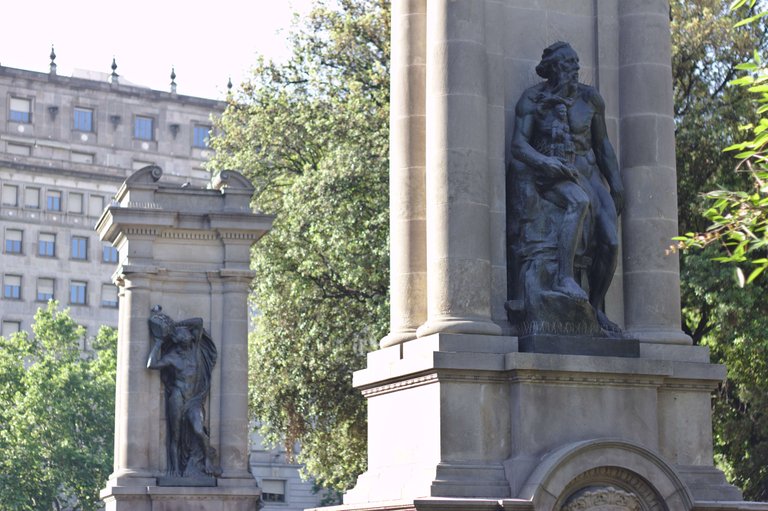 Ahora, después de tomar las fotos decidí investigar en la web y encontré esta información de Wikipedia súper valiosa.
Cito un pequeño extracto y les dejo el link por si les interesa el como, cuando y porqué se instalaron todas estas obras de arte en esta plaza tan importante para Barcelona.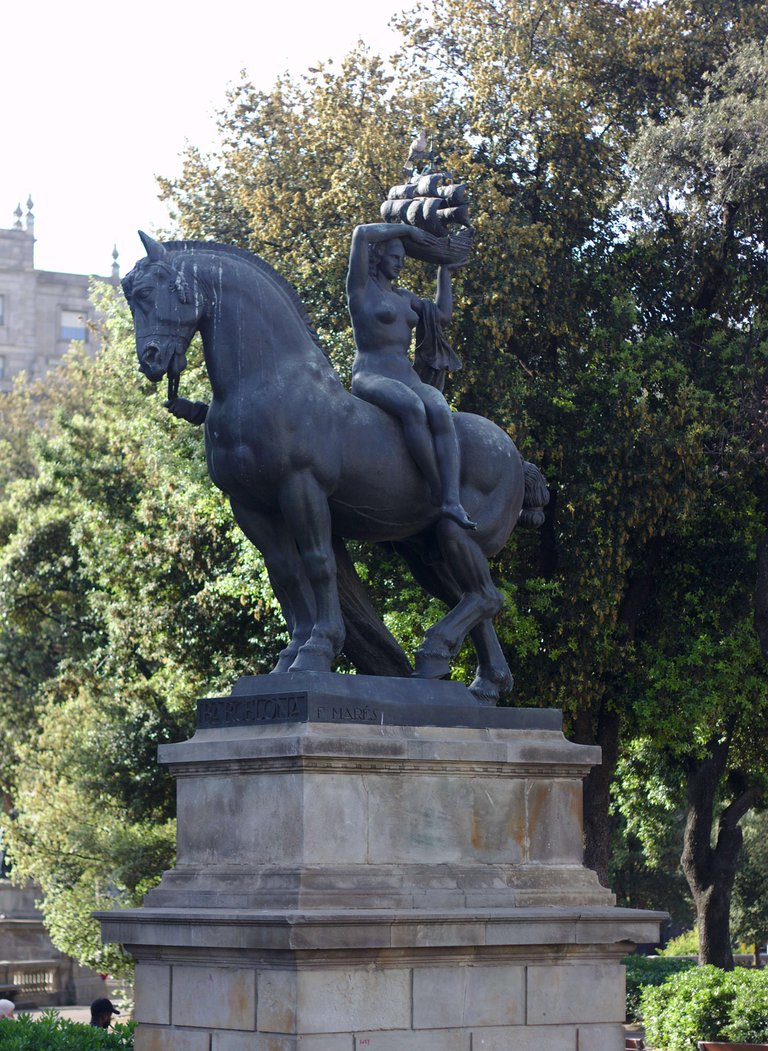 Cita de Wikipedia
"La plaza de Cataluña empezó a urbanizarse en 1902, aunque el punto culminante de las obras se realizó en los años 1920, con vistas a la celebración de la Exposición Internacional. En 1927 se organizó un concurso público para decorar la plaza, en el que se decidió la instalación de 28 esculturas, de autores como Eusebi Arnau, Joan Borrell, Enric Casanovas, Josep Clarà, Josep Dunyach, Jaume Duran , Pablo Gargallo, Josep Llimona, Frederic Marès, Enric Monjo, Vicenç Navarro, Llucià Oslé, Miquel Oslé, Jaume Otero, Antonio Parera, Josep Tenas y Josep Viladomat.[2] Este conjunto es uno de los más grandes de Barcelona en cuanto a arte público, y supone un auténtico museo de esculturas al aire libre."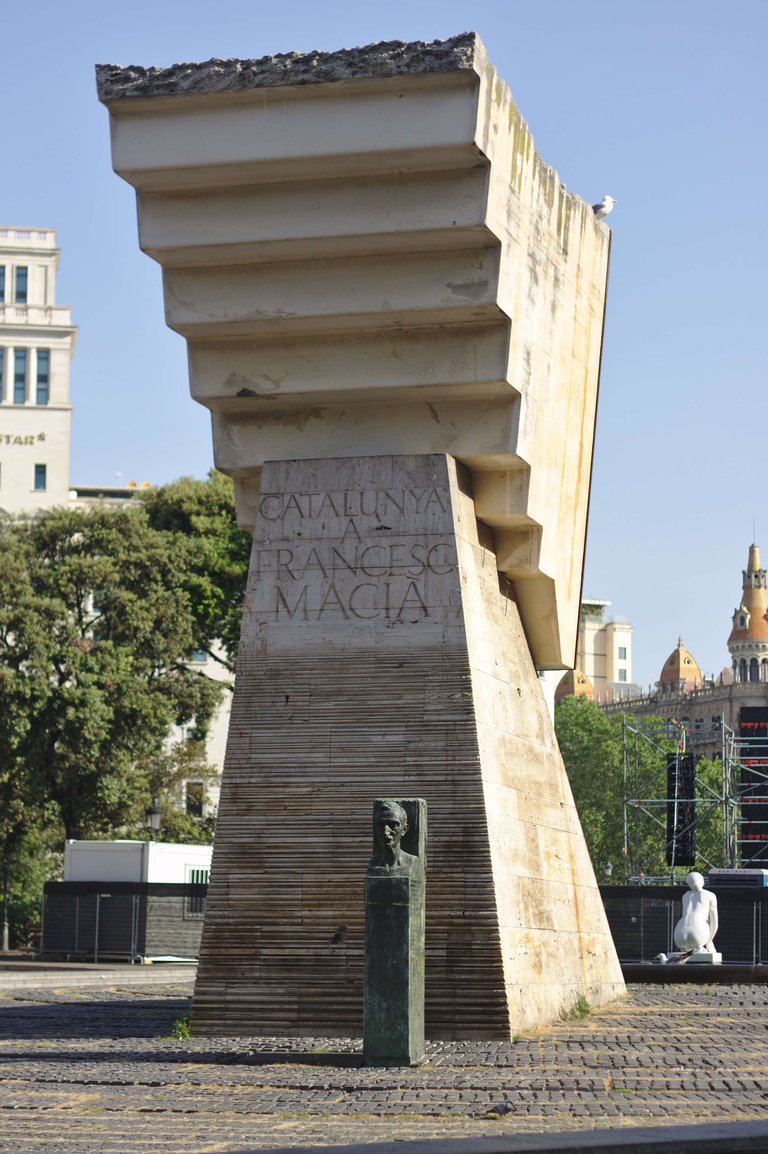 Now, after taking the pictures I decided to do some research on the web and I found this super valuable information from Wikipedia.
I quote a small excerpt and leave you the link in case you are interested in how, when and why all these works of art were installed in this very important square for Barcelona.
Quote from Wikipedia

"Plaça de Catalunya began to be urbanized in 1902, although the high point of the works took place in the 1920s, with a view to the celebration of the International Exposition. In 1927 a public competition was organized to decorate the square, in which it was decided to install 28 sculptures by artists such as Eusebi Arnau, Joan Borrell, Enric Casanovas, Josep Clarà, Josep Dunyach, Jaume Duran, Pablo Gargallo, Josep Llimona, Frederic Marès, Enric Monjo, Vicenç Navarro, Llucià Oslé, Miquel Oslé, Jaume Otero, Antonio Parera, Josep Tenas and Josep Viladomat. [2] This ensemble is one of the largest in Barcelona in terms of public art, and is a veritable open-air sculpture museum."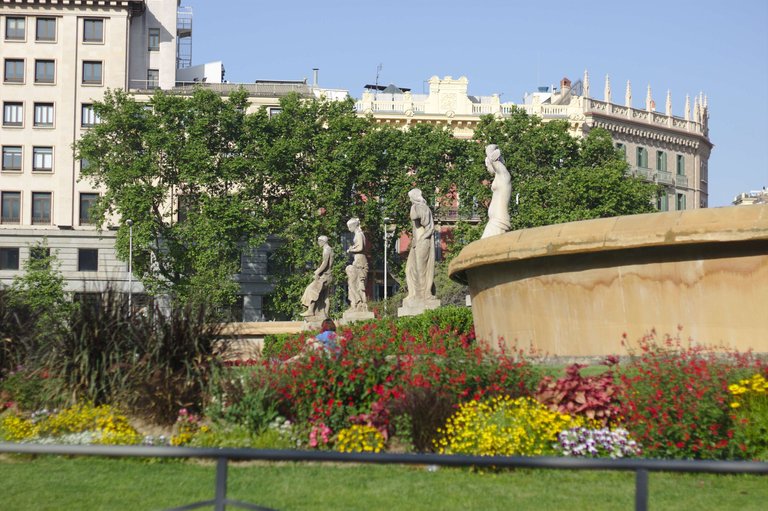 Todas las fotos son de mi autoría y fueron tomadas con una cámara DSLR Canon 1100d y un objetivo 50mm 1.8f.
All photos are my own and were taken with a Canon 1100d DSLR camera and a 50mm 1.8f lens.
---
---