The Energy, The Vibe, The Witty Lines: TESLIM (By Vector Tha Viper) Album Review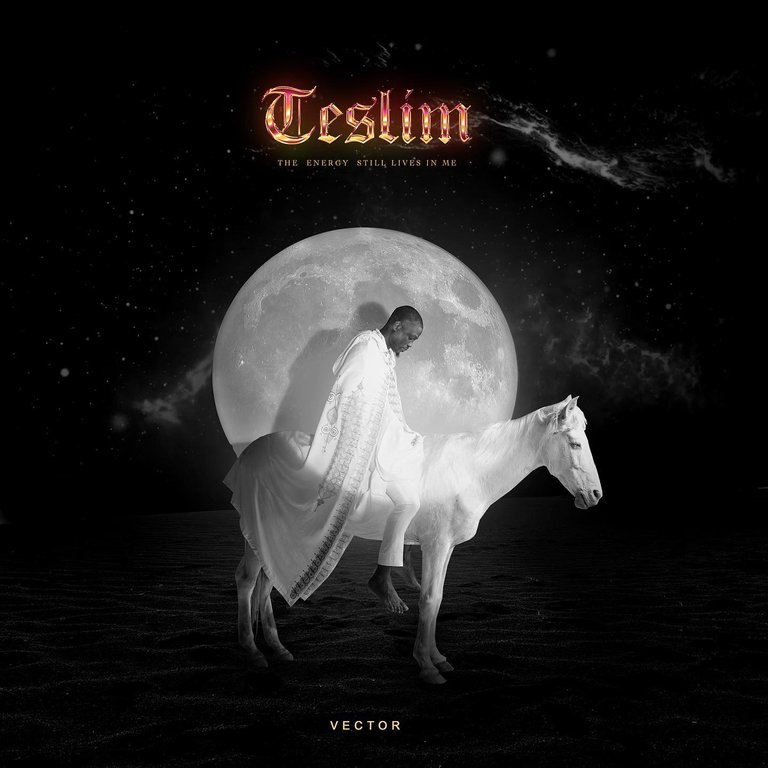 Source
The Energy Still Lives In Me is 6th studio project of Nigerian rapper and singer Vector Tha Viper. It is a body of work that was inspired by the passing of his father years ago. Although the project t has been in the works for some time, seeing the release of some tracks on the album as singles, it was finally released on the.........of November 2022.
The album opens with the Teslim Introduction with BB Ray acting as an interview anchor asking the rapper about his realization through his trials in life. With a typical hip hop beat, heavy with kicks and light snares, the rapper dives straight into the deep, baring his mind on issues that has been insightful to him, ranging from baby mama dramas to his crew with the gu**s to advising that he cannot now be what he's never been.
This then filters into I Need You which features vocal excerpts from him and his daughter. This is more like an ode to his daughter, explaining the struggle of life to her, while at the same time professing his love and need for her. It's more like a message of love and deep care, serenaded with the hard truths of life's struggles and human imperfections. Though the lyrical depth could've been better.
"look your grandpa left but he's a part of me, which is a part of you, which is a part of everything you do" he raps in an attempt to trace the lineage of inner power and strength which has aided his growth and sustenance to his daughter, even while reminding her that she's human after all and would definitely make mistakes.
Why Me starts with a beggarly chant of the phrase in a manner of which one is begging for redemption and mercy. "so much hate from these people, they must go bankrupt when they pay for their evil" perfectly captures the message of the song as Vec goes on a cry of plea, as he states his truth of being the chosen one. Then he dives into waxing lyrical about the doom awaiting the haters wishing for his downfall.
You Don't Know lends help from fellow pidgin rapper Erigga as Vec reverts to the singer in him that had been missing at the beginning of the album. He goes on a Thanksgiving session to the Supreme being for blessing his hustle and making his voice to be reckoned with even though some lack the mental capacity to understand him, well his words is not for the dumb pigs........and the money be like one minute man, when e begin come, e dey come quick
Erigga in his usual self goes on his own pidgin recital, narrating his journey and trials from the streets of warri and the obstacles and disbelief that he had to overcome to get to his current status as the most successful from the region.
The melodious voice of Cracker Mallo over gentle and smooth chords giving it a swervy feel just before the kicks and taps sets in to bring more weight and rhythm to Vec's lyrics on Insomnia, which centres this time around on his personal fights with his demons, before delving into the imperfections of perfect religions with lines such as how does the men of God become God of men, rich leaders in poor crowds....
Vec doesn't stop there as he lends his voice to the ills of the society, especially as it concerns Nigeria which climaxes in his own version of tribute to the #EndSARS debacle and the resulting adverse after effects, ending with the truth no one could crack, Fashola used his hands
The first feel of afro which is usually very prominent in Vector's works shows it face on Mercy which features Seyi Vibez. Again Vec is caught singing to the groovy beat, giving it a very relaxing feel. This is just before he goes in deep lyrically, destroying many of human's conditioning theories, just as he states his own terms...... so I decided to face life on my own terms, if I get pregnant I'm doing it with my own sperm he spits in this ode to self and the strength to take his own destiny in his hands. Seyi Vibez then complimented the hard core lyrics with his afro pop vibes without deviating from the message of the song.
send down the rain Vec opens the track Soki Sombolo which is the second installment of his rap over afro pop beats in the album. self love so legit you would date you/big smile on your face cos you stay true/ to yourself, negative energy won't delay you he rolls rhythmically to the beat in this bumpy song about self truth and betrayal, both of purpose and by his team.
*Greed: Jayson Graham Call (Clowns skit) is just a skit which features the voice of Jayson Graham on the phone explaining how fear from one's click could turn into greed, and then betrayal.
This then filters into the real track Clowns which features one of Nigeria's hottest rappers currently in Ladipoe. Undeniably one of the best tracks of the album, from production to delivery. This is a statement of intent from Vec to all those hungry and greedy dudes out there looking into his affairs and wishing they could take it from him. The hook captures it all shea you want the bread wey dey come with the beef, Shea na burger/ I mean they even add cheese to the thing, Shea na topper/ motherfcker.*
Ladipoe came through hard as well, delivering punch after punch with his lines. His laissez-faire attitude to the song brought a different level of relief and fun to it, coupled with lines laced with witty connotations like don't you know that most dangerous man alive is a married man with kids, desperation in his eyes/ the things he's willing to do in the name of God will provide.......... No mentors, many many millionaires...... They can't show us the design / because behind every fortune, there's usually a crime. All these and many more.
Big Flexa comes with its own afro hip hop masterclass production blessed with AO-Machine's deep baritone on the hook boasting of being the big flexa in this business. The rapper then goes on a lyrical rampage, bragging about his status as the chosen of the industry. It doesn't matter what any other does, at the end Vec is the best and the chosen of the gods of the game.
With the help of Nasty C, Vector brings another classy on What's That II. Heavy kicks, light snares and serenading violin lays the perfect foundation for these two heavyweights to verbally punch their way through and they delivered. Whatever the lady showed these two on this track, it must've been quite glorious for her to be compared to Stella McCartney, which ended with the request for a dance.
Wande Coal joined in on the act on Mama Maradona as they swerve through a good pop beat telling Maradona to stop trying to hook them up with her daughter, because they aren't even sure they're good enough for themselves, not to talk about her daughter.
From afro pop, to afro highlife, Mami Wota (Iyemoja) features the legendary Seun Kuti as Vec goes back to tap from the singer in him as he begs for prayers to save him from the webs of a lady's love control. Now he's contemplating marriage even without having knowing if he's doing the right thing.
Another love song filled with promises Early Momo lends help from GoodGirl LA with a slow groovy melody that lends itself to a stress relief medium. they say life's a gamble, I'm talking to the bookie the rapper boasts as he swerves his way through the rhythm with flowy lines in a soulful manner.
Fefe(Ferrari) with Shado Chris is another groovy entry that has an outro feel with a lot of "the journey continues" messages and the success that lies ahead which includes ferraris.
And the outro proper presents itself in the form of My Name(Choral Version) with a background choir chorusing as he reminisces about his life's journey, it's successes and the current status. The joys, happiness and family he's gained along the journey through his endeavors, not just musically, but in life generally.
TESLIM (The Energy Still Lives In Me) is a reflective body of work that delves into the current gay state of mind of its progenitor. Having been in the works for over 2 years now, TESLIM lends credence to the time spent especially with regards the production which had always seem like an achilles heels to the rapper in his previous works.
The production was much better here and the overall album had a hip hop sound which was another great improvement from his previous works which was greatly dominated by afro sounds and sounded more like afro pop albums than hip hop ones. The album had a trilogical trajectory which started with deep thoughtful songs, the filtered into heavy hip hop songs littered with witty lines and perfect features and then feathers away into groovy rhythmic songs.
The features and the chosen songs were perfectly blended and the overall Playlist was a masterstroke with no particularly bad song. But then, with his stature and talent, the lyrical content could've been better. There were typical witty word plays all through the album, but not so much that really hits home and leaves an impression. I'd TESLIM a 7.5/10.
Welcome to my blog, you can relax and be rest assured of quality content on diverse topics. You're free to air your views and opinions in the comments section, and It'll be my pleasure to learn and engage

---
---