The Mysterious Vapour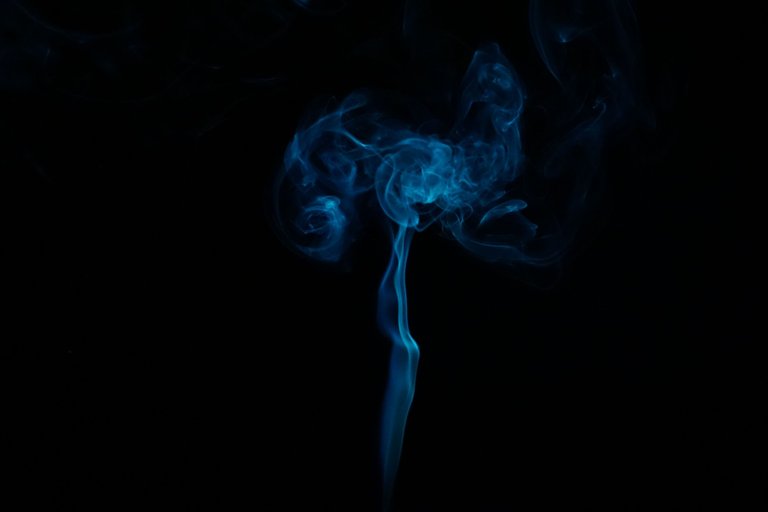 Image Source
I sat at my desk, clicking away at my keyboard while vibing and nodding symmetrically to the rhythm of the music blaring out of my speakers. The melody seeped through my skin and aroused my senses, sending creative shocks rocketing through my veins. Every click I made seemed to be in symphony both with the music and the customer's description.
The aroma of the steaming coffee just beside the system filled my nose and seemed to transport my mind into a portal of unexplored creativity, leaving my human mind numb as it transcended into a realm of ancient wisdom. I felt godly, with the vocals from my speaker echoing like choral vocals, piercing through the calm in worship of its king.
It was a feeling like never before and I savored the moment up until I felt dragged out of it by a subtle but sharp swerve through my ears by what felt like a sudden flow of wind through the room. Startled, I looked round the room to find everything intact and calm. I stood to check my windows, and there was no storm or wind outside, just a few groans of nightly animals here and there.
As I strolled back from the window towards my workspace, I noticed how well kept my bed was, with the duvet properly and perfectly propped. That was when I felt this storm of desire to just dive in and revel in its calm, while letting the smooth and soft feel of the mattress caress my tired back. But no, I thought to myself, I can't fall for this kind of temptation with deadlines still to meet.
So I strode past it, performing a sign of the cross on my forehead and chest. I know I've missed it and I can bet it misses me too, but I can't be caught lazy when there's work to do. As I turned towards my workspace, I felt a sharp pang of pain on my lower back that went straight into my head and sent ripples of pain throughout my body.
A soft grown escaped my lips as I regained my seat in front of the system. I grabbed my coffee mug and was surprised at how hot it still was. As I raised it to my lips, I heard a faint voice that seemed to vibrate from the mug and made me spill droplets of coffee on my body. I quickly dropped the mug back on the table and scanned the room to ascertain the source of the faint voice.
But there was nothing that suggested anything out of the ordinary. As I turned back to the table, I was startled and sprung to my feet, backtracking in awe, trying to figure out what was before me. It seemed like the vapour from the coffee was hanging aloof, just a few inches on top of the mug in a half-faced shape.
All I could see was just a mouth, half chin, half nose and a jawline.
"what the f....." I stuttered in amazement, eyes fixed on the face form.
"What is that?" the face replied. Oh! So it can speak as well, I thought to myself in bewilderment.
"What are you?" I queried
"Your coffee of course" it replied mockingly
My coffee should be in the mug, not hanging loose" I said skeptically as I carefully stretched to grab a seat with my back feeling another pang of pain.
"And you should been in bed, not here squinting like an old woman" the face replied, seemingly frowning
I can't sleep, until I've finished what I have to do" I replied impatiently, trying to get back to my system.
And I'll make sure you don't do anything" the face answered angrily. "You've been in this chair for two days now without any rest, you're having back pains and sleep disorder, your whole body is breaking down and you're just using me to hurt yourself the more, but still you don't want to take care of your body" it ranted.
"That's because I need to make enough money for my future" I replied unconcerned
"Enough money to buy a new life in the future?" the face replied "You need to get rest and you won't work again till you do" it added.
Immediately, I felt hot coffee splash on my hands as I attempted to grab my mouse. Whatever was happening was still a mystery to me, but I knew I wasn't going to win the fight because I could not fathom how that coffee was still steaming after all this time.
There's no way I was engaging in an argument with a faceless creature.
So I gave up and retreated reluctantly to my bed. When I woke up the following morning, I could barely understand what had happened the previous night, but the back pain was no more there, just as my coffee mug was totally dry. I scanned the room and felt a refreshing rush of freshness. I strolled back to my system, shut it down and went out for an early morning walk.
Welcome to my blog, you can relax and be rest assured of quality content on diverse topics. You're free to air your views and opinions in the comments section, and It'll be my pleasure to learn and engage

---
---