A Walk With Architectural Details: Domes of Buenos Aires, Part I [ENG/ESP]
One of the most important things in architecture are the details, that is why we must not forget to look up and stop to admire every centimeter of these architectural beauties.
Greetings friends! Today my post is addressed to the Architecture+Design community and it is a bit different from the ones I usually do since I usually focus on some work or building of relevant historical importance in the city of Buenos Aires, in this case it is a walk along what is known as Diagonal Norte together with Plaza de Mayo.
Saludos amigos! Hoy mi post va dirigido a la comunidad de Arquitectura+Diseño y es un tanto diferente a los que suelo hacer ya que generalmente me enfoco en alguna obra o edificio de relevante importancia historica en la ciudad de Buenos Aires, en este caso se trata de una caminata por lo que se conoce como Diagonal Norte conjuntamente con la plaza de Mayo.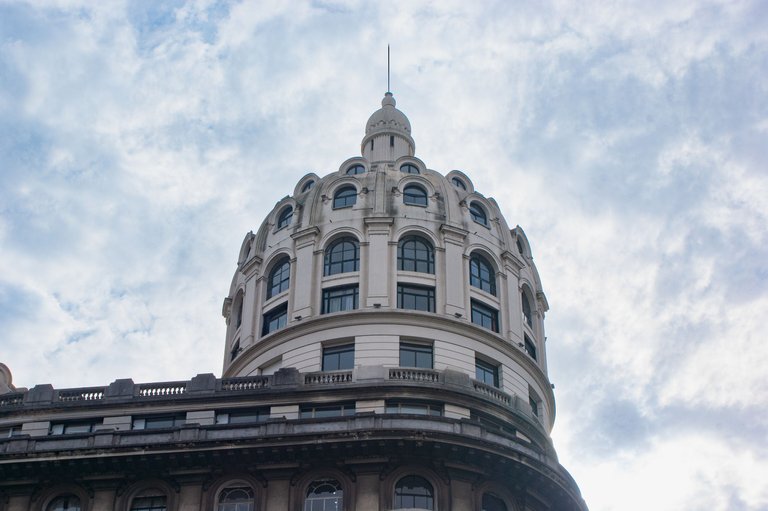 How about joining me on a little tour of just one block in this area of the city? Approximately about 150 meters of pure impressive and historic architecture, but we will not talk about the building in general but about the details that we do not observe at first instance, so let's look up and admire the domes of these buildings.
¿Qué tal si me acompañan con un pequeño recorrido de tan solo una cuadra en esta zona de la ciudad? Aproximadamente unos 150 metros de pura arquitectura impresionante e histórica, pero no hablaremos del edificio en general sino de los detalles que no observamos en primera instancia, así que miremos hacia arriba y admiremos las cúpulas de estos edificios.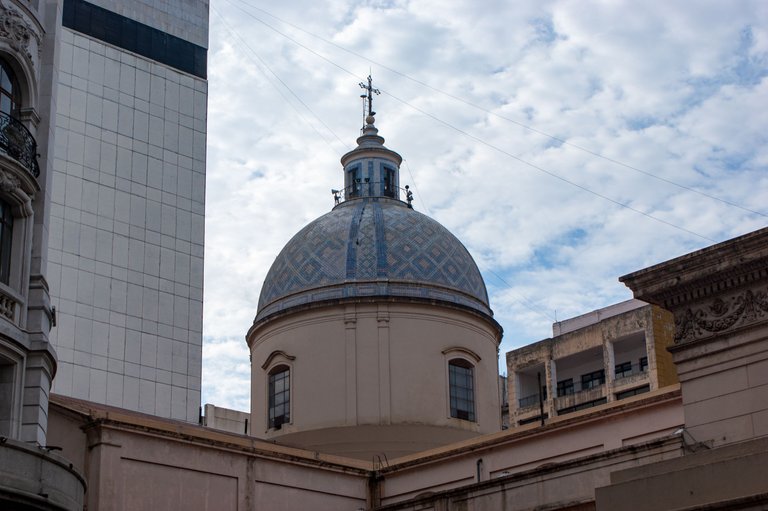 Dome of the Metropolitan Cathedral
(Cúpula de la catedral metropolitana)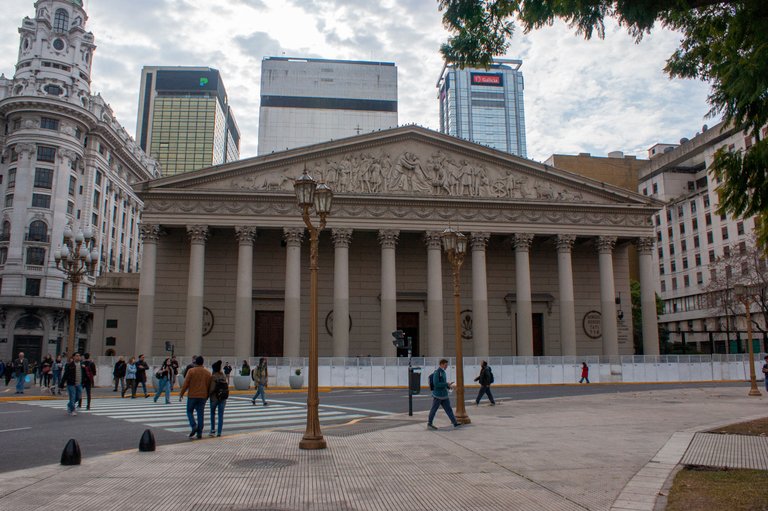 Main façade of the metropolitan cathedral
(Fachada principal de la catedral metropolitana)
Let's start mentioning from top to bottom to which works these domes belong and here we can find the dome of the Metropolitan Cathedral of Buenos Aires, located diagonally to the Plaza de Mayo. This dome is a little particular because it is not in front of the building but at the back and can be seen from the side, it was not always so, since its inception the land around it was much larger and could be seen more easily. The building dates from the mid 1700's, once the construction was finished they detected flaws in the dome of 41 meters high and decided to make a restructuring for the 1770's approximately.
Now we mention here below the dome that is the protagonist of this post, which is on the cover. The Bencich building and its most attractive domes in the area of Diagonal Norte. As part of a building built in the early twentieth century is one of the most famous domes of the city. The interior is dedicated to coworking, entrepreneurs and business people use this space for financial purposes, as offices in addition to having a coffee break, you can enjoy a 360 degree view of the city.
Empecemos mencionando desde arriba hacia abajo a qué obras pertenecen éstas cúpulas y acá podemos encontrar la de la catedral metropolitana de Buenos Aires, ubicada diagonal a la plaza de mayo. Ésta cúpula es un poco particular ya que se encuentra no en el frente del edificio sino en la parte trasera y puede verse desde un costado, no siempre fue así, desde sus inicios el terreno alrededor era mucho más extenso y podía apreciar con mayor facilidad. El edificio data de mediados de los años 1700, una vez terminada la construcción detectaron fallas en la cúpula de 41 metros de altura y decidieron hacer una reestructuración para los años 1770 aproximadamente.
Ahora mencionamos acá abajo la cúpula protagonista de este post, la cual se encuentra en la portada. El edificio Bencich y sus cúpulas más atractivas de la zona de la diagonal Norte. Cómo parte de un edificio construido a principios del siglo XX es una de las cúpulas más famosas de la ciudad. El interior esta dedicado al coworking, empresarios y personas de negocios usan este espacio para fines financieros, como oficinas además de tener un coffee break, se puede disfrutar de una vista 360 grados de la ciudad.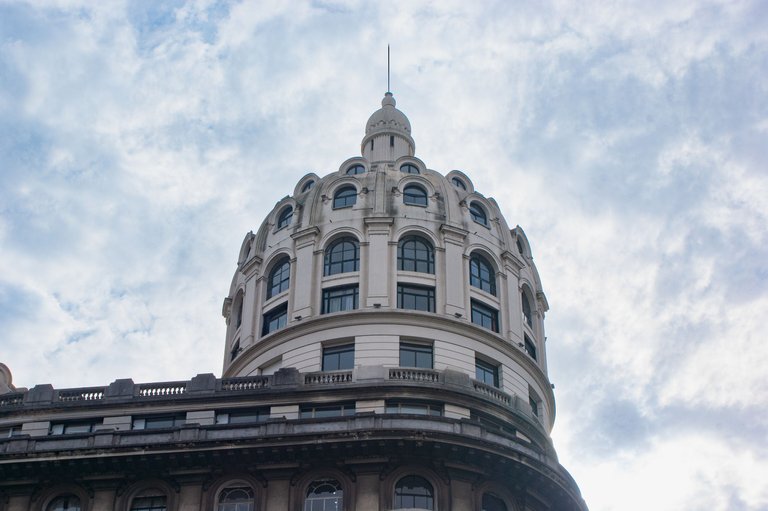 Dome of the Bencich Building (Cúpula del edificio Bencich)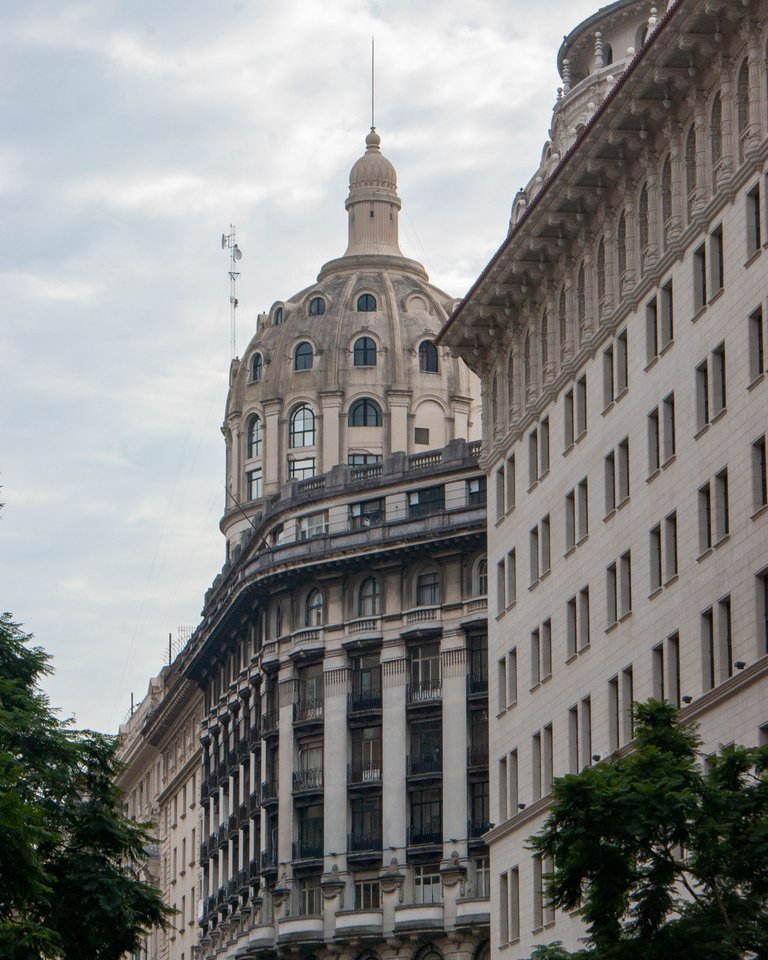 Enlarged view of the Bencich building with its dome.
(Vista ampliada del edificio Bencich con su cúpula)
The dome of the building of the equitativa del plata is the name of this work, formerly the headquarters of Aeropostal is a very interesting dome as it can be seen that has many influences of Aztec or Mesopotamian architecture, according to sources and for its obvious style that is in sight, currently occupied by offices. In addition we also have the dome of the municipal palace of the city of Buenos Aires, one of the sides overlooking Plaza de Mayo! The building was finished and inaugurated at the end of the 1800's in Beaux Arts style.
We add the popular tower of the Buenos Aires legislature with its striking clock and a small dome, which is the base of a lightning rod of green hue and built with bronze materials, this building goes very well and makes combination from the heights with the tower of the cabildo of Buenos Aires, which although it is not a dome is the most important of the area as well as the metropolitan cathedral, and at the same time the oldest.
La cúpula del edificio de la equitativa del plata es el nombre que lleva ésta obra, antiguamente sede de Aeropostal es una cúpula muy interesante ya que puede observarse que tiene muchas influencias de la arquitectura azteca o mesopotámica, según fuentes y por su obvio estilo que está a la vista, ocupado en su actualidad por oficinas. Además tenemos también la cúpula del palacio municipal de la ciudad de Buenos Aires, una de las laterales con vista a plaza de mayo! Edificio terminado e inaugurado a finales de los años 1800 con estilo Beaux Arts.
Adicionamos la popular torre de la legislatura porteña con su llamativo reloj y una cúpula pequeña, la cual es base de un pararrayos de tonalidad verde y construido con materiales de bronce, este edificio acompaña muy bien y hace combinación desde las alturas con la torre del cabildo de Buenos Aires, que si bien no es una cúpula es el más importante de la zona al igual que la catedral metropolitana, y a la vez las más antiguas.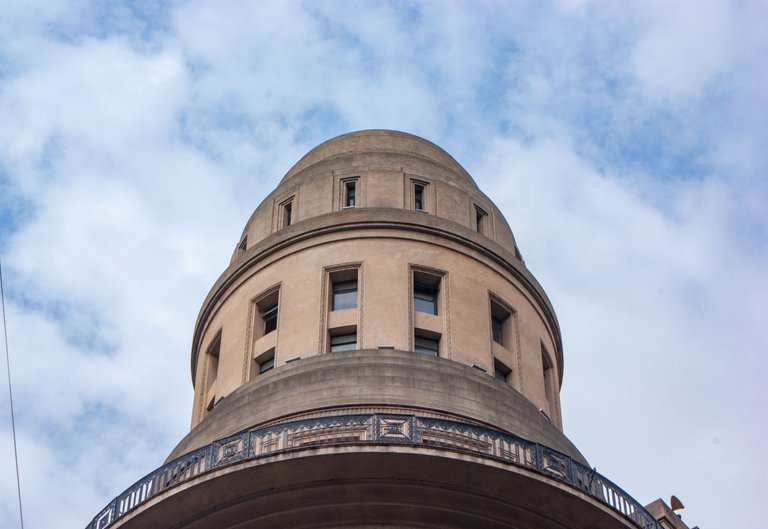 Dome of the silver equitable (Cúpula de la equitativa del plata)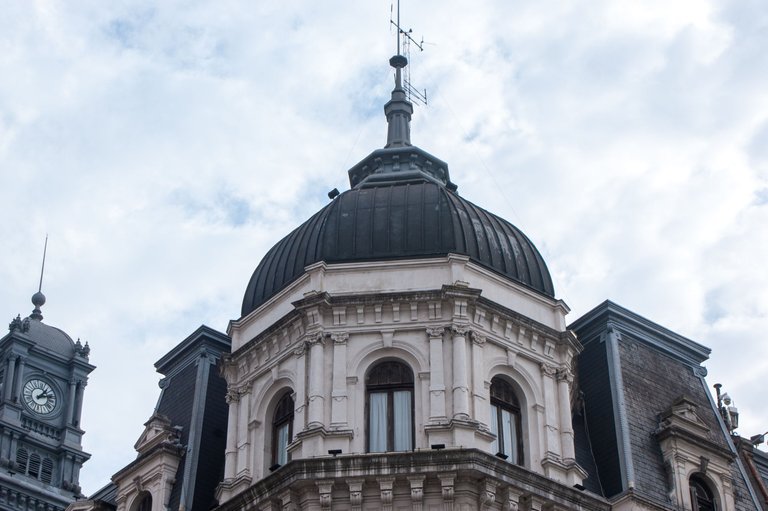 Dome of the municipal palace (Cúpula del palacio municipal)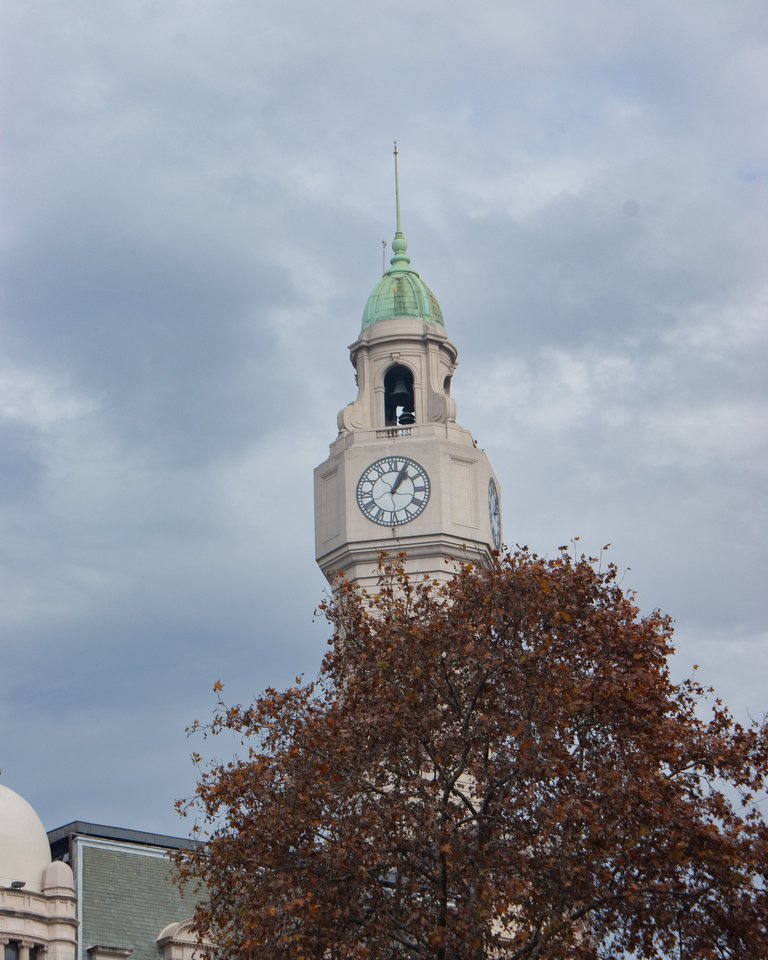 Tower and dome of the Buenos Aires legislature.
(Torre y cúpula de la legislatura de Buenos Aires)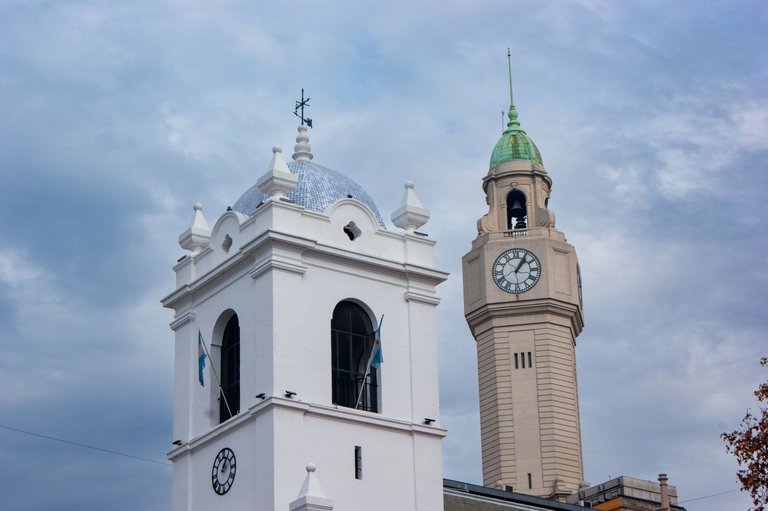 Tower of the cabildo of Buenos Aires next to the tower of the legislature.
(Torre del cabildo de Buenos Aires junto a la torre de la legislatura.)
Finally we have the building of the public administration of the city, former headquarters of the Uruguayan bank with a very interesting dome as well as the tower of the legislature with bronze lightning rod and the Menéndez Behety building, where I wanted to capture its huge columns and a characteristic of the architecture, the so-called Atlantis , those sculptures that in this case represent 6 gods of Greek mythology. I did not know about this building so I will not give many details, but I will dedicate a post later exclusively to this very interesting work.
What did you think of this walk? Very enriching in terms of tourism and architecture, don't you think? This is the first part of domes, for the second part will be a little more extensive as it will be dedicated to different areas and not just 150 meters of a town or neighborhood. Leave me a comment and tell me which of these domes you liked the most 😊
Para finalizar tenemos el edificio de la administración pública de la ciudad antigua sede dem banco uruguayo con una cúpula bastante interesante al igual que la torre de la legislatura con pararrayos de bronce y al edificio Menéndez Behety, dónde quise capturar sus enormes columnas y un característico de la arquitectura los llamados Atlantis, aquellas esculturas que en este caso representan a 6 dioses de la mitología griega. No conocía sobre este edificio así que no daré muchos detalles, sino que dedicaré más adelante un post exclusivamente a ésta obra muy interesante.
¿Que te ha parecido ésta caminata? Muy enriquecedora en cuanto a turismo y arquitectura, no crees? Ésta es la primera parte de cúpulas, para la segunda parte será un poco más extenso ya que será dedicado a distintas zonas y no a solo 150 metros de una localidad o barrio. Déjame un comentario y cuéntame cuál de estas cúpulas te ha gustado más 😊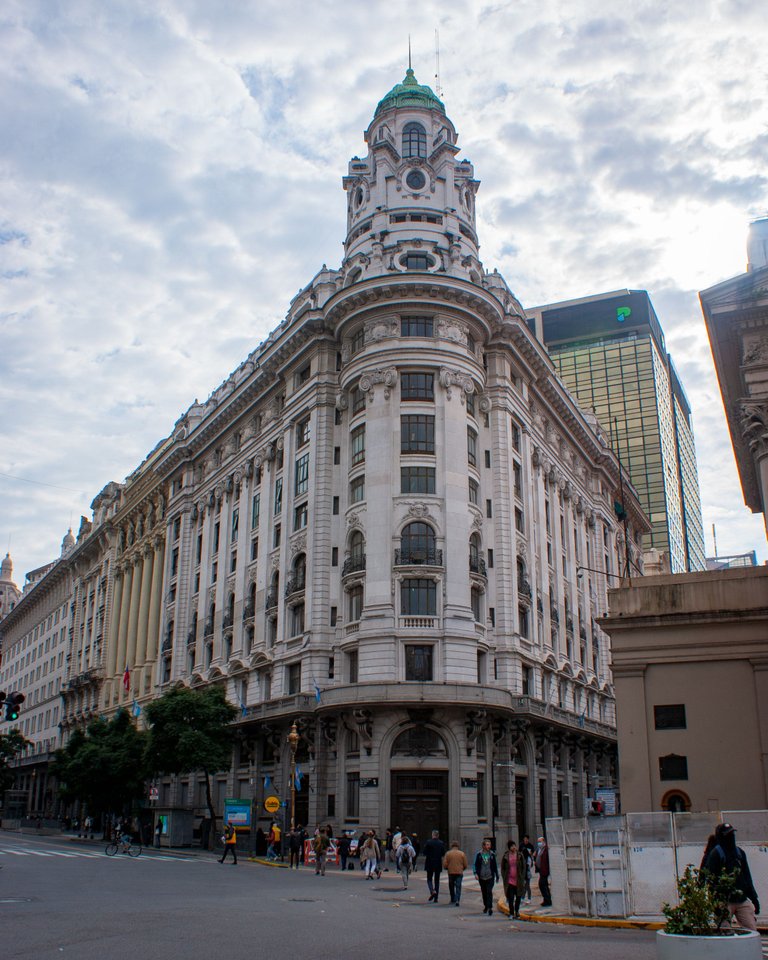 Building of the city's public administration.
(Edificio de la administración pública de la ciudad.)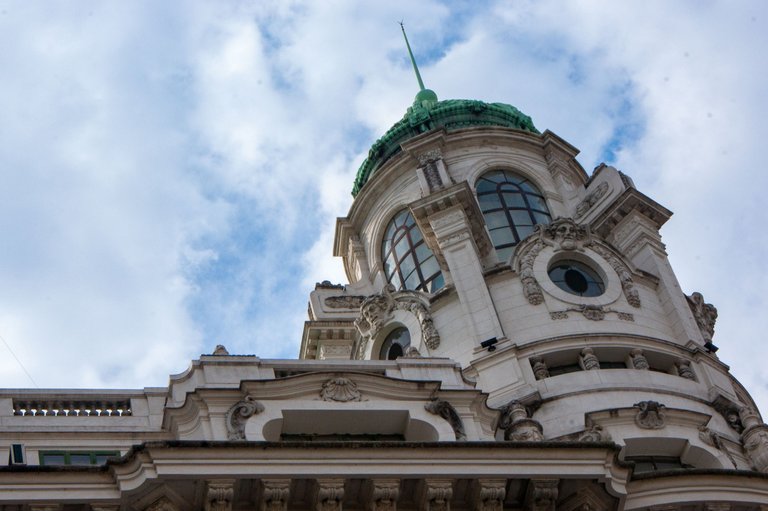 Dome of the city's public administration building.
(Cúpula del edificio de la administración pública de la ciudad.)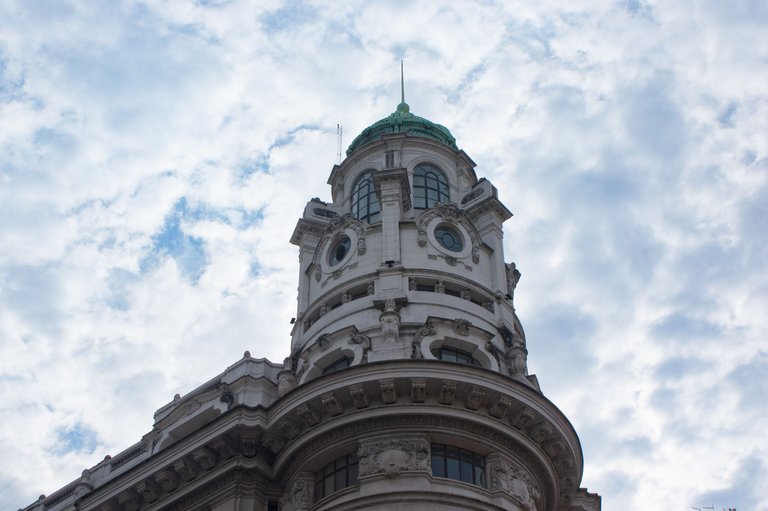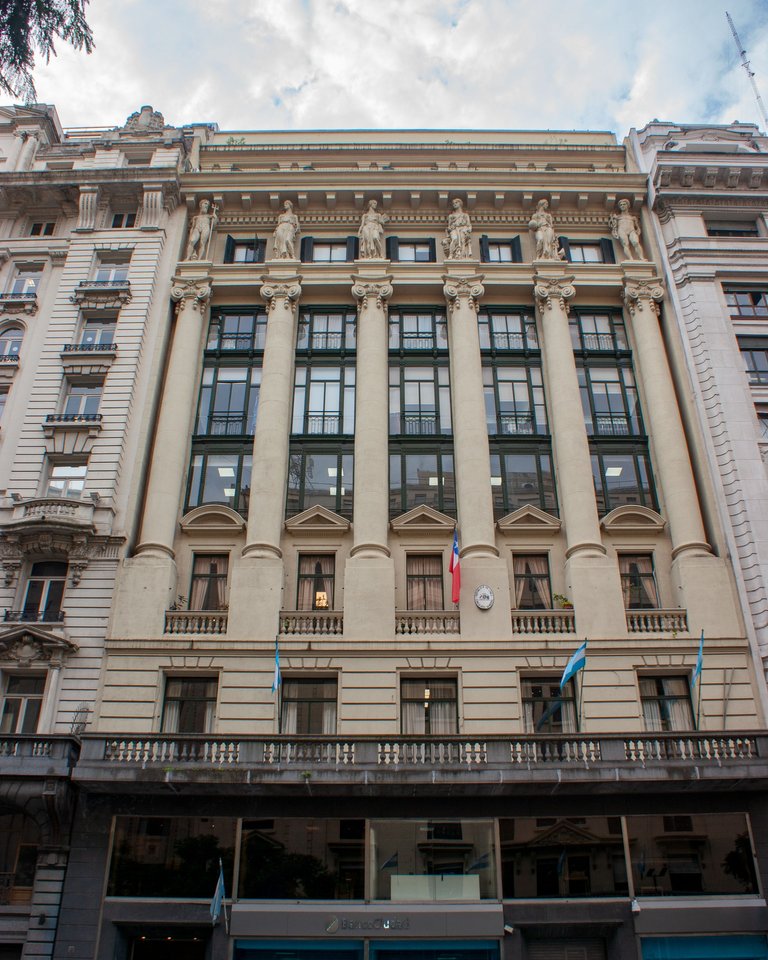 Menéndez Behety Building. (Edificio Menéndez Behety.)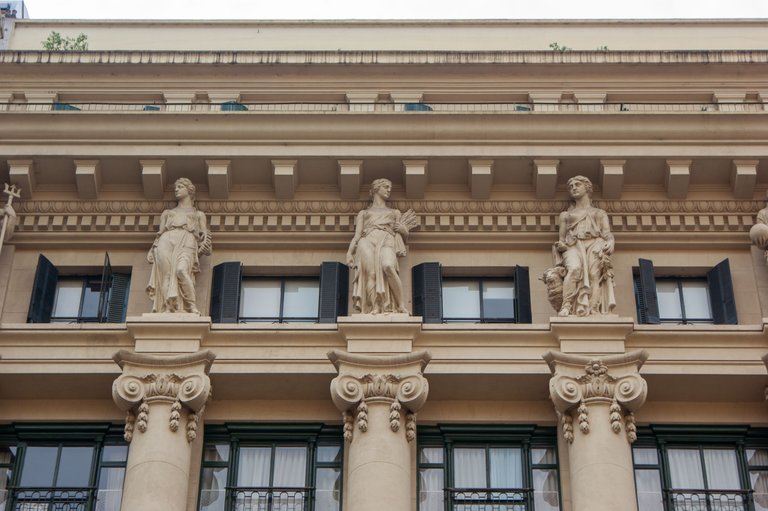 Sculptures representing Greek gods.
(Esculturas en representación de dioses griegos.)

All the photos and texts in this post are my authorship.
(Todas las fotos y textos presentes en éste post son de mi autoría.)

| Location | Diagonal Norte, Plaza de Mayo, Buenos Aires |
| --- | --- |
| Camera | Sony a350 |
| Editing Software | Lightroom |
| Photographer | @dimascastillo90 |

---
---