Naija Whot: A Nigerian Traditional Game for Both Indoor and Outdoor Recreation.
It's the season of school vacation as lots of students are now home for the summer holiday 🤩. You know, it reminds me a lot of my childhood days 😃, summer vacation was always a time to make sweet memories with friends and family. We'd tirelessly play different fun games from dawn to dusk 😅. The likes of video games and mobile games weren't even common during that time. The games we played back then were more physical than virtual.
But now, a lot has changed following the advancement of technology and typical of most kids of today, they'd prefer to just spend their break at home glued to their screens, watching cartoons, movies, surfing the internet, playing video games and operating their gadgets rather than associating with their mates outdoors, unlike my childhood when we still vibed to fun and popular traditional games like; Ludo, Ayo, Whot, Ten-ten, Tinko-tinko, Hide-and-seek, "I call on!", "Who is in the garden?" and many more.
One of my favorite traditional games I'd recommend for kids to play during the holiday is the Naija Whot Game 😁. Just like football, Whot was introduced to Nigeria by the British but eventually evolved over time from it's original version and the new version became the national card game of Nigeria.
What Is This Game About?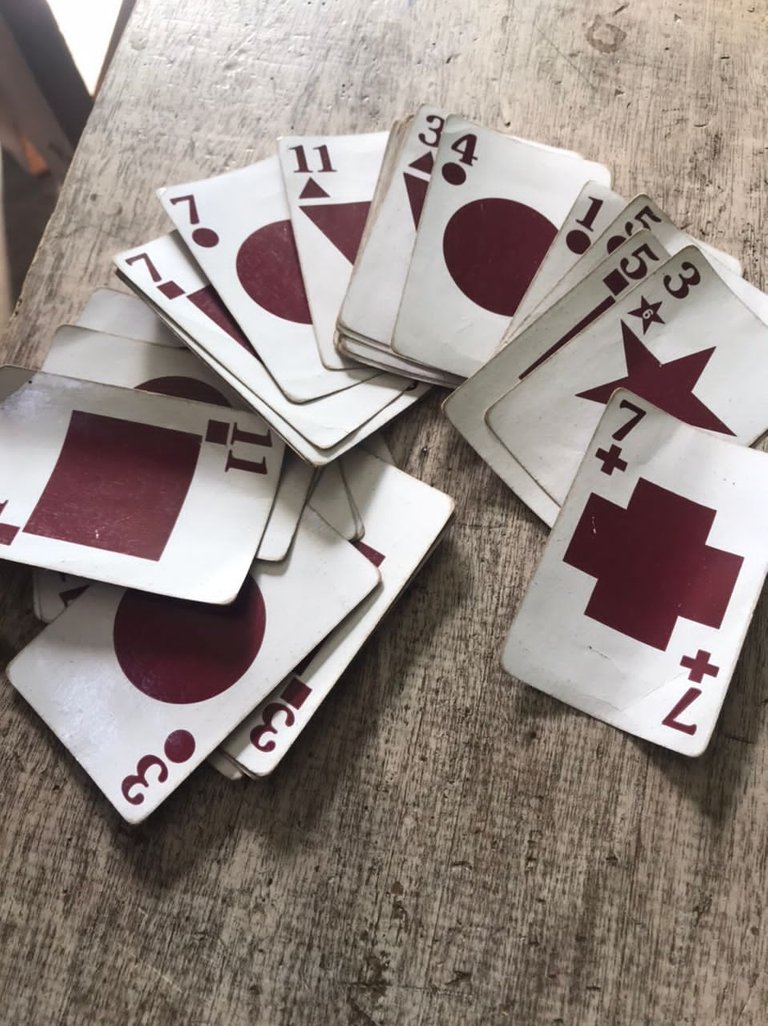 Naija Whot is a unique card game of 5 interesting numbered suits which is identified by some shapes (circles, triangle, cross, square and stars) and some wild "Whot" cards. In Nigeria, the shapes are sometimes called; ball, angle, cross, carpet and star.
The game can be played by two or more players and it is quite easy to learn and fun to play 😊. All you have to do is become a winner by finishing the cards in your hand first before your opponent and at the end of the game, the player with the highest number of cards is eliminated.
What Are The Rules?
Well, the rules aren't complicated:
Firstly, all the cards (53) must be shuffled and shared among the players in minimum equal amounts.

Secondly, NO PEEKING! 🙄(You can't look at anyone's cards at hand).

And lastly, during your turn, you must play a card that is the same shape or number as the card played by your opponent. Let's say for instance, your opponent plays star 10, you can either play a star card irrespective of the number or play a card with the number 10 irrespective of the shape. But if you don't have any matching cards to play, then you must pick a card from the market deck (where the rest of the cards are arranged).
Also, among the cards in the game of Whot, there are some special "action cards" and it's important to know the functions they play so you can use them to your advantage:
HOLD ON: Any card with the number 1 performs the function of putting all players on hold, thereby giving you a chance to play a card again.

PICK TWO: Any card with the number 2 performs the function of making the next player select two extra cards from the market deck if he/she can't defend the card with another "pick two" card.

PICK THREE: Any card with the number 5 performs the function of making the next player select three extra cards from the market deck if he/she can't defend the card with a "pick three" card.

GENERAL MARKET: Any card with the number 14 performs the function of making all players (except the player who dropped the card) select a card from the market deck.

SUSPENSION: This card is just like the hold on card except that it is identified by any card with the number 8. It performs the function of suspending the next player, thereby giving you a chance to continue playing another card.

CROWN: This is the wild "Whot" card, usually identified by the number 20 and whenever you play this card, it gives you the chance to change the subject card and request for a card of your choice.
In all view, Naija Whot is an entertaining and healthy game for all ages that brings comfort and helps to keep the mind focused during idleness. I've had so many memories and experiences with this game. Sometimes it's a game of luck. I've lost countless times and trust me, it's annoying to constantly keep losing but when victory comes it's so gratifying 🤩. And to me, this game can never be old school. More advantageous, it can even be played both indoors or outdoors with either friends or family. So it's a great way to connect with people. You literally can't get bored of Whot game and I believe it should be incorporated into everyone's plan of recreational activities.
P.S. This post is in response to the topic for the ongoing "Home School Vacation" challenge by @crossculture. I'd love to invite @hopestylist and @floraada to hop on this challenge 😊. You can read the rules here.
THANKS FOR READING! ❤️
---
---