Barcelona and its repetitive downturns in spirits.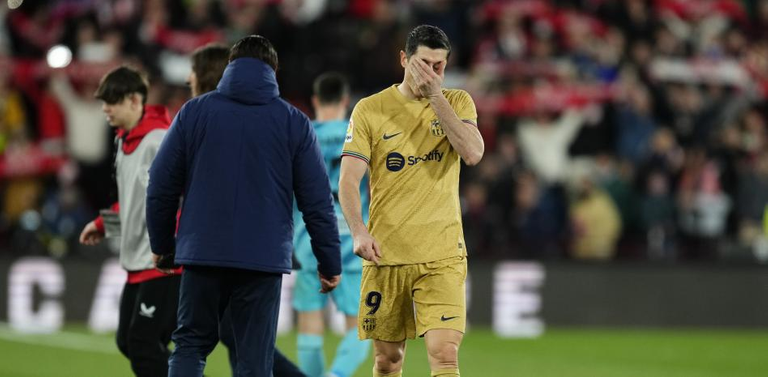 Source
---
---
If there was something FC Barcelona used to do for some time, it was to amaze the fans of the sport with its magnificent treatment of the ball, with an eye-catching soccer for the majority of the public, and apart from that, with effectiveness at the time of possession of the ball, because there is no point in having the ball at your feet if you don't do any damage with it.
Emotional titles, historical and constant goals, the occasional comeback, those memories lie in the most recondite of the cules, today, all those characteristics mentioned at the beginning of this paragraph still exist, but against.
---
For 8 years in a row the Catalan team has been exposed to criticism and ridicule, as a result of painful eliminations in the most prestigious European competition -although now they are also eliminated in the least prestigious competition- and they have not been able to recover from them, at least not immediately, and if we are talking about immediacy, La Liga is the competition they now have to face, reaffirming their position as leaders and ultimately becoming champions in a competition whose last glorious memory was in 2019.
The problem now lies in the fact that the team currently coached by Xavi Hernandez has entered a predictable negative dynamic; since January he has been using the same players for all matches, and physically the fatigue is starting to show; Dembele and Pedri have been the first to fall, Ansu Fati, early last week, has also been injured and to make matters worse, Lewandowski, who so far has not even had the flu, has a muscle injury and will be out for, at least, 15 days.
https://twitter.com/brfootball/status/1630187767157202944/photo/1
---
Whenever the team has been eliminated from European competition, the club has always had matches of low rhythm and sometimes lost points either with draws or defeats; to the evidence I refer: Last season, after the elimination against Frankfurt, Barcelona lost, at home, consecutively by the minimum and without scoring a goal, 1-0 against Cadiz and Rayo, last season, after losing at home against PSG, the team drew and gave up the league at home against Cadiz. And I could go on, but yesterday's defeat against Almeria reaffirms the theory that Barca never recovers, at least not immediately, from the blows suffered in European competition.
Following that line, I could conclude that the next match Barcelona will lose, nothing more and nothing less than against Real Madrid, at the Bernabeu, in the Copa del Rey.
Although Clasico is Clasico and it does not matter too much how each team arrives to the match, it is important to highlight that the losses of Xavi's team are those that are not easy to replace, especially that of Pedri, who is in charge of controlling the ball in midfield, with a unique temperance for a boy of his age. For this reason, neither Kessie, nor Sergi Roberto, nor Pablo Torre could replace the Spaniard, as they have extremely different characteristics. Dembele, on the other hand, although he generates a great imbalance on the wing, Raphinha could replace him. And Lewandowski is a sensitive casualty, but Ferran Torres could play the role of 9, or false 9, depending on Xavi's temperament for Thursday, as I calculate that Ferran would be a starter for that day.
---
---
All the forecasts for Barca are dark and complex, where Barcelona could lose in an embarrassing way (which is perfectly possible) against their fierce rivals next Thursday, which could lead to the ostracism of Xavi, who, I suspect, has not been able to motivate the players in the best way so far.
And as if it were a coin with two sides, it is also possible that, by beating Madrid, the team will be able to revive its spirit and recover from the last two blows suffered, as a Barca fan I confess that I wish this last mentioned, But as a realist that I am (taking into account the moment and the casualties) something tells me that Barca will lose, and where they lose, I don't know what will happen, having a comfortable lead in the league, but with their spirits on the floor and in front of them, a Madrid thirsty for heroic comebacks.
We will see.
---
---
---
Ingles no es mi idioma nativo. Todos los textos traducidos con:
English is not my native language. All the texts translated with:

Diseño editado y realizado en Canva, libre de uso
Logo de Hive
---
---