(ESP-ENG) Con 10, se gano un partido de 10 - With 10, we won a 10 - game.
Bona nit a tots!, Hivers de esta apreciada comunidad. El Barca jugaba hoy su ultimo partido antes del parón por el tan ansiado mundial que esta próximo a jugarse, y con ello un acumulado de sensaciones importantes en el campo; La lucha por quedar como líder en solitario, el miedo, de los jugadores a sufrir una lesión que los privara de jugar en Qatar, una visita a un recinto bastante complejo. Y estas sensaciones se hicieron presentes en el marcador a tempranos minutos de haber rodado la pelota, Osasuna ganaba 1 a 0 y era mas que el Barca, sin embargo, en el segundo tiempo, el Barca logro remontar y sumar en moral para luchar por una competencia que tiene pinta de ser extremadamente reñida. En este post a continuación, mi análisis y sensaciones, ¡Acompañame!
Bona nit a tots, Hivers of this appreciated community. Barca played today its last game before the break for the long-awaited World Cup that is about to be played, and with it an accumulation of important feelings on the field; The struggle to be the leader alone, the fear of the players to suffer an injury that would deprive them of playing in Qatar, a visit to a rather complex venue. And these feelings were present in the scoreboard early minutes after the ball had rolled, Osasuna was leading 1-0 and was more than Barca, however, in the second half, Barca managed to come back and add morale to fight for a competition that looks to be extremely tight. In this post below, my analysis and feelings, join me!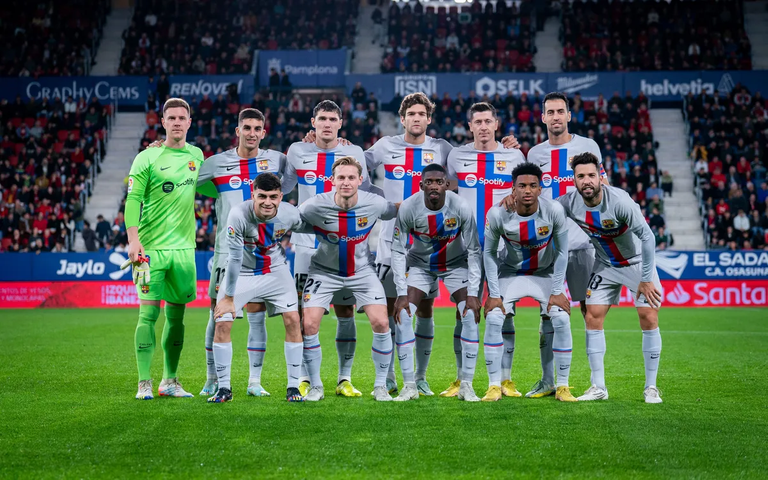 Fuente/Source
---
---
UN ESTADIO BASTANTE COMPLEJO PARA EL CLUB CULE, HISTORICAMENTE - A RATHER COMPLEX STADIUM FOR THE CLUB CULE, HISTORICALLY
En Pamplona tengo recuerdos no muy positivos del club cule. Recuerdo una derrota del equipo dirigido por Pep, que pesaria mucho al final de la temporada facilitandole el titulo de liga al Madrid de Mourinho, tambien, y un poco mas cercano ya, recuerdo un empate a 2 iniciando la liga 2019-2020. Ansu Fati marcaba su primer gol como cule, un penal de Pique en los ultimos minutos manchaba el resultado con tinte negativo que, igual que en la derrota antes mencionada, tendria su valor en el final de la liga que conquistaria el Madrid de Zidane.
El año pasado, en uno de los primeros partidos de Xavi, empataron a 2 en el Sadar, un golazo de Avila en los ultimos minutos hundia mas al Barca que en ese momento deambulaba en posiciones de Conference League.
En casa, en el Camp Nou, las cosas cambian notablemente. Goleadas por doquier en contra podriamos encontrar en el historial de estos partidos entre los ubicados en el reino de Navarra y los catalanes. Ayer, el Real Madrid perdio su invicto, y con eso, la punta de la liga Española, asi que el Barca tendria una oportunidad de oro en asentarse como lider en solitario durante poco mas de un mes, tiempo que se juega el mundial en Qatar.
El conjunto dirigido por Arrasate esta arrazando en la liga, ya se ubica 4to en la tabla de posiciones comenzando el encuentro, en zona de Champions, y ya le saco puntos al Madrid en el Bernabeu, asi que rival sencillo no seria, y mis sensaciones se confirmaban apenas iniciado el encuentro.
In Pamplona I have not very positive memories of the club cule. I remember a defeat of the team led by Pep, which would weigh heavily at the end of the season facilitating the league title to Mourinho's Madrid, also, and a little closer, I remember a 2-2 draw at the beginning of the 2019-2020 league. Ansu Fati scored his first goal as a cule, a penalty by Pique in the last minutes stained the result with a negative tinge that, as in the defeat mentioned above, would have its value in the end of the league that would be conquered by Zidane's Madrid.

Last year, in one of Xavi's first matches, they drew 2-2 at the Sadar, a great goal by Avila in the last few minutes further sunk Barca, which at that time was wandering in the Conference League positions.

At home, at the Camp Nou, things changed significantly. We could find in the history of these matches between those located in the kingdom of Navarra and the Catalans. Yesterday, Real Madrid lost their undefeated record, and with that, the top of the Spanish league, so Barca would have a golden opportunity to settle as sole leader for a little more than a month, while the World Cup is played in Qatar.


The team coached by Arrasate is on a roll in the league, already 4th in the standings at the start of the game, in the Champions League zone, and already took points from Madrid at the Bernabeu, so it would not be an easy opponent, and my feelings were confirmed as soon as the game started.

Fuente/Source
---
---
HACIA MUCHO QUE EL BARCA NO GANABA UN ENCUENTRO ASI - IT HAD BEEN A LONG TIME SINCE BARCA HAD WON A MATCH LIKE THIS
El Osasuna hizo valer el peso de su localia una vez el arbitro autorizaba a los jugadores patear la pelota. Apenas 5 minutos corrian y el marcador ya rompia el 0, en una clara desatencion defensiva entre Busquets y Ferran Torres (una clara deficiencia que deb trabajar la Xavineta, pues ya contra el Bayern sufrio los efectos devastadores de defender bien la pelota parada), envalentonado, el Osasuna quizo ampliar su ventaja, pero en la estocada final fallaban las definiciones de los dirigidos por Jagoba.
El Barca no encontraba comodidad, con la pelota y sin ella, se veia muy desorganizado sobre el terreno de juego, Pedri no podia hacer valer su calidad y vision, Lewandowski muy bien contenido, Dembele sin poder desbordar con su maravillosa tecnica. Estaba todo dado para que hoy no fuera el dia. Para que se consumara otra noche de decepciones. Y en el minuto 30, al ser correctamente expulsado el delantero Polaco, mas razones tendria para creer que el partido ya estaba terminado.
Lo mejor que podia pasar era que terminase el primer tiempo sin una derrota mas abultada, pues el Osasuna merecia el segundo. Y en el entretiempo, las cosas cambiaron para bien, en uno de los pocos partidos que recuerdo a Xavi leer de manera correcta el desenlace de un encuentro.
Jordi Alba colocado como carrilero, Ferran cerrandose como 9, y Dembele por la otra banda, apenas iniciado el complemento Pedri culminaba una combinacion entre Alba y Ferran, dejandola viva cerca del manchon del penal, y Pedri con una soberbia definicion, empataba el encuentro. Osasuna se hizo dueño de la pelota y dominaba a placer en el campo, Barca se limitaba a defenderse y aguantar, pues el empate tambien le servia para mantener el liderato, pero en un arrebato de Frenkie de Jong -quien quedo como central- pinchando la esferica de manera esplendorosa, y Raphinha habilitado la picaba por arriba del arquero en un formidable cabezazo. Y asi, el Barca tomaba la delantera faltando escazos minutos para finalizar el partido. Y aguantando estoicamente se conseguiria una victoria que hace tiempo no se veia por el lado del Barca.
Osasuna made their home advantage count once the referee authorized the players to kick the ball. Barely 5 minutes had elapsed and the score was already 0-0, in a clear defensive lapses between Busquets and Ferran Torres (a clear deficiency that the Xavineta had to work on, since against Bayern they suffered the devastating effects of defending the dead ball well), emboldened, Osasuna wanted to extend their advantage, but in the final blow the definitions of the players led by Jagoba failed.

Barca could not find comfort, with the ball and without it, they looked very disorganized on the pitch, Pedri could not make use of his quality and vision, Lewandowski was very well contained, Dembele could not overflow with his wonderful technique. Everything was set for today not to be the day. For another night of disappointment to be consummated. And in the 30th minute, when the Polish striker was correctly sent off, more reason to believe that the game was already over.

The best thing that could have happened was for the first half to end without a heavier defeat, as Osasuna deserved the second. And at halftime, things changed for the better, in one of the few games I remember Xavi reading the outcome of a match correctly.

Jordi Alba positioned as a winger, Ferran closing in as a 9, and Dembele on the other flank, just at the start of the second half Pedri finished a combination between Alba and Ferran, leaving it alive near the penalty spot, and Pedri with a superb finish, tied the match. Osasuna took control of the ball and dominated the field at will, Barca was limited to defend and hold on, because the tie also served to maintain the lead, but in a burst of Frenkie de Jong -who was left as a central - pinching the ball in a splendid way, and Raphinha enabled the sting above the goalkeeper in a formidable header. And so, Barca took the lead with just minutes to go. And stoically holding on for a victory that Barca had not seen for a long time.

Fuente/Source
---
---
CONCLUSIONES FINALES Y DESPEDIDA - FINAL CONCLUSIONS AND FAREWELL
Si de remontadas hablamos, y de por medio esta el Barca, lo mas logico seria creer que fue el club catalan quien sufrio la susodicha. Y pues bastantes razones se tendria para ello, ya conocemos el reciente historial que tiene el club cule con respecto a las remontadas. Pero en esta ocasion -y obviamente, salvando las distancias- la de hoy fue una cosa que suma muchisimo. Tanto asi que en los vestuarios festejaron la victoria como un trofeo (dejare que sean ustedes quienes decidan si esto esa bien fundado o no), yo en lo particular creo que ha sido una victoria para festejar, por todos los factores antes mencionados.
No habra mas actividad cule hasta el 31 de Diciembre, cuando el Camp Nou reciba a los periquitos del Espanyol, en un derby que promete mucho, y en el que no estara Lewandowski, leia que le podrian caer 3 fechas de suspension motivo de una seña hacia el colegiado que fue interpretada como una falta de respeto. Una baja sensible si se llega a confirmar, por lo pronto el Barca es el Lider de la Liga, aun queda muchisimo torneo por delante, pero estos son los puntos que te hacen ser campeones. Llegando asi al final de este post. Gracias por acompañar, ¡y nos seguiremos leyendo!
If we are talking about comebacks, and Barca is in the middle, the most logical thing would be to believe that it was the Catalan club who suffered the aforementioned. And there would be plenty of reasons for that, as we already know the recent history of the Catalan club with respect to comebacks. But on this occasion - and obviously, saving the distances - today's was something that added up to a lot. So much so that in the locker room they celebrated the victory as a trophy (I'll leave it up to you to decide if this is well-founded or not), I in particular believe it was a victory to celebrate, for all the factors mentioned above.

There will be no more cule activity until December 31, when the Camp Nou will receive the periquitos of Espanyol, in a derby that promises a lot, and in which Lewandowski will be absent, I read that he could get 3 dates of suspension because of a sign to the referee that was interpreted as a lack of respect. A sensitive casualty if it is confirmed, for now Barca is the leader of the league, there is still a lot of tournament ahead, but these are the points that make you champions. So we come to the end of this post. Thanks for joining us, and we'll keep reading!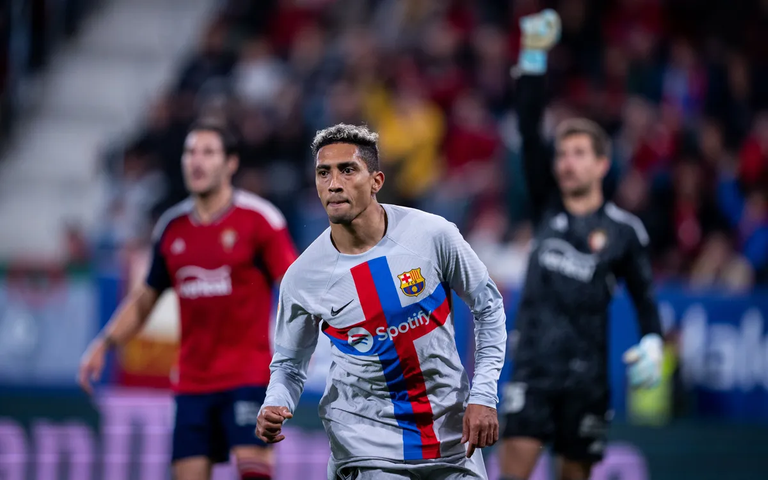 Fuente/Source
---
---
---
Ingles no es mi idioma nativo. Todos los textos traducidos con:
English is not my native language. All the texts translated with:


Diseño editado y realizado en Canva, libre de uso
Logo de Hive
---
---