(ESP-ENG) En la hermosa Florencia, el Milan y su fealdad - In the beautiful Florence, Milan and its ugliness.
¡Buona notte a tutti! Finalizo la muy buena racha rossonera el día de hoy, en su visita a la siempre complicada Fiorentina de Vincenzo Italiano. Tras la derrota del Napoli, el Milan tenia hoy una gran oportunidad para acercarse al líder (sarcasmmo encendido), sin embargo correspondería decir que el Milan estaba obligado a ganar hoy, pues la Lazio se prendió de lleno en el coliderato de Italia y el Inter juega mañana. Oportunidad desperdiciada por el equipo de Pioli que se vio ampliamente superado. A continuación, mis sensaciones y analisis del encuentro. ¡Acompáñenme!
Buona notte a tutti! The Rossoneri's very good run came to an end today, when they visited the always difficult Fiorentina of Vincenzo Italiano. After Napoli's defeat, Milan had a great opportunity today to get closer to the leader (sarcasm on), however, it should be said that Milan was obliged to win today, as Lazio is now in the Italian co-leadership and Inter plays tomorrow. A wasted opportunity for Pioli's team, who were largely outclassed. Here are my feelings and analysis of the match, please join me!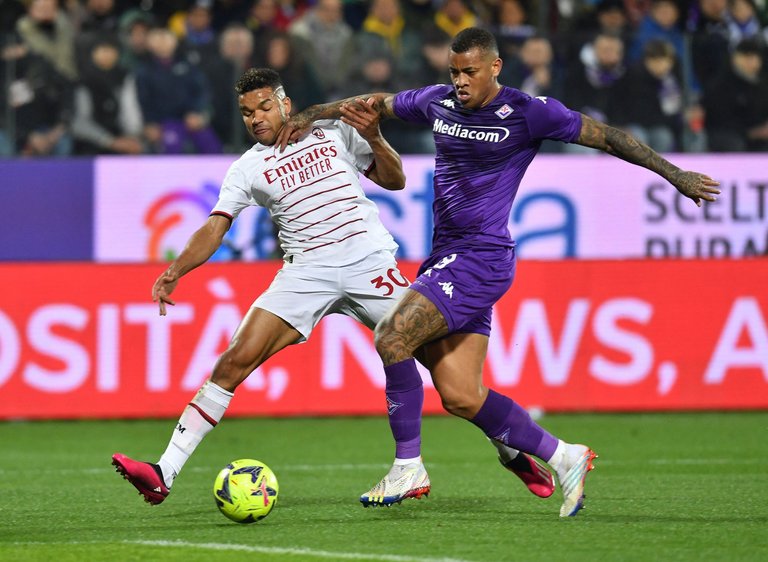 Fuente/Source
---
---
LAS VISITAS DEL MILAN A FLORENCIA SUELEN SER DIFICILES - MILAN'S VISITS TO FLORENCE TEND TO BE DIFFICULT
Sin ir muy lejos, apenas la pasada campaña, el Milan visito el Artemio Franchi y en 55 minutos iba perdiendo por goleada, Ikone, Vlahovic, Saponara, y el resto de guerreros violas le propinaban un baile al cuadro de Pioli, al menos Zlatan tuvo un poco de vergüenza deportiva y logro recortar las distancias en el marcador con un doblete. No sirvió de nada, aunque los resultados maquillados quizá funcionen para hacer que la derrota no sea tan dolorosa, o para engañarse con una realidad inexistente; si el rival te bailo, pues te bailo. Punto. No hay mucho que hacer.
Recurro a mi memoria y la antepasada campaña el Milan saco un triunfo de oro en ese estadio, no sin antes haber sudado la gota gorda; Calhanoglou con un magistral remate colocado, colocaba -valga la redundancia y la cacofonía- el 3 a 2 definitivo que le serviría al Milan para clasificar a Champions.
Las cosas suelen ser distintas cuando es el equipo Viola quien va a San Siro, debería hacer mención de que, la pasada campaña, en San Siro y ante la Fiorentina, arrancaría la racha de triunfos que finalizarían en el tan ansiado Scudetto conseguido la pasada campaña, y por esta temporada, aunque sin mucha lucidez y con un suertudo gol en el final, Pioli se impuso ante su similar de Vincenzo Italiano (similar por ser director técnico como el, calvo, como el, y se visten exactamente igual).
El Milan después de una complicada racha de malas resultados,logro revertir ese mal momento a punta de victorias solventes y seguras, ademas de importantes. Pero hoy visito a la Fiore y sale con mas dudas que certezas para visitar a los Spurs por Champions...
Without going too far, just last season, Milan visited the Artemio Franchi and in 55 minutes they were losing by a landslide, Ikone, Vlahovic, Saponara, and the rest of the violas warriors were giving a dance to Pioli's team, at least Zlatan had a little sporting shame and managed to cut the distance on the scoreboard with a double. It didn't help, although the results made up maybe work to make the defeat not so painful, or to fool yourself with a non-existent reality; if the rival danced you, then I danced you. Period. There is not much to do.

Last season, Milan won a golden victory in that stadium, but not before having sweated a lot; Calhanoglou with a masterly placed shot, placed -with the redundancy and the cacophony- the definitive 3-2 that would help Milan to qualify for the Champions League.

Things are usually different when it is the Viola team who goes to San Siro, it should be mentioned that, last season, at San Siro and against Fiorentina, would start the winning streak that would end in the long-awaited Scudetto achieved last season, and this season, although without much lucidity and with a lucky goal at the end, Pioli won against his similar Vincenzo Italiano (similar because he is a technical director like him, bald, like him, and they dress exactly the same).

Milan, after a complicated streak of bad results, managed to reverse that bad moment with solvent and safe victories, as well as important ones. But today they visit Fiore and they go out with more doubts than certainties to visit Spurs for the Champions League...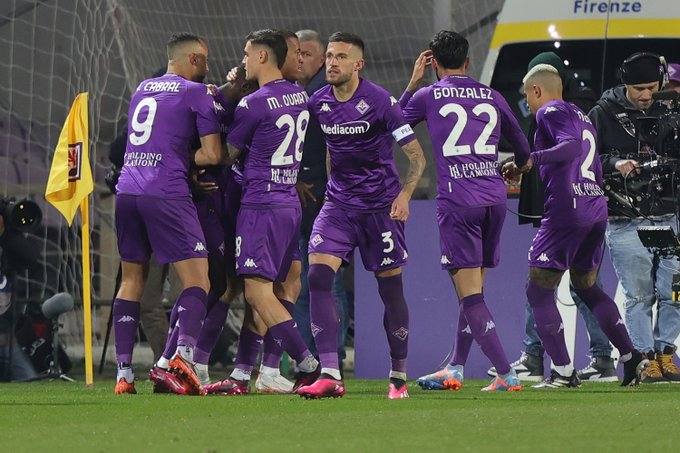 Fuente/Source
---
---
COMPLETO DOMINIO DE LA FIORE SOBRE EL MILAN - FIORE'S COMPLETE DOMINATION OF MILAN
Ante las bajas de Brahim Diaz y de Leao -bajas bastante sensibles de hecho- Pioli decidió darle una oportunidad, de nuevo, a De Ketalaere y a Rebic, este ultimo bastante perdido en los encuentros que le ha tocado participar.
Y con la vuelta de Bennacer al mediocampo, se preveía que el cuadro rossonero tendría una actuación digna, pero lo cierto es que fue todo lo contrario, la Fiorentina fue, básicamente, un huracán que destruía todo a su paso, por cuestiones de puntería y de Maignan, no se pusieron en ventaja al final del primer tiempo.
Una vez comenzado el segundo, un error infantil de Tomori, cometiendo un penal evitable a Ikone, desembocaría en el primer gol del partido; Nico Gonzales batía de forma segura al guardameta Frances y ponía adelante en el marcador a la Fiorentina haciendo justicia por todo lo acontecido, inmediatamente Milan busco reaccionar, Theo Hernandez tuvo el empate pero Terracciano se hizo gigante y bloqueo el fortísimo remate del lateral y capitano del Milan.
Ya jugado al ataque por completo el Milan, la Fiore, con paciencia, buen control del balón e interpretación de los espacios, edifico un gran segundo gol, con Luka Jovic y un cabezazo certero. Theo no se pudo sacar la espina de su falla que pudo haber sido el 1 a 1, y se lanzo al ataque y le rompió el arco a Terracciano, colocando el descuento en el marcador al 90+5, pero no había tiempo para mas. Milan caía en Florencia.
With Brahim Diaz and Leao out, Pioli decided to give a chance to De Ketalaere and Rebic, the latter of whom was quite lost in the matches he played in.

And with the return of Bennacer to the midfield, it was expected that the Rossoneri team would have a decent performance, but the truth is that it was the opposite, Fiorentina was basically a hurricane that destroyed everything in its path, and due to a lack of accuracy and Maignan, they did not take the lead at the end of the first half.

Once the second half started, a childish mistake by Tomori, committing an avoidable penalty to Ikone, would lead to the first goal of the match; Nico Gonzales safely beat the French goalkeeper and put Fiorentina ahead on the scoreboard doing justice to everything that had happened, immediately Milan tried to react, Theo Hernandez had the equalizer but Terracciano became giant and blocked the very strong shot of the Milan's winger and captain.

Already played in full attack by Milan, Fiore, with patience, good control of the ball and interpretation of the spaces, built a great second goal, with Luka Jovic and an accurate header. Theo could not get rid of the thorn of his miss that could have been the 1 to 1, and went on the attack and broke Terracciano's goal, putting the discount on the scoreboard at 90+5, but there was no time for more. Milan was down in Florence.

---
CONCLUSIONES FINALES Y DESPEDIDA - FINAL CONCLUSIONS AND FIREWELL
Thiaw venia jugando muy buenos partidos, pero hoy, ante Cabral, se vio ampliamente superado. No es el mejor momento para entrar en una mala racha, deseo y aspiro solo haya sido una mala noche, pero es que si el chico era reemplazado en el mediotiempo nadie hubiera exclamado queja alguna, hoy, Thiaw, fue uno de los culpables de la derrota.
Sin Leao, sin desborde, el Portugues hizo una falta enorme por la banda izquierda, y Rebic estuvo en un cumpleaños; el partido del Croata, displicente, dormido, todo mal Ante Rebic el dia de hoy.
Zlatan jugo poco mas de 30 minutos y se le vio muy bien, realmente, bajando mas pelotas que Giroud y en ocasiones creando juego. Una lastima que no este incluido en la lista de Champions, pues un guerrero como el, mas alla de la edad, tiene un peso importante en los partidos trascendentales.
Ahora, con esta derrota, vuelven fantasmas y miedos, era justo evitar una derrota el dia de hoy para afrontar con mejor cabeza el encuentro ante los Spurs el 8 de Marzo, o sea el Miercoles. Y ahora la cosa cambia, porque el futbol es un estado de animo, y sinceramente tengo muchas dudas sobre si Milan pueda aguantar la ventaja. Igual, ya veremos si eso ocurrira.
Llegando asi al final de este post, ¡Muchas gracias por acompañar y nos seguiremos leyendo!
Thiaw had been playing very good games, but today, against Cabral, he was largely outplayed. It's not the best time to go on a bad streak, I wish and hope it was just a bad night, but if the kid was replaced at halftime no one would have complained, today, Thiaw was one of the culprits of the defeat.

No Leao, no overflow, the Portuguese made a huge foul on the left flank, and Rebic was in a birthday; the Croatian's game, lackadaisical, sleepy, all bad in front of Rebic today.

Zlatan played just over 30 minutes and looked very good, really, bringing down more balls than Giroud and sometimes creating play. It is a pity that he is not included in the Champions League list, because a warrior like him, beyond his age, has an important weight in the transcendental matches.

Now, with this defeat, ghosts and fears return, it was right to avoid a defeat today to face with a better head the match against Spurs on March 8, that is on Wednesday. And now things change, because soccer is a state of mind, and I sincerely doubt if Milan will be able to hold the advantage. Anyway, we'll see if that will happen.

So, coming to the end of this post, thank you very much for your support and we'll keep reading!

---
---
Ingles no es mi idioma nativo. Todos los textos traducidos con:
English is not my native language. All the texts translated with:

Diseño editado y realizado en Canva, libre de uso
Logo de Hive
---
---