(ESP-ENG) ¡GOLEADA, DESPEDIDA Y FIESTA EN EL SPOTIFY CAMP NOU! - A GREAT VICTORY, FAREWELL AND PARTY AT THE SPOTIFY CAMP NOU!
¡Bona nit a tots!, llego la jornada en la que Sergio Busquets y Jordi Alba tuvieron su merecido homenaje. Ambas leyendas del club han decidido no continuar con sus carreras en el Barca y el futuro próximo es desconocido a nivel publico a estas alturas, sin embargo, vayan a donde vayan, siempre tendrán en el Barcelona una afición totalmente agradecida por todo lo otorgado durante mas de 1 década. El Spotify Camp Nou acogió una despedida que también incluía la suya; el gigante estadio europeo entrara en un proceso de modernización total que exige sus puertas sean cerradas para los procesos de la obra. Finales de 2024 se estima este concluido el nuevo recinto cule, mientras que el equipo juega en el Estadi Olímpic Lluís Companys, de Montjuïc. Dicho esto, el equipo se jugaba, el día de hoy, la posibilidad de cerrar por todo lo alto los ciclos de los símbolos cules ya mencionados, con una victoria. Victoria que se dio con goleada, los de Xavi vencieron 3 a 0 al Mallorca, y edificaron una jornada que sin duda prevalecerá en la memoria de los hinchas del futbol de bien. A continuación, mis sensaciones y análisis. ¡Acompáñenme!
Bona nit a tots, the day came when Sergio Busquets and Jordi Alba had their well-deserved tribute. Both legends of the club have decided not to continue their careers at Barca and the near future is unknown to the public at this point, however, wherever they go, they will always have a Barcelona fan base that is totally grateful for everything they have given to the club for more than a decade. The Spotify Camp Nou hosted a farewell that also included theirs; the giant European stadium will enter a total modernization process that requires its doors to be closed for the work processes. The new stadium is expected to be completed by the end of 2024, while the team plays at the Estadi Olímpic Lluís Companys, in Montjuïc. That said, today the team was playing for the possibility of closing in style the cycles of the aforementioned cules symbols with a victory. Xavi's team defeated Mallorca 3-0, and built a day that will undoubtedly prevail in the memory of the fans of good soccer. Here are my feelings and analysis, please join me!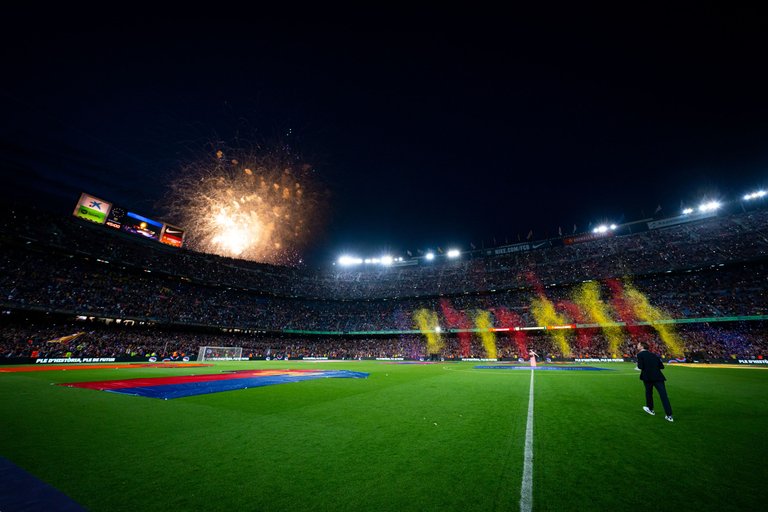 Fuente/Source
---
---
DESPEDIDAS HABITUALES EN EL BARCA TEMPORADA TRAS TEMPORADA - REGULAR FAREWELLS AT BARCA SEASON AFTER SEASON
Parte del viaje es su final, esa icónica frase de Iron Man trasciende las fronteras del mundo cinematográfico hasta el mundo real, sea cual el contexto o se hable de quien se hable. Hasta nosotros mismos, no obstante, para no filosofar demasiado, el Barca nos ha acostumbrado a finales de sus figuras casi temporada tras temporada.
Todo empezó con Puyol y Valdes en 2014, dejando ambos capitanes el club de sus amores al no renovar sus contratos, Valves siguió su camino y llego a jugar para el Manchester United, aunque sin mucha pena o gloria, por su parte, el eterno capitán decidió retirarse pues una serie de lesiones lo venían aquejando desde antes de su decisión final. En 2015, llegaría el turno de Xavi, quien, de todos los que mencionare mas adelante, creería fue el que tuvo el final mas prospero, pues se despidió del Barca levantando el triplete de la era Luis Enrique, y aparte, el Camp Nou se vistió de gala para su despedida. En 2016, el turno seria de Dani Alves, lastimosamente el hoy presidiario no pudo despedirse como mandan los libros, sin embargo 6 años después el Brasilero volvería al club de sus amores con casi 40 años, y aunque no gano ningún titulo, el carismático lateral carioca brindo al vestuario un plus que hacia falta. En 2017, Neymar y Mascherano dejarían el club, Neymar pasaría a la historia como el fichaje mas caro en la historia del futbol moderno y Masche se retiraría del futbol. 2018 seria el momento para Andres Iniesta de decirle adiós al dorsal 8 del Barca, yéndose entre lagrimas pero con un doblete en su haber, y ese mítico gol ante Sevilla en la final de la Copa del Rey. En 2020, Luis Suarez e Ivan Rakitic también darían un paso al costado, estos dos llegaron el mismo mercado veraniego de 2014 post mundial, y se fueron como leyendas, a pesar de no haber recibido un homenaje a la altura, por una serie de factores internos y también, por la pandemia que estaba en su apogeo. Messi, en 2021, no creo necesite explayarme demasiado, y para cierre de 2022 y ahora en 2023, Pique, Jordi y Busquets respectivamente han decidido dejar al Barca y además perdonar una cantidad altamente significativa de dinero al club por concepto de salarios diferidos. Después de hoy, Salvo ter Stegen y Sergi Roberto, ya nada queda de un club que ha tocado lo mas alto del futbol.
Part of the journey is its ending, that iconic Iron Man phrase transcends the boundaries of the cinematic world into the real world, whatever the context or whoever is being talked about. Even we ourselves, however, not to philosophize too much, Barca has accustomed us to endings of its figures almost season after season.

It all started with Puyol and Valdes in 2014, both captains leaving the club of their love when they did not renew their contracts, Valves followed his path and came to play for Manchester United, although without much pain or glory, for his part, the eternal captain decided to retire because a series of injuries had been afflicting him since before his final decision. In 2015, it would be Xavi's turn, who, of all those I will mention later, I believe was the one who had the most prosperous end, as he said goodbye to Barca by lifting the treble of the Luis Enrique era, and besides, the Camp Nou was dressed up for his farewell. In 2016, it would be Dani Alves' turn, unfortunately the now convicted prisoner could not say goodbye as the books dictate, however 6 years later the Brazilian would return to the club of his love at almost 40 years of age, and although he did not win any titles, the charismatic Carioca fullback gave the locker room a plus that was needed. In 2017, Neymar and Mascherano would leave the club, Neymar would go down in history as the most expensive signing in the history of modern soccer and Masche would retire from soccer. 2018 would be the moment for Andres Iniesta to say goodbye to the number 8 of Barca, leaving in tears but with a brace to his credit, and that mythical goal against Sevilla in the final of the Copa del Rey. In 2020, Luis Suarez and Ivan Rakitic would also step aside, these two arrived in the same summer market of 2014 post World Cup, and left as legends, despite not having received a tribute to the height, for a number of internal factors and also because of the pandemic that was at its peak. Messi, in 2021, I don't think I need to elaborate too much, and by the close of 2022 and now 2023, Pique, Jordi and Busquets respectively have decided to leave Barca and also forgive a highly significant amount of money to the club for deferred wages. After today, with the exception of ter Stegen and Sergi Roberto, nothing remains of a club that has reached the top of soccer.

---
DE LA MANO DE LOS PIBES, PARA DARLE FELICIDAD A LOS MAYORES - HAND IN HAND WITH THE CHILDREN, TO GIVE HAPPINESS TO THE GROWN-UPS
Xavi le dio la titularidad a Sergio y a Jordi, sabiendo que era su ultimo partido ante su gente, se comentaba, que también seria la despedida de otros jugadores, pero honestamente no vi esa aura en los demás jugadores, habrá que ver a lo largo del mercado si, por ejemplo, Ansu Fati seria uno de ellos.
Apenas iniciado el encuentro el Barca se pondría en ventaja, sin un minuto de haber transcurrido en el reloj, Ansu Fati adelantaba a los de Xavi en el marcador tras una jugada magnifica entre Sergio, Lewandowski y Gavi. El Barca volvía a jugar al primer toque y le daba resultados. Balde saldría lesionado al minuto 13 del partido, tras recibir una falta absolutamente innecesaria de Ndiaye quien se iría expulsado tras la intervención del VAR, el lateral azulgrana se perderá, a priori, unas 10 semanas. Ansu volvería a marcar, esta vez, tras recibir un gran pase de Lewandowski al espacio en una combinación entre Frenkie, el Polaco y Ansu para definir. El Spotify Camp Nou era una absoluta fiesta.
Iniciada la segunda parte, el equipo buscaba el tercer gol, Kounde estrellaría un cabezazo en el travesaño, Lewandowski y Dembele estarían cerca, pero el gol llegaría tras la zurda de Gavi, quien después de recibir de Dembele, controlo y oriento al balón a tal punto de encontrar el hueco para rematar a pura potencia y vencer al portero del Mallorca. Los chicos hacían los goles para que los grandes se pudiesen ir en paz.
Xavi gave the starting line-up to Sergio and Jordi, knowing that it was his last game in front of his people, it was said that it would also be the farewell of other players, but honestly I did not see that aura in the other players, we will have to see throughout the market if, for example, Ansu Fati would be one of them.

Barca took the lead just after the start of the game, with not even a minute left on the clock, Ansu Fati put Xavi's team ahead after a magnificent play between Sergio, Lewandowski and Gavi. Barca went back to playing with their first touch and it paid off. Balde would go off injured in the 13th minute of the match, after receiving an absolutely unnecessary foul from Ndiaye who would be sent off after the intervention of the VAR, the Barca full-back will miss, a priori, about 10 weeks. Ansu would score again, this time, after receiving a great pass from Lewandowski in space in a combination between Frenkie, the Pole and Ansu to define. The Spotify Camp Nou was an absolute party.

Kounde crashed a header against the crossbar, Lewandowski and Dembele were close, but the goal came from the left foot of Gavi, who after receiving from Dembele, controlled and guided the ball to the point of finding the hole to shoot with pure power and beat the goalkeeper of Mallorca. The boys scored the goals so that the big boys could leave in peace.

---
CONCLUSIONES FINALES - FINAL CONCLUSIONS
Cuando veía a comienzos de 2009 podía hablar de la importancia de 10 jugadores en el equipo de Pep y omitía a Busquets pues no sabia la relevancia del puesto de Busi y no habían ahondado en su calidad, hoy en día creía que ha sido incluso tan importante como Messi y mas que muchos otros. Xavi dice que la prioridad en el mercado será buscar un pivote, con las características de Sergio, si van a buscar ese pivote no lo van a encontrar, Sergio Busquets ha sido único e irrepetible; Rodri, del Manchester City, ha sido lo que mas he visto semejante a Busi, no obstante no es el. A donde vaya Busquets le seguiré la carrera, es increíble como un jugador así alguna vez ha sido criticado, dicen que es lento para correr, pero no lo han visto lo veloz que es para pensar... el Barcelona sufrirá mucho esa baja, totalmente irremplazable.
Recuerdo que a Jordi le criticaban demasiado porque no aceptaba una salida y decían que su tiempo ya había pasado, que Balde le había superado (cosa que es cierta) y que ya no daba para mas; el ex Valencia anoto 2 de los goles mas importantes del Barca para obtener el campeonato liguero, ante Sevilla, para ampliar la ventaja liguera ante el Madrid y hacerla prácticamente inalcanzable, y el gol ante Osasuna cerca del final para poner al Barca a tiro de ser campeón. Jordi se comporto a la altura, y por ello es el mejor lateral izquierdo en la historia del club; apoyo a Balde con consejos y demás, siempre estuvo presente en el vestuario para dar voz de experiencia, y se va perdonando una cantidad de dinero que es para pensarla dos veces.
Gracias a ambos. Merecen unas líneas muchísimo mas expresivas y mejores, pero considero que todo lo que han hecho por el Barca y por el buen futbol merecen algo mas que letras y no me creo adecuado o con la suficiente sapiencia como para tomar ese peso y ser el encargado de ello.
¡Muchas gracias por acompañar y nos seguiremos leyendo!
When I saw at the beginning of 2009 I could talk about the importance of 10 players in Pep's team and I omitted Busquets because I did not know the relevance of Busi's position and they had not delved into his quality, today I believe that he has been even as important as Messi and more than many others. Xavi says that the priority in the market will be to look for a pivot, with the characteristics of Sergio, if they are going to look for that pivot they will not find it, Sergio Busquets has been unique and unrepeatable; Rodri, from Manchester City, has been the most similar to Busi, however it is not him. Wherever Busquets goes I will follow his career, it is incredible how such a player has ever been criticized, they say he is slow to run, but they have not seen how fast he is to think... Barcelona will suffer a lot from this loss, totally irreplaceable.

I remember that Jordi was criticized too much because he did not accept a departure and they said that his time had passed, that Balde had surpassed him (which is true) and that he was no longer good enough; the former Valencia scored 2 of the most important goals for Barca to win the league championship, against Sevilla, to extend the league advantage against Madrid and make it practically unreachable, and the goal against Osasuna near the end to put Barca within reach of being champion. Jordi behaved at the height, and that is why he is the best left back in the history of the club; he supported Balde with advice and so on, he was always present in the dressing room to give voice of experience, and he leaves forgiving an amount of money that is to think twice. 

Thanks to both of them. They deserve much more expressive and better lines, but I consider that everything they have done for Barca and for good soccer deserve something more than letters and I do not think I am adequate or with enough wisdom to take that weight and be in charge of it.

thank you very much for joining us and we'll keep reading!

---
---
---
Ingles no es mi idioma nativo. Todos los textos traducidos con:
English is not my native language. All the texts translated with:

---
---