Cherry Blossom Nails / 指先に春を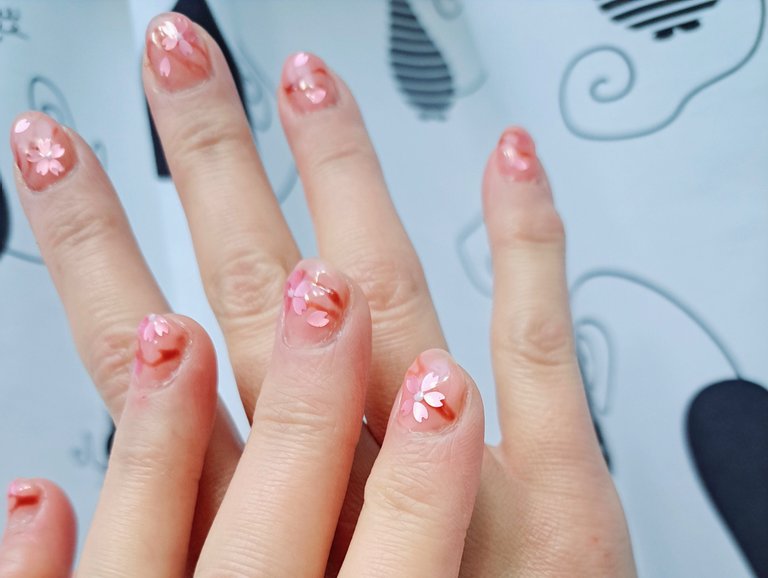 It's been over a week since I got my nails done by my daughter.
You can check my last post from the link below.
I'm posting in Hive Nails community for the first time.
長女ちゃんに爪を塗ってもらってから1週間ちょっとたちました。前回の投稿は下のリンクからどうぞ。
Hive Nailsというコミュニティを見つけました。こちらに初投稿です。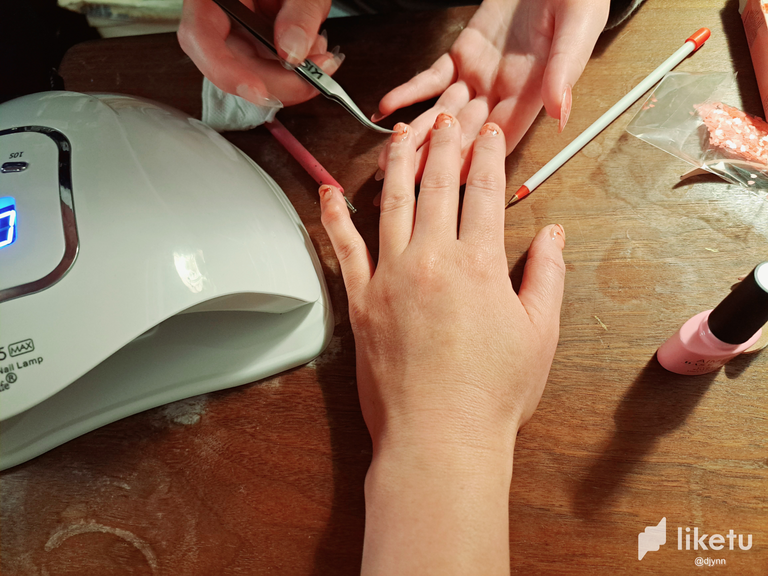 I was in a good mood most of the time looking at my fun nails since then and also I had a great time chatting with my daughter while getting my nails done. I thought I would make it into one of my routines.
I purchased some new gel nails for my daughter so that I don't have to feel bad asking her to do it for me hehe.
指先をキレイにしてもらってかなり機嫌が良かった私です。爪を塗ってもらっている間、娘との会話も楽しくて習慣に出来たらなと思っています。けれどただで塗ってもらうのは気がひけるので新しいジェルネイルを買ってあげました、笑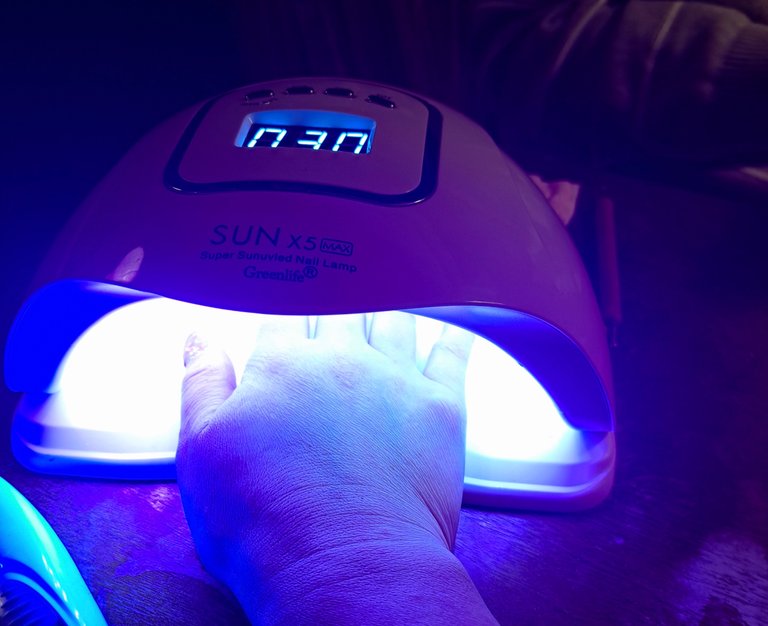 Again, I let my daughter go crazy. She picked cherry blossoms this time.
It is quite a process doing the gel nails. I can't imagine doing it by myself.
First, you need to prepare your nails. Then apply the base coat and more coats after. You need to put your hand in the UV lamp each time after applying the new patterns/coat. Of course, you cannot forget to pay attention to your cat if you have one. She will turn blue if you don't haha.
Oh yeah, you need to make sure the cat fur doesn't go on your nails like mine. Well, my daughter hid it with some lines so you won't see them lol.
今回も長女ちゃんおまかせコースです🌸
ジェルネイルって時間がかかりますね。自分では出来ないです。
まず爪をキレイにしてからベースコート、それから色を塗って描いて貼って。。。ひとつの作業をするたびに紫外線ランプに手を入れて。。。猫を飼っている方はかまってあげないと起こられます。青くなっちゃうし、笑
そうそう、猫の毛が爪に付かないよう気をつけないといけませんよ。私のはなんとかごまかせました、笑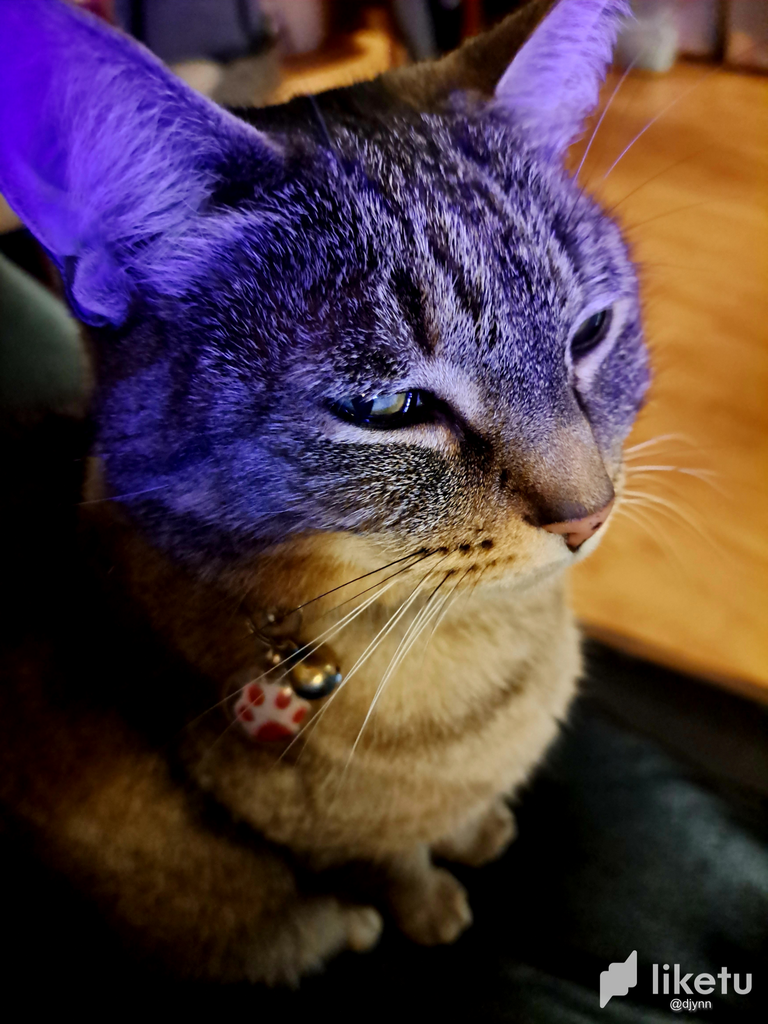 She applied the cherry blossom petals with tweezers one by one, applied the top coat and my nail is completed!
The spring came early on the tip of my finger!
桜の花びらはピンセットでひとつずつ置いていきます。そして最後にトップコートを塗って出来上がり!指先に春が来ました!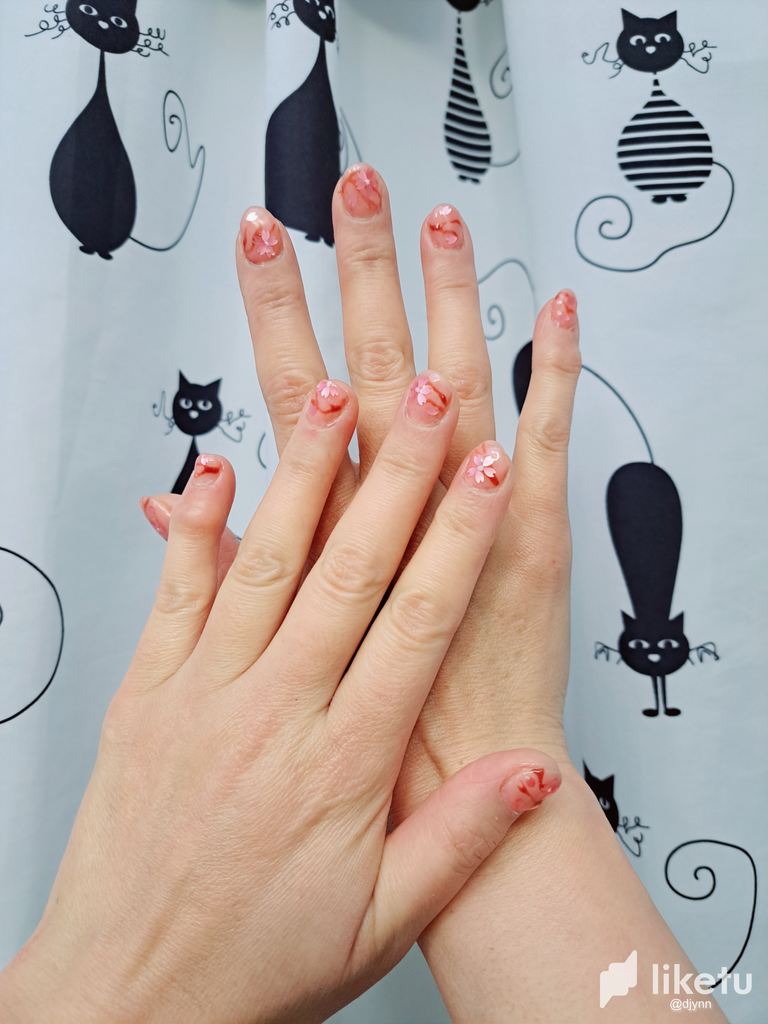 ☆☆☆
That's all for today.
Thanks for visiting!
いつもありがとうございます!
---
For the best experience view this post on Liketu
---
---