Wilders NFT Project / ワイルダーズNFTプロジェクト

Wilders are coming…
ワイルダーズが動き出す…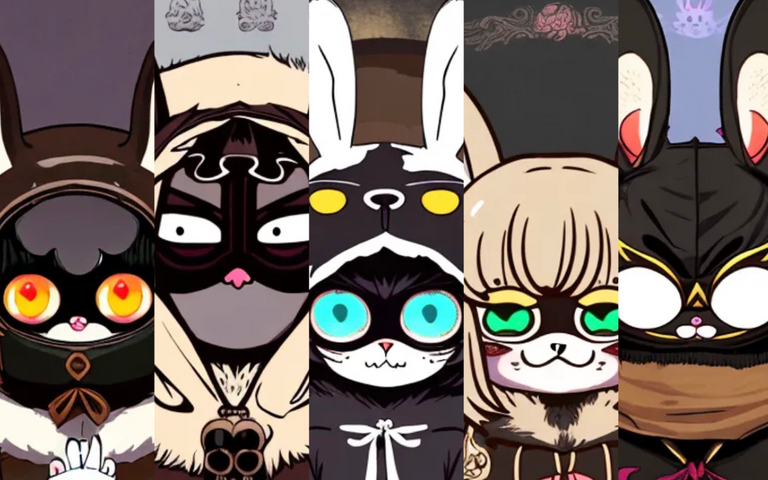 Wilders live everywhere in the world. They might be sitting beside us on the train ride to work. They might be grabbing a bite at the street corner food stand.
They are unique.
They come in different shapes and sizes. Some are wild and some are shy. Some are loud and some are quiet. Some wear glasses and some wears rainbow.
But they have one thing in common. They are good-hearted.
They disguise themselves in Wilder's mask, living among us, within us…
Be free Wilders. You are beautiful. Be mighty Wilders. We need you.
ワイルダーズは世界中に生息。通勤通学の電車の中、街角のフードスタンド、小さな町の田舎道…君の隣にも!
それは唯一無二の存在
性格も体格も様々。ワイルドなヤツ、シャイなヤツ…お喋りが止まらないヤツもいれば、静かなヤツもいる。メガネのヤツもいるし、虹をまとったようなヤツもいる。
けれど彼らには共通点がある。それは「心優しい」ということ。
ワイルダーズのマスクで顔を隠し、君たちの隣に、君たちの中に生きている...
自由であれ、ワイルダーズ、君は美しい。強くあれ、ワイルダーズ、君は必要とされている。

GNT (Generative NFT Tool) on MOOAR is one of many of Find Satoshi Lab's projects. It allows the user to create AI-generated images, mint and sell on the MOOAR NFT Market.
It opened up many possibilities not only to the non-artist but to the artist wannabe like myself. There are many negative options among artists toward AI. I totally understand the pressure but I think it is one of the tools that was freshly introduced to us to be creative just like digital painting was.
With the help of GNT, I managed to come up with the project.
I would like to introduce it to you here on HIVE as well because I'm thinking of expanding my project to NFT Showroom in the future.
MOOARのGNT(Generative NFT Tool)は、Find Satoshi Labのプロジェクトのうちの1つ。AI画像を作成、ミント、MOOAR NFT Marketで販売することが出来るプラットフォームです。
アーティストの間ではAIに対してネガティブな意見も多いですが、私はGNTには可能性しか見えないな…と思っています。
この度、GNTを使ってプロジェクトを立ち上げることになりました!!!
将来的にはNFT Showroomでもこのプロジェクトを展開しようと考えているので、HIVEでも紹介したいと思います。

The project is called "Wilders"
The world challenges us every day. Even simple living is getting hard to achieve for many of us. I've seen some giving up... We hear so many hateful voices and sad news.
Wilders are created in the hope of warming the heart of people in need and celebrating the goodness in people.
Wilders look like bunnies because rabbits are a symbol of a new beginning, fertility and hope to guide us to leap into a new world full of possibility. The unique looks of the Wilders are the symbol of our uniqueness.
They are fun to collect, trade and use as PFP.
I'm hoping that I can spread the goodness to the world with Wilders NFT.
プロジェクト名は "Wilders"
様々な出来事が私たちの日々に難問を突きつけてきます。シンプルな生活をすることでさえ難しく、諦めてしまう人も...ヘイト…いじめ…そんなニュースばかり耳にして悲しくなります。
ワイルダーズは冷えてしまった心を温めたい、そんな心に寄り添いたいと思う気持ちを応援するために作られました。
ワイルダーズはウサギみたいな格好をしています。
それはウサギが新しい事の始まりと繁栄の象徴であり、可能性に満ちた世界への飛躍を応援してくれる存在だからです。ワイルダーズのユニークなルックスは、私たちの個性の象徴…
ちょびっと奇妙でちょびっと可愛いワイルダーズを集めて、トレード、プロフィール画像に使ったりすることで世界にワイルダーズの気持ちを広めていけたらなと思います。

To boost starting Wilders project, I applied for Fairmint on MOOAR and was approved! Yay!
Fairmint is a live minting event that takes place on MOOAR.
Wilders will be live on UTC on July 3rd, 12:00 PM for only 12 hours!
Part of the profit from this Wilders NFT sales will be used for a good cause, giveaway, donations etc. The details are not decided. It will be announced as the project gets going.
I'm thinking about making some products as well.
So stay tuned!
Wildersのプロジェクトをスタートさせるにあたり、MOOARでFairmint申請をし、承認されました!
イェイ!
Fairmintは、MOOARで行われるライブミントイベントです。
日程はUTC 7月3日 12:00PMから12時間行われる予定です!

NFTの売上の一部でギブアウェイや将来的には寄付も出来たらなと考えています。
そしてリアルグッズも!
色んな可能性が見えますが、私ひとりの運営なのでゆっくりです😅
頑張ります!
Visit HERE for more Wilders
☆☆☆
That's all for today.
Thanks for visiting!
いつもありがとうございます!
---
---