Small 🪓 For The Big 🌲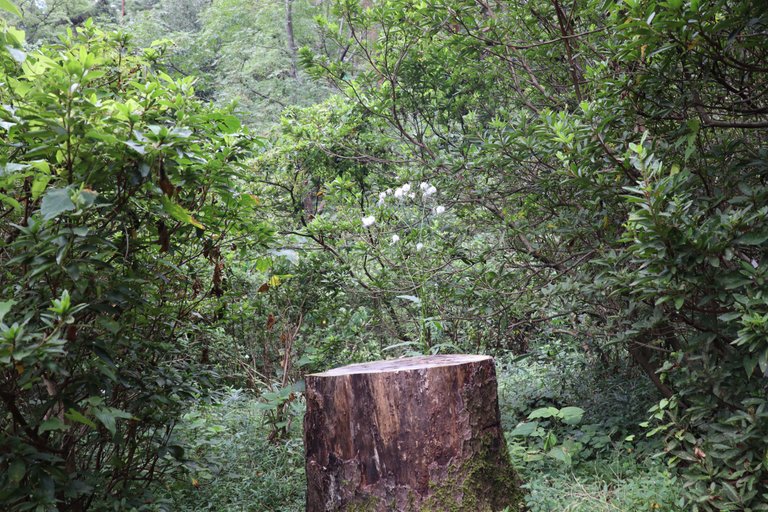 If you are the BIG tree, I am the small axe
On a mini hike yesterday I came across this tree stump and thought "what a massive tree it must have been". Now all that remains is the stump while all the bushes around it flourish.
The big tree can be seen as the system sucking the nutrients from the earth not allowing smaller trees to absorb what they need. It also blocks them from the sun and therefor stunts their growth.
The BIG tree can also be seen as the current financial system and the small axe being crypto chipping away at its foundation day by day. At first the small axe wasn't a treat but it kept chipping away and getting sharper until one day the big tree fell to the ground and a bunch of decentralized weeds started to flourish in the sun.
And Whosoever diggeth a pit, shall fall in it 🎶
Now let's look at this line in the context of the current pandemic. No doubt this virus was man made and whoever made it has dug a pit for man kind. A pit of worry and uncertainty about future , death and sorrow for many. Well, this pit that they have dug for humanity, they are the same ones who are going to fall in it, the righteous shall see the way out!
I leave you with two versions of "Small Axe" for your listening pleasure. To me, they both sound superb.


Artiste: Bob Marley & The Wailers
Title: Small Axe
Album: The Master, African Herbs Man
Release Date: 1973



Artiste: U Roy & Jessie Royal
Title: Small Axe
Album:Solid Gold
Released: 2021:07:16




Click the banner to learn more about #APART. It is quite a simple challenge. Post an original picture and link to a reggae song. The picture should have some connection to the Reggae song in someway, anyway. The only limit is your imagination.😉
---
Posted via ReggaeJahm | Reggae Culture Rewarded
---
---