Music Creation: Demo Track | Every Day Riddim

---
Howdie,
Just now I created this demo track on one of @mrfloridakeyz riddims.
Though most artistes would rather you wait for the official release, I like to show the process. And for unestablished aristes like myself, distributing on web 2 platforms, well lets just say there is no rush.
Though the chorus has been in my mind for a long time, I never actually sat down and wrote a song. I did what I call medz writing. I meditate with the riddim by simply listening to it for some time. Could be a day or even months.
Now with the help of an app called Bandlab, I was able to add a new creation process using my phone and the stock headphones to create the song as I go, track by track, bar by bar, pausing at times to listen and think of ideas.It is like having a little studio in your packet.
A well established dancehall artiste, Mavado actually uses a similar process as I was lucky enough to see him at a friend's studio when he was just breaking out into the mainstream. But that is how he voiced songs for releases, bar by bar, punching in and out, creating ideas as he goes along.
The Concept
The concept is me talking to my future kin folk in nowadays Dancehall style, motivating them to do their best for the next genration. While at the same time motivating myself.
Well I actually wrote one verse,
interstingly the app even has a writing section where you can jot down lyrics and for the last verse I did just that. It was a verse I wanted to be more thoughtful and carry an everlasting messsage.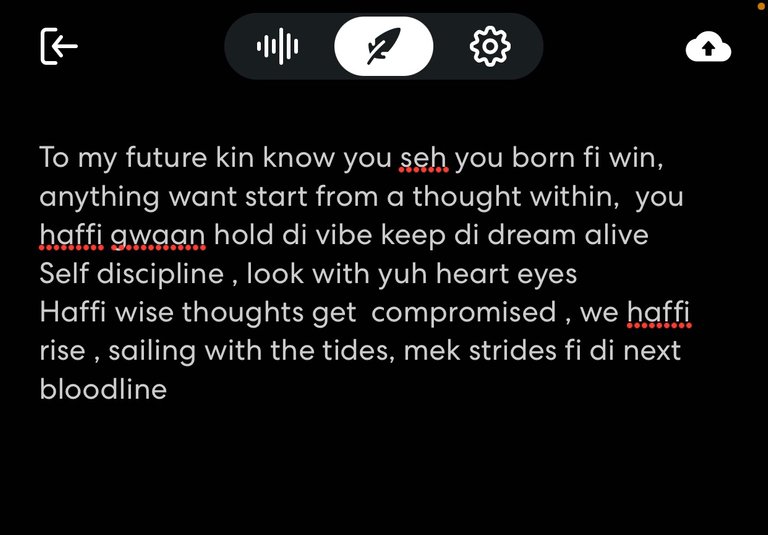 Well, take a listen and tell me what you think. I will listen to it to actually catch the lyrics and vibes of the song and get ready for recording in the studio.
---
▶️ 3Speak

ReggaeJAHM.com
Discord | Hive Community | Reggaejahm Interface | Twitter| Buy Beats With HIVE & JAHM
---
---