A sketch and watercolor for my next piece in my series "Animals and plants"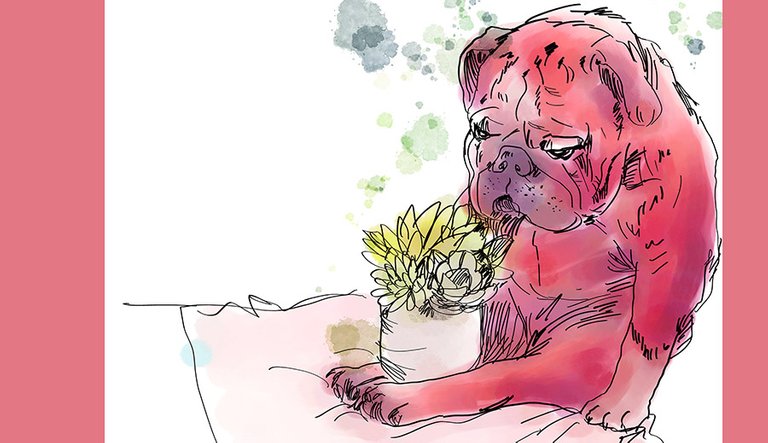 Farley Bulldog and his gift of succulents.
I've been sharing the pieces in my new series, including yesterday's post, my art for my Animals and Plants. So far I've been showing the digital Inking stage, using bold outlines and such to make a good black and white that will hopefully serve well for coloring pages.
I've then shared the high color I create in layers using digital oil pastels and really it's a bit of fun much like coloring. Like My dachshund fellow from the other day: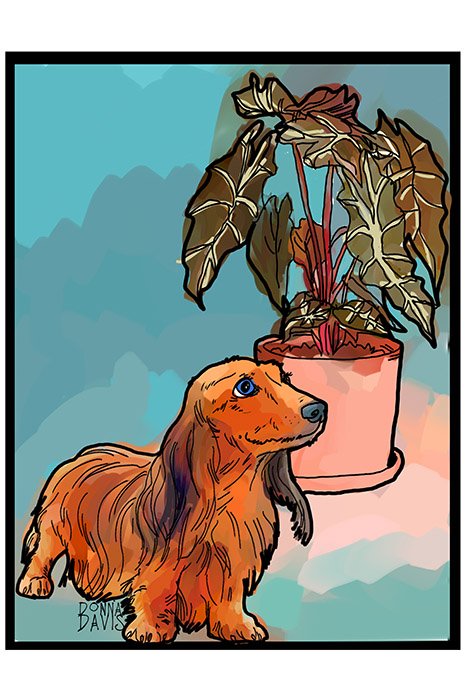 Today, my latest piece is not yet been digitally inked and ready for this color so I wanted to share the sketch and the watercolor study of course.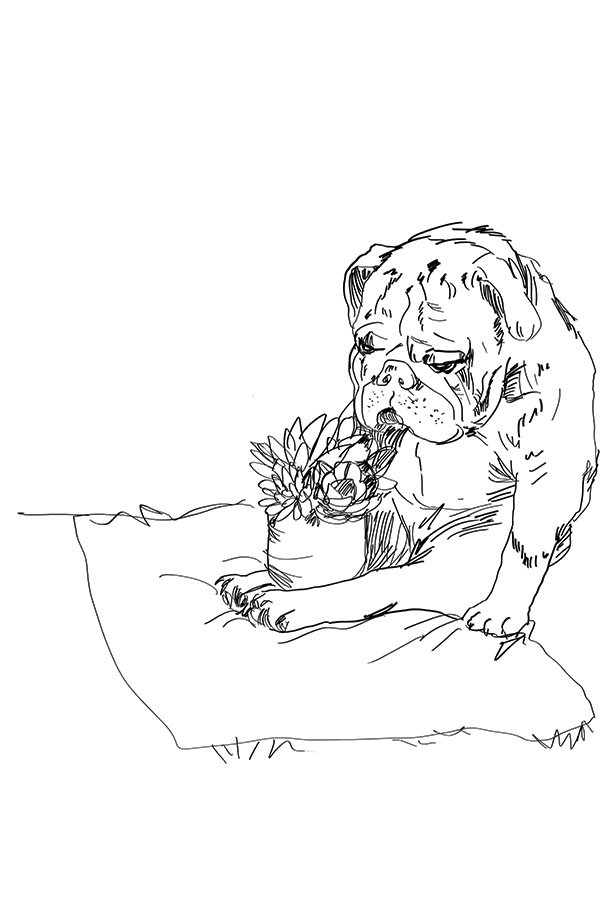 The pencil sketch of the nonplussed English Bulldog with his gift of succulents.
I often do water color studies of my pieces before making the final stages. I haven't for each in this new series, but yesterday I knew I hadn't the time to get all the inking and such done for my latest piece in this series, so new I wanted to do the study.
I rather liked how the fellow turned out, I wanted him to have that gaze of someone who has received countless consolation gifts and finds themselves at a point where they cannot show enthusiasm any longer, lol. I think we've all been there.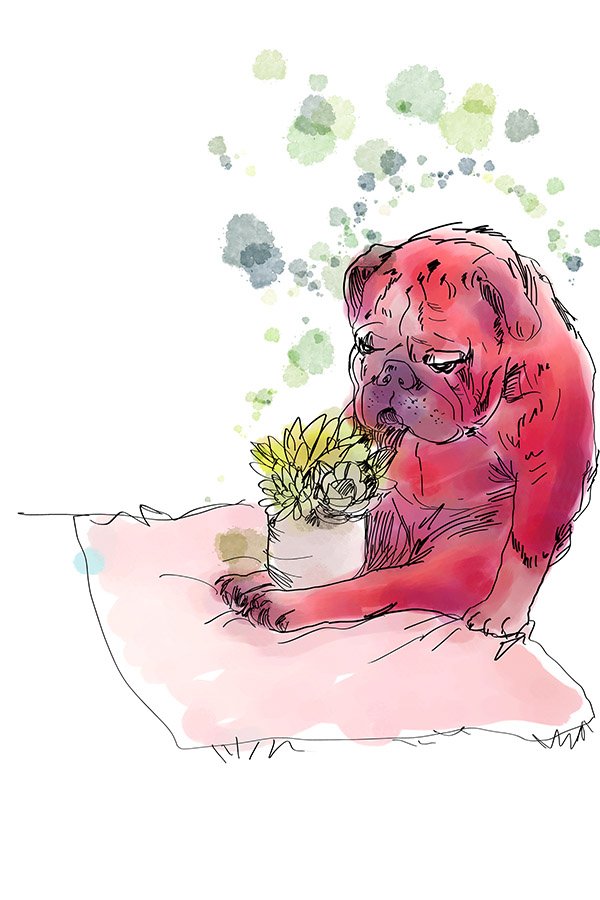 Sketch and watercolor scanned and then a bit of digital color added, ready for the next layers.
I'm having fun with this series. Since dealing with my MIL illness for the past months and being away from my studio, I've been craving a simple approach to my return to it. It's why this series was born: in the midst of worry and unknown the idea of a simple daily approach of two things I love : 1.) animals 2.) plants as the focus of a series and my daily sketching and art seemed joyful.
It's so important sometimes to distill a distress into a moment of learning and realize that a simple focus can give one back that hope of each day. To find that joy upon waking that "Ah yes, I know what it is I am doing to do, I rather like it, so let's get to it." It's very important to my psyche at least.
Even more regular posting here on #Hive is part of that routine for joy.
Well, that is my piece thus far, the sketch and the watercolor. This fellow, for the final piece which will be both a black and white 'coloring page' as well as a more bold final piece for items and prints, is going to be undergoing some more sketching today. I want him to live in the border as does his compatriots, and to possible have an interesting wallpaper pattern behind him, we shall see. I'm hoping to spend a good chunk of the day in the studio so I hope to share him with you soon.
Thank you for sharing in my artwork and I hope all of you get a moment in your day to indulge in your own passions.

---
If you'd like to follow my Work Here are some Links:
MY Society6 Shop
NFTshowroom
MAKERSPLACE
My Website
Instagram
Twitter
My 3Speak Channel
---
---