Wednesday Walk on our Shore with Geese
This post is part of the Wednesday Walk Challenge which I really first learned about from @tattoodjay and it's been going on for sometime, first as a montly then to a weekly. It is also a make me smile collab as well, tho for all the details Do go to @tattoodjay post in #wendesdaywalk to see details and join in!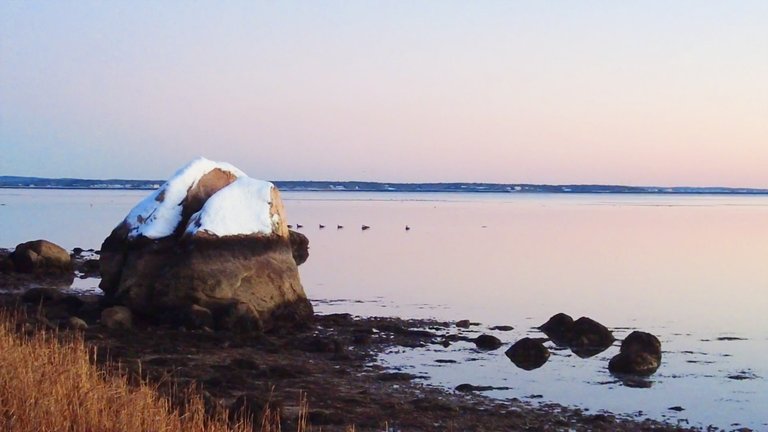 After the snow early week, we had a bit of a warm up and then a freeze. This always results in fun ice formations on our shore. Here the 'spitting rock' (as we have lovingly called it for years as at high tide and a south wind it looks to be 'spitting water' ) is donning it's winter jumper. You can see the high tide line marks in dark and of course the remaining snow is because even at a high tide this much of the rock remains above the water's surface.
I walk daily and enjoy our combination of shore and woodland, salt marsh and small harbors as well as more open sea with sandy shore. This walk was at sunset.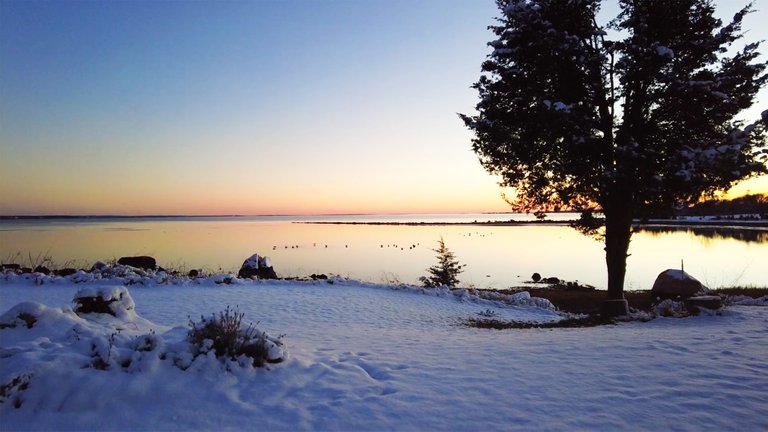 Coming off our terrace you can see that lovely warm slice of orange pink as the sun dips below the treeline. The snow, after the thaw and freeze, was that lovely kind with sharp crusty surface that makes the most joyful noise when it's tread upon. All sorts of animal tracks were visible in the blue icy stuff lit by the setting pink Winter sun.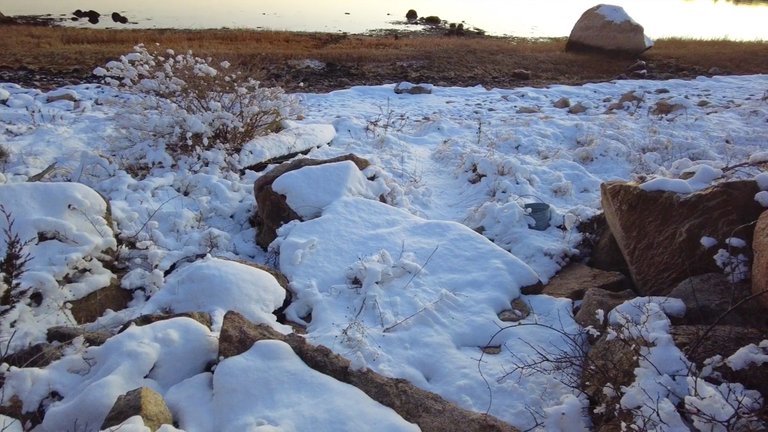 Heading down our path to the beach, you can see how the remaining snow is almost painted on the rocks and sea shrubbery. Days before it had been all in white with soft falling snow and had made the garden look more like this, with it's magic soft fairy floss everywhere.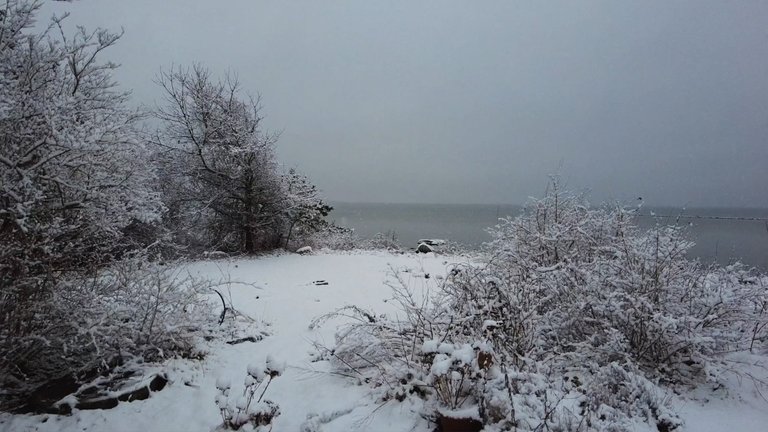 This day, however, the receding snow but quick freeze had left the remnants of outgoing tide to freeze into the golden dying seagrass.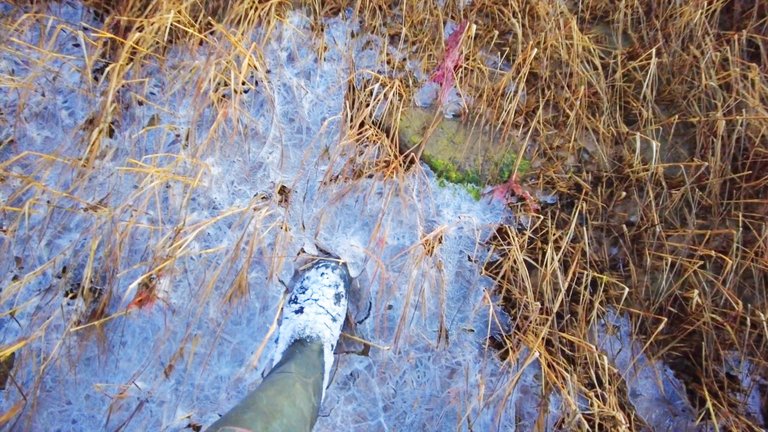 So out I walked, in snow covered wellies, to the arriving mud flats and the beauty of this orange sherbet sky.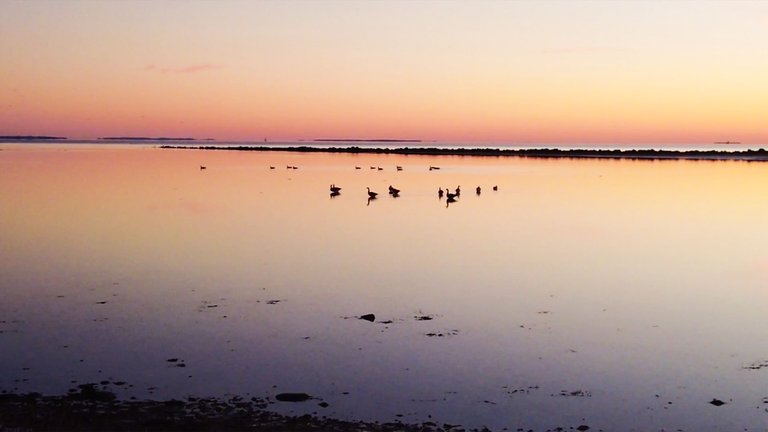 You see, as the tide was still in that phase of the moon that will almost give us the 'flats' of the exposed sea bed in the bay, the geese, off to bed, were taking their time about it. As they could easily waddle across stopping to eat delicious treats exposed by the receding tide.
The gaggle of geese at low Winter's tide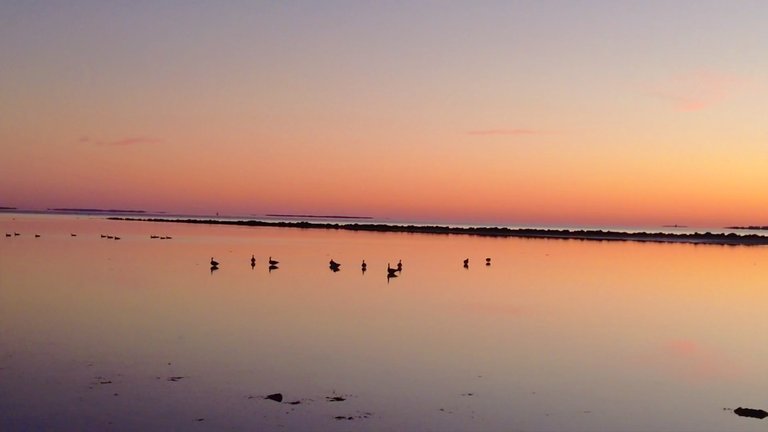 If you'd like to hear their song and see this walk as a video , I posted it yesterday on my #3speak and you can watch it HERE
This was a shorter walk than I normally do, but I had of course had my usual 2 mile ramble earlier in the day. However, the magic of the orange sunset with the gaggle of geese and to see the beach transformed to ice after it was snow laden the previous day was just too good to not share for a #wednesdayalk
The same walk the day before with more snow falling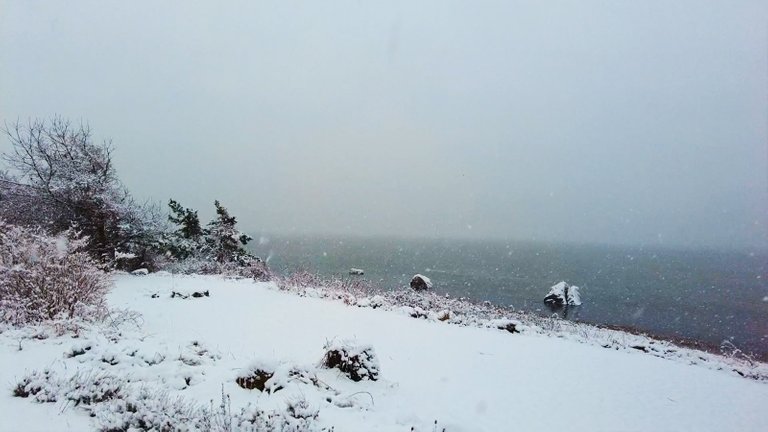 I hope you enjoyed my small walk and the beauty of ice and snow and geese we are so lucky to have here in Coastal New England.
Be sure to join in our walks and to see all the rules and details to join in please go to @tattoodjay latest post Here to see how best to join in.
I hope all of you have a lovely day and find a moment to walk or go for a good ole ramble no matter what your environment.
---
If you'd like to follow my Work Here are some Links:
NFTshowroom
MAKERSPLACE
My Website
Instagram
Twitter
My 3Speak Channel
---
---