La llamada más esperada [ESP-ENG]
¿Seré una buena hija?, amaneció pensando Rosalía y ¿Cómo no hacerlo? Recordó que el año pasado su madre no se dignó a llamarla para felicitarla en su Cumpleaños número treinta y siete.
Will I be a good daughter, Rosalia woke up thinking, and how could she not? She remembered that last year her mother did not deign to call her to congratulate her on her thirty-seventh birthday.
Imagen tomada de www.pixabay.com de quangpham2512
Aún rememoraba ese momento. Rosalía se había tenido que mudar de su tierra natal, el pueblo de Santa Fe en el Estado Sucre junto a Ricardo, su esposo y Rosalinda, su hija, hacia la ciudad de Puerto Ordaz, —buscaban una mejor calidad de vida, pues la situación económica era apremiante—.
Aunque viviendo en el pueblo, no era que su madre se desviviera por felicitarla, pero ella pensó que por vivir lejos, algo fuera a cambiar. Ese día de su Cumpleaños, había amanecido rebosante de alegría, tenía la esperanza de que su madre la llamara, añoraba escuchar su voz. No solo para conversar con ella, sino para que la felicitara por su Feliz Cumpleaños.
Ella se preguntó: ¿Será que su madre no tenía idea de cuan importante era que ella la llamara ese día?,¿sería capaz de llamarla? Días antes a su cumpleaños habían tenido una conversación telefónica y está no había sido tan amable. La verdad ella no sabía dé qué se impactaba, si casi nunca habían tenido tan buenas relaciones.
Ese día, el teléfono no paro de sonar, había recibido algunas llamadas de personas importantes, sus hermanos, primos, comadre, amigos, hasta el bodeguero del pueblo la felicito. Cuando el teléfono sonaba su corazón saltaba de alegría, caminaba hacia él, se preguntaba: "¿será mi madre?".
She still remembered that moment. Rosalía had had to move from her homeland, the town of Santa Fe in the State of Sucre, together with Ricardo, her husband, and Rosalinda, her daughter, to the city of Puerto Ordaz, -they were looking for a better quality of life, since the economic situation was dire-.
Although living in the town, it was not that her mother went out of her way to congratulate her, but she thought that by living far away, something would change. That day of her birthday, she had dawned brimming with joy, she had hoped that her mother would call her, she longed to hear her voice. Not only to talk to her, but also to congratulate her on her Happy Birthday.
She wondered: Could it be that her mother had no idea how important it was for her to call her that day?
Would she be able to call her? Days before her birthday they had had a phone conversation and she had not been so kind. The truth was that she didn't know why she was shocked, since they had never had such good relations.
That day, the phone did not stop ringing, she had received some calls from important people, her siblings, cousins, her mother-in-law, friends, even the town's winemaker congratulated her. When the phone rang, her heart leapt with joy, she walked towards it, wondering: "Could it be my mother?.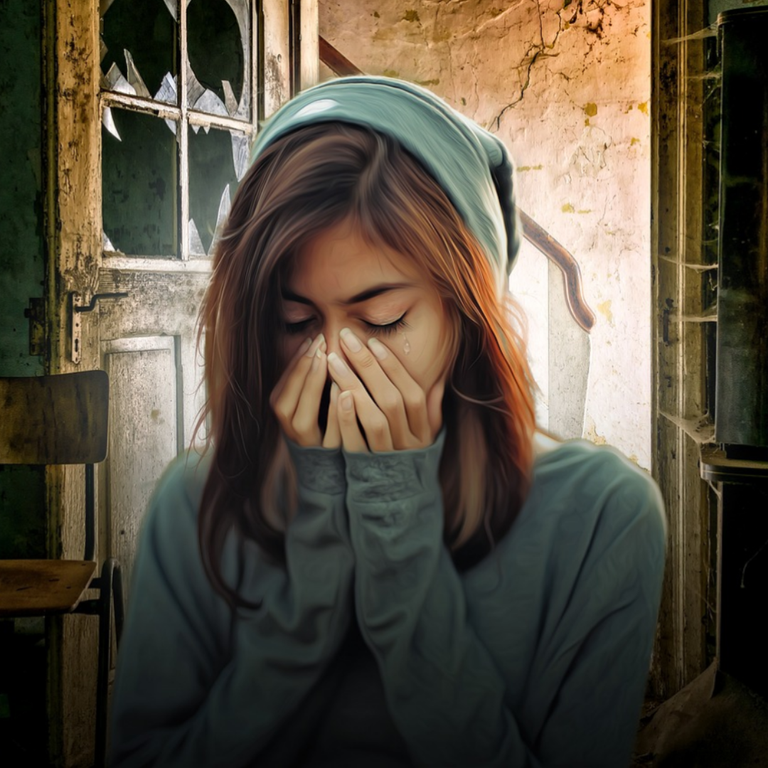 Imagen tomada de www.pixabay.com de darksouls1
Ricardo, su esposo, le dijo: "No estés triste, seguro ella llamará, —en el fondo él sabía que esa llamada nunca llegaría—aquí tienes el café", ella se sentó junto a él, esta vez el café le supo amargo, su rostro se veía apesadumbrado, algunas lágrimas se asomaron, pero ella no lo permitió, dijo para sí:"No voy a llorar, no se lo permitiré".
Su mente divagaba escudriñando su vida, nunca ha podido olvidar cuando a la edad de los ocho años decidió irse con su padre, ella lo amaba, —su madre y él se separaron—pensar en no verlo le causaba mucha tristeza, su padre la llevo a la ciudad de Maracay a vivir. Su madre en ningún momento se opuso.
Ella en su inocencia pensaba que iba a vivir con él, cuál sería su tamaña sorpresa, que la dejo con la que era su tía paterna, para que la acompañara —era su sirvienta—. Su padre Don Evaristo Ferrer, se devolvió para su pueblo natal a vivir con su nueva mujer. A ella eso la marco de una manera tal, que aún no se lo ha podido perdonar.
Sin embargo, lo que a ella más le impacto es que su madre nunca reclamo el hecho de ella quedarse a vivir con esta. Apenas era una niña de ocho años. ¿Qué podía decidir ella a esa edad, no se supone que las madres están para proteger, para hacerle entender a los hijos, cuán equivocados están? ¿Sería que ella nunca me amó?.
En ese momento su amiga Elena, la sacó de sus pensamientos, le preguntó: "Amiga, ¿de qué sabor quieres la torta"? Ella aún absorta en sus pensamientos le respondió: "de piña". Miró el reloj, marcaba las 4:30 p. m. Deseaba que el tiempo se detuviera, que pasara lentamente, ahora era que quedaban horas para qué culminará el día, reflexionó esperanzada. Pero, en el fondo de su ❤️, muy adentro, tenía la certeza de qué...
Ricardo, her husband, told her: "Don't be sad, I'm sure she will call, - deep down he knew that call would never come - here is your coffee", she sat down next to him, this time the coffee tasted bitter, her face looked saddened, some tears appeared, but she did not allow it, she said to herself: "I won't cry, I won't allow it".
Her mind wandered, scrutinizing her life, she has never been able to forget when at the age of eight she decided to leave with her father, she loved him, - her mother and he separated - the thought of not seeing him caused her much sadness, her father took her to the city of Maracay to live. Her mother did not object at any time.
In her innocence she thought she was going to live with him, but to her great surprise, he left her with her paternal aunt, who was his servant. Her father, Don Evaristo Ferrer, returned to his hometown to live with his new wife. This marked her in such a way that she still has not been able to forgive him.
However, what impacted her the most was that her mother never complained about the fact that she was staying with her mother. She was just an eight year old girl, what could she decide at that age, isn't it supposed that mothers are there to protect, to make their children understand how wrong they are? Could it be that she never loved me?
At that moment her friend Elena brought her out of her thoughts and asked her: "Friend, what flavor cake do you want? Still absorbed in her thoughts, she answered: "pineapple". She looked at the clock, it read 4:30 p. m. She wished that time would stop, that it would pass slowly, now that there were hours left for the day to end, she thought hopefully. But, in the bottom of her ❤️, deep inside, she was certain that...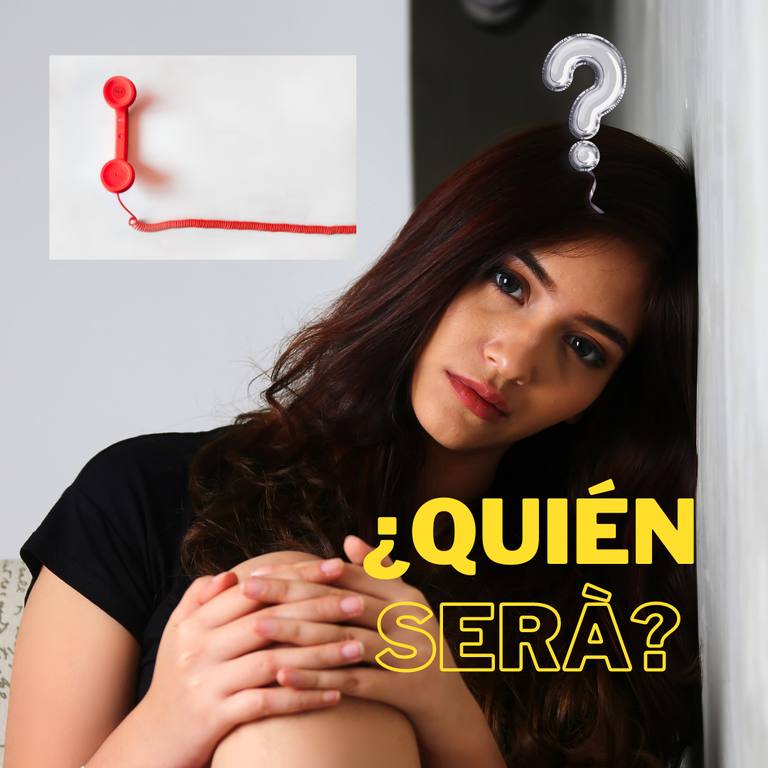 Imágenes propiedad y editadas en CANVA

Volvió a sonar el teléfono, el ❤️ parecía que se le salía por la boca, y ella aún tenía la esperanza latente de escuchar su voz, divisó el nombre y era nada menos y nada más que su flamante padre, al momento titubeó, pero después decidió atenderlo—hubiera dado su vida para que hubiese sido con su madre—.

Entablaron la siguiente conversación:

Padre: "Hola, la abuela Rosalía les envía besos, Doña Florencia y Milagros, siempre preguntan por sus vidas, me hubiese gustado ir a visitarte".

Ella: "Hola, si, les envío saludos a todos. Con algo de calor, la ciudad, ¡con autopistas! es diferente, tranquila".

Padre: "Cómo les ha ido".

Ella: "Todo bien, sabes que nunca me ha gustado visitar a los vecinos ".

Padre: "¿Te hicieron torta? o seguro la hiciste".

Ella: "La hice yo, je je je".

Padre: "Te siento rara, ¿estás bien?".

Ella: "Si".

Padre: "¿Llamó tu madre?".

Ella: "Aun no".

Padre: "Cuídate, me guardas mi parte de torta. Te quiero.

Ella: "Ok, lo sé, bendición".

Padre: "Dios te bendiga".
The phone rang again, her HEART seemed to come out of her mouth, and she still had the latent hope of hearing his voice, she saw the name and it was nothing less and nothing more than her brand new father, at first she hesitated, but then she decided to answer it - she would have given her life for it to have been with her mother-.
They struck up the following conversation:
Father: "Hello, grandmother Rosalía sends you kisses, Doña Florencia and Milagros, they always ask about your lives, I would have liked to visit you".
She: "Hello, yes, I send greetings to all of you. With some heat, the city, with highways! it is different, quiet".
Father: "How have you been?
She: "All good, you know I never liked to visit the neighbors".
Father: "Did they make you cake? or did you make it for sure".
Her: "I made it, heh heh heh".
Father: "You look strange, are you ok?
Her: "Yes".
Dad: "Did your mother call?".
She: "Not yet".
Dad: "Take care, you save me my share of cake. I love you.
Her: "Ok, I know, bless you".
Dad: "God bless you.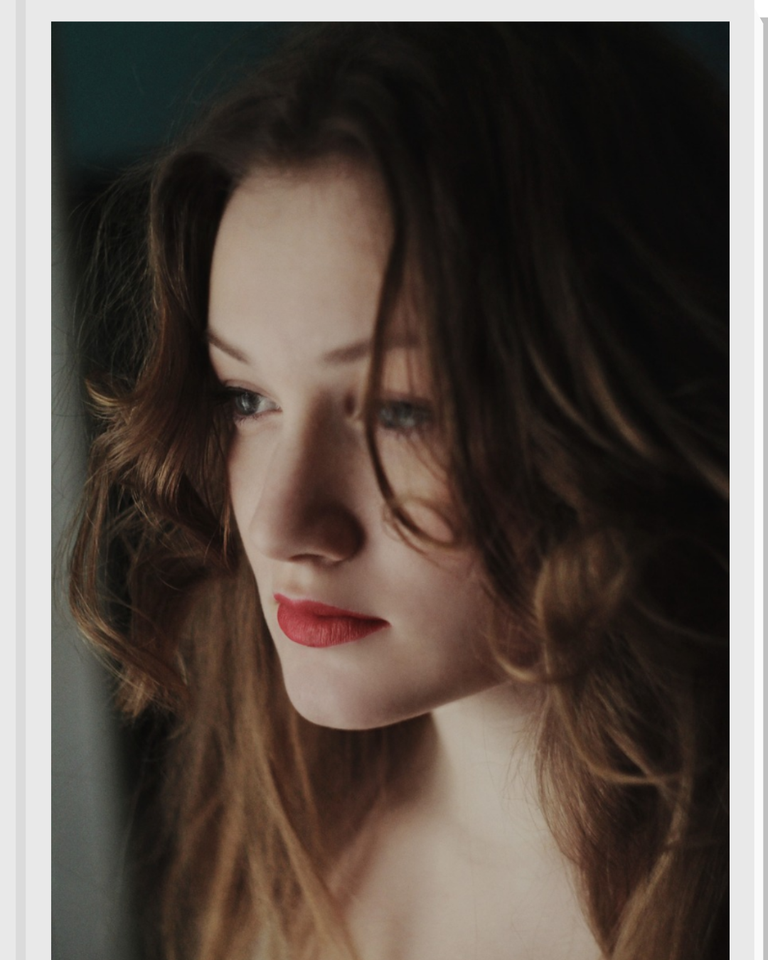 Fuente
Imagen tomada de www.pixabay.com de Pexels

Al colgar el teléfono, para sus adentros, pensó: "El recordó mi cumpleaños y ella ¿Será que llamara?", no pudo controlar más lo que sentía. Decidió darse un baño y bajo la regadera ya no pudo más...Las lágrimas salían solas, quiso controlarlas y no pudo, dío rienda suelta a sus sentimientos, la regadera la cobijó y acurrucó entre sus brazos y ambas lloraron como nunca antes.

Ella, jamás imaginó estar en tan buena compañía. Al rato tocaron la puerta del baño, era su esposo, ella sonrió, el era una de las personas que le ha dado seguridad, tranquilidad, amor y apoyo a su intranquila vida. Paso el tiempo, las horas, los minutos, los segundos...Ella miró el reloj, marcaban las 8:00 p. m.

Nunca antes había sentido la necesidad de que las horas tardarán en pasar, que el tiempo se detuviera, para darle tiempo a que su madre se desocupara, no tuviéra más nada que hacer y recordara que uno de sus tantos hijos estaba de Feliz cumpleaños y realmente, ¿era un feliz cumpleaños?, no lo sentía así.

Pasaban las horas.... a las 12:01 a. m. su hija la vino a buscar para picar la torta—así solemos decir en Venezuela—, la abrazo y le dijo que la amaba.

Unas cuantas lágrimas resbalaron, caminaban hacia la sala, allí se encontraba su esposo, le dío un beso en la frente y la abrazo, se sintió amada. Le cantaron Cumpleaños, no recibiò la tan esperada llamada. Sintió tristeza, ella entendió que no formaba parte de la vida de su madre.
When she hung up the phone, she thought to herself: "He remembered my birthday and she, will she call him? She decided to take a bath and under the shower she couldn't take it anymore... The tears came out by themselves, she tried to control them but she couldn't, she gave free rein to her feelings, the shower sheltered her and cuddled her in her arms and they both cried like never before.
She never imagined being in such good company. After a while there was a knock on the bathroom door, it was her husband, she smiled, he was one of the people who had given her security, tranquility, love and support to her restless life. Time passed, hours, minutes, seconds... She looked at the clock, it was 8:00 pm.
Never before had she felt the need for the hours to take their time, for time to stop, to give her mother time to get out of her busy schedule, to have nothing more to do and to remember that one of her many children was having a happy birthday, and really, was it a happy birthday, she didn't feel that way.
Hours passed by .... at 12:01 a.m. her daughter came to pick her up to cut the cake -that's how we usually say in Venezuela-, she hugged her and told her that she loved her.
A few tears slipped, they walked to the living room, her husband was there, he kissed her on the forehead and hugged her, she felt loved. They sang Birthday to her, she did not receive the long awaited call. She felt sad, she understood that she was not part of her mother's life.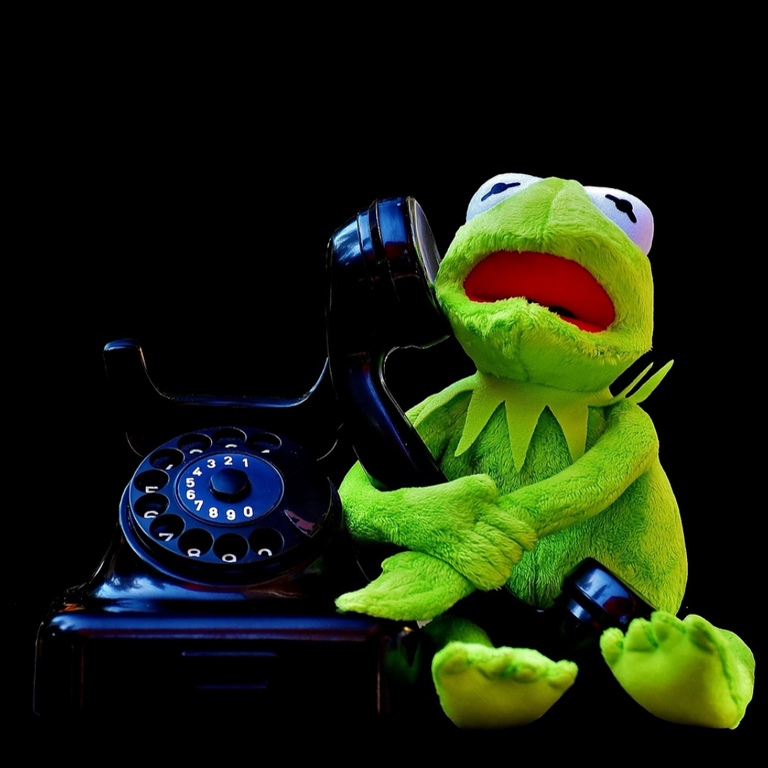 Fuente
Imagen tomada de www.pixabay.com de Alexas_Fotos

Recordó, que su madre la llamaba justo cuando necesitaba algo de ella, levanto la mirada y se preguntó: ¿Porque hoy no pudo necesitar algo de mi? Hoy cuando más que nunca necesite de ella. Mientras Rosalía llevaba el resto de la torta hacia la nevera, meditaba, primero que era su hija y ella su madre, eso no lo podía cambiar.

Abrigaba la esperanza de que para el próximo Cumpleaños su madre pudiera llamarla. Se preguntaba: ¿Seré la culpable de lo ocurrido?, y …¿Qué sucedio? ¡Fue tan terrible!.

A lo lejos se escuchó el ring del teléfono, ella no pudo controlar su emoción, pensó ¿sería ella?...

Ring, ring, ring , ¡ya no quiso saber!…
She remembered that her mother called her just when she needed something from her, she looked up and asked herself: Why couldn't she need something from me today? Today, when more than ever I need her. While Rosalia took the rest of the cake to the refrigerator, she meditated, first that she was her daughter and she was her mother, she could not change that.
She hoped that for the next birthday her mother would be able to call her. She wondered: Am I to blame for what happened, and ... What happened, it was so terrible!
In the distance she heard the ringing of the telephone, she could not control her excitement, she thought, could it be her?
Ring, ring, ring, ring, she didn't want to know anymore!...

Algunas veces los adultos no miden el impacto de sus acciones, como en el caso precedente, el solo hecho de que una pareja se haya separado y con las acciones que allí se dieron en ese momento, no midieron las consecuencias y a pesar del tiempo transcurrido hay heridas que tardan en sanar o que sencillamente nunca sanaran.
Sometimes adults do not measure the impact of their actions, as in the preceding case, the mere fact that a couple has separated and with the actions that occurred at that time, they did not measure the consequences and despite the time elapsed there are wounds that take time to heal or simply will never heal.

Me despido gente bella, agradecer es el norte. Tengan un feliz y bendecido día.
I say goodbye beautiful people, thankfulness is the north. Have a happy and blessed day.
El separador lo hice con CANVA.
The separator was made with CANVA.
Utilizado el programa www.deepl.com para su traducción.
Used for translation the program www.deepl.com.
Mi banner lo hice en CANVA.
My banner was made in CANVA.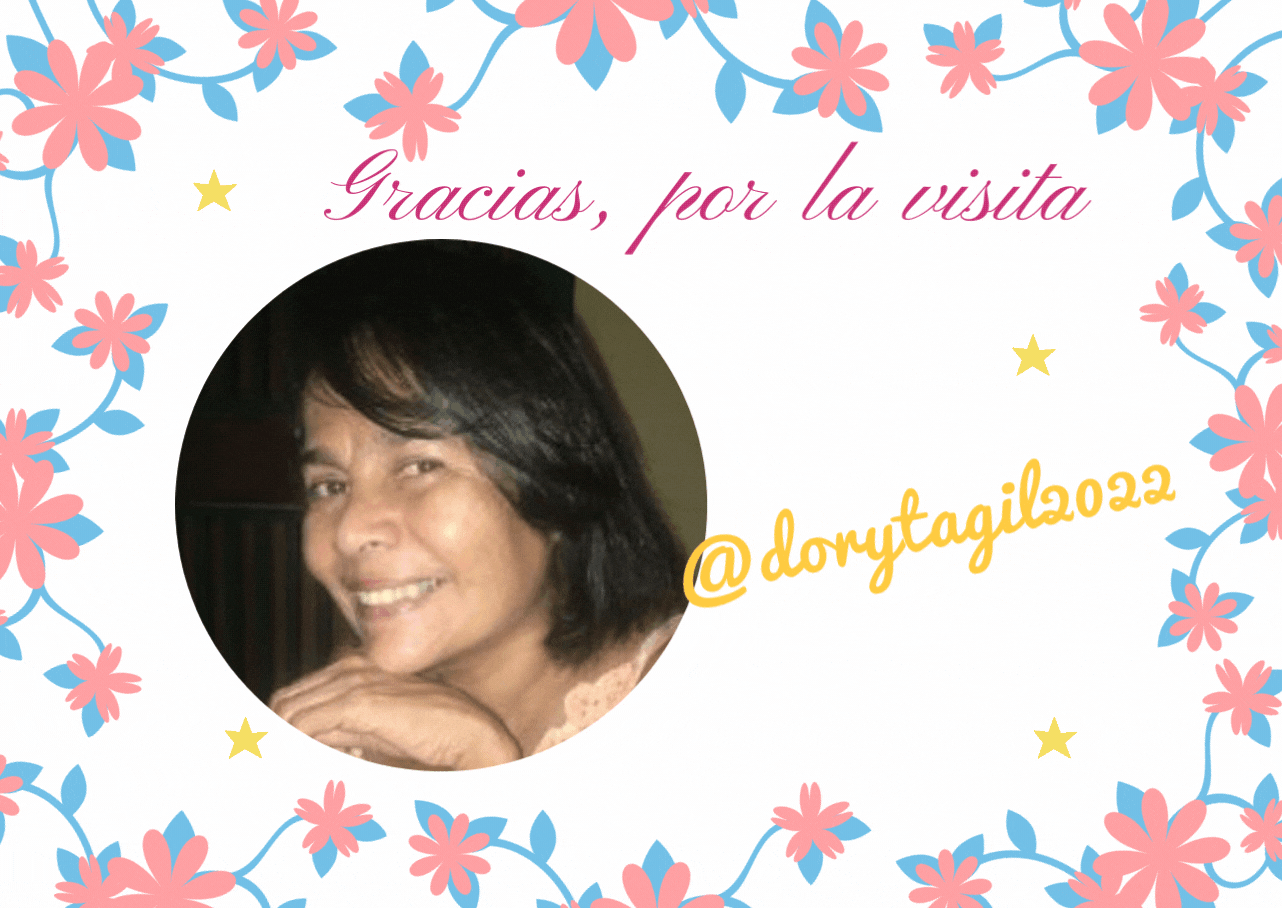 ---
---