(ESP/ENG) Ser padre, la mayor bendición de esta vida | Being a father, the greatest blessing of this life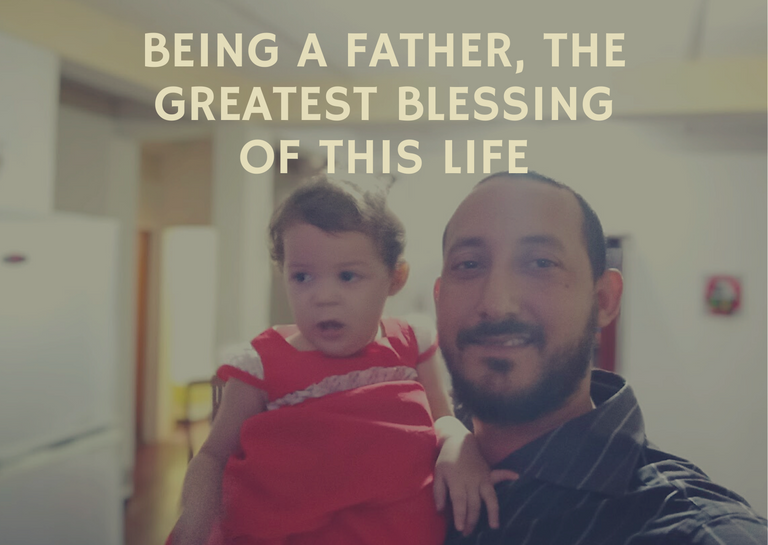 "Un hombre que no sabe ser un buen padre, no es un auténtico hombre"
"A man who does not know how to be a good father is not a real man"
.
Mario Puzo
---
Ser padre creo que ha sido el aprendizaje más grande, gratificante y agotador en mi vida, solo nos adentramos en esta etapa es cuando podemos darle valor a todos los sacrificios que nuestros padres hicieron cada día por nosotros, y lo peor es que es hasta este punto cuando agradecemos ciertamente todo este arduo trabajo que fue encaminarnos a adultos, mi madre siempre me decía una frase, cada vez que discutíamos por algo, o simplemente yo me portaba grosero, recuerdo perfectamente esas palabras cuando me decía "recuerda que hijos somos y padres seremos", todos terminamos aprendiendo que es así, muchos pueden retribuirse y otros no, pero al final siempre casi todos llegamos a cruzar por todo lo que nuestros padres pasaron.
Being a parent I think it has been the biggest, most rewarding and exhausting learning in my life, we only get into this stage is when we can give value to all the sacrifices that our parents made every day for us, and the worst thing is that it is until this point when we certainly appreciate all this hard work that was to get us on the road to adulthood, my mother always told me a phrase, every time we argued about something, or I simply behaved rudely, I remember perfectly those words when she told me "remember that we are children and we will be parents", we all end up learning that it is like this, many can be repaid and others not, but in the end almost all of us always get to cross all that our parents went through.
¿Por qué me hago esta pregunta?, bueno sencillamente por dos razones, los domingos los tomo para descansar y ver películas, claro que también compartir en familia, sin embargo, este no fue el caso, si lo pase en familia pero no como de costumbre, aunque igual fue bueno, también influyo mucho el hecho de que se me averió el teléfono y en los momentos que me sentaba afuera a ver jugar a la beba pensaba en tantas cosas que sucedieron mientras era un joven.
Why do I ask myself this question, well, simply for two reasons, I take Sundays to rest and watch movies, of course I also share with my family, however, this was not the case, I spent it with my family but not as usual, although it was still good, it was also influenced by the fact that my phone broke down and when I sat outside to watch the baby play I thought of so many things that happened while I was a young boy.
Recuerdo perfectamente cuando me entere de que seria padre, sentí una felicidad que no podría describir, siempre anhele tener un hijo, creo que todos llegamos al momento este donde queremos tener descendencia, ciertamente con más de treinta años, un trabajo estable, un noviazgo duradero y hermoso, una carrera terminada, me sentía capaz de asumir ese rol, nunca creí que sería tan difícil, siempre escuchaba decir a mis amigos, que no dormían casi, que el bebe lloraba mucho, que venían muchos gastos, sus historias de cuan mal lo pasaban, sin embargo, para mí no me parecía nada aterrador ni mucho menos, cada vez que escuchaba esas cosas ansiaba más vivir la experiencia.
I remember perfectly when I found out that I would be a father, I felt a happiness that I could not describe, I always longed to have a child, I think that we all reach the moment where we want to have offspring, certainly with more than thirty years, a stable job, a lasting and beautiful courtship, a finished career, I always heard from my friends that they hardly slept, that the baby cried a lot, that there were a lot of expenses, their stories of how bad they had it, however, to me it didn't seem scary at all, every time I heard those things I looked forward to the experience more and more.
Mi hija ya cumplió sus hermosos 18 meses, cada día aprende más, pero cada día está más tremenda e inquieta, se mete con todo, a diario es una lucha constante para que no tome mis cosas de trabajar o simplemente para que no se siente en la computadora, es una niña muy activa, me ha dado muchas malas noches de enfermedad, he pasado sustos cada vez que se cae o se golpea, cada vez que afloraba un diente o se le colocaba una vacuna, cuando no come y nos preocupamos por su salud, o simplemente este agotamiento diario y la responsabilidad de suplir cada cosa que necesite, desde pañales hasta medicamentos.
My daughter is now 18 months old, every day she learns more, but every day she is more and more restless, she gets involved with everything, every day it is a constant struggle for her not to take my things from work or simply not to sit at the computer, she is a very active child, she has given me many bad nights of illness, I have had scares every time she falls or bumps herself, every time a tooth comes out or a vaccine is given, when she doesn't eat and we worry about her health, or simply this daily exhaustion and the responsibility of supplying everything she needs, from nappies to medicines.
Mi princesa llegó en una etapa difícil, unos meses luego de enterarnos de su existencia, en mi país sucedió algo con la empresa donde trabajaba y nos tuvieron que despedir, luego de eso llego la cuarentena, tuve que vender muchas cosas y al final tuve que deshacerme de mi auto y venderlo, para que ella pudiera nacer en una clínica, ya que le tenía pavor a los hospitales públicos, cada día pensaba en lo difícil que era y aún no llegaba, pero siempre recordaba las palabras de mi difunto padre, siempre decía "Los hijos traen el pan a casa", y así fue, con su nacimiento llegaron las bendiciones, decidí empezar a trabajar desde casa, reparando celulares y computadoras, aprovechando mis estudios en esas áreas y me empezó a ir bien.
My princess arrived in a difficult stage, a few months after we found out about her existence, in my country something happened with the company where I worked and we had to be fired, after that came the quarantine, I had to sell many things and in the end I had to get rid of my car and sell it, so that she could be born in a clinic, because I was afraid of public hospitals, Every day I thought about how difficult it was, but I always remembered the words of my late father, he always said "Children bring home the bread", and so it was, with her birth came the blessings, I decided to start working from home, repairing mobile phones and computers, taking advantage of my studies in those areas and I started to do well.
No fue fácil, cada noche de preocupación, incluso aún no es fácil, estando medianamente estable económicamente, ahora solo reflexiono en el futuro, y es que mirar esa hermosa carita sonriendo, se ha vuelto como una carga de batería, por muy mal, agotado o triste, el simple hecho de mirarle me hace el día diferente, jugar con ella, bailar con ella cada noche, es mágico, creo que es una de las horas más anheladas por mí cada día, cuando ya para dormirse viene por mí la habitación donde trabajo, solo para que me vaya a acostar con ella.
It was not easy, every night of worry, even still not easy, being moderately stable economically, now I only reflect on the future, and is that looking at that beautiful smiling face, has become like a battery charge, no matter how bad, exhausted or sad, the simple fact of looking at her makes my day different, playing with her, dancing with her every night, is magical, I think it is one of the most desired hours for me every day, when she comes for me to go to sleep in the room where I work, just so I can go to bed with her.
Soy feliz y afortunado, Dios me premio con una maravillosa mujer, luchadora, que me apoya en todas las circunstancias, formamos un hogar y ahora tenemos este hermoso retoño de nuestro amor, y ansiando la llegada de un nuevo integrante pronto, para que le haga compañía a mi princesa y a nosotros, ya que pensamos que un hijo no es justo ni para nosotros ni para nuestra hija, espero con ansias lo que me depara el futuro como padre y, por muy cansado y agotado que me sienta, cada día, me pondré mi capa y tomaré mi escudo para seguir luchando para darle una vida hermosa a mi familia.
I am happy and fortunate, God rewarded me with a wonderful woman, fighter, who supports me in all circumstances, we formed a home and now we have this beautiful offspring of our love, and looking forward to the arrival of a new member soon, to keep my princess and us company, as we feel that a son is not fair to us and our daughter, I look forward to what the future holds for me as a father and no matter how tired and exhausted I feel, every day, I will put on my cape and take up my shield to keep fighting to give a beautiful life to my family.

Sin más me despido amigos, hasta la próxima.

Without further ado I say goodbye friends, until next time.
---
---