The future is in the children | ecoTrain Question Of The Week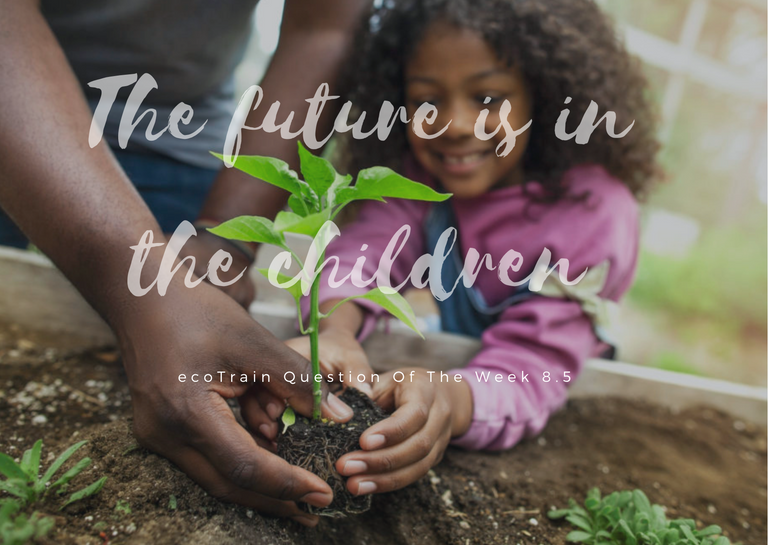 source
---
Definitely, the amount of global problems that humanity is going through, could be countless, there are so many, that no matter how much we want to take action to change we could not, I even think that if most people tried, simply the changes would be imperceptible, but I think that all is not lost, here in Venezuela I could write about all those problems cited by the community for this question, but the reality is, what do so many people do to avoid all these problems, I fall into the same, simply nothing, almost all of us turn a blind eye, because many think that an individual solution will not change anything.
However, I also believe that change is possible, maybe not in the short term, maybe we won't get to see it, however I also believe that we can start and, as I always say, when we want to take noticeable action in society, we must start at home, so I guess the best way to start creating awareness and making changes that are really felt, is simply to teach the value of life in all its splendour to our offspring.
If we teach these values and the consequences of our actions to our children, guiding them to be better human beings than we are, perhaps showing them the consequences of the pollution we cause in the environment, teaching them the value of nature for a better future, promoting the value of the family in society, thus avoiding physical and verbal abuse, creating awareness and the value of each individual human being, leaving classism aside, teaching them to respect the beliefs of each person, in the same way that we educate them to learn that we all have duties and rights, that we should not let a government trample on them, that freedom is the best thing we can have, and that many of us have lost it, for not taking action in time, and when we really wanted a change it was already too late, this last I make reference to the permanence in power, which has subjugated Venezuela for so many years.
Just by imagining it, I see possible all those changes, those actions that can lead us to a better world, but I am also aware that these changes as I always say to be achieved must begin at home, many small changes now can create a change in the future, many countries have already started, sadly the third world countries, they do not think the same way, they think in the same way, they think in the same way, they think in the same way, they think in the same way, they think in the same way, they think in the same way, they think in the same way, Here in Venezuela, they have devastated the environment, they have destroyed our economy, our family value, our right to a better life, and that is not something I want for my daughter's future, that is why I will do my best work in her upbringing to teach her the value of all that we have lost here.
I think it is the best action I can take, for a better future and I think it is a good start, guiding our children so that it is up to them to create a better world than the one we gave them with our selfish actions.


Without further ado I say goodbye friends, until next time.
---
---