The Card That Can Make You A Millionaire?
The Most Valuable Card In The Game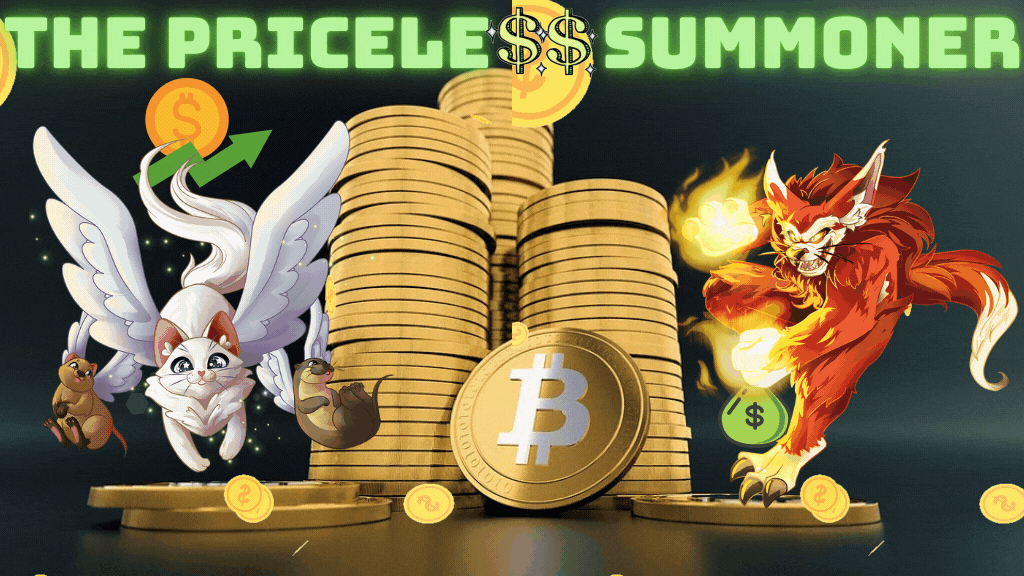 So recently I have been looking around in the market checking various card prices and always keeping an eye on the gold foil cards. Not that I own any legendary gold foil cards but I always like to look to see what the average and most expensive one is LOL.
Over the past month, I have noticed one card that seems to be priceless; It is never really on the market and if it is it's listed for a ridiculously high number. What card could that be...Yodin? Llama? Valnamor?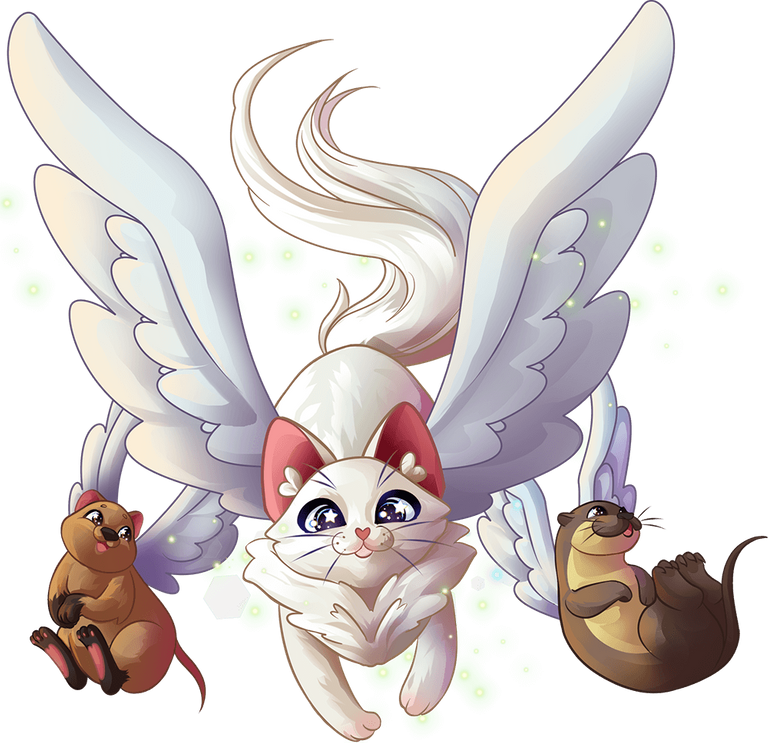 Nope, it's none other than Byzantine Kitty.

Be not distracted by cuteness and fluff,

Byzantine Kitty is cuddly but tough,

If you dare to think kitty is merely a pet,

You haven't faced kitty in battle just yet.

This card is honestly a gem and if you have a gold foil version of it you are set. You could set the market to whatever you want as there is not usually more than 1 on the market at a time.

Now, what makes this card so valuable and rare? Well first off I would say it's one of the best cards in the game with +2 to speed and the heal that is already an amazing combo but then you add in the true strike ability to all your monsters and you are ready to mess up someone's day. I cannot state how valuable that true strike is and I think often overlooked not being able to miss is so crucial in a lot of battles. Honestly, one miss can change the outcome of a battle sometimes so don't sleep on that true strike it is extremely powerful. Also, Kitty is a dragon summoner so the possibilities and team comps you can make with him are so diverse.

Boasting one of the best arts in the game too is another thing as much as people like to collect to have the strongest cards in the game it also goes a long way to enjoy the art behind these cards, and Kitty's art is an amazing one... I mean just look at how cute he is 😊

The Market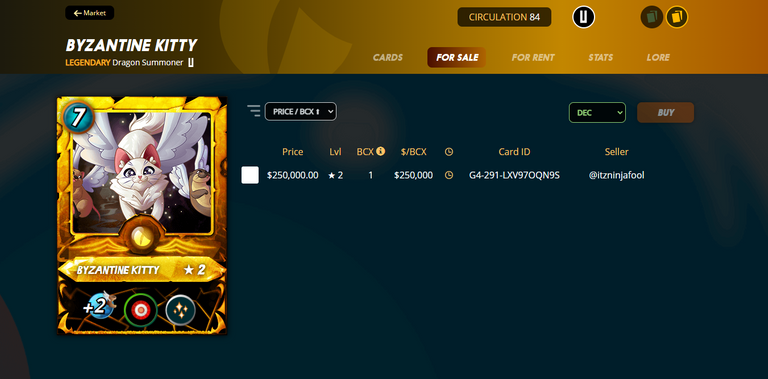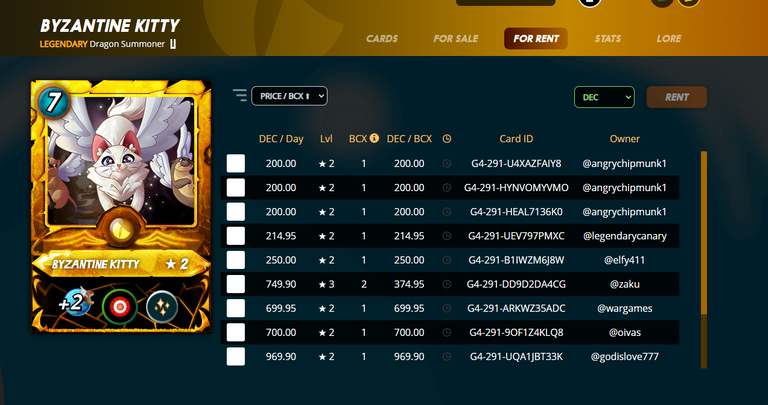 Here we take a look at the current markets for them. On the top, we see the only one currently listed for sale at a whopping 250K WOW.
On the bottom, we can see the rental market and see that is actually where most of them seem to be listed, I feel that this is because more people rent at the current time than buy and it is probably making these renters a killing. 200DEC a day is a wicked daily income and that only will skyrocket at the end of the season. If all those cheaper ones get listed you can see how the price starts increasing substantially.
Now if I was to own one of these I would most likely be using him but I would heavily consider renting him out for some serious DEC gains. I don't know the price he would sell at as most of the other GFL cards listed on the market stay there for a while before a serious buyer/collector comes and scoops one up. But I think this card could be the most valuable card going forward. Even though he is overshadowed by Llama and Yodin; I think Kitty is truly a priceless card with the current market and if you end up pulling one from an untamed pack or are lucky enough to own one already I would hold that and just watch the value go up.


Follow me over on Twitch

Check me out on YouTube

Thumbnail made using Canva
---
---