Collecting Super Zings and having fun / Kolekcjonowanie Super Zings i dobra zabawa
For starters, what are Super Zings to make it easier for everyone to understand 👏:
These are commonly known items that we use in everyday life, which have been transformed into figures of Super Heroes and Super Villains. They have special vehicles called SuperJets, hide in various hideouts to attack the enemy by surprise in Kaboom City.
Simply put, these are figurines resembling, for example, a toaster with a face, which you can have fun depending on your imaginations.
Collecting figures and having fun 😁😁😁: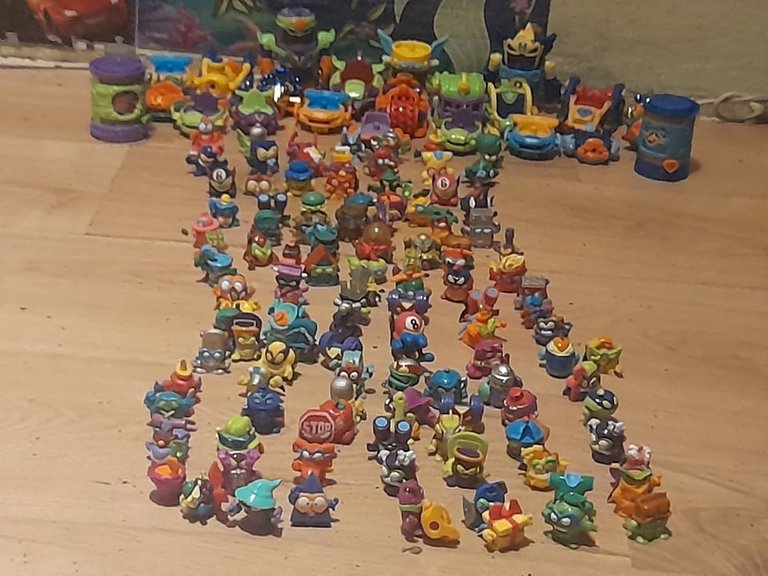 Our adventure began with the purchase of the first figurines recommended by our colleagues a year ago.
As it begins, at the beginning we wanted to join a group of people to try not to stay away from our colleagues. But over time, we saw a lot of benefits from being able to play together with the Zigs. Of course, as in our case, we gained a large part of the collection by stretching our parents a little.
Depending on the place, the only thing that can limit us in our play is our imagination. Dad always tells us that our only limitation may be not developing our imagination. And we have a really big one.
We can use any place to have fun with them, so that each of us has a lot of fun with it.
Of course, we do best outdoors, but unfortunately in bad weather, especially when winter time slowly approaches. We spend a lot of time playing at home. We may not have a lot of space, but we can deal with it, there are four of us, so we do it. Each of us teaches something to our imaginative history and our adventure begins. Unfortunately, some of us must be bad characters and some heroes, but we exchange often, so everyone has the opportunity to prove themselves.
As for our collection, as you can see in the pictures 116, we have quite a large one, sometimes some of them disappear because of our youngest brother who likes to hide them in front of them, but we can also deal with this by organizing great chants.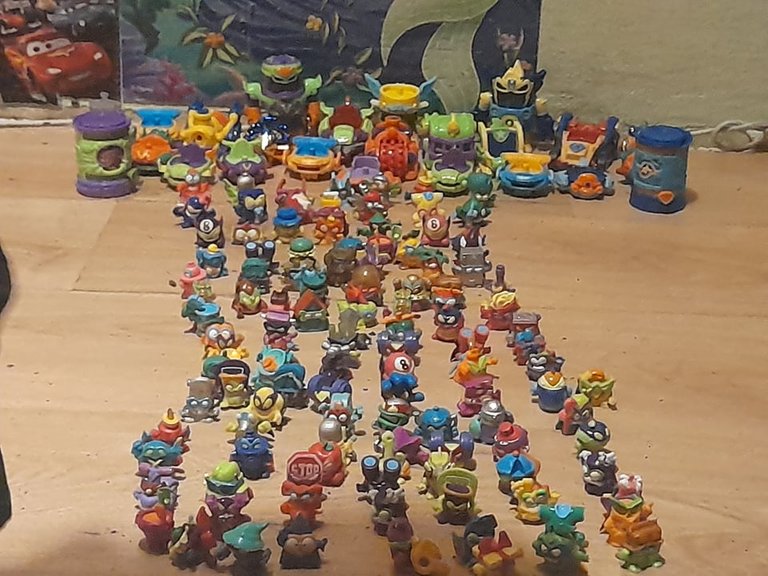 We invite you to view our collection and of course we would love to hear your feedback on Super Zings.
Polish:
Na początek co to są Super Zings żeby każdemu było łatwiej zrozumieć:
Są to powszechnie znane przedmioty z których korzystamy w życiu codziennym, które zostały przekształcone w figurki Super Bohaterów i Super Złoczyńców. Posiadają one specjalne pojazdy zwane Super Jets, zaszywają się w rozmaitych kryjówkach, by z zaskoczenia zaatakować przeciwnika na terenie Kaboom City.
Prościej mówiąc są to figurki przypominające np. toster z twarzą którymi można dobrze się bawić w zależności wyobraźni.
Kolekcjonowanie figurek i zabawa 😁😁😁:
Nasza przygoda zaczęła się od zakupu rok temu pierwszej figurek polecanych przez naszych kolegów.
Jak to się zaczyna z początku chcieliśmy dołączyć do grupy osób żeby starać się nie ostawać od naszych kolegów. Ale z czasem zobaczyliśmy bardzo dużo korzyści z możliwości zabawy razem Zigsami. Oczywiście jak to w naszym przypadku dużą cześć kolekcji zyskaliśmy naciągając trochę rodziców.
W zależności od miejsca jedyne co nas może ograniczać w naszej zabawie jest tylko nasza wyobraźnia. Tato zawsze nam powtarza że jedynym naszym ograniczeniem jakie może być tylko nie rozwijanie naszej wyobraźni. A mamy ją naprawdę dużą.
Potrafimy wykorzystać każde miejsce do dobrej zabawy nimi, żeby każdy z nas miał z tego radochę.
Najlepiej wychodzi nam oczywiście to na dworze, ale niestety przy złej pogodzie, a tym bardziej kiedy powoli nadchodzi czas zimowy. Spędzamy dużo czasu na zabawie w domu . Dużo miejsca może nie mamy ale potrafimy z tym sobie poradzić jest nas czwórka wiec dajemy rade. Każdy z nas dorzuca coś do naszej wymyślonej historii i rozpoczyna się nasza przygoda. Niestety część z nas musi być złymi postaciami a część bohaterami, ale często się wymieniamy wiec i tak każdy ma okazje się wykazać.
Jeżeli chodzi o naszą kolekcje jak możecie zobaczyć na zdjęciach mamy ją całkiem dużą, czasami niektóre znikają z powodu naszego najmłodszego brata który lubi je przed nami chować, ale i z tym potrafimy sobie poradzić organizując wielkie poszukiwania.
Zapraszamy serdecznie do obejrzenia naszej kolekcji i oczywiście chętnie usłyszeli byśmy wasze opinie na temat Super Zings.
---
---