Film Review: Cat's Eye (1985)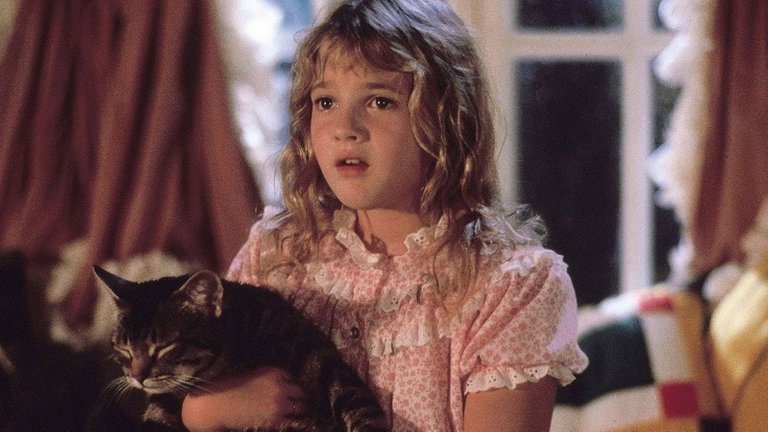 In 1980s it looked like everything written by Stephen King was bound to be adapted for big screen. It didn't include only novels, but also a short stories, including some that didn't exactly have enough content for a feature film. That problems was solved, to a degree, with Cat's Eye, 1985 anthology film directed by Lewis Teague and written by King himself.
The plot consists of three stories, loosely connected by a cat which appears as a witness or their participant. First two stories – "Quitters" and "The Ledge" – are based on short stories originally published in King's story collection Night Shift, while the third - "The General" – is based on the script King has developed especially for this film. Protagonist of "Quitters" is Dick Morrison (played by James Woods), man who tries to quit smoking and seeks help from agency led by Dr. Vinny Donati (played by Alan King), unaware that its methods include constant surveillance, threats and torturing his loved ones. Protagonist of "The Ledge" is Johnny Norris (played by Robert Hays), former tennis player who is abducted by Cressner (played by Kenneth McMillan), bet-obsessed Atlantic City mobster after having affair with his wife and forced to walk on the small ledge at high-rise building in order to save his life. Protagonist of "The General" is unnamed girl (played by Drew Berrymore) who is harassed by troll-like creature hiding behind the wall in her room, while her parents think that the actual perpetrator is her adopted cat.
Cat's Eye is made competently, with Lewis Teague providing solid direction, aided by musical score by Alan Silvestri, cinematography by Jack Cardiff and rather impressive special effects by Carlo Rambaldi. However, it still suffers from the flaws that afflict many anthology films – quality of each segments varies, characters are often underdeveloped and the plot in each segments seems rushed. This is especially the case with "Quitters", which features darkly humorous story that could have been great feature film and here looks like uninspired episode of The Twilight Zone. The quality of acting varies, with Woods and Barrymore being very good in their roles, while Hays looks very bland and easily overshadowed by McMillan who obviously has great fun playing the psychopathic villain. General tone of film, which mixes horror, suspense and dark humour, is generally light and relatively mild PG-13 rating by MPAA censors seems justified. King at times plays with his fans, leaving many references to his previous works and Hollywood adaptations. With its relatively short running time, Cat's Eye is watchable, but its flaws make it most suitable by less demanding among fans of Stephen King's work.
RATING: 5/10 (++)
Blog in Croatian https://draxblog.com
Blog in English https://draxreview.wordpress.com/
Leofinance blog https://leofinance.io/@drax.leo
Cent profile https://beta.cent.co/@drax
Minds profile https://www.minds.com/drax_rp_nc
Uptrennd profile https://www.uptrennd.com/user/MTYzNA
Hiveonboard: https://hiveonboard.com?ref=drax
Rising Star game: https://www.risingstargame.com?referrer=drax
1Inch: https://1inch.exchange/#/r/0x83823d8CCB74F828148258BB4457642124b1328e
BTC donations: 1EWxiMiP6iiG9rger3NuUSd6HByaxQWafG
ETH donations: 0xB305F144323b99e6f8b1d66f5D7DE78B498C32A7

---
---