Film Review: Flight of the Intruder (1991)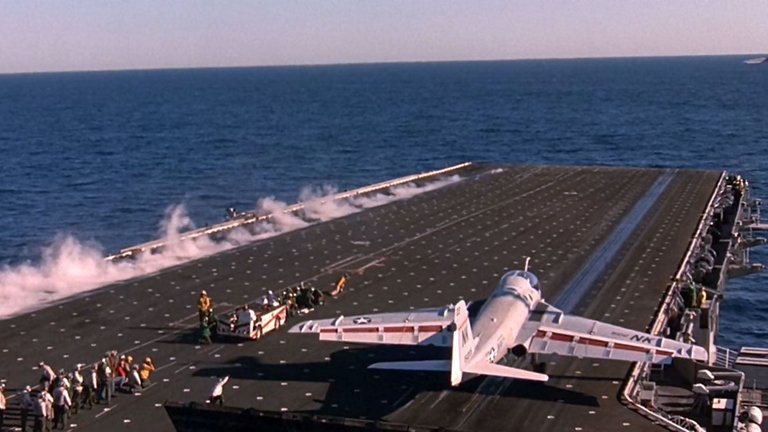 The ghosts of Vietnam War, the biggest and most embarrassing defeat in American history, were exorcised by First Gulf War, short but spectacular conflict that triumphantly restored notions of American military omnipotence and invincibility. In a strange twist of fate, one of the last major Hollywood films dedicated to Vietnam War, Flight of the Intruder, directed by John Millius, arrived in cinemas just as the American campaign against Iraq was starting.
Film is based on the eponymous best-selling novel by Stephen Coonts, former US Navy aviator who served in bombing campaign against Northern Vietnam. The protagonist, played by Brad Johnson, is Lieutenant Jake "Cool Hand" Gafton, pilot of Grumman A-6 Intruder attack jet aircraft, operating from an aircraft carrier in South China Sea. The plot begins in 1972 when A-6 squadrons conduct bombing missions which, much to Grafton's frustrations, have worthless targets in the jungle, while enemy's most valuable resoruces in Hanoi and big cities are spared for political and diplomatic reasons. Grafton gets infuriated when his navigator and best friend Lieutenant Morgan "Morg" McPherson (played by Christopher Rich) gets killed by a stray bullet during increasingly pointless jungle bombing missions. His replacement is Lieutenant Virgil Cole (played by Willem Dafoe), an experienced veteran who shares Grafton's views about proper bombing strategy. Two of them ultimately concoct the plan to bomb strategic targets in Hanoi by themselves in clear violation of superiors' orders. The plan works but when they return to the carrier, they face court martial that will certainly end their careers. Fate intervenes in the form of Nixon's escalation of bombing campaign that requires all capable pilots, so Grafton and Cole get another chance to take part in action.
Certain segments of American society never accepted defeat in Vietnam and instead created American version of Stab-in-the-back Myth, claiming that American military in Indochina was victorious on the ground and forced to retreat only because of treacherous and squeamish politicians back home. Air campaign in Vietnam, which was, due to American technological supremacy, more one-sided, was definitely more fitting for that notion and unburdened with messy details like thousands of young Americans being killed or crippled in the jungle. It isn't surprising that American military establishment supported the film detailing that chapter of Vuetnam War history. Producers enjoyed full co-operation of US Navy, which included access of authentic aircraft, ships, locations and other resources in even larger scale than during production of Top Gun. John Milius, one of the rare Hollywood film makers with right-wing and militaristic views, seemed like a perfect choice to direct film.
Any hopes that Flight of the Intruder would become next Top Gun were quickly dashed. Part of the reason can be in bad timing – film got in cinemas in the moment when much of similar content was available free on CNN. Another reason is conceptual. The story about two officers taking a war into their own hands probably appealed to John Milius and his rugged individualism. Circumstances under which he made the film was anti-thesis of individualism, though. Milius later described production as the worst professional experience of his life, blaming Paramount Pictures for meddling into his creative decisions. The relatively simple script was burdened with cliches, including utterly forgettable presence of Navy widow character played by Rosanna Arquette. Even worse was decision to end the film with prolonged and ultimately anti-climactic action scene that takes place on the ground during search and rescue mission. Flight of the Intruder works best in the beginning, when it sets up characters and gives intriguing but believable insight into the life on aircraft carrier and camaraderie among pilots and crew. Unfortunately, protagonist is the miscast – former model Brad Johnson has the looks, but lacks charisma and acting skills of Tom Cruise. His deficiency becomes even clearer when he is paired by more capable actors like Willem Dafoe or Danny Glover who is very convincing as protagonist's commadning officer. Their efforts, on the other hand, can't compensate for other flaws. Most apparent among them is sorry state of special effects that looked dated even in early 1990s. As a result, Flight of the Intruder became such a big disappointment that Milius, one of the legends of New Hollywood, decided not to direct theatrical films again and instead switch his career to producing and work on television.
RATING: 4/10 (+)
Blog in Croatian https://draxblog.com
Blog in English https://draxreview.wordpress.com/
Leofinance blog https://leofinance.io/@drax.leo
Cent profile https://beta.cent.co/@drax
Minds profile https://www.minds.com/drax_rp_nc
Uptrennd profile https://www.uptrennd.com/user/MTYzNA
Unstoppable Domains: https://unstoppabledomains.com/?ref=3fc23fc42c1b417
Hiveonboard: https://hiveonboard.com?ref=drax
Bitcoin Lightning HIVE donations: https://v4v.app/v1/lnurlp/qrcode/drax
Rising Star game: https://www.risingstargame.com?referrer=drax
1Inch: https://1inch.exchange/#/r/0x83823d8CCB74F828148258BB4457642124b1328e
BTC donations: 1EWxiMiP6iiG9rger3NuUSd6HByaxQWafG
ETH donations: 0xB305F144323b99e6f8b1d66f5D7DE78B498C32A7

---
---