Film Review: Little Italy (Squadra antimafia, 1978)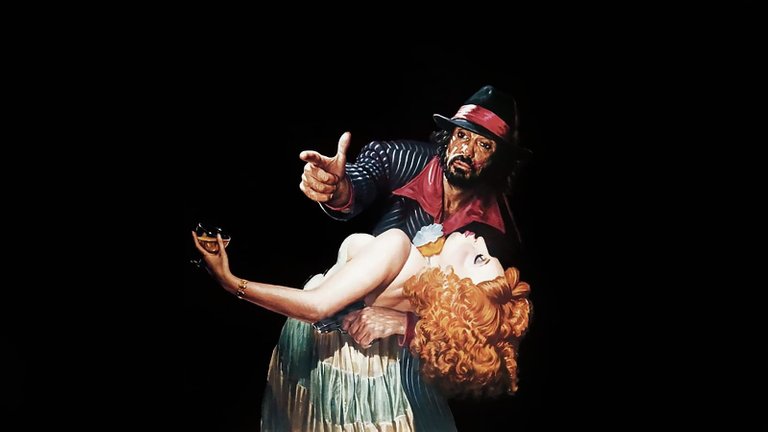 Italian First Republic reached its nadir in 1970s, when the country was beset by serious economic crisis, political instability, terrorism, corruption at all levels of government and widespread belief that the lines between politics, business and organised crime didn't exist, thus allowing many evildoers to act with absolute impunity. In those hard times Italians were finding some comfort in its cinema, which exploited the said sentiment with series of populist comedies about Nico Giraldi, street-wise and resourceful undercover policeman who was able to do on the screen what actual authorities couldn't have done in real life. Fourth film in the series was Squadra antimafia, directed by Bruno Corbucci and released internationally under title Little Italy.
After few introductory scenes, during which Sergeant Nico Giraldi (played by Tomas Milian) uses his skills to take care of criminals on the streets of Rome, actual plot begins with prison riot in Viterbo. An unknown man in police uniform uses the mayhem as an opportunity to murder a prisoner, which just happened to be an important witness against Don Girolamo Giarra (played by Eli Wallach), one of the leaders of New York mafia. Commissioner Tozzi (played by Robert Messina) considers the assassination an insult to Italian police and orders Giraldi to infiltrate Giarra's organisation and bring him to justice. Giraldi robs betting shop, gets promptly arrested and put in prison from where he would escape and find his way to America. After coming to New York, he steals one of the cabs in order to follow Giarra and finds that his favourite spot is restaurant in Little Italy, run by Salvatore Esposito (played by Enzo Cannavale), immigrant from Naples. Salvatore agrees to hire Nico as a waiter, which he uses to catch Giarra's attention with his brash attitude. When Nico saves Giarra's life from assassin dressed as priest, Giarra decides to bring him into his organisation and sends him to Las Vegas to investigate whether the rival mafia don is behind the assassination attempt. Nico's mission gets complicated after Giarra's daughter Maria Sole (played by Margherita Fumero) falls in love with him and stops at nothing in order to win his heart.
Bruno Corbucci doesn't waste time telling the audience what kind of film are about to see. The first scene features dirty old man using binoculars to watch attractive woman taking her clothes off in neighbouring building, completely oblivious to gang of petty thieves cleaning his apartment of everything. This sets the tone for the rest of film, which features crude but effective humour, enhanced mostly by small army of capable character actors and comedians. Milian, who became star by appearing in spaghetti westerns and more serious poliziotteschi films, marvels as the opportunity to play something more light-hearted character who is at the same time inspired by Shaft, Serpico and other street-wise icons of 1970s cinema. Enzo Cannavale is also very good in role of Nico's employer and friend while at the same time complete opposite of 1970s macho ideals. Corbucci, on the other hand, doesn't hide film's poor budget, especially in New York street scenes that are made in documentary style and Little Italy even features some documentary footage of legendary New York Cosmos soccer team. Although it is over-reliant on mid 1970s popular culture, mainly films like Taxi Driver and Saturday Night Fever and although Margherita Fumero at times goes over the top in displaying her character's infatuation with protagonist, Little Italy is nevertheless an entertaining film that proves that something light can produced even at hardest of times.
RATING: 6/10 (++)
Blog in Croatian https://draxblog.com
Blog in English https://draxreview.wordpress.com/
Leofinance blog https://leofinance.io/@drax.leo
Cent profile https://beta.cent.co/@drax
Minds profile https://www.minds.com/drax_rp_nc
Uptrennd profile https://www.uptrennd.com/user/MTYzNA
Hiveonboard: https://hiveonboard.com?ref=drax
Rising Star game: https://www.risingstargame.com?referrer=drax
1Inch: https://1inch.exchange/#/r/0x83823d8CCB74F828148258BB4457642124b1328e
BTC donations: 1EWxiMiP6iiG9rger3NuUSd6HByaxQWafG
ETH donations: 0xB305F144323b99e6f8b1d66f5D7DE78B498C32A7

---
---