Film Review: Look Who's Talking (1989)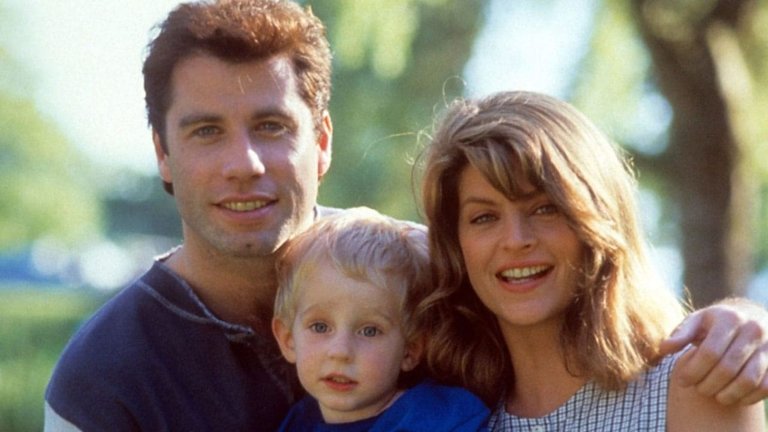 "High concept" films can be quite successful at the box office, but they usually don't age well, like in the case of Look Who's Talking,1989 comedy written and directed by Amy Heckerling. Relatively simple and not particularly original plot starts with New York City accountant Mollie Jensen (played by Kirstie Alley) having and affair and getting impregnated by her married client Albert (played by Robert Segal). She decides to keep the baby and ends relationship with Albert after catching him with another woman. While being in labour she is brought to hospital by kind-hearted taxi driver James Ubriaco (played by John Travolta) and, after a son named Mikey (voiced by Bruce Willis) is born, two of them remain friends, with James serving as Mikey's baby sitter while Mollie helps James' grandfather Vincent (played by Al Vigoda) being put to better nursing home. James proves to be a good father-figure to Mikey and, after a while, James and Mollie start romantic relationship.
What makes Look Who's Talking different from most other Hollywood romantic comedies is an idea of having the plot being commented through inner monologue of character who develops from fetus to a toddler, and whose misunderstanding of the outside world and adults could lead to all kinds of humorous observations. The idea, inspired by Heckerling and her then-husband Neal Israel while taking care of their baby, was promising but wasn't handled that well. Look Who's Talking, especially in the first part, looks like two films sloppily edited into one. The first is a sketch comedy featuring various stages of Mikey who delivers sometimes humorous, but not always effective one-liners, delivered well by Bruce Willis (who had good success with comical one-liners as protagonist of hit TV series Moonlighting). The second one is standard romantic comedy plot about man and woman meeting, slowly discovering that they are made for each other, breaking up and finally reconciling in predictably melodramatic finale. Heckerling, however, makes this combination watchable by energetic direction and rapid pace that prevents audience that notice much of film's flaws (including Mollie's fantasy sequences that could have been confusing). Her approach, however, lets her down near the end when she is forced to compensate for the lack of adequate humour with uninspiring slapstick. Heckerling, on the other hand, shows enormous skill of handling various child actors that play Mikey and getting exactly needed reactions that would be edited into the film with good comical effect.
What ultimately rescues this film and makes it watchable is the good cast. John Travolta, once the great Hollywood star whose career for the most of 1980s was failure, shows great skill for comedy and brings a lot of charm, especially in scenes that feature his character in scenes with Mikey and Mollie. This performance helped Travolta regain his stellar status, although it would be finally confirmed half a decade later with his role in Pulp Fiction. Travolta is also helped by formidable actress Kirstie Alley with whom he had great chemistry. This isn't the case with Robert Segal who plays one-dimensional and mostly unlikeable semi-villain. Despite those flaws, Look Who's Talking is still an entertaining film, especially for the audience in the mood for some sentimentality, cuteness and family values. After its original theatrical release resulted in surprise and massive box office success, Look Who's Talking was followed by two forgettable sequels.
RATING: 5/10 (++)
Blog in Croatian https://draxblog.com
Blog in English https://draxreview.wordpress.com/
Leofinance blog https://leofinance.io/@drax.leo
Cent profile https://beta.cent.co/@drax
Minds profile https://www.minds.com/drax_rp_nc
Uptrennd profile https://www.uptrennd.com/user/MTYzNA
Unstoppable Domains: https://unstoppabledomains.com/?ref=3fc23fc42c1b417
Hiveonboard: https://hiveonboard.com?ref=drax
Bitcoin Lightning HIVE donations: https://v4v.app/v1/lnurlp/qrcode/drax
Rising Star game: https://www.risingstargame.com?referrer=drax
1Inch: https://1inch.exchange/#/r/0x83823d8CCB74F828148258BB4457642124b1328e
BTC donations: 1EWxiMiP6iiG9rger3NuUSd6HByaxQWafG
ETH donations: 0xB305F144323b99e6f8b1d66f5D7DE78B498C32A7

---
---