Film Review: My Stepmother Is an Alien (1988)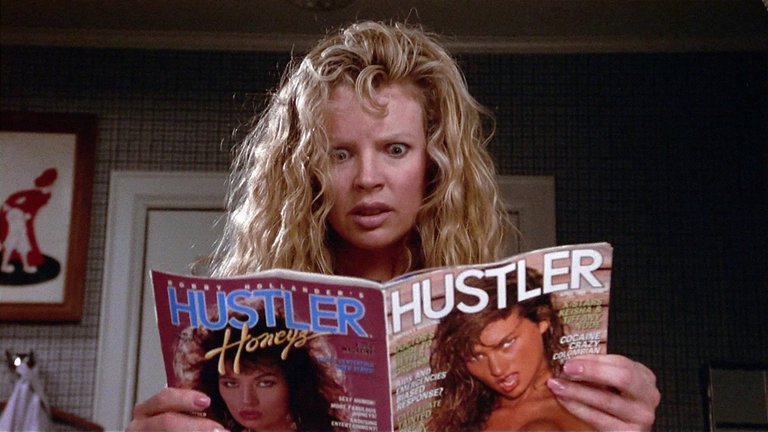 There are films that feature everything that was wrong with 1980s Hollywood (and many things that are wrong with Hollywood now), but which can nevertheless be entertaining if viewed with proper mindset. One of them is My Stepmother Is an Alien, 1988 science fiction comedy directed by Richard Benjamin.
The plot begins when widowed astrophysicist Steven Mills (played by Dan Aykroyd) conducts an experiment aimed at sending the signal in the deep space hoping that it would be received by alien civilisations. The experiment ends in disaster that costs Mills his job but, unbeknownst by him, it was actually huge success – signal not only travelled faster than light, but actually caused gravity disruption at the distant planet which, as a result, send the expedition to Earth to investigate cause of all that problems. The explorer is Celeste (played by Kim Basinger) who takes the form of beautiful woman and tries to find the source of signal. She finds Mills and, despite looking eccentric and silly because of her unfamiliarity with humanity's ways, leaves such strong impression on the scientist that he decides to marry her. That would allow Celeste opportunity to help Mills get his job and recreate the experiment. In the meantime, Mills' 13-year old daughter Jessie (played by Alyson Hannigan), however, notices that her stepmother is acting strangely and becomes suspicious of her true intentions.
My Stepmother Is an Alien is typical "high concept" film which looks like its script was entirely built around the title. The script was actually work of many writers and the original version, penned by Jericho Stone, was actually serious drama about child abuse. The end result was combination of light-hearted sex comedy and Spielbergian sentimentality, the latter clearly signalled with the middle class suburban setting, celebration of family and musical score by Alan Silvestri. Richard Benjamin, an actor who switched to directing, clearly shows that comedies are his forte; My Stepmother Is an Alien works better when it is a comedy when it is a science fiction film. Benjamin had huge budget at his disposal and it is quite visible in scenes featuring special effects, although they are often too distracting, especially at the over the top beginning which takes place during stormy night and at the predictably melodramatic end. My Stepmother is an Alien also suffers from unfortunate casting. Dan Aykroyd, an actor with huge comical talent, isn't that convincing as an capable and intelligent scientist who tries to be responsible father, while at the same time acting like a complete fool in the presence of beautiful woman. Jon Lovitz as Mills' lecherous brother is good but rather unnecessary as comic relief. Thankfully, Kim Basinger, who was at the time hailed as the world's greatest sex symbol, marvels as opportunity to show her comic talents and manages to carry almost entire film on her shoulders. This is especially so in the first part, which allows many entertaining "fish out of water" scenes, especially those in which Celeste has to quickly familiarise with concepts of human sex. Young Allyson Hannigan is also good in her role and it is a shame that the film failed to tell the story from her character's perspective (as the title suggested). Fans of Buffy the Vampire Slayer, in which Hannigan played the character of Willow Rosenberg, would probably like this film, because young Seth Green (who played Willow's boyfriend Oz in the show) appears in the role of Jessie's date. My Stepmother Is an Alien turned into massive box office flop and was discarded by critics, and many today would find their arguments valid. Yet it is entertaining enough to be recommended to the audience with lowered expectations.
RATING: 5/10 (++)
Blog in Croatian https://draxblog.com
Blog in English https://draxreview.wordpress.com/
Leofinance blog https://leofinance.io/@drax.leo
Cent profile https://beta.cent.co/@drax
Minds profile https://www.minds.com/drax_rp_nc
Uptrennd profile https://www.uptrennd.com/user/MTYzNA
Unstoppable Domains: https://unstoppabledomains.com/?ref=3fc23fc42c1b417
Hiveonboard: https://hiveonboard.com?ref=drax
Bitcoin Lightning HIVE donations: https://v4v.app/v1/lnurlp/qrcode/drax
Rising Star game: https://www.risingstargame.com?referrer=drax
1Inch: https://1inch.exchange/#/r/0x83823d8CCB74F828148258BB4457642124b1328e
BTC donations: 1EWxiMiP6iiG9rger3NuUSd6HByaxQWafG
ETH donations: 0xB305F144323b99e6f8b1d66f5D7DE78B498C32A7

---
---