Film Review: Police Academy 2: Their First Assignment (1985)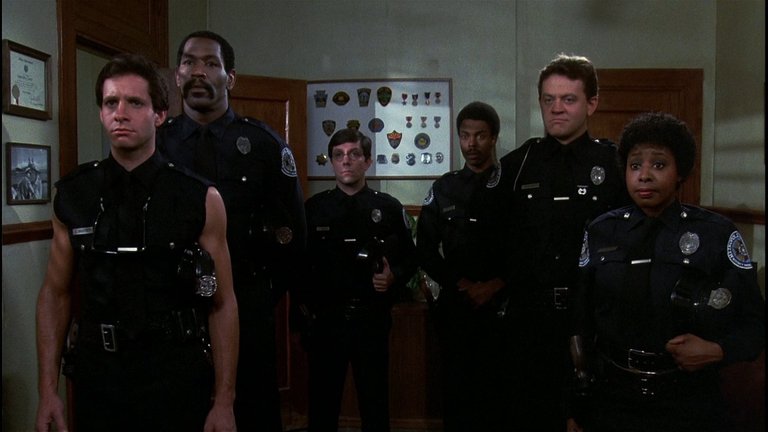 The plot of Police Academy 2: Their Next Assignment, 1985 comedy and sequel to the previous year's big hit, deals with what was actually quite a serious real life problem in 1980s urban America – rampant and seemingly unstoppable street crime. This is the issue faced by Captain Pete Lassard (played by Howard Hesseman), commander of 16th Precint whose jurisdiction covers part of city terrorised by "Scullions", vicious street gang led by Zed McGlunk (played by Bobcat Goldthwait). Captain Lassard is powerless to stop them because of budget cuts and lack of manpower but, thankfully, his brother Eric (played by George Gaynes), commandant of Metropolitan Police Academy, offers to send help in form of elite team of six recently graduated recruits led by Carey Mahoney (played by Steve Guttenberg). They soon find out that their task is going to be extremely difficult because Lt. Ernie Mauser (played by Art Mertrano), Captain Lassard's second-in-command dreams of getting his boss' job and does everything in his power to make new recruits' life as miserable as possible.
Despite surprise success of the first Police Academy, producers of the inevitable sequel tried to play it safe by making slightly more conventional and less "edgy" film. Director Hugh Wilson was replaced with more safe and reliable Jerry Paris, raunchiness was toned down in order to get PG-13 rating by MPAA censors and the script Barry W. Blauestein and David Sheffield replaced episodic structure of the first film with much tighter plot. Police Academy 2 was made with slightly higher budget and with many of the original cast kept. Some of the more iconic actors of the first film, like G. W. Bailey, were missing, but they were replaced by interesting addition to the cast. Art Mertrano proved to be quite effective as the film's new villain, while Lance Kinsey was good as his sycophantic henchman. Bobcat Goldwaith was interesting in the role of Zed, although this character (who would later become iconic in sequels) wasn't developed enough. It would be unfair to say that Police Academy 2 isn't funny, but there are few scenes with truly effective humour. Police Academy 2 often goes for slapstick and some subplots, like the romance between gun-crazy Tackleberry (played by always efficient Robert Graf) and his equally gun-crazy partner Kathleen Kirkland (played by Colleen Camp) don't add much to the film. While many in the cast were unhappy with film - like Hesseman, who would refuse to play in sequels and Graf, who admitted being motivated strictly by money – audience apparently was, providing enough box-office returns for five more sequels.
RATING: 4/10 (++)
Blog in Croatian https://draxblog.com
Blog in English https://draxreview.wordpress.com/
Leofinance blog https://leofinance.io/@drax.leo
Cent profile https://beta.cent.co/@drax
Minds profile https://www.minds.com/drax_rp_nc
Uptrennd profile https://www.uptrennd.com/user/MTYzNA
Hiveonboard: https://hiveonboard.com?ref=drax
Rising Star game: https://www.risingstargame.com?referrer=drax
1Inch: https://1inch.exchange/#/r/0x83823d8CCB74F828148258BB4457642124b1328e
BTC donations: 1EWxiMiP6iiG9rger3NuUSd6HByaxQWafG
ETH donations: 0xB305F144323b99e6f8b1d66f5D7DE78B498C32A7

---
---