Film Review: Porky's Revenge (Porky's 3, 1985)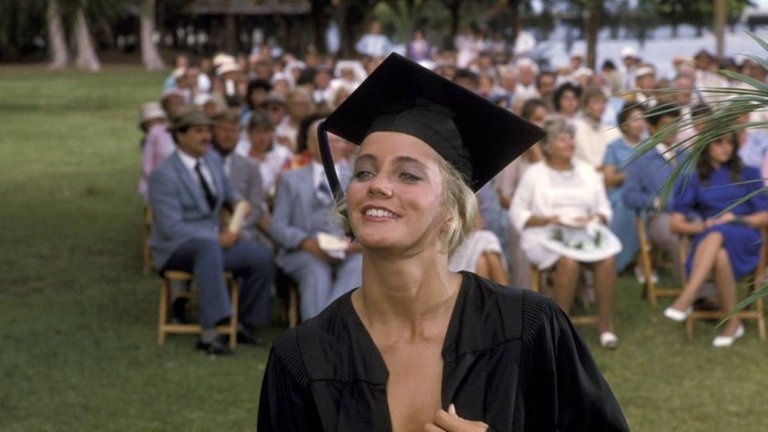 An average film series in contemporary Hollywood tends to get worse with each new instalment, especially if it was started by a film which wasn't very good in the first place. Porky's, series of films that mixed 1950s nostalgia with 1980s style teen sex comedy, is a good example. While the first film, directed by Bob Clark in 1981, could justify its surprise box office success with being at least adequately entertaining, the second one, also directed by Bob Clark, was disappointing with comparison. The third and final instalment, Porky's Revenge!, directed by James Komack, turned out so bad that the franchise actually ended.
The plot begins in 1955 Florida when the nominal protagonist Edward "Pee Wee" Morris (played by Dan Monahan) and his friends from Angel Beach High School await the day of graduation. They are still obsessed with sex and get in all kinds of trouble with school authorities, like when being caught watching porno film at school premises. But the worst kind of trouble is brought by their old nemesis "Porky" Wallace (played by Chuck Mitchell), bordello/strip club owner who had branched his activities into casino and to whom boys' beloved Coach Goodenough (played by Bill Hidman) owes gambling debt. Boys had wrecked Porky's previous establishment but they find that he returned with a huge riverboat. Being caught by his cohorts during night expedition, boys decide to save their lives by promising that they would deliberately throw basketball game during state championship. "Pee Wee" and his friends now must find the way how to actually win the championship and escape Porky's revenge afterwards.
Clark, furious over studio commissioning Ziggy Steinberg's script behind his back, decided not take part in this film, ultimately sealing its and the series' fate. James Komack, a director best known for his work on television sitcoms, proved to be the wrong choice as his replacement. He tried to copy the formula of previous two films and he had kept most of the cast, but Porky's Revenge turned out to be the failure on almost two levels. While the film, like previous two instalments, contains large amount of lewd sex-based humour and scenes of nudity (both male and female), quality of humour is significantly lower and many scenes are simply unfunny and also, in many cases, quite non-erotic. Lack of inspiration is made even clearer by episodic plot and the ending that opts for mechanical destruction instead of humour. Some of the cast try to do best with poorly written roles, like Dan Monahan who enthusiastically plays "Pee Wee" or Tony Ganios, whose Anthony "Meat" Tuperello remains the only memorable character. Kaki Hunter, who worked hard in the role of Wendy in previous two film, is here wasted in weak and tragically underwritten role and the Hunter's decision to quit acting career afterwards is quite understandable. What makes Porky's Revenge even worse is the soundtrack by Dave Edmunds. Made in 1980s style and use of contemporary instruments, it sounds completely anachronistic for film set three decades earlier. While previous two instalments can be enjoyed by viewers that feel nostalgic towards 1980s, Porky's Revenge is unlikely to do so.
RATING: 3/10 (+)
Blog in Croatian https://draxblog.com
Blog in English https://draxreview.wordpress.com/
Leofinance blog https://leofinance.io/@drax.leo
Cent profile https://beta.cent.co/@drax
Minds profile https://www.minds.com/drax_rp_nc
Uptrennd profile https://www.uptrennd.com/user/MTYzNA
Hiveonboard: https://hiveonboard.com?ref=drax
Rising Star game: https://www.risingstargame.com?referrer=drax
1Inch: https://1inch.exchange/#/r/0x83823d8CCB74F828148258BB4457642124b1328e
BTC donations: 1EWxiMiP6iiG9rger3NuUSd6HByaxQWafG
ETH donations: 0xB305F144323b99e6f8b1d66f5D7DE78B498C32A7
Movie URL: https://www.themoviedb.org/movie/23919-porky-s-revenge
Critic: AA

---
---