Film Review: The House on Carroll Street (1988)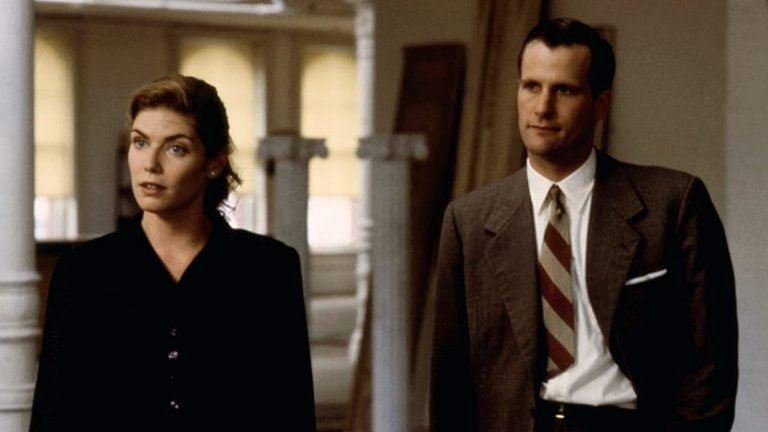 It's hard to imagine it now, but there was a time when US Left used to be the most passionate champion of free speech. It happened partly because American leftists became persecuted on the account of their beliefs in what is now known as one of the most shameful chapters of American history. Those events served as background for the plot of The House on Carroll Street, 1988 period thriller directed by Peter Yates.
The film is set in New York City in Summer of 1951. The protagonist, played by Kelly McGillis, is Emily Crane, deputy picture editor for Life magazine. She also happens to be a member of an organisation advocating civil liberties and during the early Cold War hysteria, many Americans view such organisations as fronts for Communists and Soviet agents. Emily is summoned by US Senate committee to a public hearing where she is asked to name other members; she refuses and, as a result, loses her job at magazine. Forced to find another source of income, she responds to the ad and becomes reader for Miss Venable (played by Jessica Tandy), old lady who is losing her sight. She also begins to notice some strange happenings in the nearby house, where people tend to speak in German and one of the guests is Ray Salwen (played by Mandy Patinkin), one of Senate aides who participated in her hearing. Emily tries to discover who those men are and what is their purpose, and one of the leads is Stefan (played by Christopher Buchholz), young and apparently scared German immigrant. When he gets murdered, Emily receives unexpected aid from Cochran (played by Jeff Daniels), FBI agent assigned to follow her over her potential subversive activities.
Subject of the film was something quite personal for screenwriter Walter Bernstein. In early 1950s, he was branded as "subversive" because of his Communist beliefs and his name added to infamous Hollywood Black List, forcing him to continue career as lowly paid ghost writer, an experience which would serve as inspiration for 1976 drama film The Front. In this film Bernstein, however, mixes McCarthyism with another controversial chapter of US Cold War history – Operation Paperclip, US government recruitment of top Nazi scientists and technical experts and their relocation on US soil, with little or no regard for those people's role in the worst atrocities of Hitler's regime. This is the source of major weakness in The House on Carroll Street, because the concept of protagonist who is target of political persecution suddenly transforms into hunter of villains protected by the government doesn't look very believable and character of Salwen – which connects two subplots – happens to appear on two different places (US Senate hearing and Nazi safe house) all too conveniently.
That doesn't mean that The House on Carroll Street is a bad film. Peter Yates, British director with very diverse and quite respectable filmography, approaches the script in the style of old school thrillers. Great effort is invested to reconstruct early 1950s New York and it pays off, especially in the final, rather impressive action-packed scene that take place at Grand Central station. Cinematographer Michael Ballhaus also makes valuable contribution in using colour to recreate the period which is best known through black-and-white films. Composer Georges Delerue provides adequate, although at times overwhelming old school score. Cast is also good. Kelly McGillis is quite convincing in the role of a character that willingly risks her life over idealism. Jeff Daniels, an actor specialised in roles of squeaky clean heroes, works well in the role of FBI agent who does the right thing because he feels attracted to beautiful woman. Mandy Patinkin is also good in the role of a psychopathic ideologically-driven government official, rather rare choice of villain in Hollywood films. Although the script could have been more polished and some of the plot holes (like somewhat confusing scene taking place at Orthodox Christian wedding) handled better, The House on Carroll Street is a film that should be recommended both as entertainment and food for thought. As a latter, it might make audience depressive because it reminds us that some things haven't changed much through decades – US government is willing to discard basic morality for the sake of geopolitical interests while people are still blacklisted for their "wrong" political opinions.
RATING: 6/10 (++)
Blog in Croatian https://draxblog.com
Blog in English https://draxreview.wordpress.com/
Leofinance blog https://leofinance.io/@drax.leo
Cent profile https://beta.cent.co/@drax
Minds profile https://www.minds.com/drax_rp_nc
Uptrennd profile https://www.uptrennd.com/user/MTYzNA
Unstoppable Domains: https://unstoppabledomains.com/?ref=3fc23fc42c1b417
Hiveonboard: https://hiveonboard.com?ref=drax
Bitcoin Lightning HIVE donations: https://v4v.app/v1/lnurlp/qrcode/drax
Rising Star game: https://www.risingstargame.com?referrer=drax
1Inch: https://1inch.exchange/#/r/0x83823d8CCB74F828148258BB4457642124b1328e
BTC donations: 1EWxiMiP6iiG9rger3NuUSd6HByaxQWafG
ETH donations: 0xB305F144323b99e6f8b1d66f5D7DE78B498C32A7

---
---