Film Review: The Hunt for Red October (1990)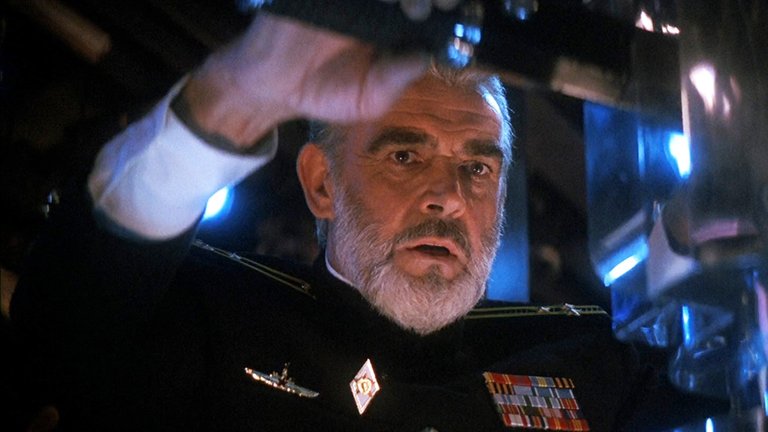 Many of the technologies that we take for granted today were developed during Cold War. Same, to a certain extent, can be said for the modern genre of techno-thriller. One of its most successful authors was Tom Clancy, whose rise to fame and success began with his Cold War-themed bestselling 1984 novel The Hunt for Red October, first in the series featuring CIA analyst Jack Ryan. Six years later the novel was adapted into feature film, directed by John McTiernan and today considered one of the finest examples of the genre.
The plot takes place in November 1984, few months before reform-minded Mikhail Gorbachev took over Soviet Union and during the period when the tensions between two rival superpowers were still near their peak. Captain Marko Ramius (played by Sean Connery), one of the most respected and most experienced Soviet Navy commanders is given command of Red October, brand new nuclear submarine equipped with "caterpillar drive", which allows the vessel to travel in complete silence and thus evade any detection before it is too late. Its maiden voyage is supposed to be routine mission, but Ramius has other ideas. After killing ship's political officer Ivan Putin (played by John Firth), he, together with couple of trusted confederates, intends to defect to the West and plots new course into Atlantic Ocean. US Navy is informed about the new submarine, but unaware of its capabilities and Ramius' true intentions, with some believe that Red October might actually carry out first strike against USA. When Soviet Navy mobilises all of its resources and apparently begins to search for the rougue submarine, Jack Ryan (played by Alec Baldwin), CIA analyst who has studied Ramius, believes that Soviet commander wants to defect. While many of his superiors are sceptical, they allow him to board USS Dallas, American submarine commanded by Bart Mancuso (played by Scott Glen) and try to get in contact with Ramius. If he fails, the result might be massive loss of life or, even worse, the incident that might escalate into Third World War.
Clancy's novel was well-researched and dealt with relevant subject, but its success was in large part because it was revealed to be Ronald Reagan's favourite book. This isn't surprising, because Clancy's celebration of US military technology and its inherent superiority over Soviets was very much in line with Reagan's policies. This reflected into the film, although Cold War was, for all practical purposes, over by the time of its premiere. The Hunt of Red October was nevertheless expression of regenerated and newly confident America which won the most epochal struggle of past few decades and was about to begin undisputed supremacy over the world that would last for decades. In many ways, the film was spiritual successor of 1980s megahit Top Gun, although two films took quite different approaches. While the former was slick but simplistic MTV-style propaganda, the latter film was intended for audience which favoured using their brains. Director John McTiernan has reached fame with his action classics Predator and Die Hard, but in this film he employs relatively little action and even less violence. He nevertheless successfully creates suspense with clever editing that makes complicated maritime manoeuvres and game of cat and mice in vast expanses of ocean look exciting. Unlike Top Gun, this film also actually features American adversaries which are, unlike most of the films depicting Soviets and Russians in post-Cold War period, portrayed as capable and dangerous. McTiernan enjoyed full support of US authorities and US Navy, which allowed the use of real submarines, surface ships and helicopters in many scenes, which was essential for films of such scope in pre-CGI days. There are, however, some old school special effects provided by Industrial Light & Magic, used mostly in underwater scenes, which are quite effective. McTiernan also relies on brilliant cinematography by Jan De Bont, which uses different sets of lightning and colours to allow viewers to easily identify when certain scene takes place in US or Soviet submarine. Basil Poledouris provides memorable score based on Soviet marches and songs.
McTiernan also solves one major problem of the film in ingenious way. Ramius and other Soviet characters in the film at first speak Russian with English subtitles; knowing that this could be too distracting for certain sections of the audience, McTiernan uses the word "Armageddon", which sounds the same in English and Russian, to allow for seamless transition to Soviet characters speaking English for the rest of the film. In many ways, such ingenuity is quite fitting for the film that deals with people that fight by using their brains rather than brawns and in situation where any wrong move could have catastrophic consequences. The plot of The Hunt for Red October shows the battle of wits and characters having to guess and carefully deliberate next moves and intentions of their potential opponents. Despite that and despite the history (and the opening titles) making the ending quite predictable, The Hunt for Red October never gets boring. Some critics, on the other hand, argued that McTiernan didn't go far enough and that the characters were one-dimensional and lacked proper motivation. This included Ramius, whose motives for defection were never properly explained. If McTiernan took their route, the results would probably make film too long and too propagandistic, like in the film's weakest scene when Ramius and his trusted executive officer (played by Sam Neill) discuss future life in America and note how they would enjoy more freedom than in their repressive motherland.
While the novel represented the first part of Clancy's Jack Ryan saga, Jack Ryan isn't the film's protagonist. That is role reserved by Ramius, who is confidently played by Sean Connery in one of the last truly grand roles of his career. Connery didn't have to work very hard and his presence was enough to radiate charisma necessary to portray confident leader of men. Jack Ryan, on the other hand, is secondary character, portrayed as office-bound intellectual who is actually quite uncomfortable at the field and when forced to use gun. Alec Baldwin is solid in that role, but easily overshadowed by Connery and quite bland in comparison. It isn't that surprising that Baldwin was replaced by Harrison Ford in next two films based on Clancy's novels. The rest of the cast, which features some of the finest character actors, is quite superb; among them stands out Scott Glenn and Stellan Skarsgård in the role of Soviet submarine commander that pursues Red October. The film also has very few female characters, which is quite justified for this sort of setting; Gates McFadden, playing Jack Ryan's wife, is almost unnoticeable. Realistic and thoughtful approach to the subject, something that was becoming quite rare in Hollywood blockbusters even at the times of its production, make The Hunt for Red October film that could be recommended even for users not that interested in Cold War or techno-thrillers.
RATING: 8/10 (+++)
Blog in Croatian https://draxblog.com
Blog in English https://draxreview.wordpress.com/
Leofinance blog https://leofinance.io/@drax.leo
Cent profile https://beta.cent.co/@drax
Minds profile https://www.minds.com/drax_rp_nc
Uptrennd profile https://www.uptrennd.com/user/MTYzNA
Unstoppable Domains: https://unstoppabledomains.com/?ref=3fc23fc42c1b417
Hiveonboard: https://hiveonboard.com?ref=drax
Bitcoin Lightning HIVE donations: https://v4v.app/v1/lnurlp/qrcode/drax
Rising Star game: https://www.risingstargame.com?referrer=drax
1Inch: https://1inch.exchange/#/r/0x83823d8CCB74F828148258BB4457642124b1328e
BTC donations: 1EWxiMiP6iiG9rger3NuUSd6HByaxQWafG
ETH donations: 0xB305F144323b99e6f8b1d66f5D7DE78B498C32A7

---
---