Film Review: Weekend at Bernie's (1989)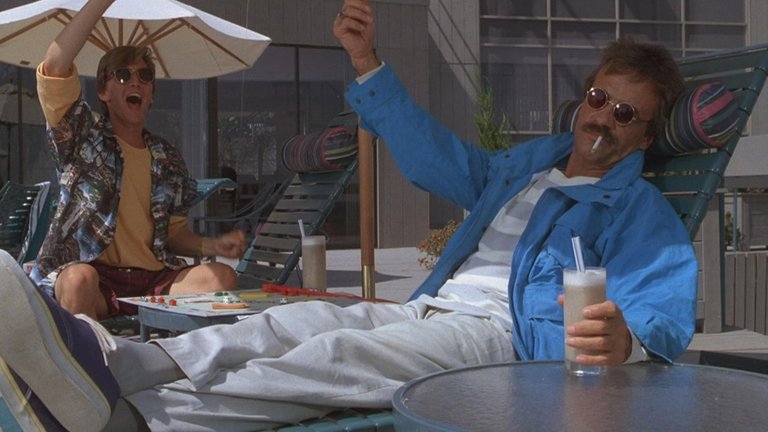 Many films that had been destined to sink and remain in oblivion were, due to strange historical twists, given a new life. One of the more recent example can be found in Weekend at Bernie's, otherwise unremarkable 1989 black comedy directed by Ted Kotcheff, which in past two years became popular source of Internet memes about the condition of certain people that are supposed to lead the world.
The plot begins one hot summer day in New York City where Larry Wilson (played by Andrew McCarthy) and Richard Parker (played by Jonathan Silverman), two young hard-working employees of insurance company, discover fraud worth of millions dollars. They immediately come with their findings to their boss Bernie Lomax (played by Terry Kiser) who is apparently so happy that he invites them to spend weekend at his luxurious beach mansion. Two men accept the invitation, unaware that Bernie was actually behind the fraud and asks his mafia partners to kill them. Mob boss Vito (played by Louis Giambalvo), however, has different ideas and instead takes much simpler course of action by permanently silencing Bernie instead. When Larry and Richard arrive at Bernie's mansion, they find their boss dead. Partly in order to avoid answering unpleasant answers and partly in order to enjoy a good day on the beach, they decide not to report Bernie's death to police at least for the weekend. However, Bernie is quite popular among locals and his mansion is constantly visited by friends and neighbours, so Larry and Richard are forced to use all their ingenuity to convince anyone that Bernie is actually alive.
Critics didn't like Weekend at Bernie's and most of the complaints was directed at the main premise, which was considered too macabre and tasteless. The premise (very much like the one used in The Trouble with Harry, one of the less successful films of Alfred Hitchcock) is used as a single joke which is, more or less, extended for almost entire length of the film. Another critics' complaint that can be justified is casting. Jonathan Silverman and Andrew McCarthy, while adequate in the roles, simply lack proper "buddy buddy" chemistry. Even worse is obligatory romantic subplot involving Richard and young summer intern (played by Catherine Mary Stewart in one of her last major film roles) which looks artificially implanted in the film. On the other hand, quality of humour – based mostly on slapstick – is sufficient for few laughs. Terry Kiser as a dead man actually does very good job, matched only by Don Calfa as frustrated mafia assassin. Furthermore, director Ted Kotcheff keeps fast tempo and approaches the material as nothing more than unpretentious summer comedy. Cinematographer François Protat puts attractive North Carolina beach locations to good use, and general atmosphere is enhanced with presence of numerous attractive bikini-clad woman and reggae-based soundtrack. This explains why Weekend at Bernie's was modest box office hit and got a sequel few years later.
Those willing to find something deeper in James Klane's script can even find some mild social commentary. Weekend at Bernie's is one of the rare Hollywood films that feature yuppies as protagonists, but, unlike 1980s stereotypes of luxury and excess, they are presented as low level corporate drones, forced to work hard, live in roach-infested apartments or, even worse, with their parents (like in a scene where Kotcheff has cameo as Richard's father). And, unlike the crime on the crack-infested inner city streets, white collar crime actually pays, allowing ruthless corporate villains to live in the world of unimaginable wealth and luxury. Those circles can afford not only insane amounts of drinks, drugs but also complete disconnect from the real world, that makes them not realise something so obvious as being in company of someone who has died. This disconnect from reality is, sadly, something that, due to social media manipulation, now becomes quite common among the ranks of rich and powerful and can explain a lot of trouble in the world nowadays.
RATING: 5/10 (++)
Blog in Croatian https://draxblog.com
Blog in English https://draxreview.wordpress.com/
Leofinance blog https://leofinance.io/@drax.leo
Cent profile https://beta.cent.co/@drax
Minds profile https://www.minds.com/drax_rp_nc
Uptrennd profile https://www.uptrennd.com/user/MTYzNA
Unstoppable Domains: https://unstoppabledomains.com/?ref=3fc23fc42c1b417
Hiveonboard: https://hiveonboard.com?ref=drax
Bitcoin Lightning HIVE donations: https://v4v.app/v1/lnurlp/qrcode/drax
Rising Star game: https://www.risingstargame.com?referrer=drax
1Inch: https://1inch.exchange/#/r/0x83823d8CCB74F828148258BB4457642124b1328e
BTC donations: 1EWxiMiP6iiG9rger3NuUSd6HByaxQWafG
ETH donations: 0xB305F144323b99e6f8b1d66f5D7DE78B498C32A7

---
---