This Thing Called Growth.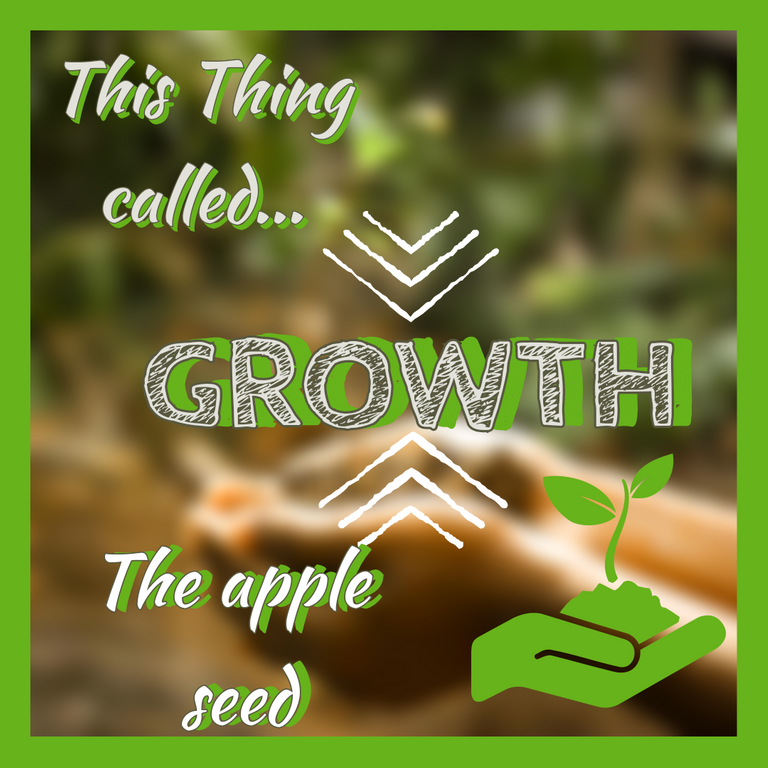 ---
---
It has been a while since a ranted. And today I just feel a lot of pent up energy that I want to release. And you know what is making me bubble inside? It is this thing called growth.
Why do we have to grow? I mean why do we have to come the position where we take up responsibilities beyond us? Why do we have to come to the point where we find out that our life is not just to revolve around us, but to be lived in the service of humanity?
Is that really what growth is about? Or is growth about moving to the next level in your job? Moving from a rented apartment to your own? Getting the latest fashion designs to your wardrobe? Driving a very decent car?
Is that what growth is? Really, what is growth? I have thought about this subject for a while and it seems like the answer isn't as clear as we deem it to be.
The apple seed
Imagine how the apple seed that falls to the earth grows. When it falls to the ground and is covered by sand, it looks like that is the end. For days, there is not a sign in the world to prove that the apple seed is not dead.
For me, the past few years has been like the apple seed for me. I have had a lot of challenges, a lot of learnings, un-learnings and re-learnings, a lot of mistakes, but it doesn't look like I am growing. I mean, I cant see the signs. Sometimes I get really frustrated by the fact that I seem to be making no progress at all. Most times, it is because I have found it difficult to even find what it is that I love doing. That thing that I want to spend all day doing.
So I decided to do a lot of things. And it seems like every single one of them is a big sac of "Boring". I do one thing and find out that I don't like it, or that I can't sustain it, then I move to another, then another, then another. And it seems like I am having this vicious cycle of trial and error.
The Revelation
One thing however, has been oblivious to me all this time. Like the apple, I am growing, but it is still at a rate that is oblivious to me. But when I decide to sit down and do some reckoning, I find that, I am not where I used to be. I have become a better person than I was a year ago. I am a lot wiser and experienced than I was. Here is the key point...
The experiences that you realize that you've gained when you try and fail are in themselves a sure way to see that you are growing.
The apple seed in the ground soon begins to sprout an ear, small, and maybe, negligible, but it is there. Soon, it grows to be a big ear and then expands slowly but steadily. To me, growth is a really painful process, I mean, it is hard work. Coupled with the fact that it can be insanely slow. I mean... what da hell! Can we just skip to the good part already?
But like someone said to me once
If you go up, you will come down, but if you grow up, you will stay on top.
Proper growth takes time. As a doctor, I know that if a baby comes out of the womb before it is time to, it is at a very high risk of not surviving. I have had to counsel mothers, whose babies came out before they could grow and form the necessary parts needed for survival.
See, when your growth is proper, you wont come out deformed. You will come out whole and complete, ready to take on any task ahead of you. Wait... I am not talking to you, I am talking to myself.
I am still in the apple seed stage, I might have reached the stage where my ears are already shooting out of the ground in some areas of my life. But it looks like there would always be a time, an aspect of life where I would still be in an apple seed.
Conclusion
Growth is hard work. It's insanely hard, but the dividends are usually sweet... or are they? Being an adult means you have a truckload of responsibilities. And, if you have younger siblings it makes it all the more bitter. But no matter, if we all remained immature, then the world would be in chaos. The dividends of growth may not be sweet, but they are extremely satisfying. At the end, when you look at yourself and see how far you have come and how much you have overcome, the fulfilment that fills your heart cannot be bought with money. I have seen it in some areas of my life, so I know.
If you found this post insightful, pls leave an upvote and rehive.
Stay jiggy.
PS... the pic is mine
---
---