WORLD BEE DAY: The fight against extinction.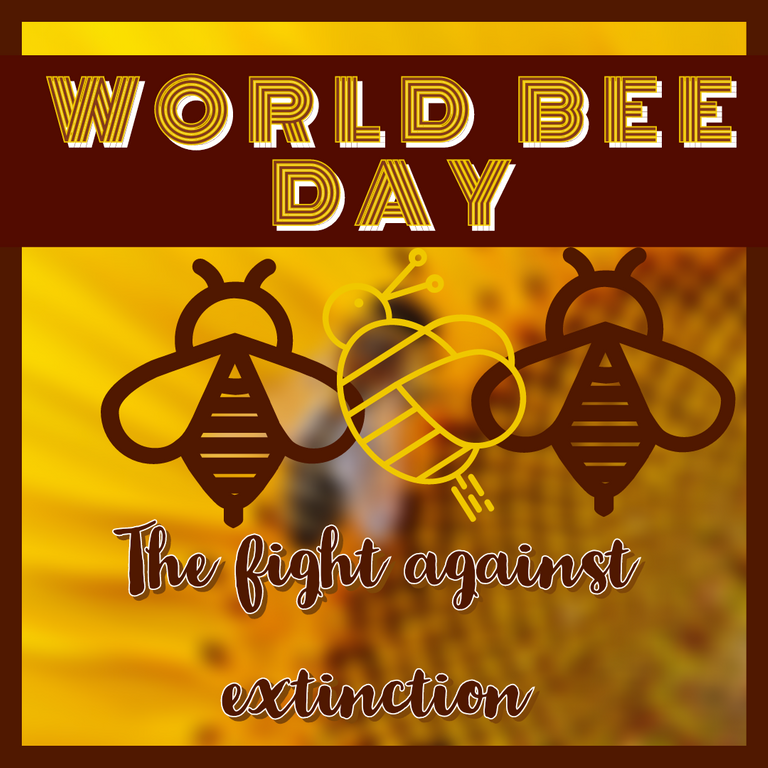 ---
---
All over the world, bees are going extinct. I know! What's so special about bees becoming extinct? Well, as is my custom, it is important we do a little history lesson.
I'm @drceeyou and I am writing to say that we all need to save the bees from extinction. Seeing as today is world bee day, there is no better time to say it. Yes, the history lesson...
Bees are thought to be the product of evolutionary changes, coming from a line of ancestors called "wasps", to be specific "hunting wasps". These kind of "hunting wasps" gradually acquired a taste for nectar and became vegetarians, as opposed to their carnivorous ancestor.
Fossil evidence as to the origin of these bees is scarce, but the "Trigona prisca", the oldest known fossil bee found in New Jersey dates back to about 96 to 74 million years ago. It seems like bees have been on this planet for a very long time.
---
There are over 25, 000 described species of bees in existence and more are being discovered. There are lot of different types of bees, but the ones that we are familiar with are the "honey bees". They belong to a group of bees called "social bees". The bumble bee and the topical stingless bee are members of that family.
Bees are a lot more important than you think they are. Of course, because they produce honey, but not only for that reason. The honey that bees produce is very important in a lot of areas, especially in medicine. But one other, even more vital function that bees perform is Cross pollination.
The thousands of bee species each have unique flight patterns that are adapted for the flowers they pollinate. They have so evolved that their body size, their color and even their smell compliments the flower that they pollinate.
Even though the extinction of bees would not lead to a world wide famine, their demise would dramatically alter the human food systems. Many fruits and vegetables are insect pollinated and without bees to do that, their production would greatly dwindle. They won't be scalable without bees. Blueberries and cherries are a great example. They rely on bees for 90percent of their pollination.
Oh! How about hand-pollination? Hand pollination is extremely labor intensive and not sustainable in the long run. Although japan has developed small robotic drones for pollination, they are insanely expensive and cannot be scaled to large farmlands.
So without bees, the diversity and availability of fresh produce would suffer greatly, and human nutrition would likely suffer too.
---
Its not just the food supply that would be affected. Honey is a very vital component of moisturizers and body lotions, soaps and shampoos. Oilseeds like cotton needed for clothing could die off too. The environment is also bound to suffer as the less plants are available, the more carbon dioxide remains in the atmosphere, unabsorbed.
Solving this problem of bee extinction is a hard one, given that the death of bees is caused by things like pesticides, meant for crop parasites, loss of bee habitat, predatory insects that kill bees in large numbers. It's a really difficult task to undertake.
---
What is being done?
Autonomous drones in Japan, have been equipped with the ability to cross pollinate flowers. These drones have been crafted to be the shape of insects and carry pollen from one plant to another. But here lies the problem. How would you replace over 25,000 species of bees that have evolved to pollinate different plants individually? Some of them are still not understood. For example, what we know is that the bumblebee is great at pollinating tomatoes while the honeybee is exceptional in pollinating blueberries. Like I said, it is an idea that is not scalable.
An assistant Professor of Entomology believes that the greatest threats to the existence of bees is the Varroa mite, a reddish-brown parasite that sucks off the fluid from the bees while delivering a virus that could easily wipe off entire colonies of bees.
Now, RNA interference is the technique being employed to modify the bees genetically so that they could deliver a toxin to the mites while being completely harmless to the bee. But once again, this technique has proven to not be scalable.
Could the government do something?
The National strategy for pollinator protection was instituted during the Obama administration in the US. It was meant to encourage federal agencies to manage their lands in such a way that they conserved these insects.
The government can institute policies to care for these insects and protect our planet. Experts say that even the masses are not left out in saving the bees. By creating pollinator gardens and becoming bee keepers, people can substantially increase the numbers of these creatures and help to keep them from extinction.
What would you do to fight the extinction of bees?
---
Sources
---
---