[Esp / Eng] Performing foot reflexology massages to my wife, excellent for cervical and dorsal spine pain.
Hola amigos de hive, en esta oportunidad quiero compartir con ustedes una terapia milenaria llamada reflexoterapia podal, que no es mas que hacer presión en determinados puntos del pie, donde existen terminaciones nerviosas, que al estimularlas permiten la relajación en diferentes músculos de nuestro cuerpo.
Hello friends of hive, this time I want to share with you an ancient therapy called foot reflexotherapy, which is nothing more than putting pressure on certain points of the foot, where there are nerve endings, which when stimulated allow relaxation in different muscles of our body.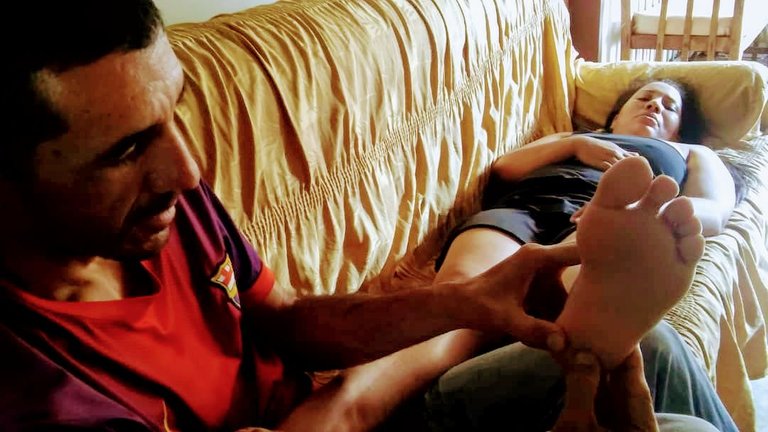 En una publicación anterior les comente que mi esposa es Contador Público, y pasa varias horas del día frente a un computador, lo que le produce contractura muscular en la región cervical y la espalda; la mayoría de las noches se queja de estos dolores y es por ello que me di a la tarea de investigar diversas técnicas para ayudarla a disminuir estas molestias, hace 3 días que le estoy realizando estas presiones y le han dado muy buen resultado, por lo cual decidí compartirlas con ustedes.
In a previous publication I told you that my wife is a Public Accountant, and spends several hours a day in front of a computer, which causes muscle contracture in the cervical region and back; most nights she complains of these pains and that is why I gave myself the task of investigating various techniques to help reduce these discomforts, 3 days ago I'm doing these pressures and have given very good results, so I decided to share them with you.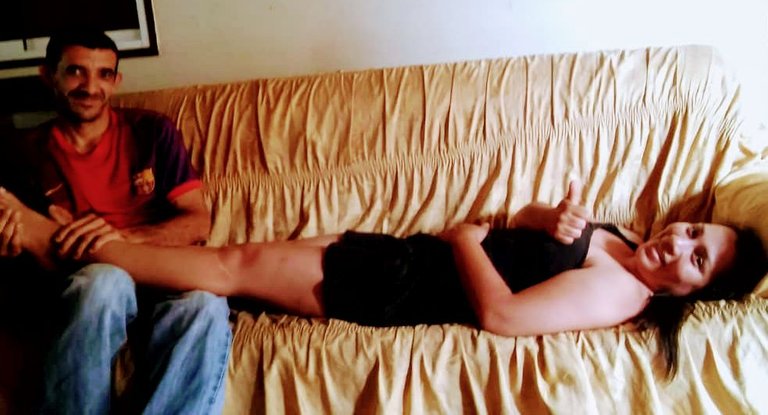 Me considero un esposo al que gusta consentir a su pareja con detalles, comidas, atenciones o simplemente ayudarla a sentirse bien, creo que en esto se basa la buena relación de la pareja, ya que uno debe ser el apoyo del otro. Para realizar este tipo de masajes solo se requiere estar en un lugar tranquilo, sentarse o acostarse cómodamente, y una crema o gel para lubricar a la hora de dar el masaje; a mi parecer la forma mas fácil de relajarse es acostado, ya que el paciente puede estar tranquilo y si gusta puede dormir en el periodo que dura el masaje.
I consider myself a husband who likes to pamper his partner with details, food, attention or simply help her feel good, I believe that this is the basis of a good relationship between a couple, since one must be the support of the other. To perform this type of massage is only required to be in a quiet place, sit or lie down comfortably, and a cream or gel to lubricate at the time of giving the massage; in my opinion the easiest way to relax is lying down, since the patient can be quiet and if you like you can sleep during the period of the massage.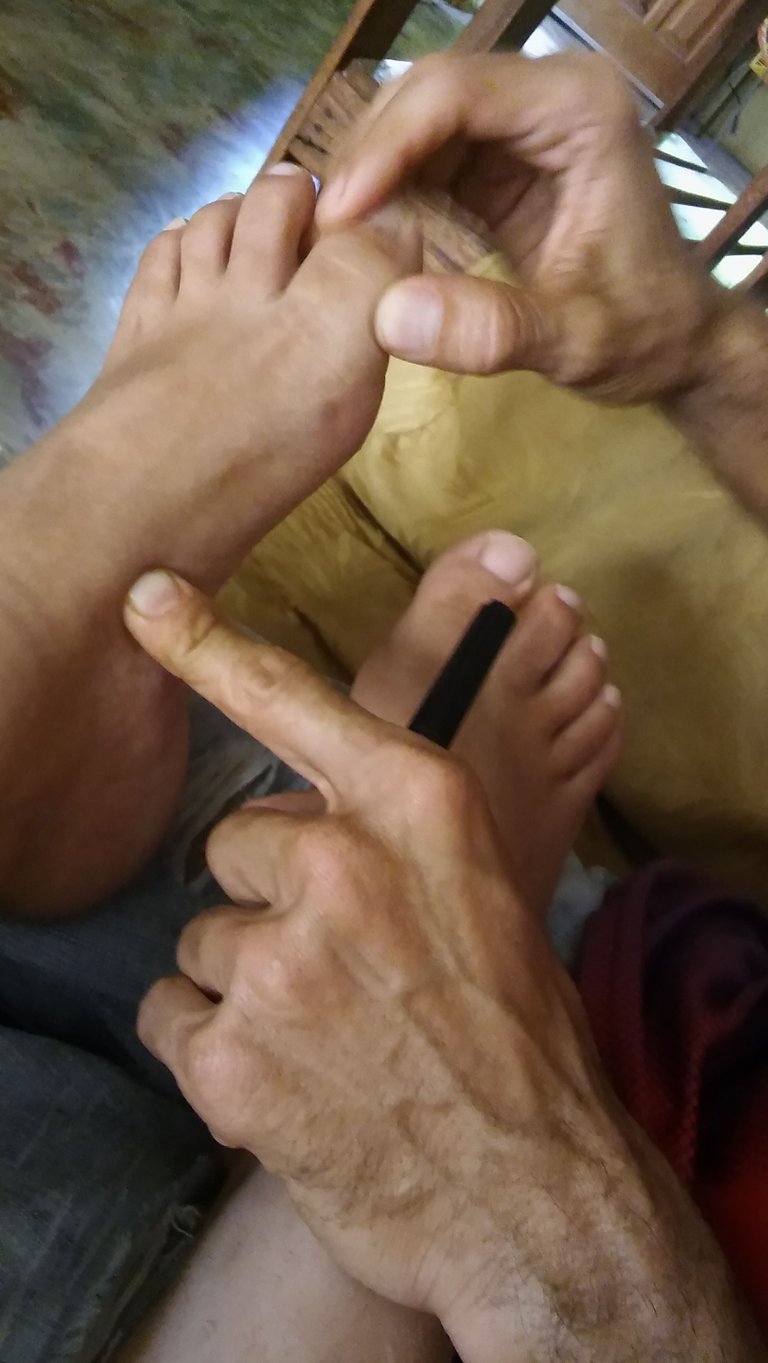 Lo primero que hice fue tomar el pie que voy a masajear, en el borde interno ubico los 4 puntos en los que voy a hacer presión; que son la primera articulación entre la falange distal y la proximal del dedo gordo, el segundo punto esta entre la falange proximal y el metatarso, el tercer punto que esta entre el metatarso y la primera cuña, y por ultimo la articulación que esta entre la primera cuña y el hueso escafoides; para hacerlos mas fácil de ubicar decidí utilizar un marcador para señalar los puntos a tratar.
The first thing I did was to take the foot that I am going to massage, in the internal border I locate the 4 points in which I am going to make pressure; which are the first joint between the distal and proximal phalanx of the big toe, the second point is between the proximal phalanx and the metatarsal, the third point that is between the metatarsal and the first wedge, and finally the joint that is between the first wedge and the scaphoid bone; to make them easier to locate I decided to use a marker to indicate the points to treat.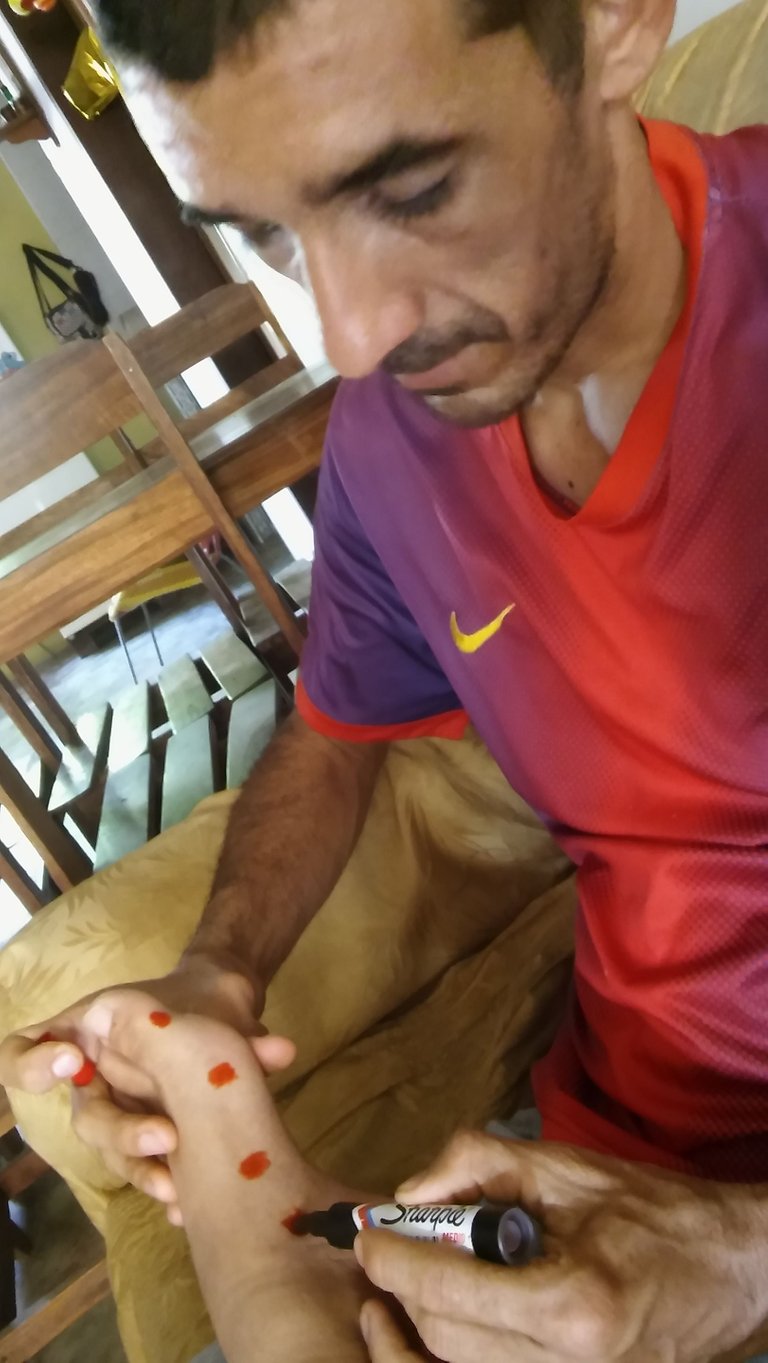 Hago presión por unos segundos en esos puntos (uno a uno), por supuesto que si la persona esta con contractura de la espalda esos puntos van a producir un poco de dolor, eso lo vamos a repetir unas 3 0 4 veces, y lo podemos combinar con masajes en el tobillo y en el tendón de Aquiles, donde también hay terminaciones nerviosas relacionadas con la región cervical y la espalda.
I put pressure for a few seconds on those points (one by one), of course if the person has back contracture those points will produce a little pain, we will repeat this 3 or 4 times, and we can combine it with massages on the ankle and the Achilles tendon, where there are also nerve endings related to the cervical region and the back.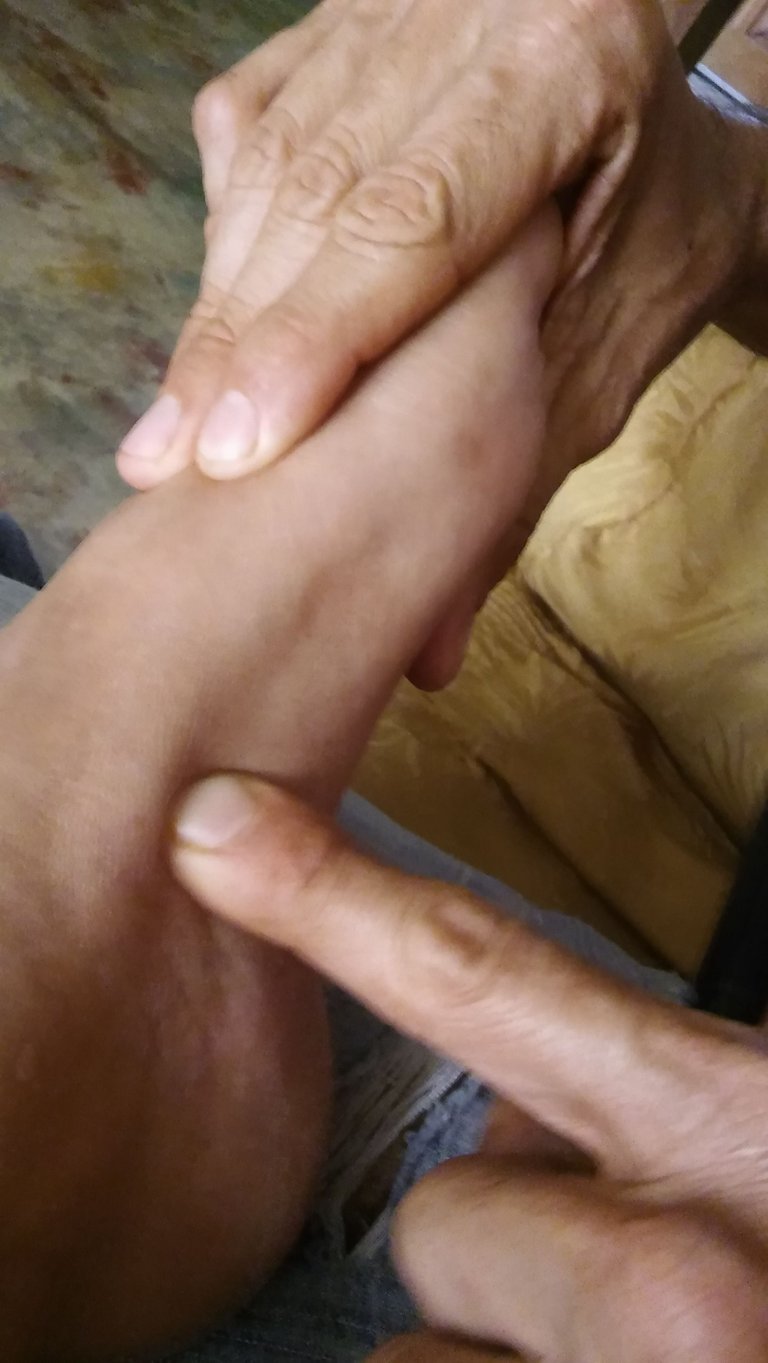 Al realizar estos masajes y presión 2 o 3 veces por semana son suficientes para mantener relajada la región cervical, si no tienes pareja o alguien quien pueda ayudarte puedes hacerlos tu mismo en casa, solo tienes que saber los 4 puntos articulares.
By performing these massages and pressure 2 or 3 times a week are enough to keep relaxed the cervical region, if you do not have a partner or someone who can help you can do them yourself at home, you just have to know the 4 articular points.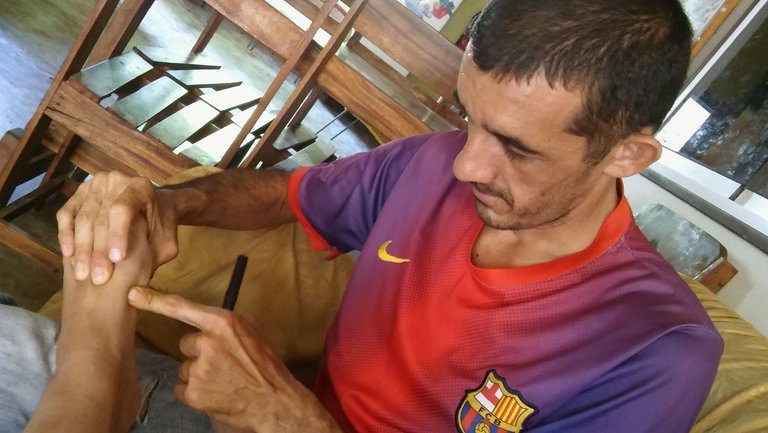 Espero que les guste esta técnica fácil de realizar y muy efectiva; gracias por leerme, se despide su amigo el Drhueso.
I hope you like this technique easy to perform and very effective; thanks for reading me, your friend Drhueso says goodbye.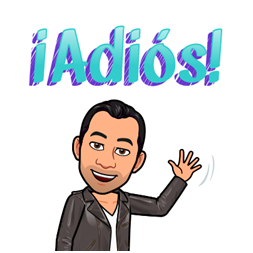 Imagen creada con Bitmoji / Image created with Bitmoji
Las imágenes son de mi propiedad, fueron tomadas con mi teléfono celular marca LG / The images are my property, they were taken with my LG cell phone.
Traducido con www.DeepL.com/Traductor (versión gratuita)
Translated with www.DeepL.com/Translator (free version)
---
---