A gift used well - Trying out Brush Pens.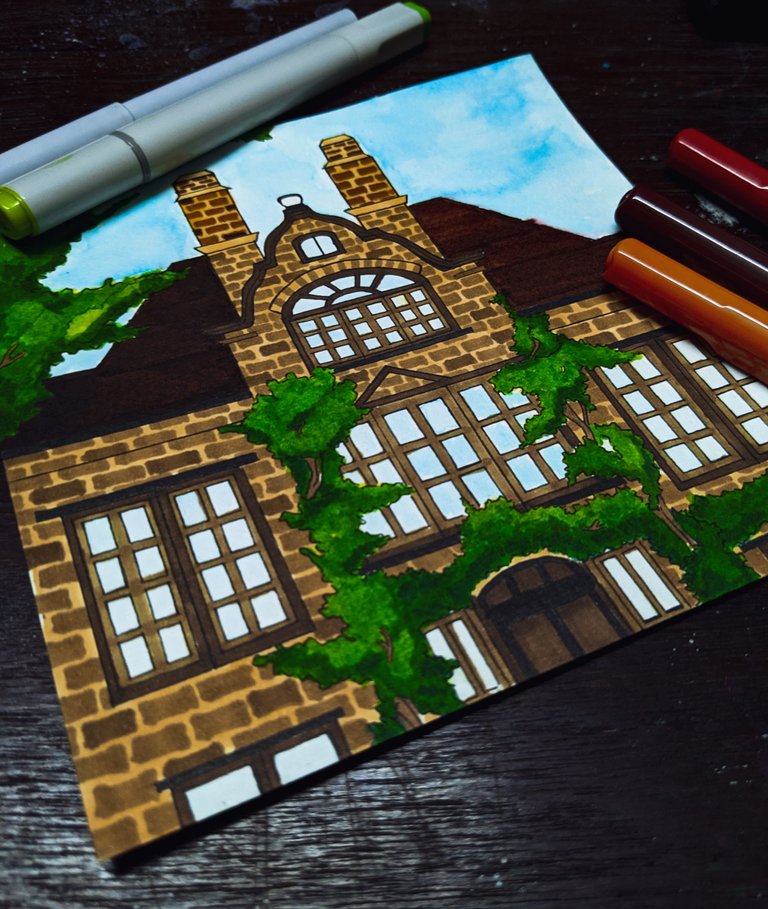 A couple of days ago, I found myself at the receiving end of a rather lovely and surprising gift from none other than the lovely @rafa-noor, which frankly left me feeling a little bit speechless.
I had never gotten a gift, especially for an occasion like Eid, where typically only family members sometimes give out presents, in the form of dresses to each other. But this girl came out of the blue and literally, dropped a bag full of my most favourite and treasured thing in the world; colours, and how could I keep myself away from getting down and dirty when they literally called to me the second I got them?!
I'd never had the pleasure to work with brush pens before now, so you can pretty much understand my excitement when I got down to it. It has been a while since I drew something on paper - as my preference has always been towards the more clean and cutting digital medium - so, as you can see, the lines are rather symmetric, and the shadings are more or less bland. But I had been meaning to draw a nice little mansion-type thing for a long while, just because I wanted to add the brick-like texture on the walls, and what a fun thing it was, being able to do just that.
Now, the range of colours was limited of course, so I started with the lightest shades I had and ended up with something bright and mismatched at best. But after skimming youtube to find out how to use brush pens best ( thanks again Rafa, for the videos you sent my way) I managed to pull the colours towards something more around my comfort zone.
It's not the best, I admit, and I faintly regret even doing a black outline at the end when the whole thing started to look a little bit childish. But, as it was my first ever rodeo, I think I can cut myself some slacks here. It's nowhere near as artistic as I'd have liked it to be, but it is still something, as I'm more used to drawing out cartoonish faces rather than old buildings and vines. Hopefully, by the time the ink dries out from these pens, I'll be somewhere I can actually be proud of, and from there on, the possibilities will be endless.
Thanks again Rafa for giving me something I was excited to try out. I'm not really good at this thank-you thing, and I know I can't ever make you understand how much this made me happy. But it did, and this is me trying to show you just that. You wanted an art post from me, and here is me delivering it, in all its childish glory. I sometimes wish you'd lived somewhere close to my home. Then maybe we could've done those weird art collabs things, where artists sometimes paired up and exchanged their papers to make something beautiful together.
Maybe we can do that someday.
Here are a bunch of pictures thrown together to give you a glimpse of how this stupid thing came to be.
And that's that, I guess.
---
---