A New Friend.
These days, a cup of coffee and I, have become good friends.
Even though the bitter beverage was never on top of my favourite five list, there had been a shift in the wind recently, and I found myself sipping on the liquid concoction more times than I'd like to admit.
It all began with long nights; with hours that felt decades-long and workloads that felt like mountains, it all began with long nights and too much to do with too little time that moved like a sloth. There is just something about that bitter taste, you know? It made the nights bearable, and I had gone back to it again and again, sometimes with a puff of smoke to accompany it, sometimes with just my ink-stained hands.
But unlike the melting hot drink that screamed perfection for cold winter nights like these, I found myself addicted to the Iced version instead.
Yes, I'm the sort of person who craves ice cream when it's snowing. So it was almost a subconscious decision, a force of habit to blend ice with cream, mix cold with cocoa beans and create something that sent shivers down my spine with every sip. It worked like the perfect bucket of cold water to shake off the drowsiness, so I decided to drown myself in it almost every other night.
Now, I'm no near being a supreme blender, and at best, my blends would be considered mildly bearable. It lacked the skills one would own after years, months of dedication and disposition, as I had only just begun with my brewing adventure. Hence, coffee shops also became my thing where I went every now and then to remind myself what real perfection tasted like.
And within my increased visits, I've found that cafes are indeed one of the most wonderful things invented by men up till now. Where normal fast-food places came with a tremor of clatters and noises, cafes brought a sense of comfort and calmness that I could definitely see myself settling into. With good taste in music and blends both, cafes seemed like the perfect place for me to be alone with my thoughts, where no unnecessary noises bothered to deter me from my self-indulgences. Early mornings or slow afternoons now felt more like a gift than grievance, because there was nothing more soothing than a cup of coffee and my favourite book, sitting alone in the corner, watching the city outside burst with colours and chaos. Before this, I had no idea that people-watching could be something I'd thoroughly enjoy, and because of that, I've managed to secure a bag full of stories that would work perfectly with any novels I write.
So, yeah, lately a cup of coffee and I have become good friends.
With worn-out books and run-downed notebooks, she sometimes accompanies me while I work. She is rather cold, you know, with all her icy nature, but she listens to my wallowing, and tries her best to console me with cookies and brownies. I try reading stories to her sometimes, things I write, or things I find in the books I read. I don't know if she appreciates it. But I still keep at it. I think she is growing on me. Maybe I'm growing on her too. Who knows, really? Who knows….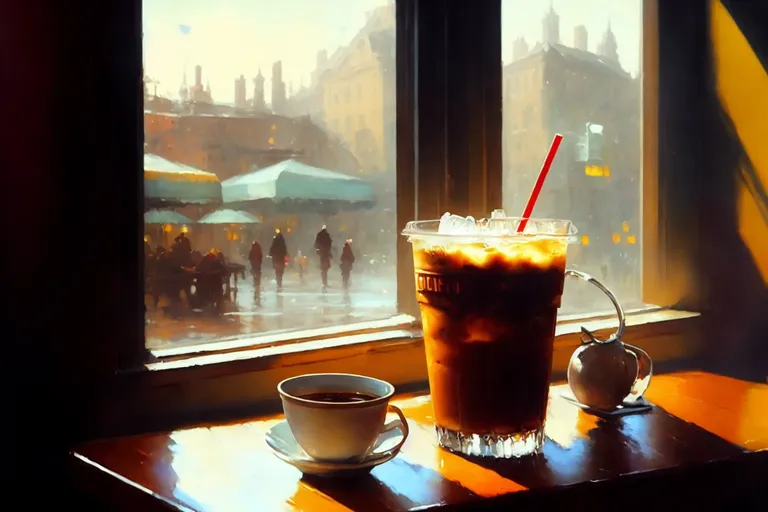 Art created with ImgCreator
---
---