Feeling Lucky? Your chance to win some free Hive just by commenting!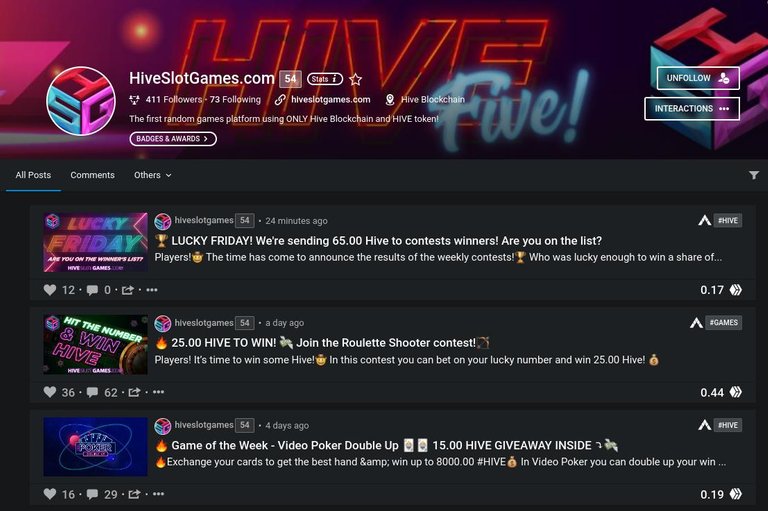 Are you not a gambler? This has nothing to do with gambling or at least nothing to do with gambling your own money or any money at all. You get the chance to enter in 3 contests every week for free, all you have to do is follow the @hiveslotgames account and comment accordingly on their contest posts.
The first game of the week would be the Dice Roller contest. You can see here such an example post. All you have to do is pick 3 numbers from 1 to 100, but you need to hit only one number of those three in order to win. The usual prize for this contest is 25 Hive but this will be split if more than one player guesses the correct number.

Like here where 3 players picked the same lucky number, well I didn't get the full prize but it didn't cost me a thing and 8 Hive is much better than nothing.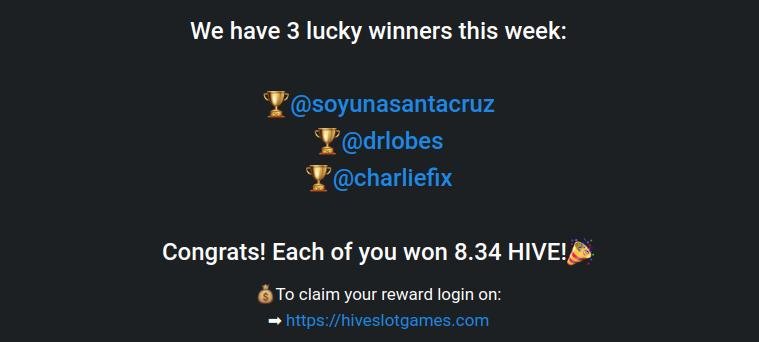 The next common game every week would be the Roulette Shooter contest! This one is even easier, just pick one number from 0 to 36, post it in the comments and wait for Friday to come.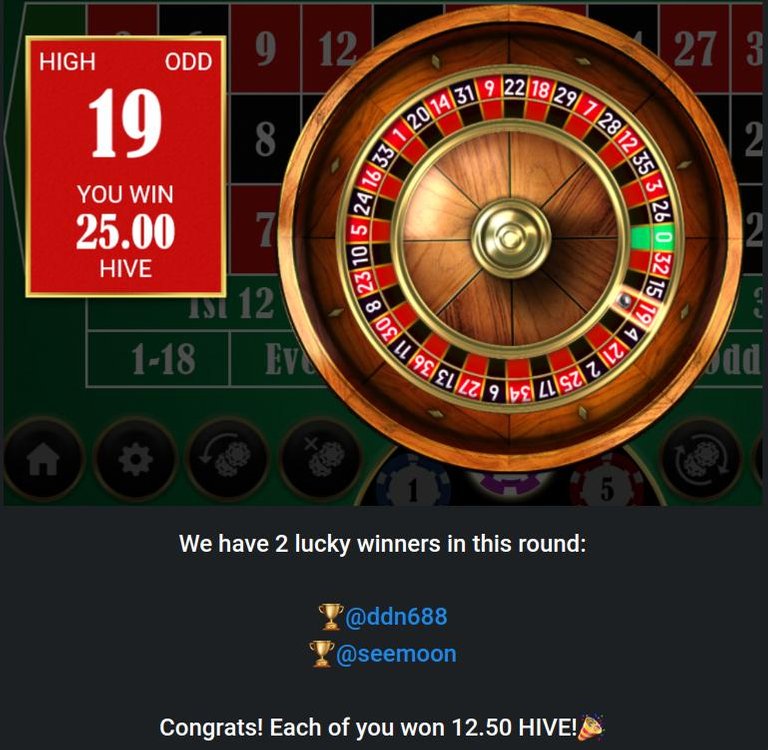 For the 3rd game of the week, you'll have to work a couple of minutes, this is called Game of the Week and can be a random game that changes from week to week, from Video Poker, BlacJack to Slots games or Roulette.
You will have to go to their website HiveSlotGames.com in order to play that respective game, but you don't even need to log in, you'll play it in demo mode.

Let's take as an example one of the games where I won something, it was a game of Video Poker. You need to go to their website and in demo mode open the Vide Poker Game and start playing for free. When you win something, no matter how much, take a screenshot of your game screen and post it in the comments:
Rules of the game
In the comments, post a screenshot from the game Video Poker Double Up showing how you hit at least one winning pair. You do not need to login on the site, the screen can be taken from the demo mode. From the entries, we will draw 3 players who will receive 5.00 HIVE each to their game account. We'll use this website for the draw: https://www.classtools.net/random-name-picker/. We will announce the results on Friday on our profile.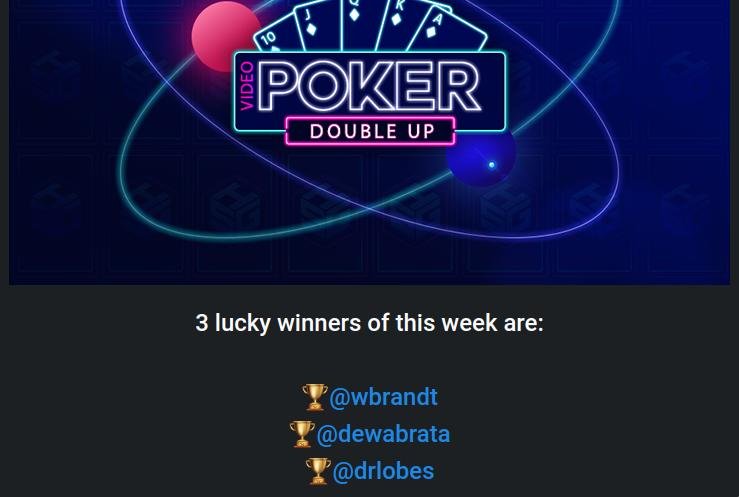 Do you think you can manage to do this 3 times a week? If the answer is yes and you'll keep consistent you'll have more chances to win some free Hive without spending a dime and it'll only cost you a couple of minutes of your time. And guess what, you can get lucky more often than you think. Even though I consider myself NOT the luckiest person in the world, I managed to win 3 separate prizes.

Almost 20 Hive for nothing? Why not? If you find yourself amongst the winners you'll receive your winning on your game account. You need to log in to the website HiveSlotGames.com and from there you have two options. One would be that you could gamble away your winnings and who knows, maybe double or triple it, OR lose it all as it often happens when gambling. The second more common option is to simply transfer the Hive amount from your Game Account to your Hive Wallet:
The links to the Hiveslotgames website posted above include me as a referral so if you use the links and at some point decide to gamble some yourself, a small number of crumbs might be sent my way as well.
I am not paid to advertise HSG! I don't recommend people to go and gamble their savings away, that's a personal choice if you think that you can beat the game. What I do recommend is to post in the comments of HSG posts 3 times a week, that's really easy, your luck might be just around the corner.
---
Another shout-out to @bradleyarrow, if you ever get tired of being tagged on my posts just drop me a line.
---

Join
ListNerds
, send mails promoting your
Hive posts
, read mails, upvote mails and earn crypto in the form of
CTP
tokens,
LISTNERDS
tokens, and Hive (upvoting on your
Hive
post by the visitors from Listnerds)!
https://listnerds.com/@drlobes
---
[All the images I used here are captured from the posts made by HiveSlotGames.com with some of them from the actual website, and they are free to use.
---
---