The Beginning and 3 MAILs - My "solo" ListNerds Adventure

  I don't even know how to begin this, but here it is. Approximately a month ago, I started seeing more and more people (some I was following and some not) using and writing about ListNerds, something I'd only heard once before in a clip made by @bradleyarrow about his experience with it. I went to their website and had a look but to tell you the truth I didn't understand much at that time so I just said, pass.
  Several days later, I see other people discussing the same topic, so I decide to register on ListNerds and see what's in there. This was my first mistake (registering without looking for more info), as I could see later that if you register through someone's affiliate link, later you could be part of their team which I understand brings a lot of benefits, but if you are already registered, that's not possible to do after. @thisismylife made that clear but still was open for a chat and offer some support if I needed some.
  After registering, I wasn't able to understand much, which is why the ListNerds dashboard greets you with written and video tutorials. Those tutorials should always be viewed by someone new, but, I am more likely to learn new things by trial and error and that's not always the easy or the best way.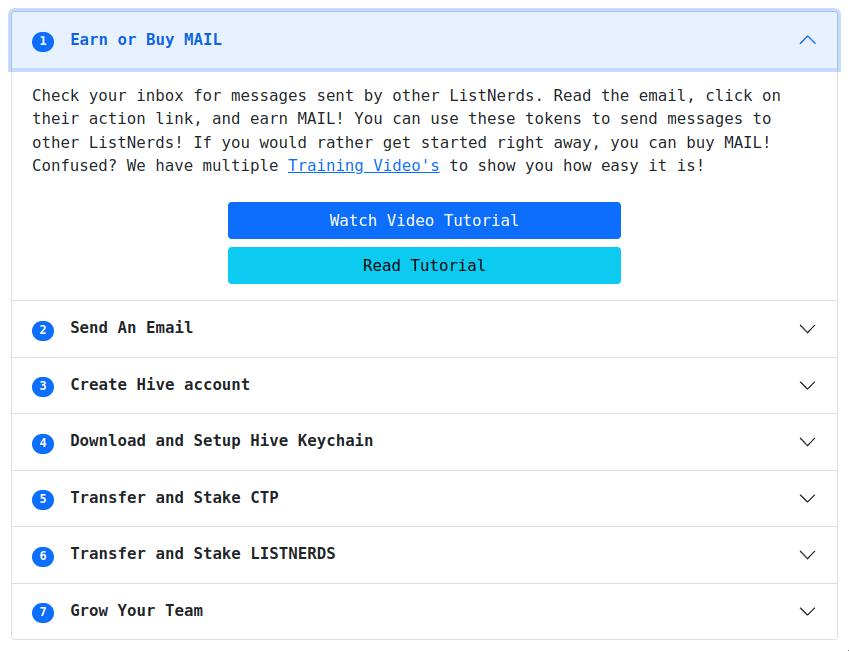 So the date was June the 4th, I was armed with 18 MAIL :laughing: and decided to go for it, but which article should I link in my mail? My most recent one was a lame meme challenge post and I went with that. The results? Ohh, as you can imagine, I never stood a chance, see for yourself:

  In conclusion, I accepted defeat and spent a few hours reading more articles I could find on Hive about ListNerds, however, I now recall my second mistake, which did cost me some extra hive. After registering with LN I understood fast enough that in order to be successful using this platform, you will need to stake CTP and ListNerds tokens, the more you have the bigger the rewards will be later. Also, I saw that you could buy more MAIL to send your link to more people and that was done with the ListNerds tokens, so I went to that section to buy some.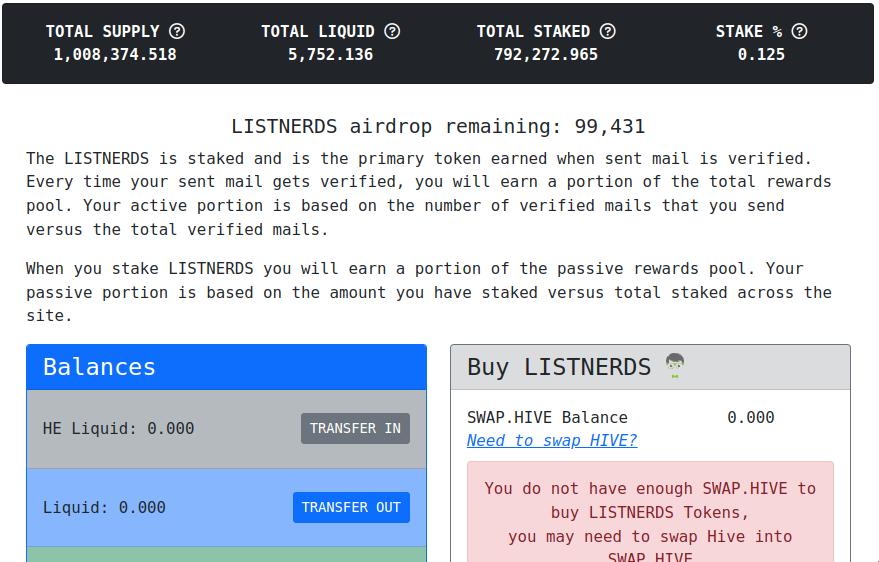 I already had some Swap.Hive available, wrote down a number, and hit buy but I received a lot less LN than I was expecting for the amount of Hive I had available. After verifying the Hive-Engine website I understood why, ListNerds picked the lowest available price offer, but them offers had a higher price than expected. I'll post a screen here with my early buys but please don't laugh, remember what I said, trial and error, get burned, and then you'll remember for sure how not to do it in the future.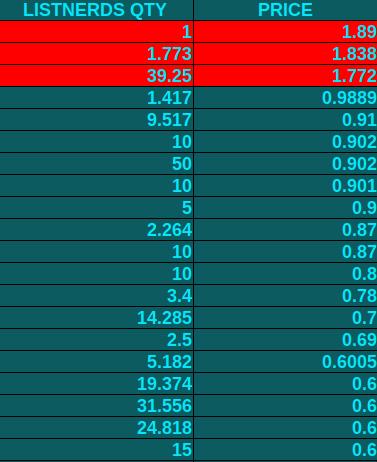 Can you see the price difference? My manual orders were executed at about half the price, it just wasn't instant and I had to wait for a while until someone needed my hive and was happy enough with the price. Then in the following days, I tried lower and lower prices with my orders and slowly they got executed and my LN bag was growing.
  Now more days have passed, and it was time to send another mail, I had managed to get myself the magic number of 148 MAIL and went for it, I found that my latest Hive post had a few comments and votes so I was set. To my surprise, I don't even remember exactly when but it was 1-2-3 days later, I saw this in my mail history:

  Ohh man I thought, what in the hell am I doing wrong here, I was back to almost square one. It looked like the reading I've done CAN'T be enough if you don't put it into practice as others had done it before and put it in writing for others to know, I needed to humble myself and try again. Read again, read some more, ask some friends their opinion, join the discord...
  It was the weekend, 17th of Jun when I first tried to buy some extra MAIL using ListNerds token, for two days in a row that was not working but I was getting no errors. What I had done is that I transferred my tokens on the LN platform thinking that's where they have to be if I wanted to buy MAIL. I was proven wrong, you need your ListNerds tokens to be in your Hive-Engine wallet if you want to buy MAIL on the LN platform.

  Now that I've done it correctly, I bumped my mail number to over 1000 but I said to myself, if you are to use this much mail, you need to write a better article than the lame posts I had already used. As I was hungry and craving mushrooms, I went cooking and documented it all with a few photos and wrote a post detailing what I had done, at the same time this was also an Actifit post which went from a basic Actifit post to something more palpable and interesting. Hours went by, days went by, and then the time came and now I can proudly show you the results:

  Even now I can't believe how I managed to reach that number, maybe some people smelled the noob fish in me and decide to be nice, I don't know, but this is exactly what I needed. Since then, I bought and staked CTP and ListNerds almost every day in small quantities and I'll keep doing it when the budget allows it. I'm also spending time every day on the platform reading interesting articles from many people, interacting with them, leaving feedback where I can, and of course voting for those that I think to deserve it the most, as my votes are limited and not easy to come by.
  If you managed to reach the end of this post by reading it, THANK YOU so much, it means a lot to me, and you'll hear again from me sooner rather than later. I'll keep working at it, maybe even try more cooking posts :laughing:

Proud of my fish numbers! I already know my goals by the end of the year, but I'll disclose them in more detail in a future post.
▇ ▅ █ ▅ ▇ ▂ ▃ ▁ ▁ ▅ ▃ ▅ ▅ ▄ ▅ ▇▇ ▅ █ ▅ ▇ ▂ ▃ ▁ ▁ ▅ ▃ ▅ ▅ ▄ ▅ ▇
I also want to thank @gadrian who's been a real support and answered promptly any question I had!
█║▌│ █│║▌ ║││█║▌ │║║█║ │║║█║█║▌│ █│║▌ ║││█║▌ ║║█║
Posted Using LeoFinance Beta
---
---