Magic and the Beyond, Here and Now + Daily Runes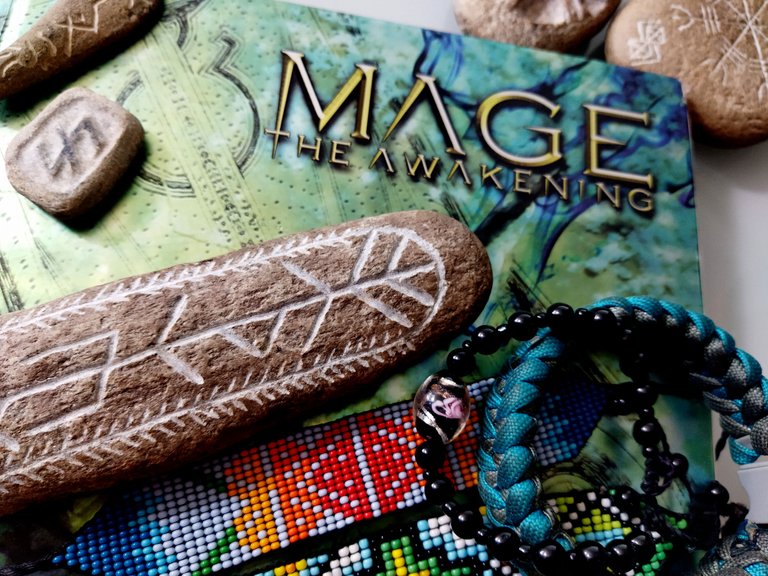 Not something they teach in schools
My journey of self-discovery began with that book you see up there. Mage: The Awakening is a roleplaying game created by White Wolf Publishing, which deals with normal humans discovering the ancient Atlantean heritage of their souls and using it to enact changes in their surrounding reality with their willpower. Although I'd played it before, I'd never narrated it until 2016, when I decided to build a story around the rebirth of my city and country through feats of Magic. A few months prior to that, I'd understood my Purpose which is Storytelling, so I was doing this for more than just entertainment. The more I narrated, the more I saw the information in the game extrapolated in my daily life. I hoped for Magic to be real since I was a child, but this game proved to me that my hope was unnecessary, that Magic was indeed everywhere and I just needed to grow aware of it.
In the game, Mages mystically ascend to a superior realm of existence called a Supernal Realm during the eponymous Awakening, a fundamental transfiguration of the individual's perspective that allows them to reshape the world through spells and rituals. The device by which they could harness the Supernal is a cosmic structure called a Watchtower, where the individual symbolically leaves their signature as a pledge to the path illuminated by its Light. Each Realm is attuned to specific energies that make up physical and psychical reality, not unlike the Emanations or Sephirot in Kabbalah, which the Mage can use to kind of hack the code of the Illusion to suit their needs. To do this, the Mage can use any knowledge and practice: you can be a Reiki master, a Tarot reader or a person with strong religious upbringing, but architects, engineers, farmers and street sweepers can just as easily Awaken to their true potential and have their own way of channeling the Supernal. The game is based upon the idea that all of reality is already magical by default, that symbols and portents are everywhere all the time and that anyone can catch the necessary information to perform enormous transformations in their lives if they pay attention, a truly empowering concept.
In addition to this, as in all games by White Wolf, the setting is exactly the same world we experience and remember all the time, only with the added layer of "supernatural" or "paranormal" phenomena. This is perhaps the most important element of this game, anyone can create and play a rich, powerful character with the most mundane background possible, meaning that players can clearly see themselves in their roles and perhaps start to understand their own particular everyday Magic as I did. Caracas slowly went from just a place I lived in to a Land of Wonder filled with patterns and coherences that were always there for me and anyone else to see, but we live so distracted that we tend to miss all of that. I had to expand and deepen my attention, my silence, my empathy, my gratitude, my self-questioning, my discipline and many other qualities in order to immerse myself in the novelty of this old world and start working with these codes. Mage was my first spiritual tool, then came Ayahuasca and other medicines, then Westworld, the Runes, Hermeticism, Kabbalah, Alchemy, Astrology and many other instruments. Even my artwork features here as I've adopted the concept of the Watchtowers for my spiritual and creative work as you see below.
I want to start a new Mage chronicle soon to dust off my skills. After all these years since that first experiment that opened my Sight, I have a lot more knowledge and experience, so the scope and breadth of the game would be unprecedented. It's one thing to talk about Magic as a faraway fantasy detached from the cares and concerns of regular existence, and quite another to have personal comprehension of it, to be able to practice it in front of others not merely for their amusement, but to offer a window of possibility. It's been obvious to me for a few months now that I have to begin sharing more of the information that I've gathered and used in my process, regardless of whether they credit it or not. Such is my task and desire now, and I'm ready to begin exploring it.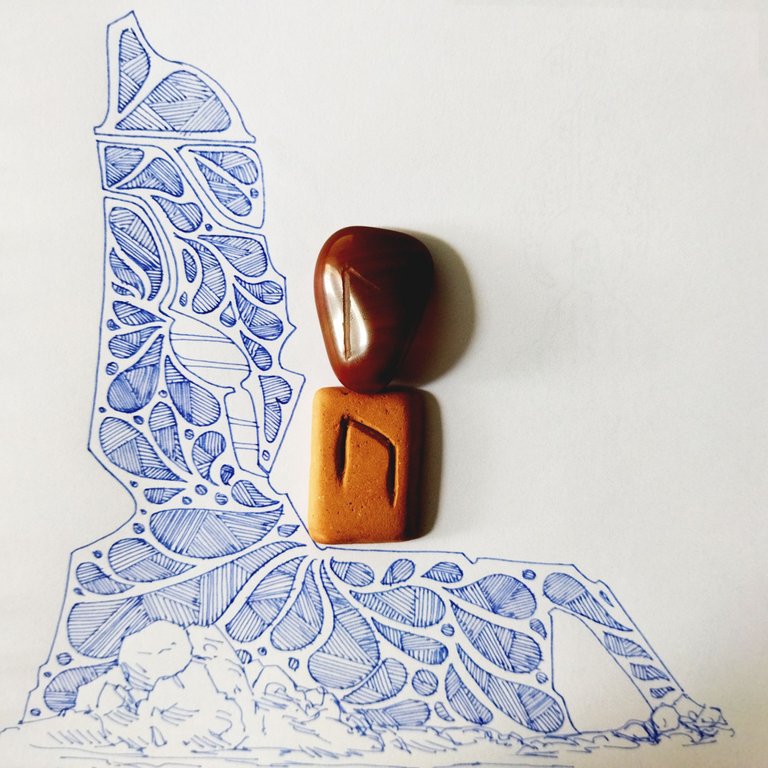 Night Rune: Uruz
A friend takes me to a game. A tiger of flames and lightning follows me without attacking me. I see one of my brothers and his wife.
Daylight Rune: Laguz
Nature, nutrition. The path has been arduous, refresh yourself and wash your face. Grant passage to that which must flow, allow the processes to continue unimpeded and focus on your Inner Vision, on how you feel with what is happening. An obstacle that was invisible until now materializes before you and you can overcome it. Channel your energy with greater strength and deliberation, do not be afraid to cry or show your pain, let others see you as you are; the murky mirror reflects a distorted image and the transparent one reflects the truth. Open and use your sensation, your empathy; connect sincerely with your surroundings. Everything feels, everything perceives, everything vibrates, everything is an expression of Love and Life.
---
---