Looking for Christmas with Market Friday
Perhaps it is not so much Christmas itself, but, the feelings invoked. The Peace on Earth, Goodwill towards man. I can feel it, or perhaps that is my inner soul refusing to believe that it cannot be. For who would want anything different? In keeping with the spirit of the day, I think we should walk through the Christmas store, at least once or twice more, to share the vibe and maybe even embrace the oncoming feeling of love. Watch out! It is liable to sneak up on you and catch you unaware.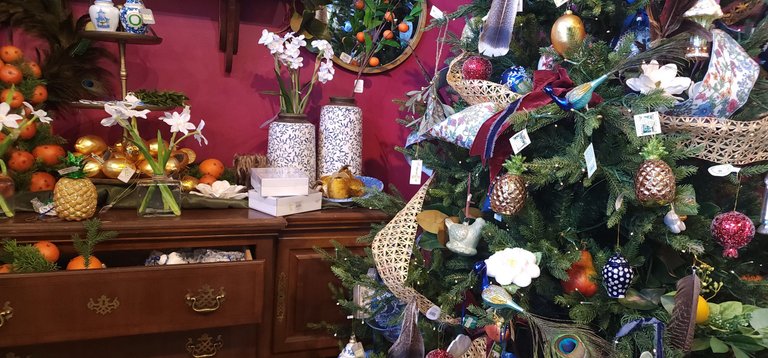 Wednesday, we did a walk around the Christmas store, and I decided to continue that into the market posts. There is just no end to Christmas here, and there is a little bit of something for everyone. I even tried to buy another Christmas tree and it was a failure. Seems I could not justify the price they were asking for trees this year. One tree for a few weeks does not warrant a price tag that is higher than a month of food for the family. Can I afford it? It has nothing to do with affording it. The only way I can protest is to not buy it.Not there anyway.
Today is #MarketFriday initiated by @dswigle (Denise, that's me!!) Join me as we share our markets across the globe. I always look forward to seeing what you send me! It is amazing to see the different markets and cultures of our friends here on Hive.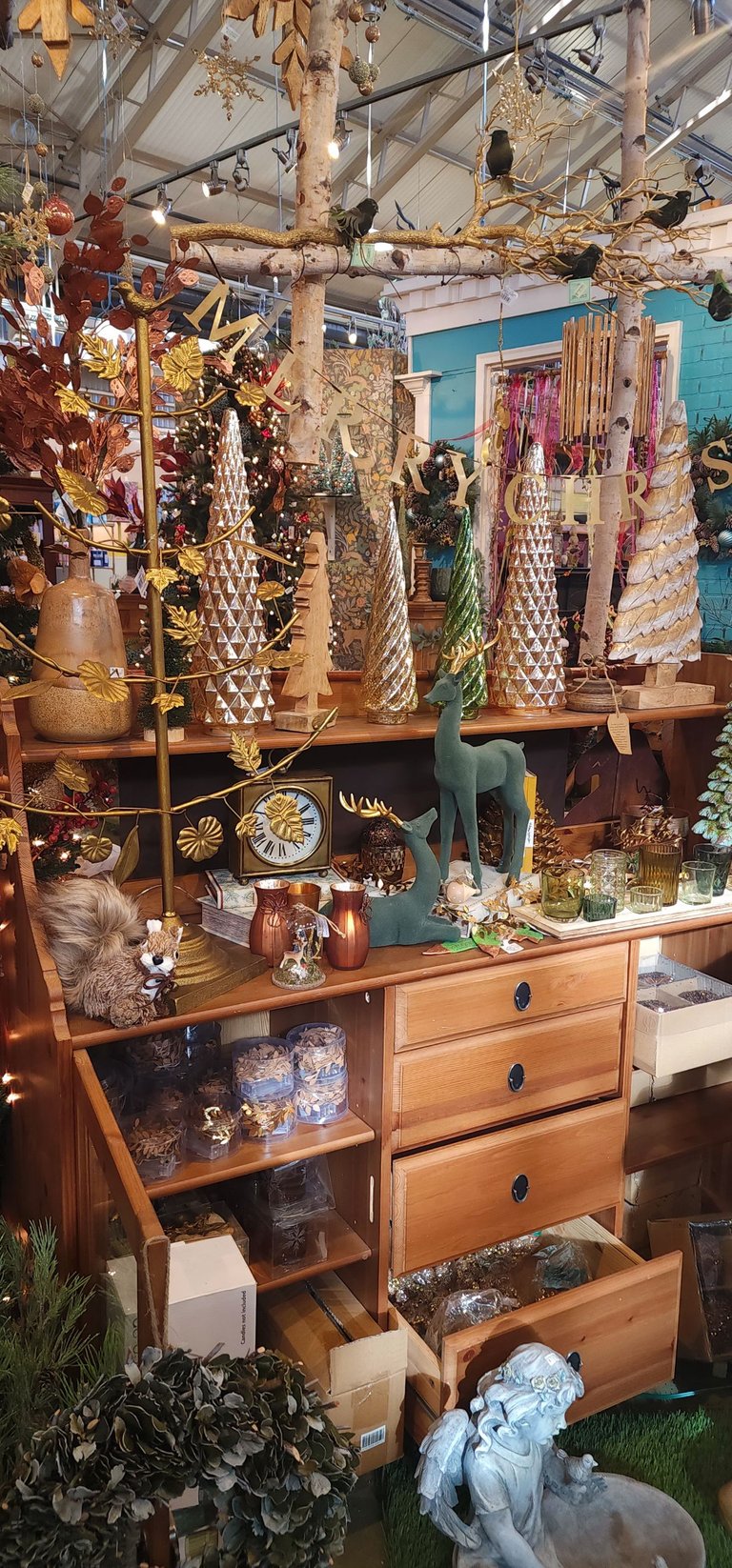 Christmas is like a big magnifier, making everything larger than life, the good of it and the bad of it. I look around the store, and the joy is amplified, just walking around. I feel richer in living, more positive, more energetic, and a little more in love with love. What is not to love? Accentuate the positive! I am counting my blessings.
Tis the Season! Spin around and let the magic consume you. The atmosphere is filled with ever-present joy. The spirit of Christmas has arrived, and yes, I love it. It is hard not to embrace it, it will follow you around and chase you down the street. t has always captivated my imagination; as far back as I can remember. My heart is wrapped up in the feeling, of peace on earth, and goodwill toward men. It lifts my soul. Oh, my soul.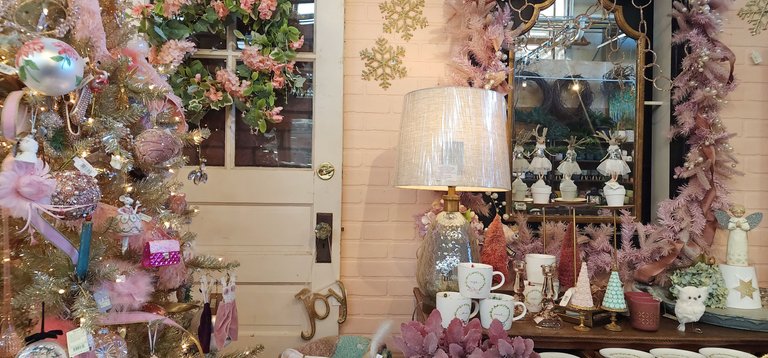 Every time I walk into the store, it looks different. They have changed the entire store again, and, as the trees and ornaments disappear into the shopping carts, it is rearranged once again, with new merchandise put up to give it that winter wonderland look. I am not sure if I have said this before, but, when you like an ornament, you just take it off the tree, so these trees you are looking at are sometimes only half decorated. They usually leave a few boxes of ornaments under the tree, looking a bit like gifts. When one is taken off, another is put on. It has worked well for them for years. I go there just to undecorate the trees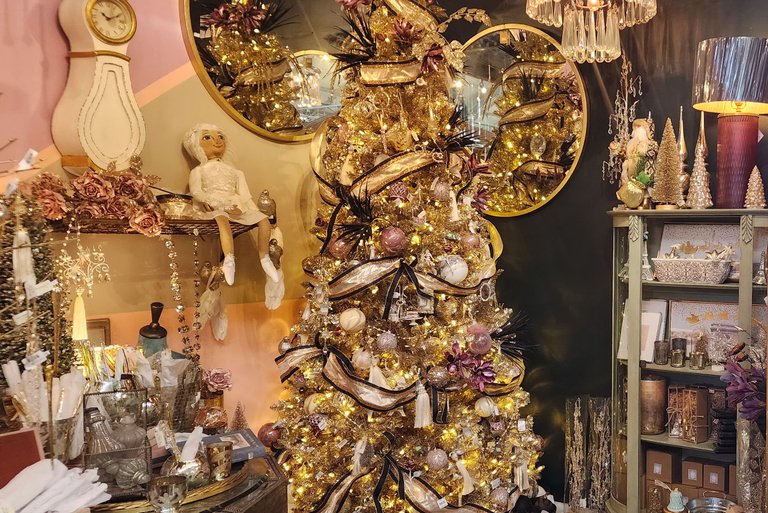 It is a winter wonderland they have here. They break up their large space into rooms and decorate with different themes to reflect the season of joy and to create a place where dreams are made of. If you look carefully, you might even see an elf decorating a tree. Or perhaps even Santa. Believe!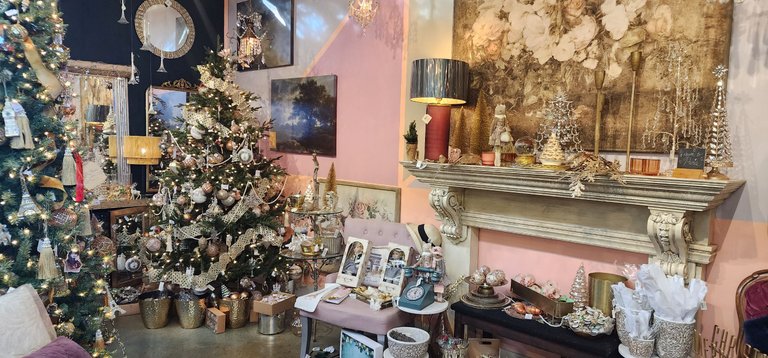 I shall blow the wind of joy your way. Inhale deeply, my friends. Let us bask in the warmth of the seasonal joy. When the season is done, we will still be warmed by it, carried over into the New Year. Hark! I hear an Angel sing! Do you Hear what I Hear?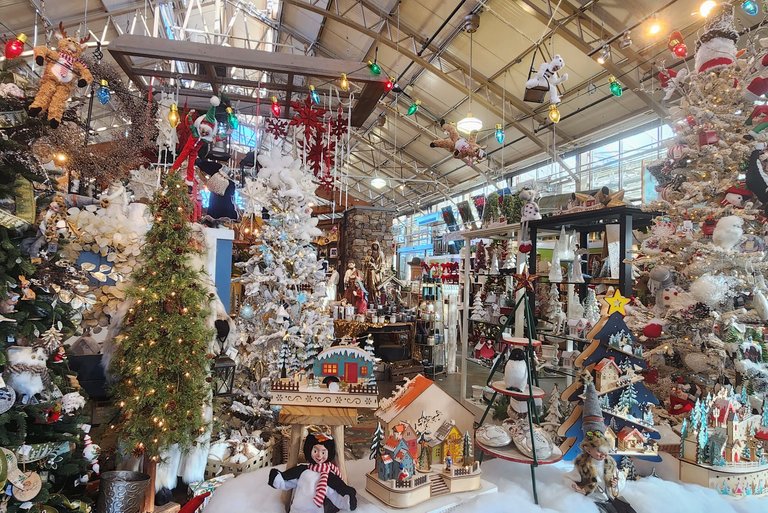 Tell me, tell me, tell me do! I know you will. Tell me it isn't true. There is something about the Season of Joy and Christmas trees that seem to capture the imagination of children, and sometimes, more often than you believe, adults. I can't even put my finger on it. I just know that sometime after Halloween, the change begins. I have stopped trying to analyze it and just embrace it. You should too.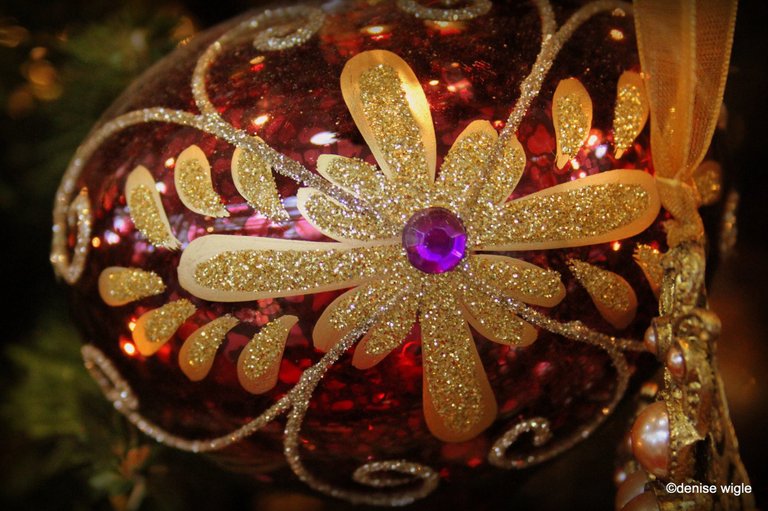 Many new people ask, What makes a market? The market? Oh, yes! Wherever money is exchanged for a service or for merchandise. A traditional market, of course, an auction, an art gallery, the movies, a museum, even a vacation! Be different if you wish! It does not have to be a traditional market! I hope you had a good time and learned a little something new.

Please leave the link to your post here so it can easily be found by others. It helps you and me to have them in one place. Where else can you take such a quick trip around the globe? Thank you so much for joining us!! ❤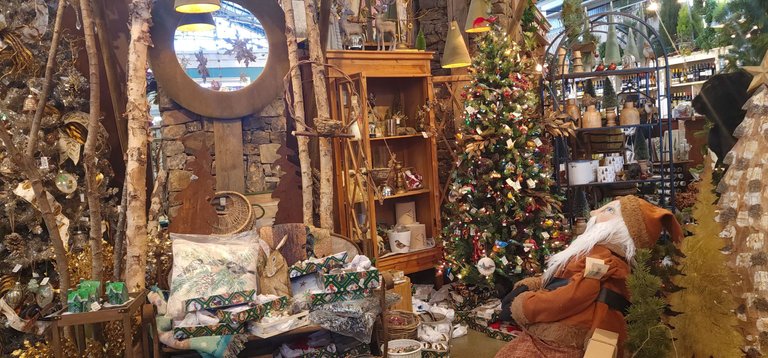 And just like that, this post is done. I hope you had a good time and learned a little something new. As always, I want to thank you for taking the time to visit, and just remember, #MarketFriday loves you! Thank you for supporting the challenge! Have a most fabulous day! Cheers!!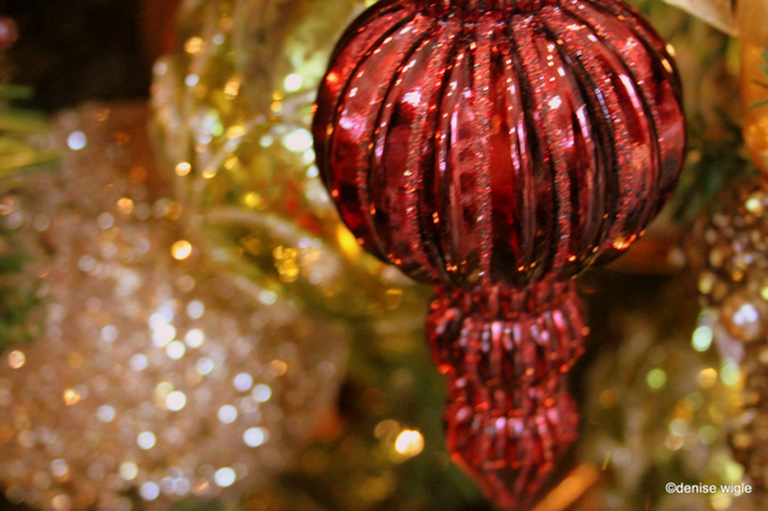 As always, there must be flowers to color my world. #alwaysaflower The beauty of the poinsettia is forever engraved on the blockchain. I dedicate this post to all of you. You bring joy to my soul and spread your love across the world. For this, I thank you. And just like that, these musings are done.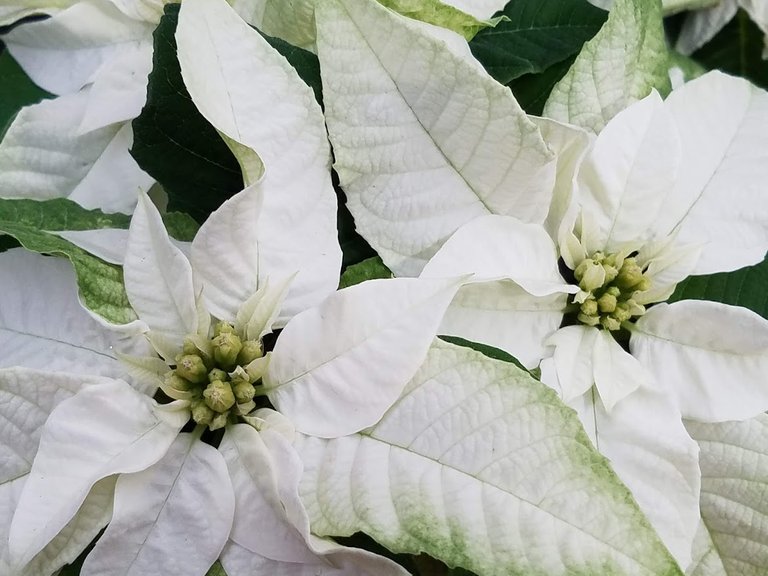 Do something, somewhere, and make that magic. I know you can. Keep delegating those Christmas orchestrations to those around you. Mild depression is a huge problem for people at this time of year. Be cognizant and be kind. If the timing is right, invite someone who will be alone. Who really wants to be alone at Christmas, wallowing in those Childhood memories?
Don't ever forget what an amazing world we live in, people. Some days, it is not so easy to see, how truly wonderful it really is. Always remember, kindness counts. Wherever you go, whatever you do.❤️

---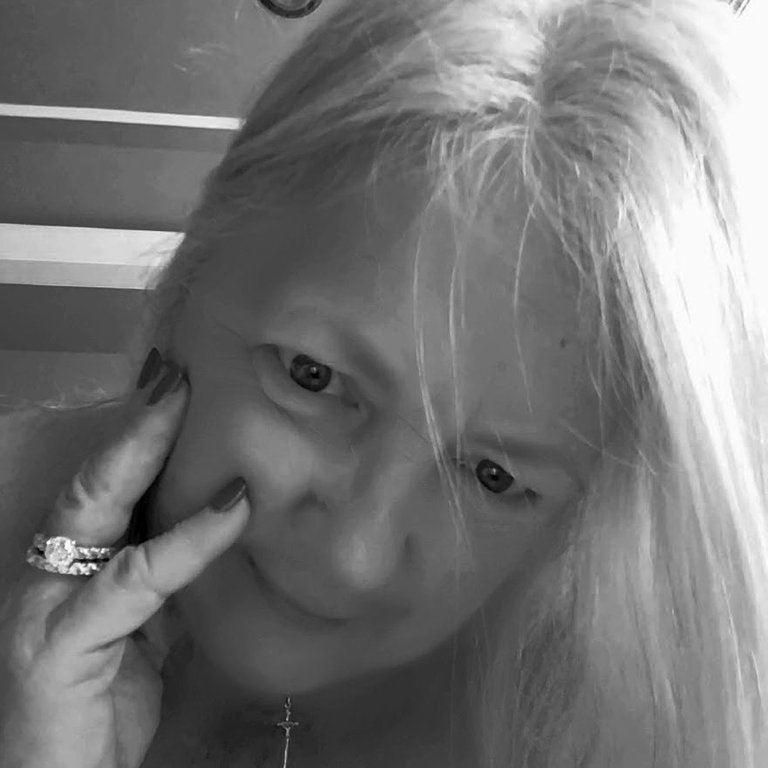 ---
Fridays are all about the #MarketFriday Challenge! Looking to take part in it? Here is how:
Rules of the Road to Join #MarketFriday!
Go to the market, or anywhere that you pay money for a service.
Take pictures! Be creative!
Tell us a little bit about the market or the event. What brought you there? What did you buy? How much did it cost? Was it expensive? Did it go up or down? I need something other than 50 pictures of the market.
Post the pictures. Of course, you should tell a little bit about the ones you post, it is too difficult to guess on some
Use the MarketFriday Community Platform to post (#hive-196308) This is not required but appreciated.
PLEASE Drop the link into the MarketFriday comment section so I can find it!!
Following me and reblogging the post would be appreciated, but not a rule, more vision for more views on the #MarketFriday posts!
You must put #MarketFriday by @dswigle somewhere on your post.
As always, please remember! #MarketFriday loves you!

#TeamUSA is a growing community of quality-content people from the United States or those living here. Check us out on Discord!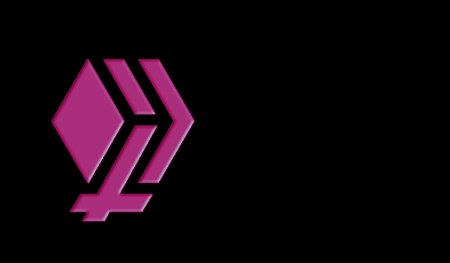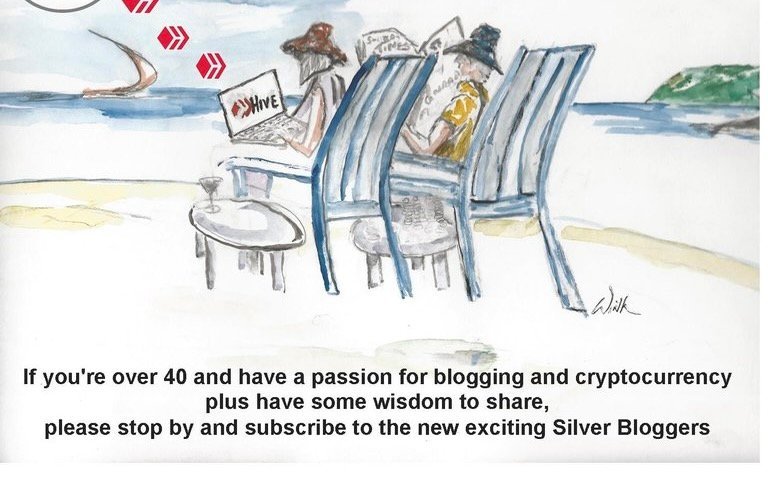 ---
---