Market Friday Presents: A Tale of Tulips

For weeks, we went to Burnside Tulip Farm where we were greeted by endless tulips! I had a season pass that was what I thought was pricey at $75.00 for the season, but, there was value in the purchase. There were endless tulips, with 10 flowers for free, every time you went there. You could go every single day while the season was going. It lasts approximately 3 to 4 weeks, depending on the weather. You were never limited, I went almost every day or at least 4 or 5 times a week. If it was cool, that was fine, the tulips love a little brisk chill, but, when it warmed up, they became a little unhappy and bloomed too fast. I went, took some flower pictures, picked some beautiful tulips, pulled a few bulbs, and went home. Endless tulips at my house, at my neighbors, and a few bunches at the rest home for older people, with directions to give it to someone who doesn't get company... I always drop some off at the post office, because they are my people and deliver my mail. Everyone got flowers. Just like last season of tulips, I bought vases at the dollar store, for $1.50 each! Last year, they were $1.00!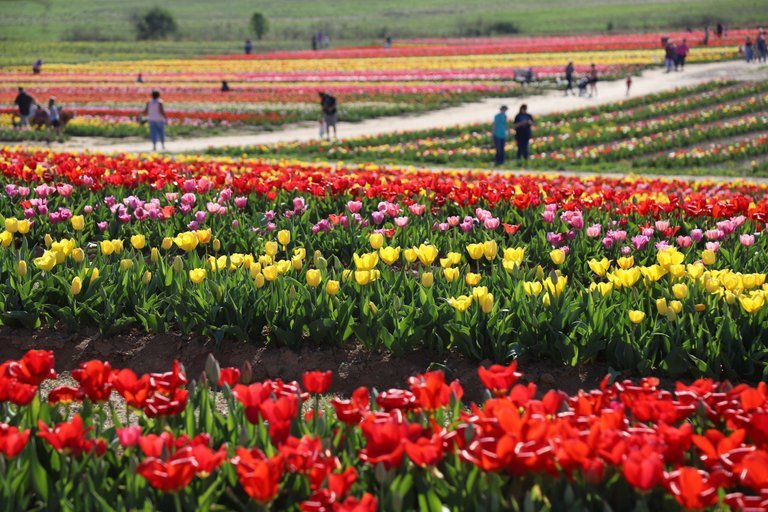 MarketFriday is about going places and doing things, sometimes it is buying food, and other times we may buy merchandise. For me, the entire thing is all about the experience, the cultures, and traveling the globe in the space of this post. It will be the fastest trip you ever almost took! I have been educated in so many ways, unfamiliar with some of your customs and cultures. There were many posts in the last few last weeks that touched on Eid al-Fitr, the Muslim Festival. I learned it is one of the most important festivals in the Muslim calendar. Many posts were about what is entailed to prepare for it. All the things that go along with it, It was fascinating. I never knew how little I really knew about it, so I thank all of you who enlightened me.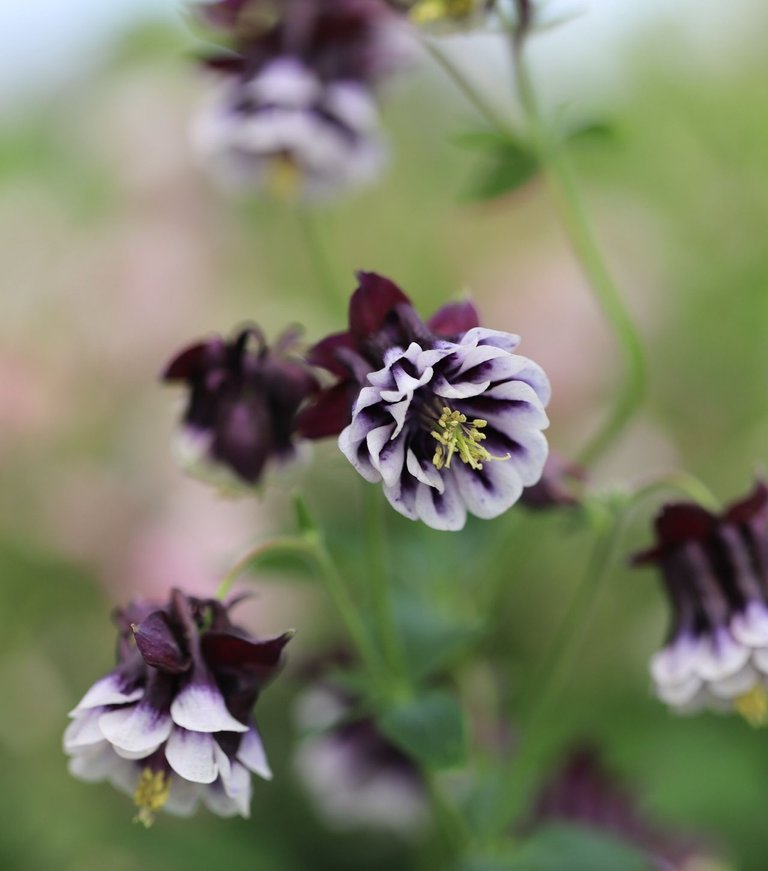 This is one of my favorite flowers, but then, I probably always say that. Truly, this one ranks high on my list of favorites. The double pleat blackberry columbine. It was love at first sight for me, and that was probably 4 or 5 years ago. Their price took my breath away, it was so expensive, at $14.99 for a pot of them, but it only contained one medium-sized plant. but, it was new and I was afraid I wouldn't be able to find it again the next year. They are perennial flowers, which means they will come back again, year after year. In my favorite nursery, called Merryfields, they keep their annual flowers and perennials separate. It makes less confusion when people are buying. Annual flowers come up for the season, then gracefully die at the end. You must purchase them every year if you want to see them again. I love the unusual shape of them! Have you ever seen these?
Today is #MarketFriday initiated by @dswigle (Denise, that's me!!) Join me as we share our markets across the globe. I always look forward to seeing what you send me! It is amazing to see the different markets and cultures of our friends here on Hive.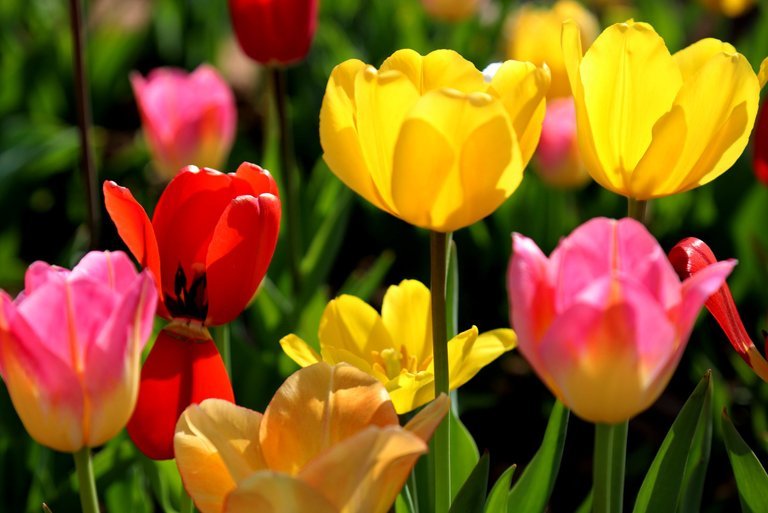 The sun was shining on this day, the brilliance of it bathing in its warmth, illuminating the petals on the stem. There is any other way of putting it, simply intoxicating to have the beauty, along with the scent touching your soul.
Le sigh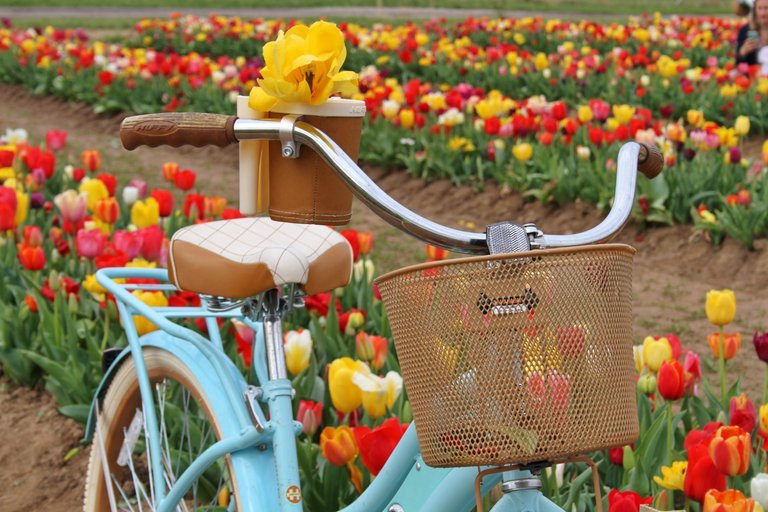 Bikes to ride, benches to sit on. The tulip farm was incredible in so many ways. So much beauty, so many happy enjoying the beauty of the day.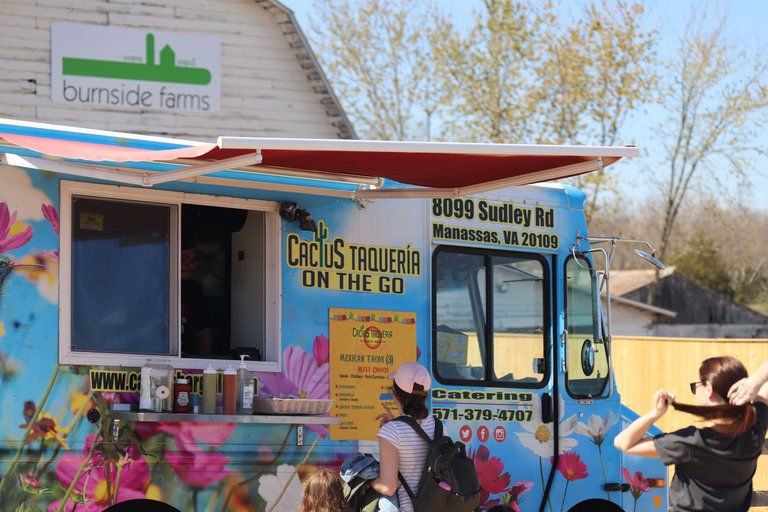 Then the food trucks were there, and you could have many delicious things to eat, from tacos to burritos, ice cream to hamburgers. Different trucks, different eats. What is the flavor you are craving? Word to the wise. The food trucks were expensive, It cost me enough to look. I'm good. I think on the next food truck down, a hamburger was $10.00 - Yikes!
The tulips are over and even though it was cut a little short by all the hot temperatures we're having, it turned a little cool for a couple of days and I have to wait to plant a few things. So, au revoir, tulips! Until we meet again!

For those of you who read the post, you are probably the ones who take the time to read a few #MarketFriday posts. As a courtesy, it would be nice to see people doing that without me having to ask. I have to say that it warms my heart to see a genuine comment. It is the interactions between people that make this platform special. People caring for people. I am interested in what your life is like. Stop and take a moment with people. It isn't all about the money. Sometimes, it is about the people too. For those that read the posts, thank you, truly.




There are horses out there somewhere. They won't be coming close anytime soon. Just like errant children, if they come close to you, they know you will tell them it's time to go in. Yes, there is a cost involved in the price of hay, although the field is hayed, so free hay. The grain, veterinary bills, horseshoes, although two of mine don't wear shoes. Shampoo, fly spray, but we make our own out of natural ingredients. Nothing in this world is free, except maybe kindness, compassion, and common courtesy.Oh, yes... And love your fellow man.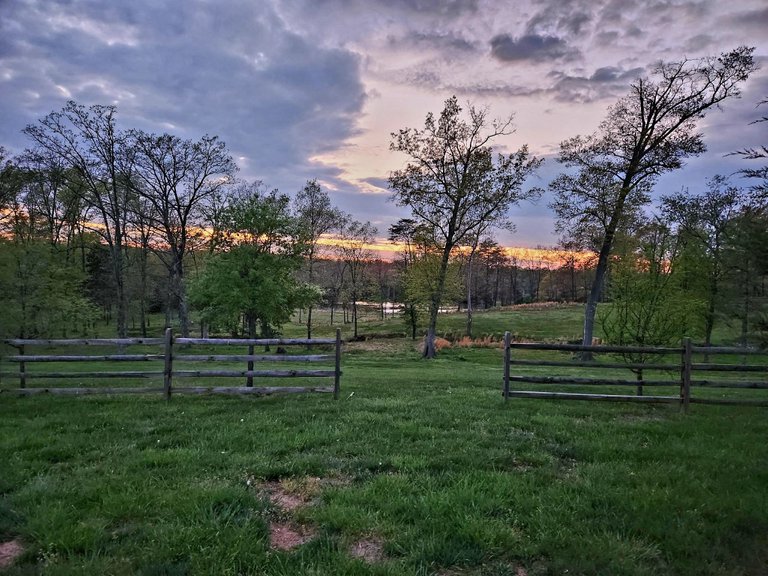 Please leave the link to your post here so it can easily be found by others. It helps you and me to have them in one place. Where else can you take such a quick trip around the globe? Thank you so much for joining us!! ❤
And just like that, my shopping is done. Until next time! I hope you had fun and maybe next time, we will get a few more plants to fill in the spaces. I hope you had a good time and learned a little something new. As always, I want to thank you for taking the time to visit, and just remember, #MarketFriday loves you! Thank you for supporting the challenge! Have a most fabulous day! Cheers!!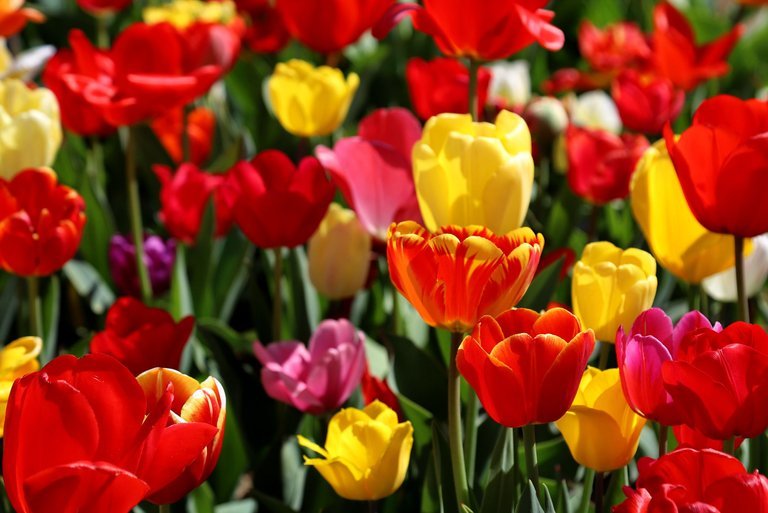 As always, there must be flowers to color my world. I just want to say that I am honored that so many end their post with a flower, to color their world. That truly touches my heart. #alwaysaflower

---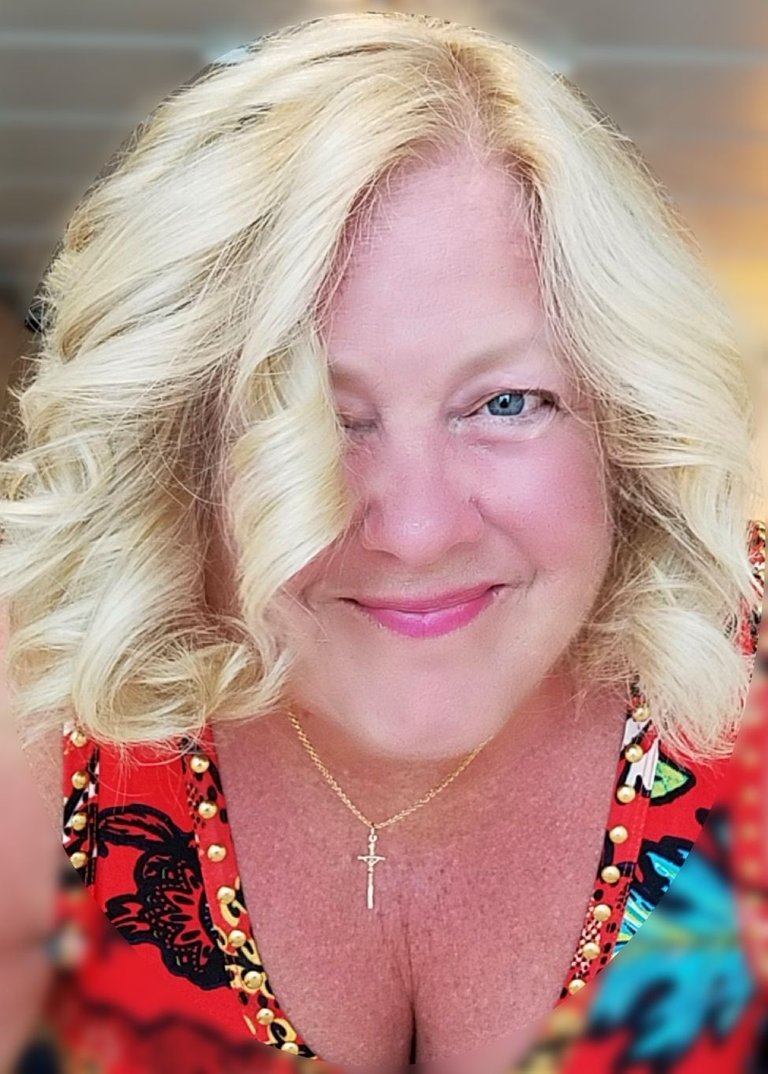 ---
Fridays are all about the #MarketFriday Challenge! Looking to take part in it? Here is how:
Rules of the Road to Join #MarketFriday!
1.Go to any type of market, or anywhere where you pay money for a service. It can be a museum, a movie theatre, or an auction. Be creative!
2.Tell us a little bit about the market or the event. What brought you there? What did you buy? How much did it cost? We like to compare prices, otherwise, it is just pictures of a market!
3.Post the pictures! No out-of-focus ones, please! Tell a little bit about the pictures that you post. Having many pictures to scroll through does not make a better post without explanation.
4.Use the MarketFriday Community Platform to post #hive-196308 (this is not required, but appreciated) If you don't, then #MarketFriday should be your first tag
5.Following me and reblogging the post so more see it would be appreciated !! Not a rule, just appreciated, more vision for more views on your posts!
6 You must put #MarketFriday by @dswigle somewhere on your post.
7.#MarketFriday post should be submitted sometime on Friday UTC
8.The post MUST be in English
9.Drop the link into the MarketFriday comment section so I can find it
As always, please remember! #MarketFriday loves you!

#TeamUSA is a growing community of quality-content people from the United States or those living here. Check us out on Discord!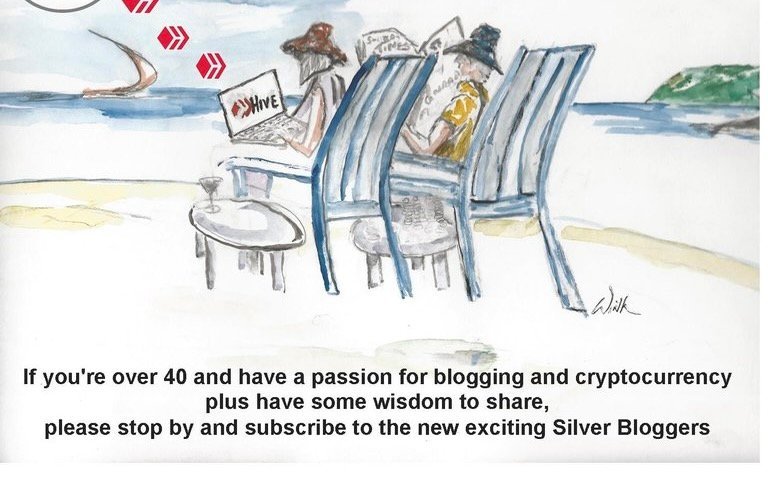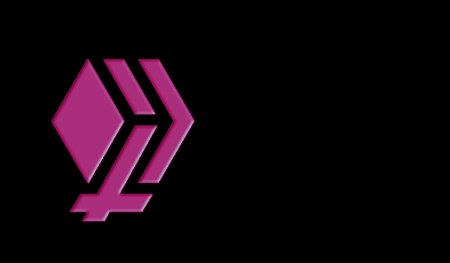 ---
---