Pumpkin Tales for Market Friday
Autumn is that season that eases summer into the winter in this part of our country, where leaves turn a shade of beautiful and a definite chill settles over the landscape, although we haven't quite gotten there yet. We are in the middle of summer and not summer today. Soon, we will change over completely. Just like magic, pumpkins and gourds start appearing everywhere.
As I watch some of my leaves beginning to fall, I am reminded that Autumn has its own set of rules rituals. All Hallows Eve: Halloween. Where the Celtic festival of Samhain, is celebrated in Ireland, Scotland, along with a few Brits... This celebrated the Harvest coming in and people would light bonfires and dress in costume to ward off ghosts. My family is French! We do trick-or-treat candy going door to door. Work smarter, not harder!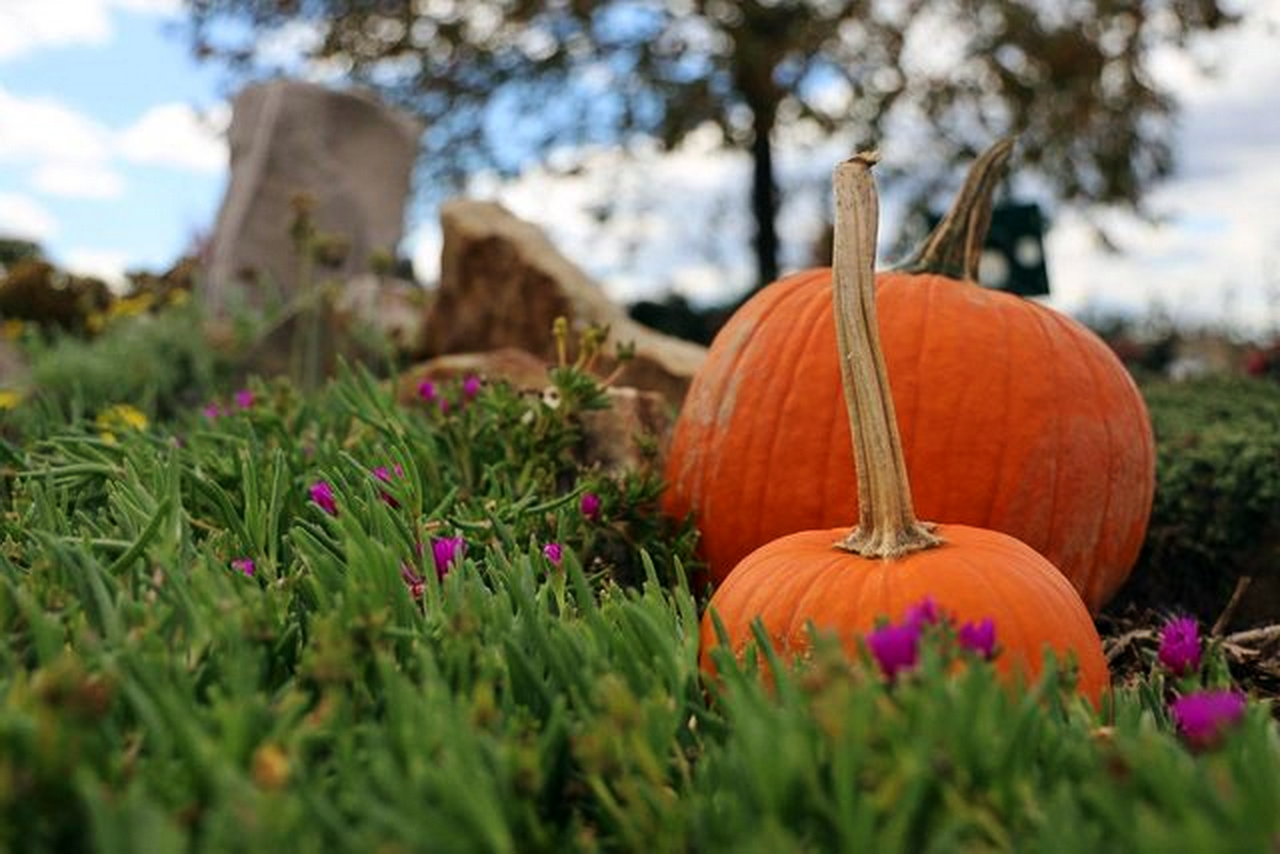 Today is #MarketFriday initiated by @dswigle (Denise, that's me!!) I hope you will join me as we share different markets across the globe, often as unique and varied as the countries themselves. I always look forward to seeing what you send me. Come. Sit down. Relax. Enjoy the shortest trip around the globe you ever experienced, taking in a market from somewhere different than what you have. And always remember #MarketFriday loves you!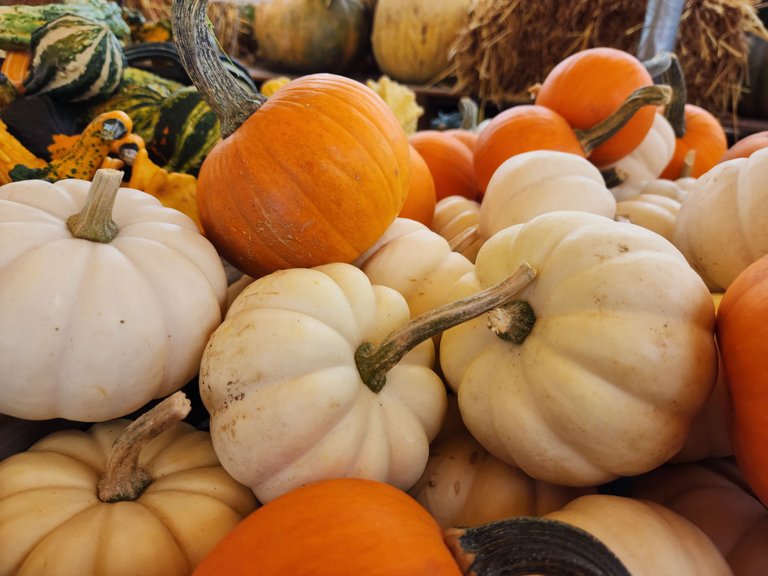 It is definitely getting closer to Halloween! It is time to get a few more pumpkins as we didn't grow but a few, and some of those were given away. We kept the prize one and his little sister. Now we need some filler to decorate the porch. Pumpkin patches have sprouted up all over the place. I am looking for four to six nice pumpkins. Our front porch has two sets of stairs so we need to decorate both of them. They are actually on separate streets as the porch is on two sides of the house. I thought that was pretty cool until the disadvantages started piling up. This was definitely one. You must decorate the entire porch. Double work, but, double fun.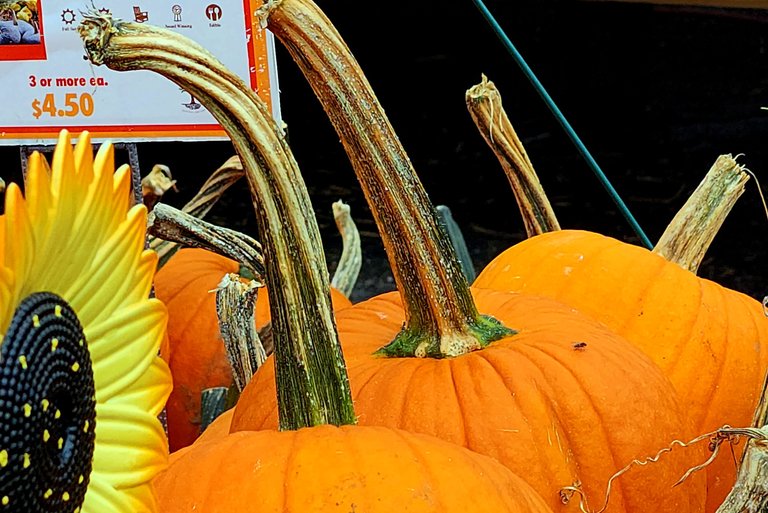 This was actually a smallish market at the side of the road and spilled over into a parking lot of a shopping center. These were already picked and I didn't have to do the field walk. Not that I mind, I really don't. But, this was fun as they were fresh picked for the most part. some were picked a little early as the stems were already starting to dry, but, some had a green stem, which meant they had been very recently picked.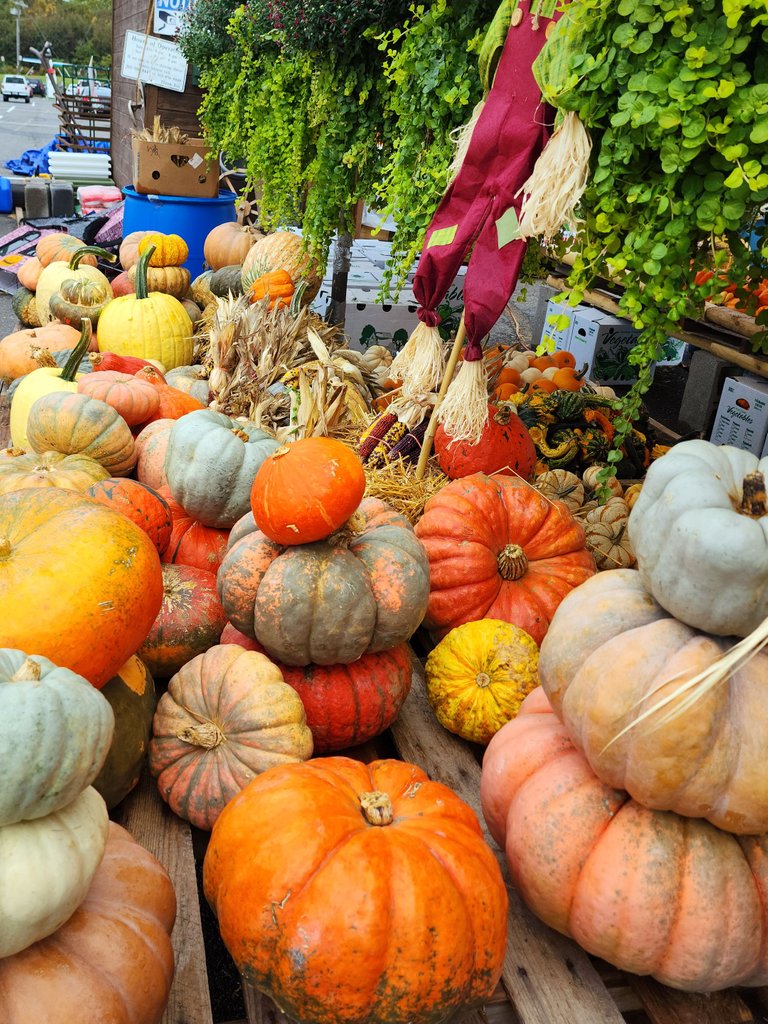 Do you grow your own? If you do, what kind did you grow? I cannot even keep up with the different varieties~ If you go to a pumpkin patch, do you pick your own - some people do not feel they have had the experience unless they have done it. Or do you merely get a nice pumpkin, scoop out the innards and make a pumpkin face? You know there is no wrong answer for this one.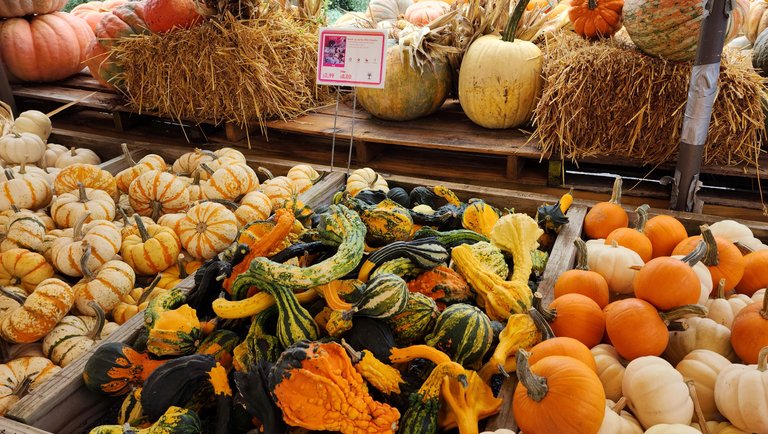 When I was a kid, orange pumpkins were the only thing we ever saw. A few years ago, I saw my first white pumpkin, What??? White? I will admit, it wasn't getting any bonus points from me. They were few and far between. I didn't see many of them, but, I could find them. I made my peace with them, but, have never bought one. Yet.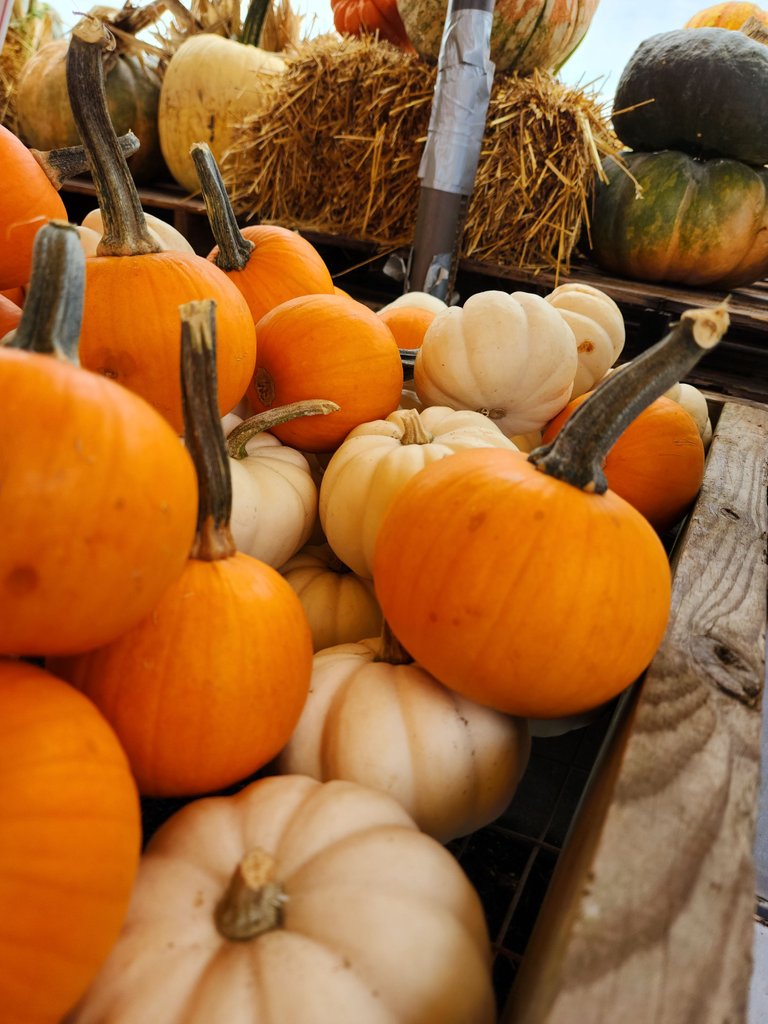 Now, everywhere I look, there is a mountain of white ones. The ones I saw today were pretty good size, right up to 80 pounds. That is a lot of white pumpkin!




White Pumpkin Varieties
Ghost Pumpkin.
Baby Boo Pumpkin.
Hooligan Pumpkin.
Lumina Pumpkin.
Casper Pumpkin.
Super Moon Pumpkin.
Cotton Candy Pumpkin.
Silver Moon Pumpkin.
Valenciano Pumpkin.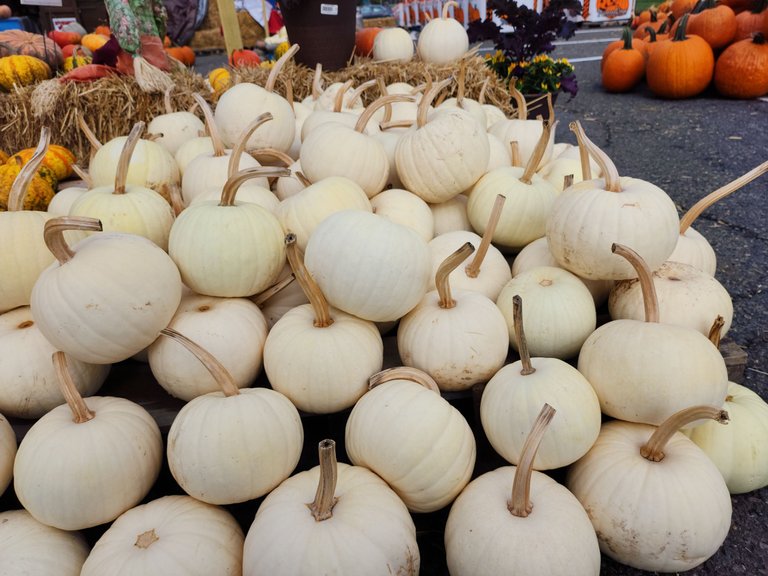 How well did I do on the pumpkins?
The pumpkin pie pumpkin is above the white pumpkins - $4.99 each/ or 3 for $13.00
gourds assorted kinds - $5.00 -$8.00
Winco
Carving pumpkins: $0.25/lb
Small pie pumpkins: $1.28/lb
Mini pumpkins: $1.68 each
Mini white pumpkins: $1.98 each
Ornamental gourds: $2.98/lb
I went to Trader Joes and bought my gourds, they were $0.79 and a specialty pumpkin for carving $7.99 There was a huge disparity between stores and pumpkins. If you find one you like, pay the lady and run!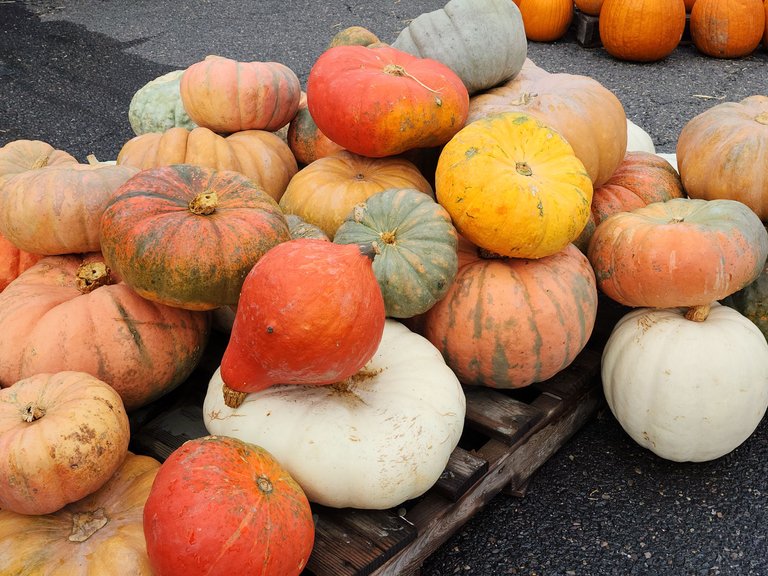 Don't be jealous! You want my hay couch, don't you? We do this in the barn sometimes, but not for a while. I did it when my parents came so they wouldn't mind staying a while. All the barn cats would wander over for their pet. You haven't lived until you have sat or slept on a straw couch.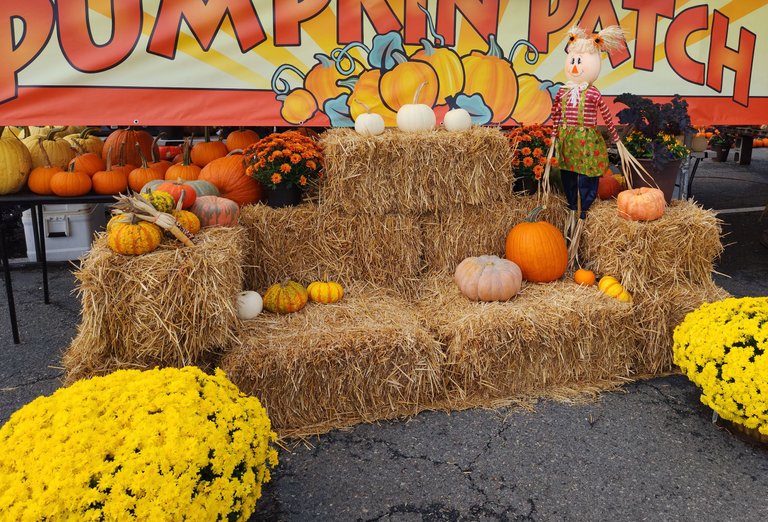 No laughing~ Gourds decorating is a serious craft! I once bought a birdhouse made from a gourd. It was preserved so that it wouldn't get ruined in the outside elements. I loved it and have since made my own. Who knew I could get so creative? Pumpkins and gourds can be used for bowls once dried out. My kids loved them and thought they were the special bowls.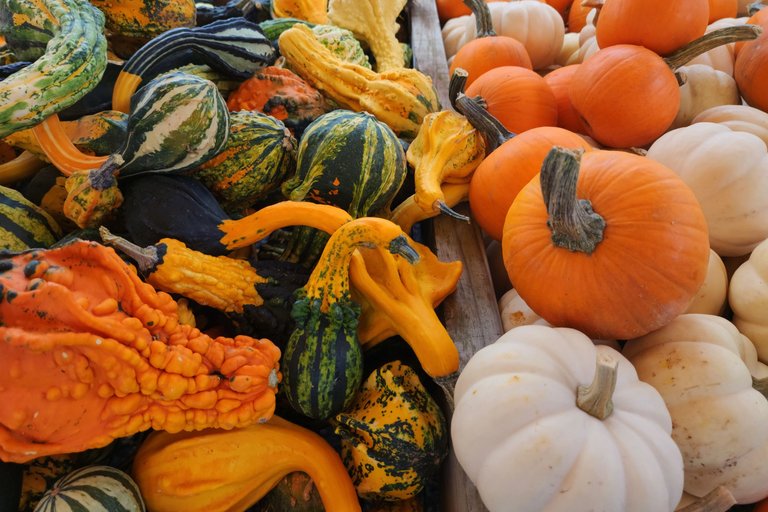 Do you know the difference between gourds and pumpkins? Gourds ae mostly ornamental and pumpkins are edible when ripe. Pumpkins can be roasted, baked steamed boiled and even eaten when they are mature. The best a gourd can do? It can only be dried when it is mature. I never knew the difference when I was a kid, but, I did know we couldn't eat one.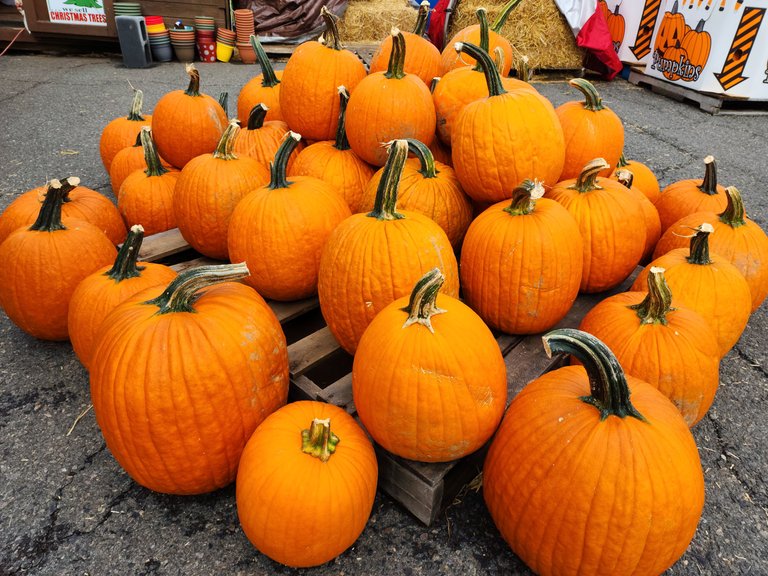 Of all the places I checked, Home Depot was the highest priced at $6.98 for a large pumpkin. Surprising to me, the only place around here that was higher was Target! I said that and I just got back from checking Lowe's! They win as the highest priced. The pumpkin patch is not the cheapest, but, I still buy most there as it is a mom and pop business. Where do you buy yours?

Please leave the link to your post here so it can easily be found by others. It helps you and me to have them in one place. Where else can you take such a quick trip around the globe? Thank you so much for joining us!! ❤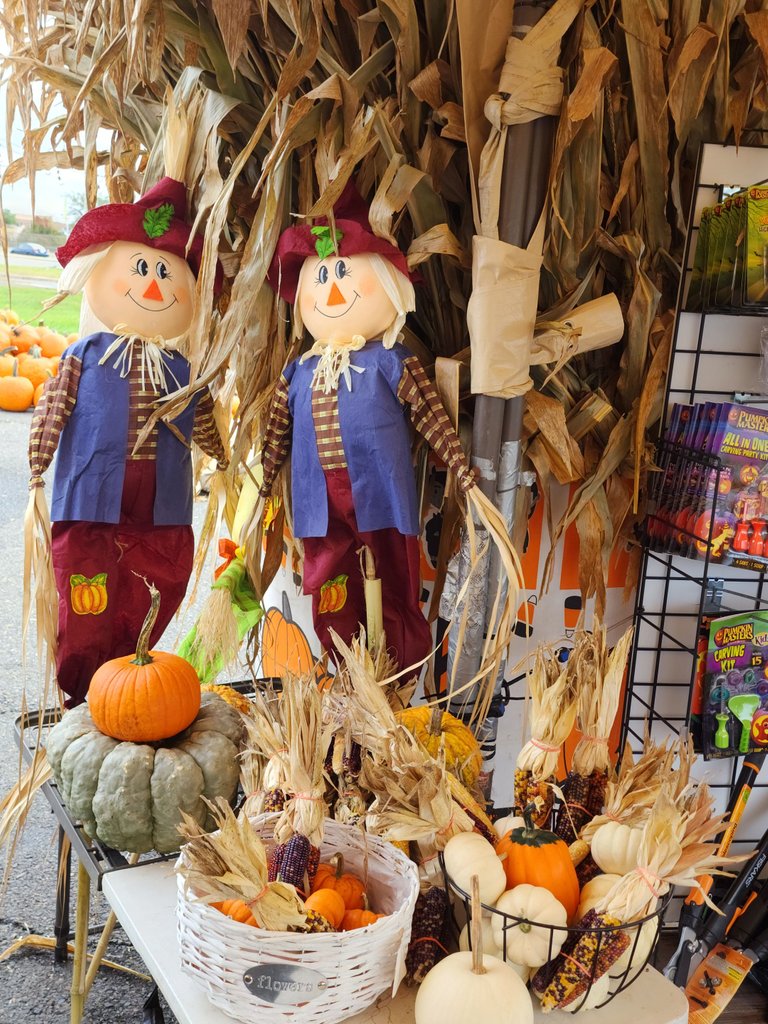 And just like that, this post is done. I hope you had a good time and learned a little something new. As always, I want to thank you for taking the time to visit, and just remember, #MarketFriday loves you! Thank you for supporting the challenge! Have a fabulous day! Cheers!!
As always, there must be flowers to color my world. #alwaysaflower. There is always a flower in the pumpkin patches or wherever they sell pumpkins. Usually there are chrysanthemums, fondly referred to as Mums. The perfect way to add color to your autumn garden.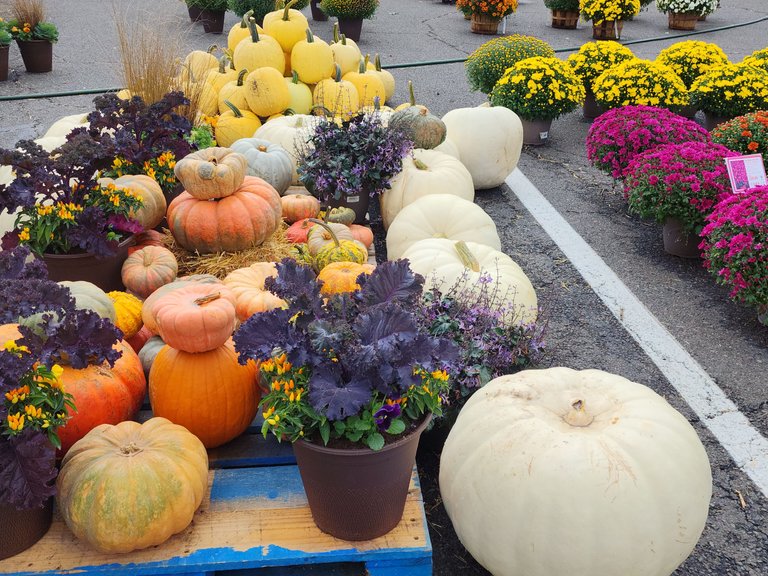 Do you celebrate Halloween where you live? Most places don't, but some are migrating towards the seemingly harmless fun of collecting candy as they trick or treat. I have never thought of Halloween as anything but that children evening of fun. Halloween! It is all about the fun! Do you do anything special? What does Halloween mean to you? What do you do to get ready for it?




Here is what I do for Halloween!




Carving Jack-o'-Lanterns. During Halloween or for the season, practically everyone has a pumpkin on their porch. Closer to the night of, he gets carved, usually a giant smile or a spooky laugh.
Costumes! All kinds, spooky, superhero, favorite character, last year, I was a princess with a tiara.
Trick or treating!! Who doesn't love to do it? We get literally a record breaking amount of kids!
We try to get to one haunted house. They best ones are when people do them for fun! I have been to some really awesome ones.
My brothers used to tell scary stories! With six of them, they never ran out. We did this around a bonfire.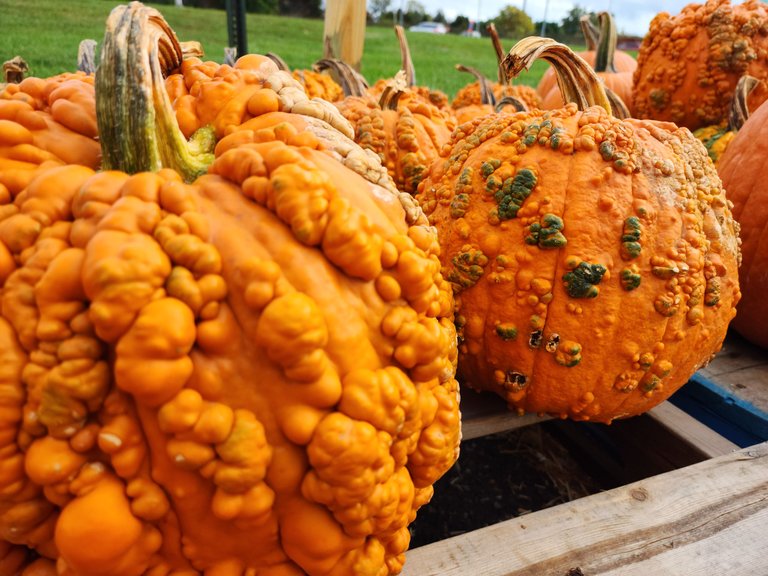 Why are there warts on your pumpkin? There are three main reasons why pumpkins and squash have warts, and these are: They are selected or bred for the characteristic; they are infected with viruses; and they have oedema, a non-biotic or physiological problem. A fourth, minor reason, is insects. Because of their large jack-o'-lantern shape, it takes at least 10 generations of cross-breeding to produce a pumpkin that's adequately covered in warts. source

---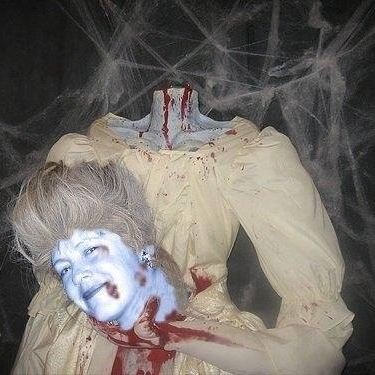 "Denise Antoinette"
Sometimes following your heart means losing your head over things you cannot control..
Courtesy of my friend, Planet Jeff
---
Fridays are all about the #MarketFriday Challenge! Looking to take part in it? Here is how:
Rules of the Road to Join #MarketFriday!
Go to the market, or anywhere that you pay money for a service. It can be a movie, auction, even a museum. Wherever money is exchanged for a service or product.
Take pictures! Be creative!
Tell us a little bit about the market or the event. What brought you there? What did you buy? How much did it cost? Was it expensive? Did it go up or down? A scroll of pictures with few words doesn't usually work.
Post the pictures. Of course, you should tell a little bit about the ones you post, it is too difficult to guess about some.
Use the MarketFriday Community Platform to post (#hive-196308) This is not required but appreciated.
PLEASE Drop the link into the MarketFriday comment section so I can find it!!
Following me and reblogging the post would be appreciated, but not a rule, more vision for more views on the #MarketFriday posts!
7. You must put #MarketFriday by @dswigle somewhere on your post.
As always, please remember! #MarketFriday loves you!

#TeamUSA is a growing community of quality-content people from the United States or those living here. Check us out on Discord!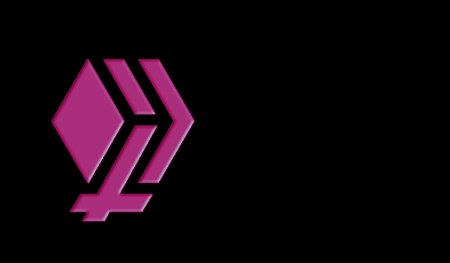 ---
---