Texas Roadhouse: Market Friday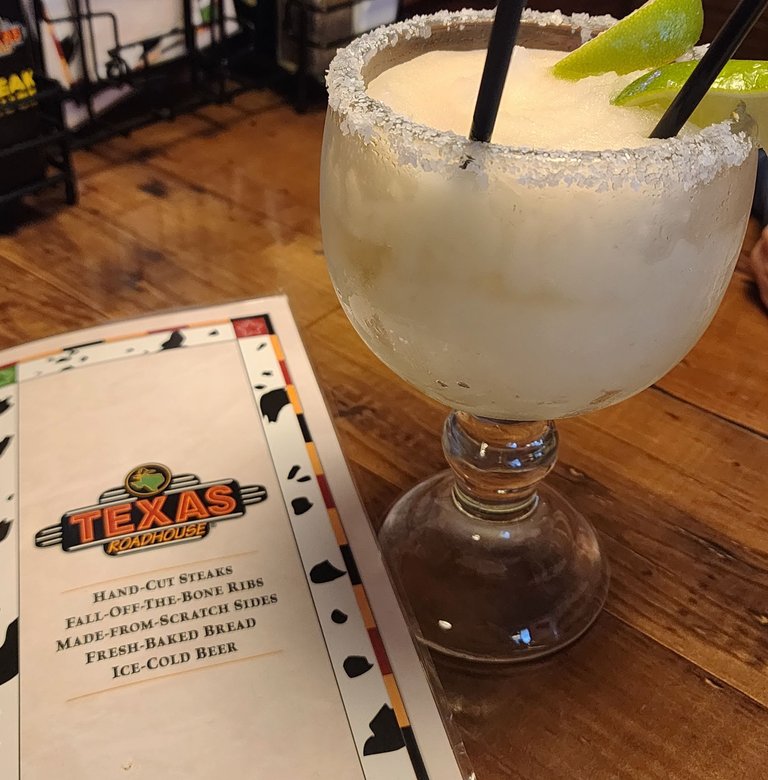 Giving the gift of a night off from cooking was an unexpected treat. Who's coming? It was a long day and having someone else do the cooking sounded pretty good. I got up early and traveled to my other house on the shore, with the sole reason of mowing the lawn, to the tune of 3 acres of lawn. Not estate size, but, large enough to break two sweats or so. It takes four hours to drive and I was doing a roundtrip, so eight hours in travel, plus whatever time spent there. I finished mowing, knowing I just cannot turn my back on the just-sprouting garden, so I did a little bit of weeding. I chose to do the roundtrip by myself so that the entire family could complete the needful for that day, and we would meet up for dinner later in the day.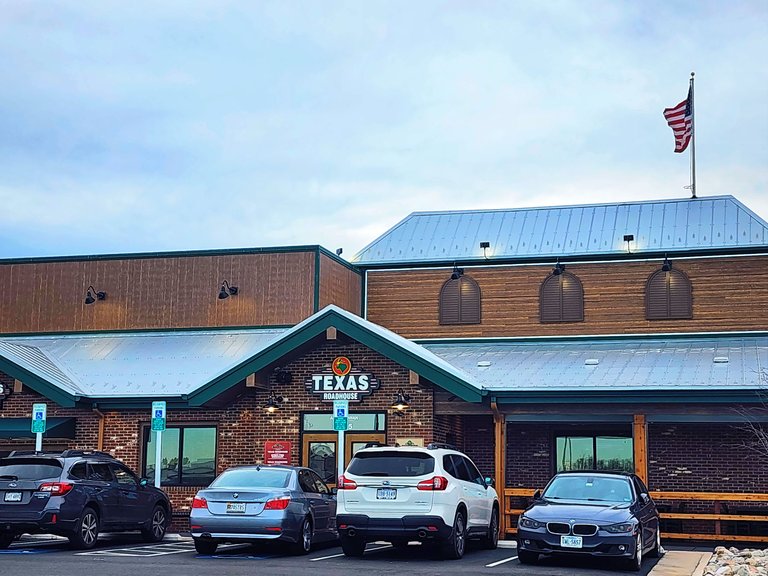 Today is #MarketFriday initiated by @dswigle (Denise, that's me!!) Join me as we share our markets across the globe. I always look forward to seeing what you send me! It is amazing to see the different markets and cultures of our friends here on Hive.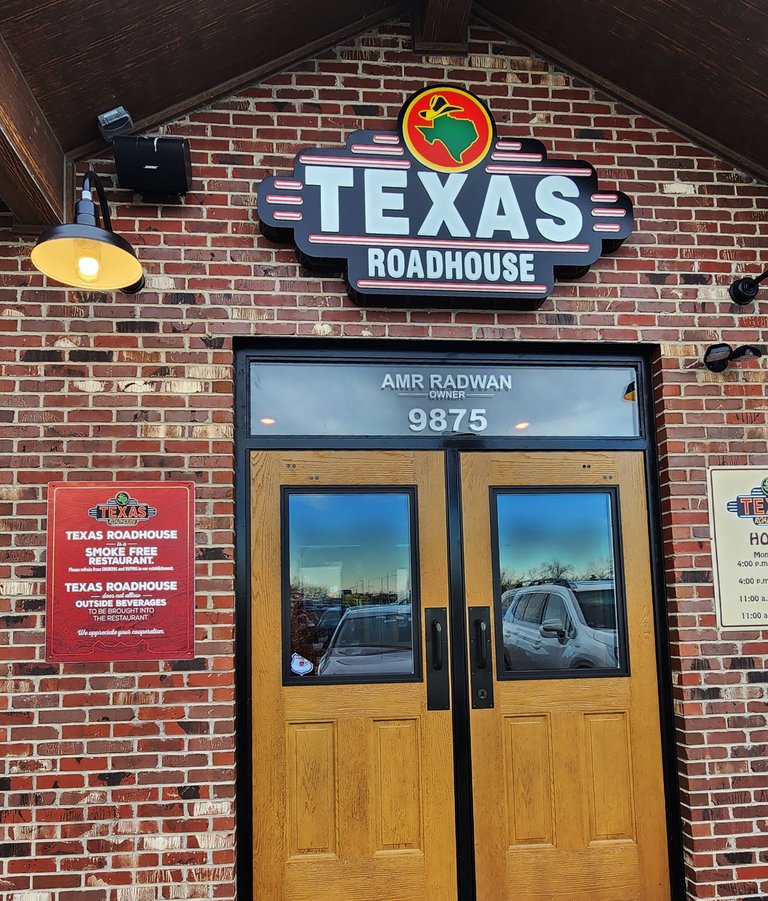 My girls couldn't have picked any better for this night. Texas Roadhouse is one of my favorite places to go for a dinner out. The dress is casual, The theme is decidedly Texas and we are pretty cool with that. It actually originated in Indiana, but, can you see it being called Indiana Roadhouse? It doesn't even roll off your tongue. Anyway, they serve Tex/Mex kind of food. A cross between Texan and Mexican. Did you see I caught a nice reflection in the window? It is the small things in life that make me smile.
Fresh baked bread - made from scratch. Every one of the chains has a baker on board. The bread comes with cinnamon honey butter which is absolutely warm mouth-watering good. It is an endless cycle. If you empty the bread basket, another hot one appears out of nowhere. When you are ready to leave, most will offer you a bag of fresh ones with butter to take home with you. Yes, please! Craving some? You can order them online at the Texas Roadhouse's site for a speedy pickup.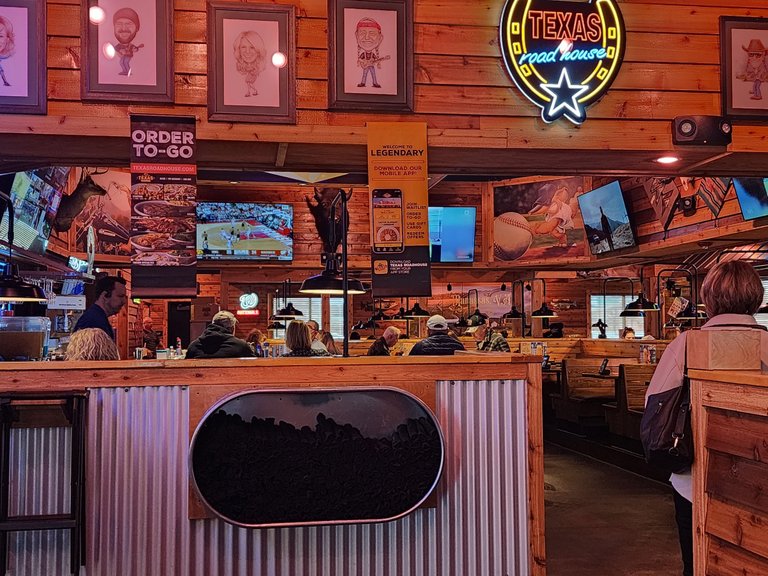 Typical atmosphere of casual Texas: a bar, televisions, people, and noise. Did I mention music? Texas music! The noise? For some reason, the banter adds to the casual laid-back feeling. When I first went for the very first time, I waded through peanut shells that were on the floor. If you have a peanut allergy, I would say it is not a great place for you. Each table is decked out with a small bucket of peanuts and you are encouraged to toss them on the floor. I know what you are thinking, but, it is kind of fun and adds to the atmosphere. Barnyard, right? Try it, you will like it. Well, fast forward and the peanuts are at the table if requested, but no longer on the floor. To date, I know of three lawsuits from patrons that slipped on the peanut shells and were injured in their falls.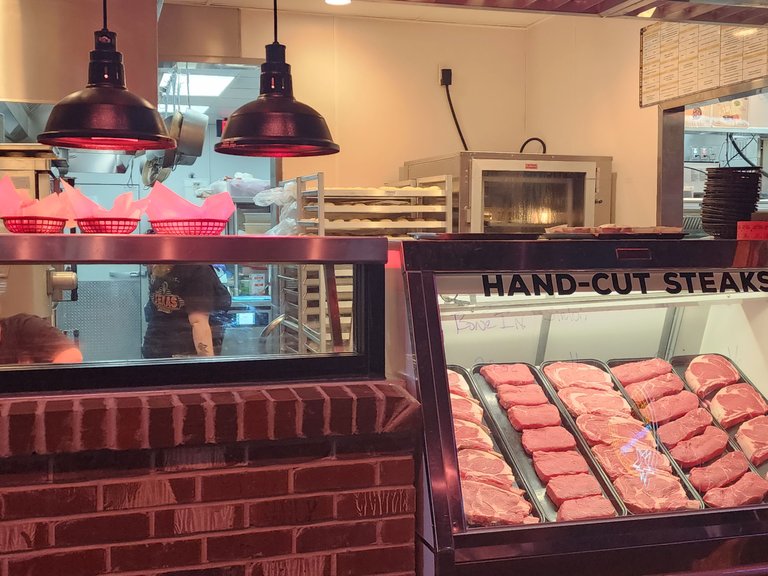 Hand-cut steaks! It is their thing. Every location has a butcher who works inside a 34-degree cooler while cutting. They offer different options for the entree, but, 44%, which is almost half of what is offered up is steak. However, there is a generous selection for those who are vegetarian.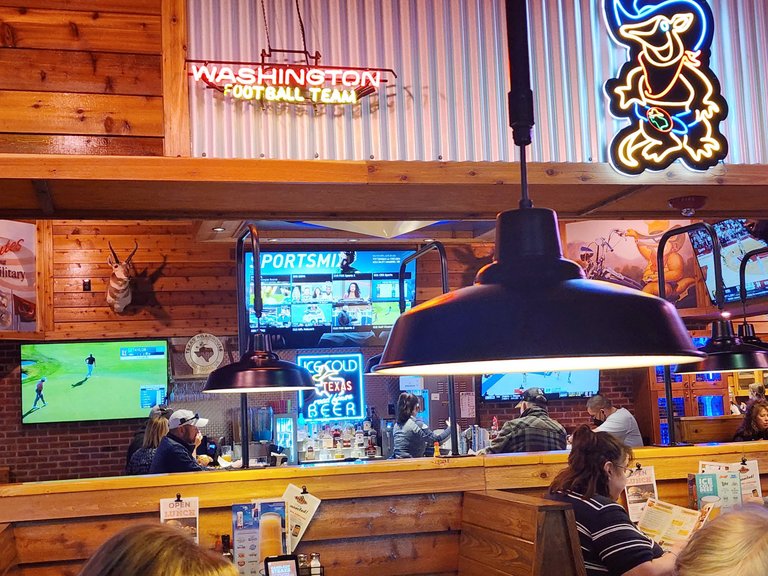 Unfortunately, I didn't get a picture of the mural they had. I was too close and it didn't frame up well, so, I skipped it. It didn't dawn on me that I might use this experience for
a post. I know what you are thinking. Every day's experience should be captured. And yet, I can honestly say, it is not. Some experiences happen and the last thing I think of is to capture them. I will work on that. About the mural? Every one of their locations has a mural made special for that restaurant.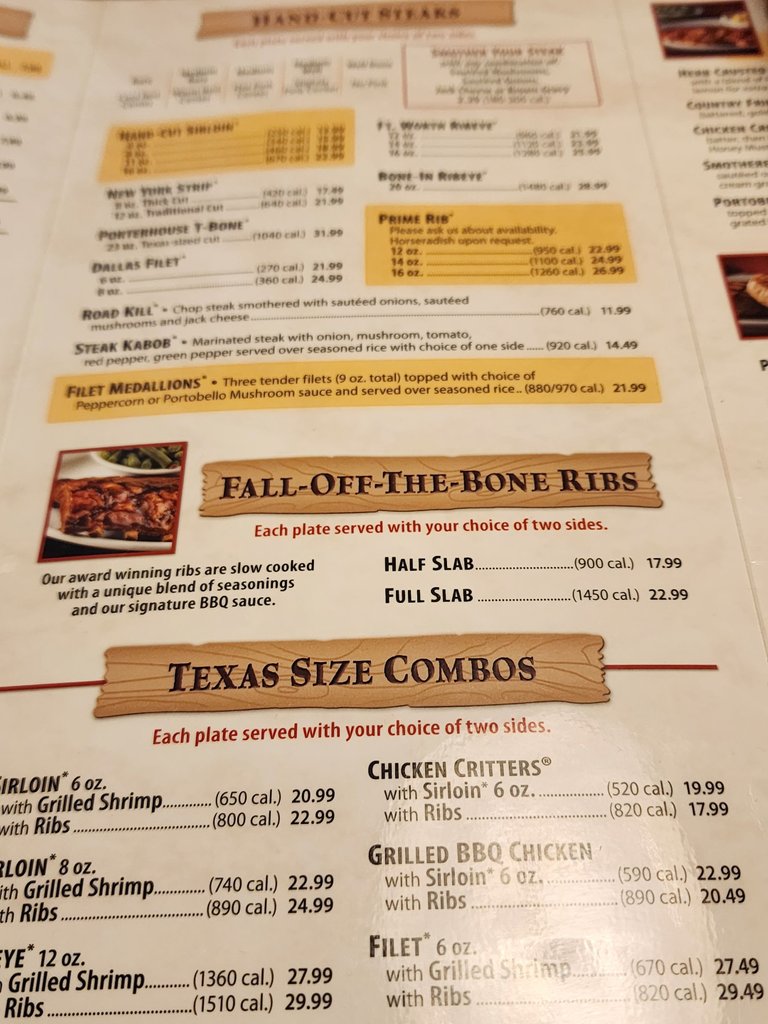 I am looking at the menu as I posted it and I am thinking it feels expensive to me. I know that they have gone up since I went there last. Yes, yes. Precovid. I really don't eat out that much unless I am traveling, which I have no choice. To be honest, I always split an entree, neither one of my girls can eat a whole one, so that works out to be more economical for us. But, bottom line, it is no longer the cheap, easy place it used to be.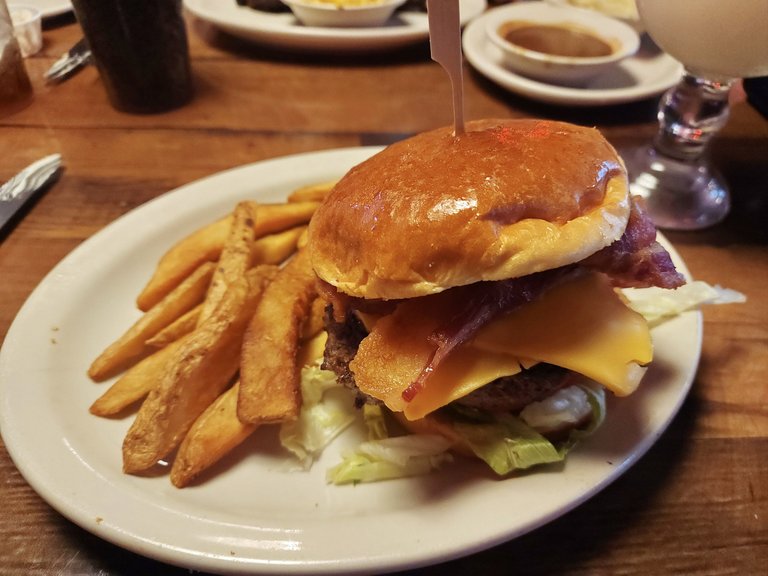 What did I have? Bacon Cheeseburger
Crispy strips of bacon with American cheese, lettuce, tomato, and onion served on a Texas-sized bun with steak fries and a pickle spear- the description right off the menu. I got cheddar jack instead of the white American and tomato on the side. I dislike when the whole sandwich slips because of the tomato. One of my girls split it with me because they are huge! That is my half. I would call that generous. There were four of us that went and our total bill was $50.00 without the tip which included a large Margarita. You can't have a southwestern slant on the dinner without one. I indulged and it was worthy. Do you have a favorite drink when you go out or even if you are home?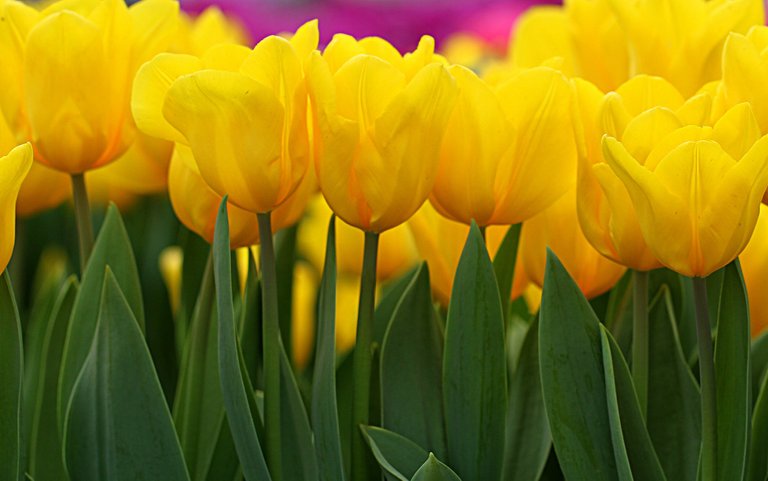 As always, there must be flowers to color my world. #alwaysaflower.

Please leave the link to your post here so it can easily be found by others. It helps you and me to have them in one place. Where else can you take such a quick trip around the globe? Thank you so much for joining us!! ❤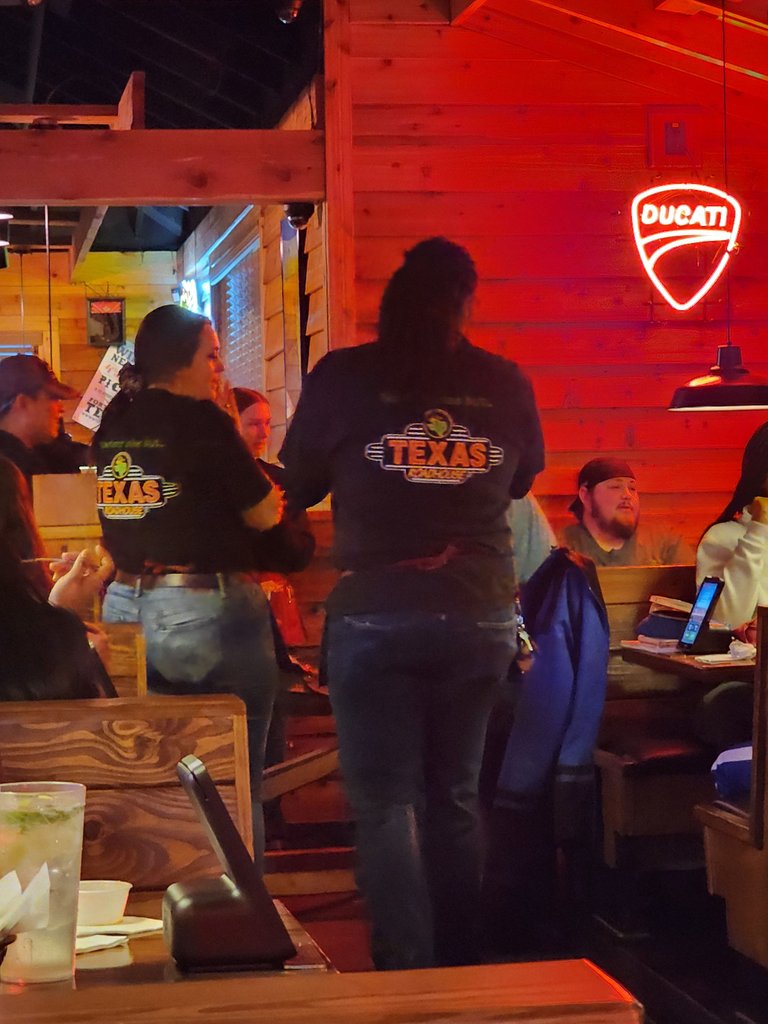 Oh, they do love to gather around and sing Happy Birthday to the guest of honor!




Happy Birthday to you!
Happy Birthday to you!
Happy Birthday, Happy Birthday
Happy Birthday to you!
And many more!!!



And just like that, this post is done. I hope you had a good time and learned a little something new. As always, I want to thank you for taking the time to visit, and just remember, #MarketFriday loves you! Thank you for supporting the challenge! Have a most fabulous day! Cheers!!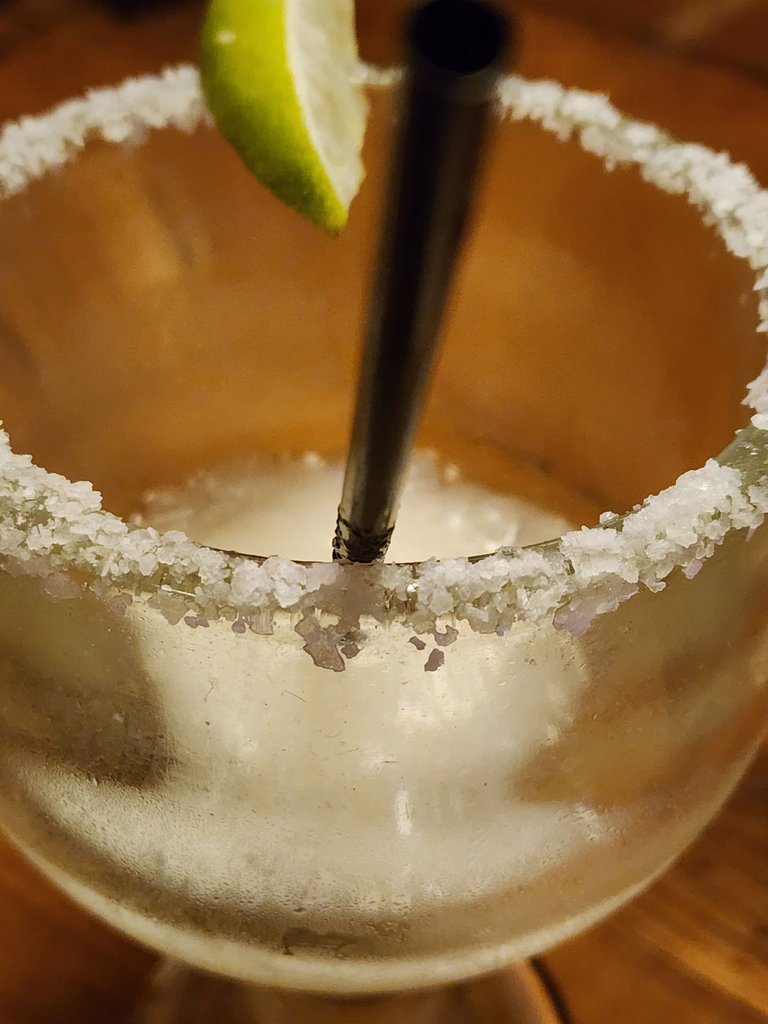 Head out to your nearest Texas Roadhouse, but remember to make a meal here an occasional treat. Doing so will help keep you out of debt and turn your Texas Roadhouse meals into a special event each and every time. ~ Texas Roadhouse.

---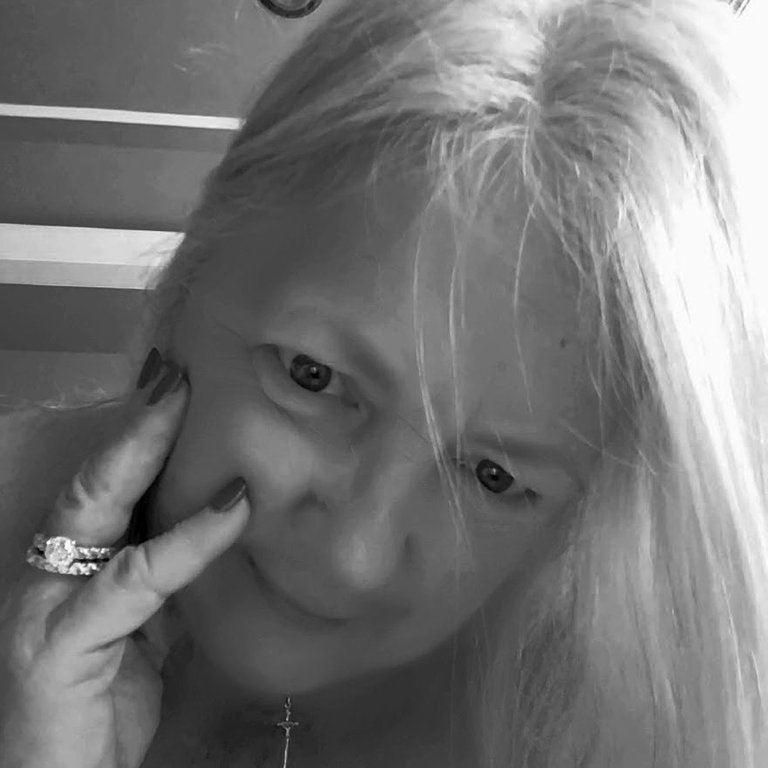 ---
Fridays are all about the #MarketFriday Challenge! Looking to take part in it? Here is how:
Rules of the Road to Join #MarketFriday!
Go to the market, or anywhere that you pay money for a service.
Take pictures! Be creative!
Tell us a little bit about the market or the event. What brought you there? What did you buy? How much did it cost? Was it expensive? Did it go up or down? I need something other than 50 pictures of the market.
Post the pictures. Of course, you should tell a little bit about the ones you post, it is too difficult to guess on some
Use the MarketFriday Community Platform to post (#hive-196308) This is not required but appreciated.
PLEASE Drop the link into the MarketFriday comment section so I can find it!!
Following me and reblogging the post would be appreciated, but not a rule, more vision for more views on the #MarketFriday posts!
You must put #MarketFriday by @dswigle somewhere on your post.
As always, please remember! #MarketFriday loves you!

#TeamUSA is a growing community of quality-content people from the United States or those living here. Check us out on Discord!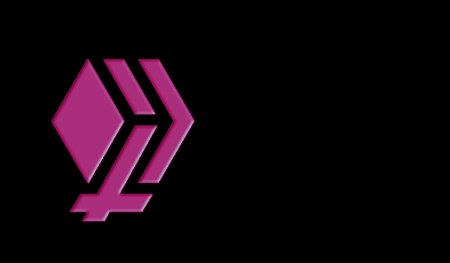 ---
---