Stand Up Paddle Boarding Among Glaciers
Who says Stand Up Paddle Boarding is only for the tropics! I put that old wives tale to the test as I slid out from the back of my expedition cruise ship into the flat calm waters of Glacier Bay National Park. Glacier Bay is an amazing park in Southeast Alaska, filled with glaciers and mountains rising 15,000ft straight out of the sea.
I know what you are thinking. Is paddle boarding a thing out here? Well, no, not really. The waters are a cool 39 degrees or so... in the summer. However, the conditions are almost always perfect for paddling with the mountains and islands protecting you from open ocean swell and the wind. It is a well known kayaking destination for these reasons...but maybe this post will introduce people to a whole new way to explore Alaska.
Notice that I have taken off my big, waterproof boots and chose to go with bare feet. I did keep my rain gear on, as well as a life jacket. Once I paddled away from the ship it felt like I had the entire area to myself. The calm and quiet must be like what some of the early explorers felt in this region. Chunks of ice float by after calving off impossibly blue glaciers, which disappear high into the mountains and mist.
It makes you feel small, very small, but at the same time it is like you are a part of everything... all connected.
I wasn't too worried about falling in. I'm a pretty good paddle boarder since I surf so much in Hawaii, but also I usually jump into the water here in Alaska once a week with just a bathing suit on. We call it the polar plunge, and I'll save those pictures for another time.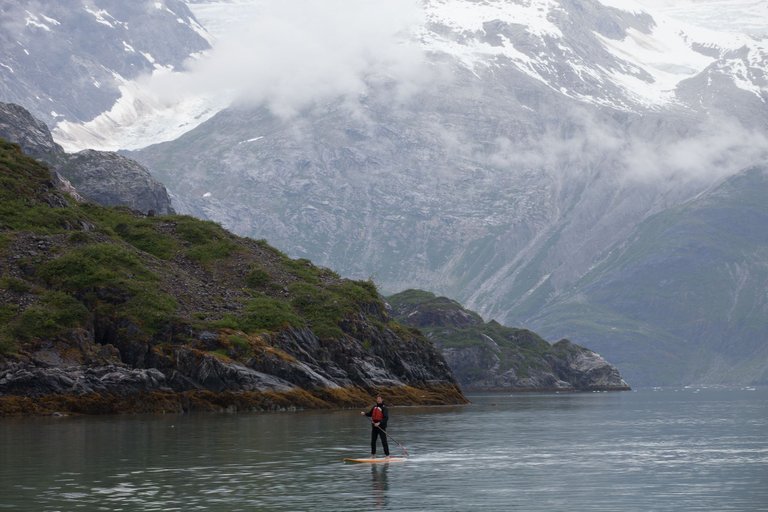 Hanging glaciers form the background as I enjoy the flat calm waters of Glacier Bay National Park on a paddle board.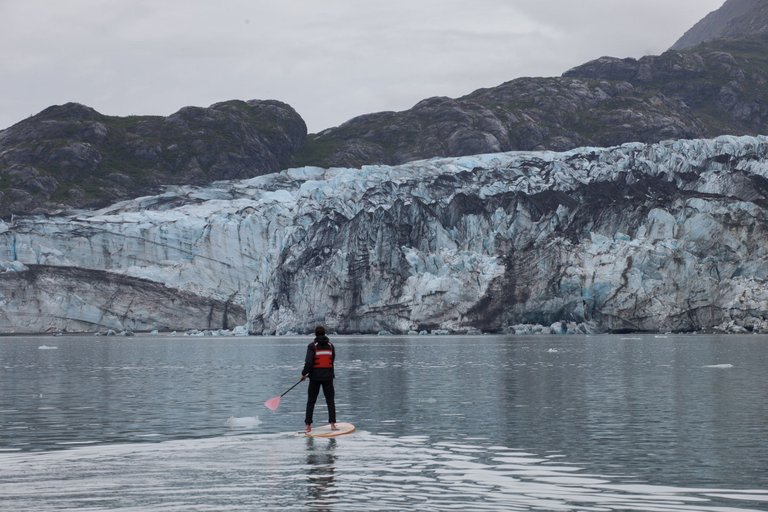 Unbelievable serenity as I head towards Lamplugh Glacier.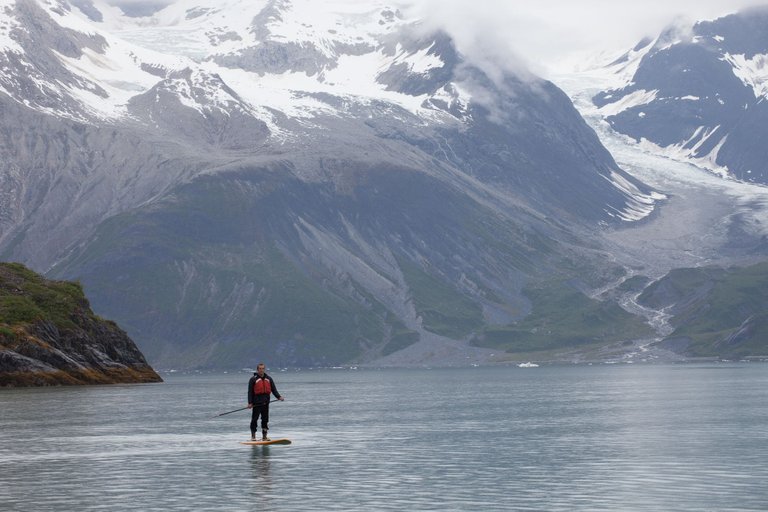 My buddy who dared to come with me. For some reason I couldn't talk him out of wearing his boots.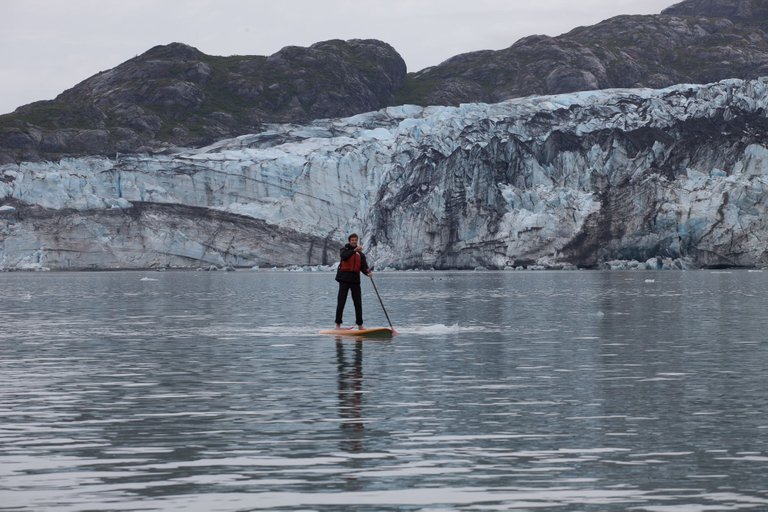 This was a pretty incredible day. I imagine very few people have ever had this opportunity.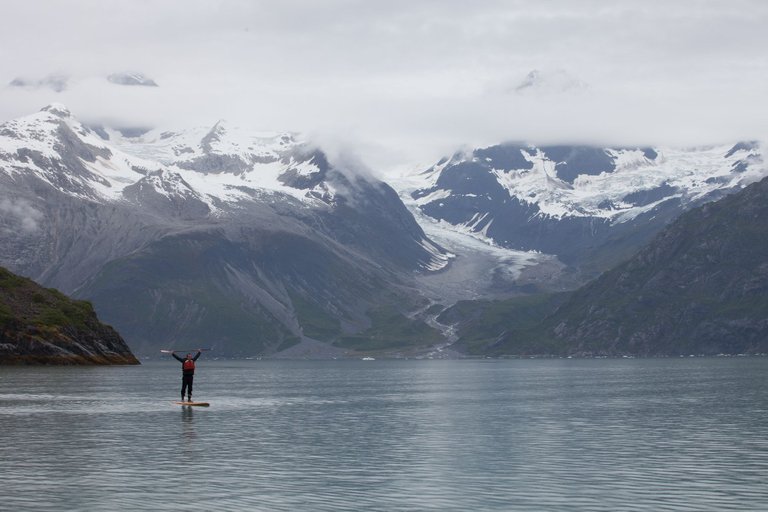 Feeling good.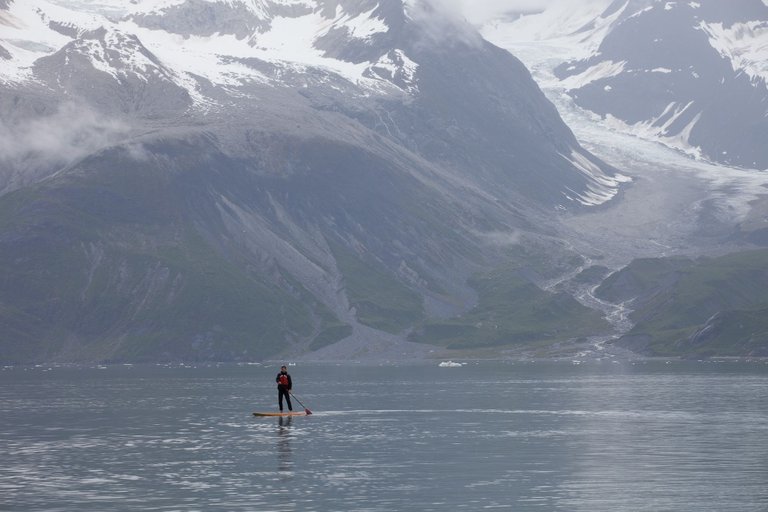 Glacier Bay National Park is a very photogenic location. I couldn't have asked for a better backdrop.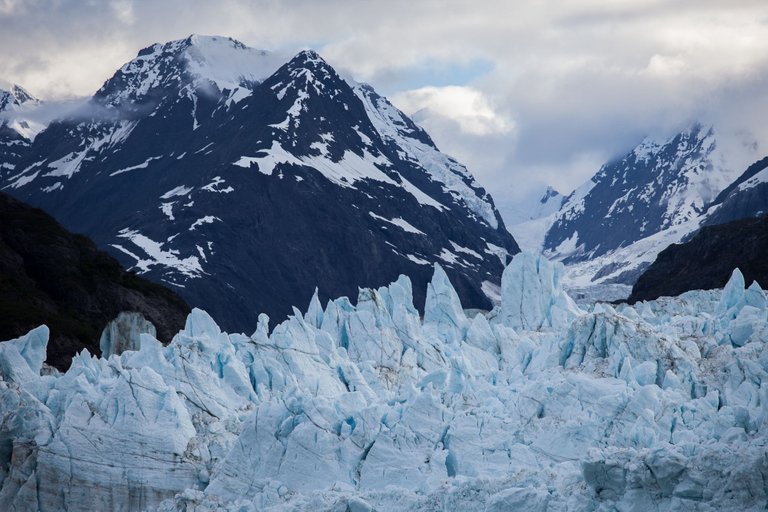 Once back onboard I busted out my telephoto to capture some of the ice of Margerie Glacier up close.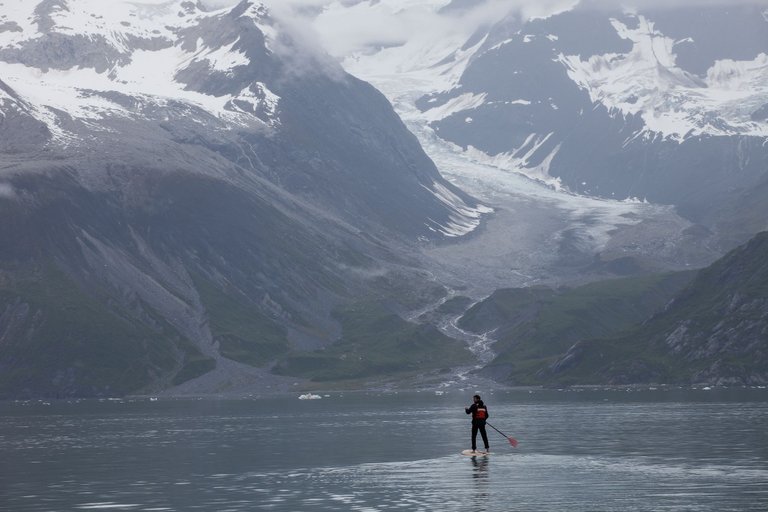 Heading out, not sure when I will return.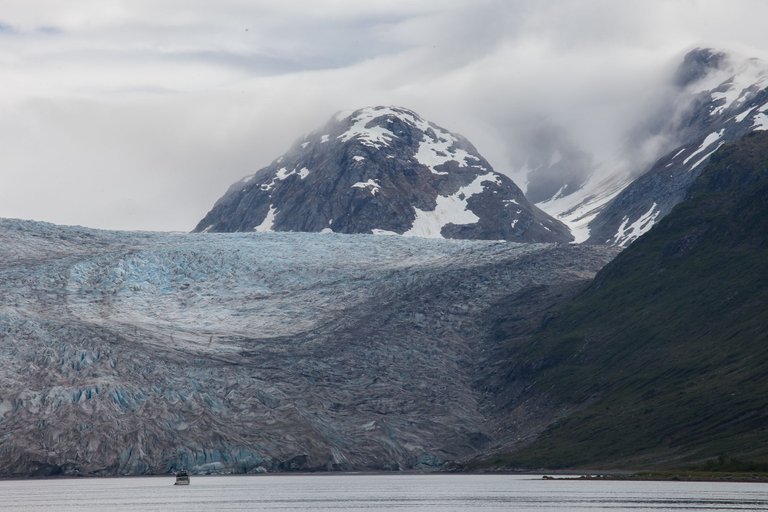 The views just keep coming.
Check out the location here on pinmapple.com
[//]:# (!pinmapple 58.894646 lat -136.893312 long Paddle boarding in Glacier Bay National Park d3scr)
Keep on exploring,
Dai Mar
---
---