[EN-TR] Sad and Joyful Retirement Celebration🎉🎉///Hüzünlü ve Sevinçli Emeklilik Kutlaması 🎉🎉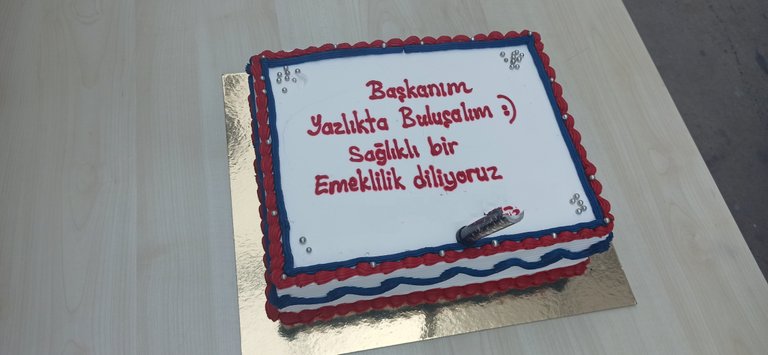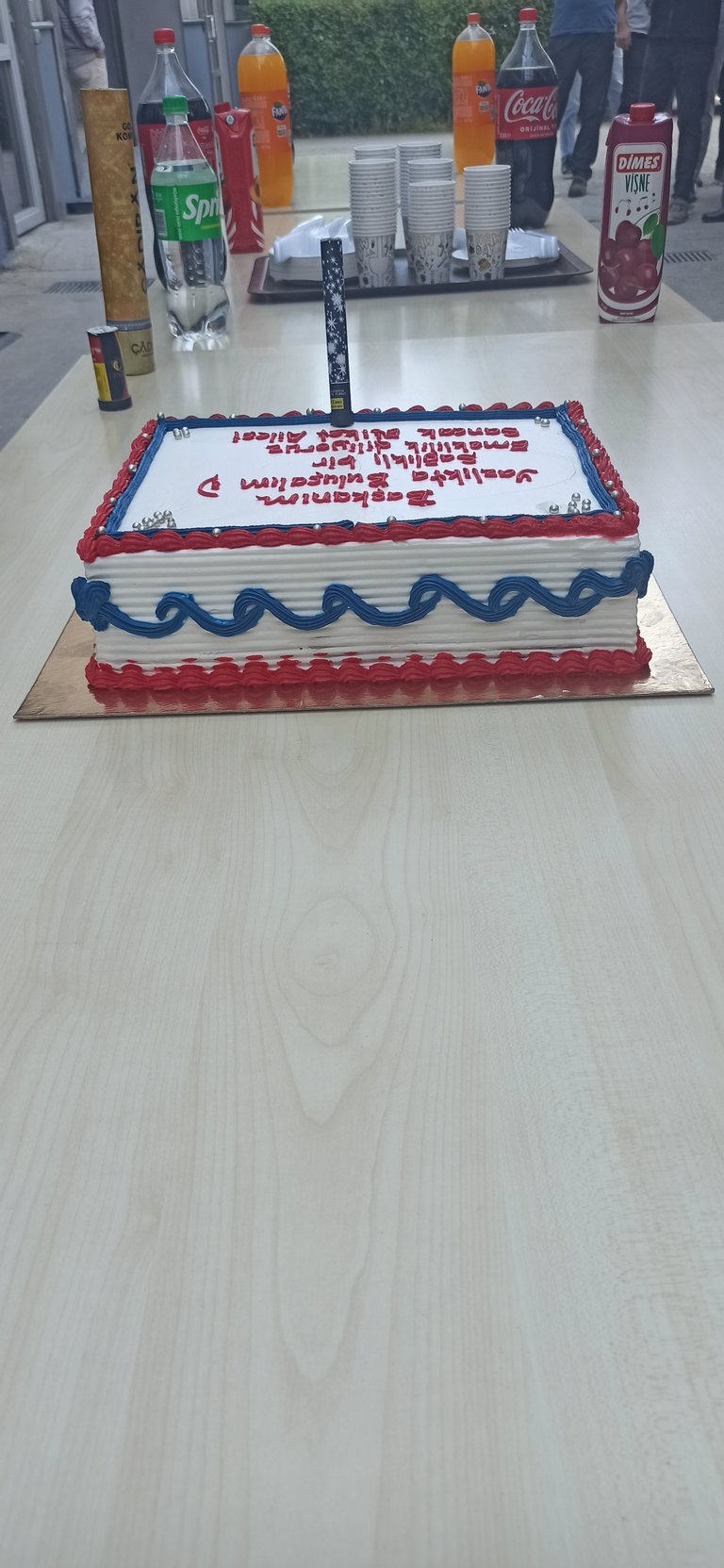 TR
Kendime özgün bir yazı stili ile her gün bir içerik oluşturmaya çalışıyorum.Bunun için araştırmalar yapıyorum, makaleler okuyorum, umuyorum ki bir gün kendi stilimde her gün içerik oluşturmaya başlayacağım ve her gün kendime olan inancım biraz daha artıyor. Neyse bugün sizlere işyerinde emekli olan emektar abimiz için düzenlenen programdan biraz bahsetmek istiyorum.
Çalıştığım iş yerinde bir emektar işçimizin emekli olup ayrıldığına ilk defa şahitlik ettim her zaman ayrılıkların bir yanı hüzünlü bir yanı sevinçli oluyor.İş aradığım zamanları hatırladım İşsizken bir ümitle her gün iş ilanlarına bakıyordum bir işim olsa da çalışsam ne iş olsa yaparım diye düşünüyordum aslında bunu söylememin sebebi işe ihtiyacım olduğundan kaynaklanıyordu biliyordum ki herkes her işi yapamaz bu sadece o işi yapmak için elimden geleni yaparım beni işe alın demenin başka bir ifadesiydi.
Nihayet iş bulduğumda çalışmaya başlıyorum ve verdiğim emeğin yorgunluğunu ayın sonunda banka hesabıma yansıyan tutarla bir anda unutuyordum.Emek vererek çalışarak çabalayarak bir şeyleri elde etmenin ne kadar kıymetli olduğunu ne kadar tatlı olduğunu ay sonunda yaşayarak anlıyorsunuz. Ne yazık ki o mutluluk paranın gideceği yerlere taksimiyle birlikte çok fazla uzun sürmüyor bir sonraki ayı tekrar beklemeye başlıyorsunuz.Bu şekilde deveran edip giden bir çalışma hayatında emeklilik hayalleri ile çalışmaya devam ediyoruz.
Bu hayaline hem normal çalışma hayatında ulaşan hem de sosyal hayatında ulaşan Serdar abimiz için kutlama saati geldiğinde aşağıya indik ve beklemeye başladık herkesin birgün hayalini kurduğu bu sevince ortak oluyor aynı zamanda yıllarca verdiği emek ile üzünlü bir sahne yaşandı.Arkadaşlar ile hazırlanan masanin etrafında beklerken kimi konpetileri alıp emeklilik hayalleriyle beklemeye başladı,kimisi pasta üzerindeki yazıyı okumaya calisiyordu.Bende pasta uzerindeki yazıyı içeriğimde kullanmak için çekmeye çalışıyordum kimisi de biran once pasta ve içeceklerin tadına bakmak için sabırsızlanıyordu.
Anlayacağınız herkesin derdi başkaydı ama herkes birgün emekli olabilme hayaliyle Emekli abiye olan bakışları hep aynıydı.Tebrikler edildi,pastalar yendi, fotoğraflar çekildi ve kısa bir kutlamadan sonra gerçeklere dönüp çalışmaya devam ettik.Bu arada şunu da söylemeden geçemeyeceğim pasta harikaydı.☺️
Bende birgün #hive sayesinde emekli olabilmeyi ümit ediyorum.Kim bilir belki birgün gerçek olur.
Bir gün hayallerinizin gerçekleşmesi ümidiyle bir sonraki yazımda görüşmek üzere.Hoscakalın.
İçerik ve fotoğraflar bana aittir.
---
EN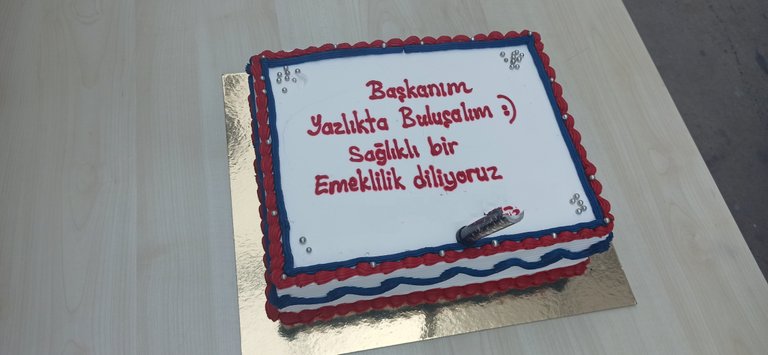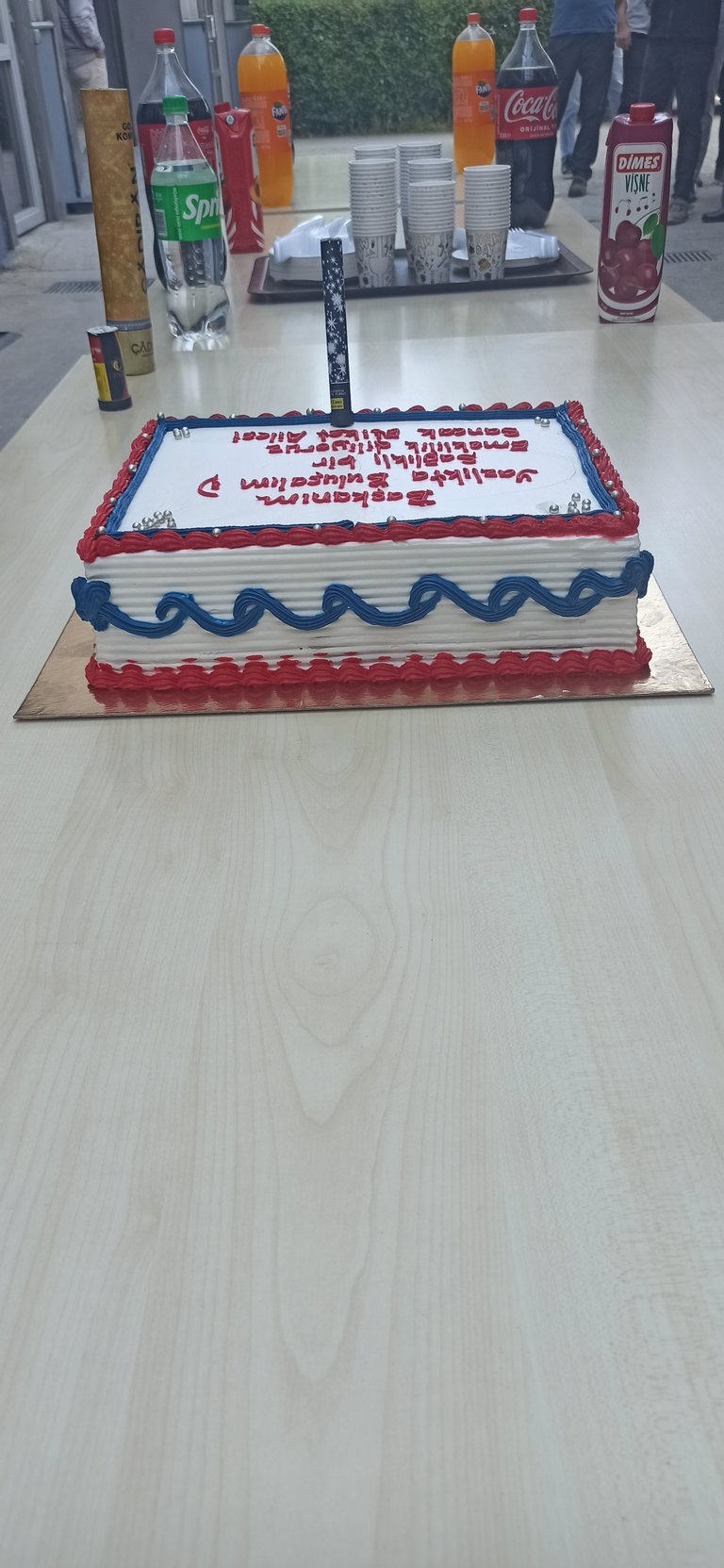 I try to create a content every day with a unique writing style, I do research for this, I read articles, I hope that one day I will start creating content every day in my own style and every day my belief in myself increases a little more. Anyway, today I want to tell you a little bit about the program organized for our veteran brother who retired at work.
It was the first time I witnessed a veteran worker retire and leave at the workplace where I work. I always remembered when I was looking for a job. When I was unemployed, I was looking at job advertisements every day with a hope, I was thinking that I would do whatever work I could do if I had a job, in fact, the reason I said this was because I needed a job, I knew that not everyone can do every job, it was just another expression of saying I will do my best to do that job, hire me.
When I finally found a job, I started working and I forgot the fatigue of the effort I had given with the amount reflected in my bank account at the end of the month. You understand how precious it is to get something by working hard by working hard and how sweet it is by living at the end of the month. Unfortunately, that happiness does not last too long with the distribution of the money to the places where the money will go, and you start waiting for the next month again.In a working life that goes on and on in this way, we continue to work with dreams of retirement.
When the celebration time came for our brother Serdar, who achieved this dream both in his normal working life and in his social life, we went downstairs and started to wait, everyone was sharing this joy that everyone dreamed of one day, and at the same time, there was a sad scene with the labor he had given for years. While waiting around the table prepared with friends, some of them took the conpetis and started to wait with their retirement dreams, some of them were trying to read the writing on the cake. I was trying to pull the writing on the cake to use it in my content, and some of them were looking forward to tasting the cake and drinks as soon as possible.
As you can see, everyone had different problems, but everyone looked at Emekli Abi with the dream of being able to retire one day.Congratulations were given, cakes were eaten, photos were taken and after a short celebration, we returned to reality and continued to work.By the way, I must say that the cake was great.☺️
I hope to be able to retire one day thanks to #hive. Who knows, maybe one day it will come true.
See you in my next article with the hope that one day your dreams will come true.Goodbye
Content and photos are my own.
---
---