Gaming Tribes Team Up For New HIVE ESPORTS Tournament Planning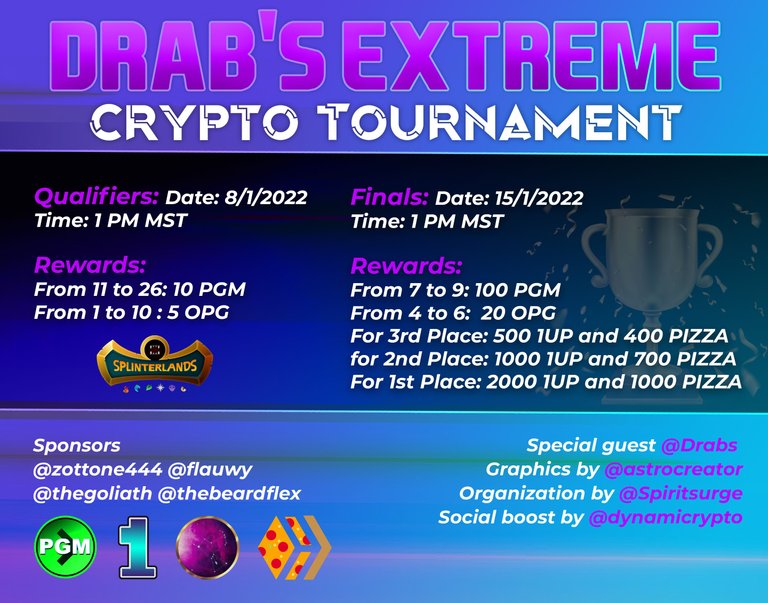 HIVE ESPORTS TOURNAMENT
Hello friends of various HIVE communities, today we are combining the gaming tribes of HIVE to share a hot SPLINTERLANDS tournament.
You can find the tournament in the game or by clicking here to register for the tournament!

The HIVE Team behind it are the following:
All these users within a week managed to organize this fantastic tournament.
Our goal is only 1, to see the best players in splinterlands compete in a tournament.
In fact, we all have a common passion, video games.

The HIVE Tribe tokens sponsoring the tournament:
PIZZA / ONEUP / OPG / PGM

The first qualification date and the final tournament will be streamed on twitch from @drabs587 from 1 PM (MST) live on his twitch channel which you can find here

Yep, I'm sure you've all noticed, the word qualification, what's it for?
Well now I'll explain it to you, indeed I tell you:
HOW THE TOURNAMENT WORKS
The extreme tournament will be divided into 2:
# 1 QUALIFICATIONS
In the first tournament we have put you today there will be only the qualifiers and some small prizes to bring the best 26 PLAYERS to go and play the final tournament!
The prizes in the first tournament will be as follows:
1-10 5 OPG
11-26 10 PGM
The total value of the qualifier is 18.75 HIVE / $ 31.12

# 2 FINAL
In the second tournament comes the fun, in fact everything is multiplied x 10
Here are the 26 best players and you can be one of them!
You can also watch this tournament from home on Twitch thanks to @ drabs587
In this case the whole tournament will be played between only 26 players, who will receive a password to access the next tournament.
The rewards in this case are as follows!
7-9 100 PGM
4-6 20 OPG
3rd 500 1UP / 400 PIZZA
2nd 1000 1UP / 700 PIZZA
1st 2000 1UP / 1000 PIZZA
Huge prizes exceeding $ 300 in value!
The first prize is worth $ 125 !!!
-@zottone444

We only ask you to pay a small entrance fee of 10 DEC ensuring you and anyone watching the tournament have fun!
Fun is the basis of everything and if you are good you will win the award as the best splinterland player of all the communities!
---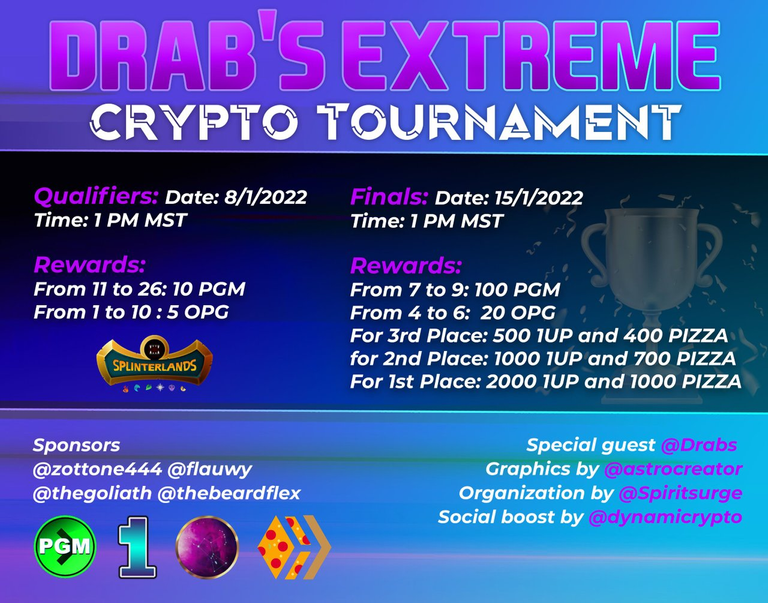 ---
---