Rich and famous (Cover)
---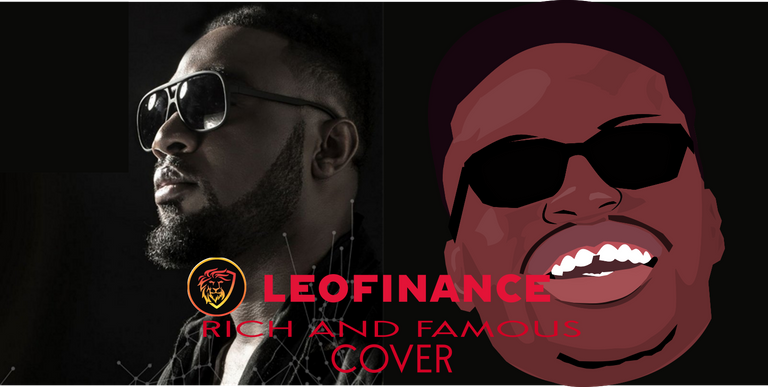 Yesterday I was thinking of new cool concepts that I would add to encourage my singing and I thought of this idea where I could be getting better with my music and encouraging others to make more with comedy and music...
This was one of the favorites by Nigerians back when it was out. It gave everyone this hope that better days are ahead and people love that.
It is a positive affirmation, "when I become rich and famous". Most people want a rich life in one way or the other. Many people won't agree when It comes to the debate about fame.
In the song, he says that when he makes it he will buy his mother a Rang Rover. This is a reoccurring theme among musicians expressing love to their mothers as soon as they make it.
---
Ayer estaba pensando en nuevos conceptos geniales que agregaría para alentar mi canto y pensé en esta idea en la que podría mejorar con mi música y alentar a otros a hacer más con la comedia y la música ...
Este fue uno de los favoritos de los nigerianos cuando salió. Les dio a todos la esperanza de que se avecinan días mejores y eso a la gente le encanta.
Es una afirmación positiva, "cuando me haga rico y famoso". La mayoría de la gente quiere una vida rica de una forma u otra. Mucha gente no estará de acuerdo cuando se trata del debate sobre la fama.
En la canción, dice que cuando la haga le comprará a su madre un Rang Rover. Este es un tema recurrente entre los músicos que expresan amor a sus madres tan pronto como lo hacen.
Lyrics
When I become Rich & Famous
All these faces, will know who I
Am cos I'll be a superstar
Flashing lights and cover pages
All these faces, will know who I
Am cos I'll be a superstar
Did you see me in the
Magazines?
Tell me; tell me, what did
You think of me?
I'm a celebrity, don't you
Know
Don't you know, yeah I
Break all the rules
But I figured that's what
Stars are supposed to do
Just cos we're super cool
Don't you know
Don't you know, whatever
Time or day
Be sure to find me in my
Designer shades
That's how I operate
Don't you know:
Don't you know?
If I had to do this all
Again, I wouldn't change
Anything
Ladies love me and the
Fans adore me
My super-story is one
With lots of money (money
Money): When I become Rich & Famous
All these faces, will know who I
Am cos I'll be a superstar
Flashing lights and cover pages
All these faces, will know who I
Am cos I'll be a superstar:
No more lining up outside the
Club
Straight to the door, of course
They remember me
I live in V.I.P, don't you know
Don't you know, wake up in fancy
Clothes
Paparazzi stalking me cause the
Whole world knows
This dude's about to blow, don't
You know
Don't you know, ain't got no need
For game
Just say my name, and all of the
Girls agree
They want a piece of me, don't
You know
Don't you know
If I had to do this all again, I
Wouldn't change anything
Ladies love me and the fans
Adore me
My super-story is one with lots of
Money (money money)
When I become Rich & Famous
All these faces, will know who I
Am cos I'll be a superstar
Flashing lights and cover pages
All these faces, will know who I
Am cos I'll be a superstarMama when your boy hammer, I
Go buy you Range Rover
La la la la la la
I'll be a superstar
Mama when your boy hammer, I
Go buy you Range Rover
La la la la la la
I'll be a superstar
Don't you know
If I had to do this all again, I
Wouldn't change anything
Ladies love me and the fans
Adore me
My super-story is one with lots of
Money (money money)
When I become Rich & Famous
All these faces, will know who I
Am cos I'll be a superstar
Flashing lights and cover pages
All these faces, will know who I
Am cos I'll be a superstar
Mama when your boy hammer, I
Go buy you Range Rover
La la la la la la
I'll be a superstar
Mama when your boy hammer, I
Go buy you Range Rover
La la la la la la
I'll be a superstar
---
Letra
Cuando me haga rico y famoso
Todas estas caras, sabrán quien soy
Soy porque seré una superestrella
Luces intermitentes y portadas
Todas estas caras, sabrán quien soy
Soy porque seré una superestrella
Me viste en el
Revistas?
Dígame; dime, que hizo
¿Piensa en mí?
Soy una celebridad, ¿no es así?
Saber
¿No lo sabes, sí yo?
Rompe todas las reglas
Pero pensé que eso es lo que
Se supone que las estrellas deben hacer
Solo porque somos super geniales
No sabes
¿No sabes lo que sea?
Hora o día
Asegúrate de encontrarme en mi
Tonos de diseñador
Así es como opero
¿No lo sabes?
No sabes
Si tuviera que hacer todo esto
De nuevo, no cambiaria
Cualquier cosa
Las damas me aman y el
Los fans me adoran
Mi superhistoria es una
Con mucho dinero (dinero
Money): cuando me haga rico y famoso
Todas estas caras, sabrán quien soy
Soy porque seré una superestrella
Luces intermitentes y portadas
Todas estas caras, sabrán quien soy
Soy porque seré una superestrella:
No más hacer fila fuera del
Club
Directo a la puerta, por supuesto
Ellos me recuerdan
Vivo en V.I.P, ¿no lo sabes?
¿No lo sabes, despierta en la fantasía?
Ropa
Paparazzi acechándome porque el
Todo el mundo sabe
Este tipo está a punto de estallar, no lo hagas
Sabes
¿No lo sabes? No tengo necesidad
Para el juego
Solo di mi nombre, y todos los
Las chicas están de acuerdo
Quieren un pedazo de mi, no
Sabes
No sabes
Si tuviera que hacer todo esto de nuevo,
No cambiaria nada
Las damas me aman a mí y a los fans
Adorame
Mi superhistoria es una con muchos
Dinero dinero dinero)
Cuando me haga rico y famoso
Todas estas caras, sabrán quien soy
Soy porque seré una superestrella
Luces intermitentes y portadas
Todas estas caras, sabrán quien soy
Soy porque seré una superestrella mamá cuando tu chico martille, yo
Ve a comprarte Range Rover
La la la la la la
Seré una superestrella
Mamá cuando tu chico martilla, yo
Ve a comprarte Range Rover
La la la la la la
Seré una superestrella
No sabes
Si tuviera que hacer todo esto de nuevo,
No cambiaria nada
Las damas me aman a mí y a los fans
Adorame
Mi superhistoria es una con muchos
Dinero dinero dinero)
Cuando me haga rico y famoso
Todas estas caras, sabrán quien soy
Soy porque seré una superestrella
Luces intermitentes y portadas
Todas estas caras, sabrán quien soy
Soy porque seré una superestrella
Mamá cuando tu chico martilla, yo
Ve a comprarte Range Rover
La la la la la la
Seré una superestrella
Mamá cuando tu chico martilla, yo
Ve a comprarte Range Rover
La la la la la la
Seré una superestrella
---
▶️ 3Speak
---
---