Was he lying to his mother? Is this a medical case? (Malingering)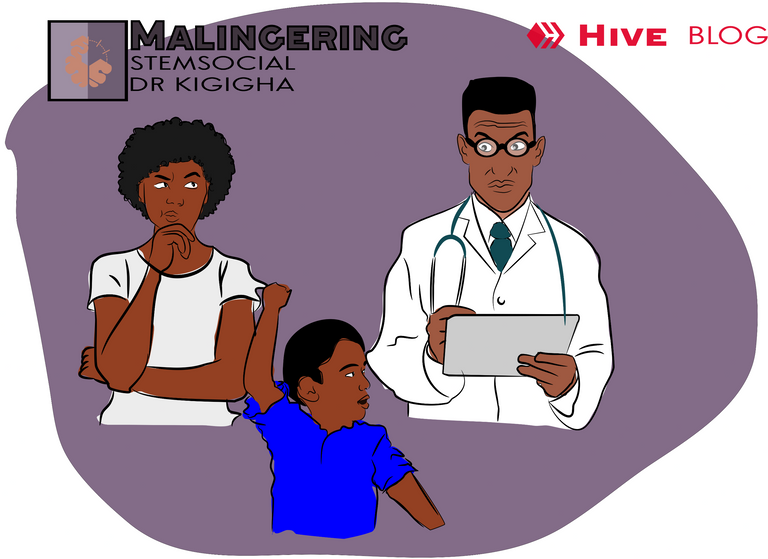 Made with Inkscape
Yesterday, I was asked to see 3 patients in the clinic. I will be writing about one particular case that stood out.
The first case was a case of Febrile Convulsion due to an outbreak of chickenpox in a toddler's daycare, the second case was a medical check-up and to certify a secondary school student fit for schooling and the third and last case of the day is the one I want to discuss.
I was getting a hang of taking history
I had taken history a few times when I was an intern in surgery but surgery mostly wanted me to do procedures when they were not around and they were not so keen to history taking.
In the Pediatrics department, they are hell-bent on breaking my learned behavior from surgery. Almost every day I have shown up in my unit I have been taking history and presenting cases. Nice for the knowledge exhausting for the doctor. But I was taking it in good stride till I met this patient.
When he walked in
The manner in which he walked in told me that even if there was something wrong with him it wouldn't be a big deal. Boy was I wrong.
He had this look on his face like everything was fine.
So I proceeded to reply to the greeting of his mom who walked in behind him. She greeted me in Igbo for which I replied I'm fine in Igbo.
I reply to everyone's greeting with I'm fine.
I asked her what was the reason she had brought her son to the hospital and then she went off narrating a story in Igbo for which I had to stop her.
I explained to her that I don't understand Igbo and she gave me this puzzled look everyone around here usually has when I say I don't understand the language, that makes me think maybe it's true that I look Igbo.
Whenever he is beaten he has severe radiating back pains
I didn't quite get that complaint, so I asked her to explain. She said that on one occasion 3 weeks ago the boy had come back from school with severe back pains after being flogged by his school teacher.
She described the pain as radiating to the back of his head but sometimes it goes to his shoulders and his chest.
I asked her if that's what the teacher said and she replied no, that's what the boy said.
Shoulder tip pain is a sign of a heart attack same thing with severe crushing chest pain. He is too young to be having that...isn't he?
What could this be?...What was causing this?
I asked for some more clarity on the duration. she said it started 3 weeks ago. I asked when exactly 3 weeks ago and how many times had this happened.
She then told me that that incident was not the first time, he had had a similar episode when he was 8 years old last year but this time it was severe.
This was becoming fishier and fishier. I went back to probe her on exactly how the pain started and how it progressed during the incidence. Then she started explaining and fell back to Igbo.
I reminded her that I wasn't Igbo but she said she couldn't explain it in English.
I was beginning to give up
I went to meet a nurse to help interpret just exactly what the woman was saying. The nurse said it appears to be radiation as I thought then she advised that I wait for my senior to come back so he could take over the case.
When he got back he wasn't so happy that I wasn't able to get the history and suggest I go meet another senior who was less busy at that moment.
Even though the woman had expressed her wish to be seen by that particular senior I went and explained it to the other senior who was texting at the time.
It might be Malingering
After I explained all that I knew about the case to the other senior she told me it was likely to be malingering and I should document all I know about it and ask for help anywhere I needed.
I had forgotten what malingering was but I figured it meant the boy was faking it.
So I went back into the room where the patient and his mom were and went at it again and wrote down my findings the was it was.
Recurrent back pain
On examination the boy was playful
Even before I had examined him, for a child who whenever there was any impact to his torso (according to his mother) would go through excruciating pain, he was very playful, even making gunshot sounds and playing with his hands.
When I wrote down my initial examination findings I wanted whoever was reading it to know he was playful. He did have a surgical scar on his neck from when he was 3 months old and had to have surgery on his neck because his airway was obstructed. I think that was why his mother (who is a teacher) might have not seen through the tricks of this 9-year-old.
He was not empathetic
When a patient who was being managed for cancer and had lost his sight stepped into the room and was being seen by my senior he only stopped playing for a short while and then went back to playing around.
Right before I examined him, his mother added that the pain also radiates to his abdomen.
I told him to take off his shirt and when he was on the bed I asked him where he was hurting on his abdomen indicating by pointing a finger at the specific area.
He used his finger and drew a circle around the whole area of the abdomen.
My face showed I wasn't ready to play games
I told him to point not draw a circle. Then he pointed in the upper right quadrant.
As I palpated and was at the lower umbilical area he flinted with so much pain and behaved like a warm that salt had been poured on. The time of response was less than a second when compared to when I palpated his abdomen.
At this point, I couldn't wait to see what he would do when I touched the point of maximum pain.
The room was at 18°C and his shirt was off
His mother begged that we should increase the temperature. But I refused plus I didn't know where the remote was.
One time when I was younger someone punished me that way...Someone made me stick my head into an Air conditioner. In my mind, I reasoned out that the boy would be fine.
I refused to let him put his shirt till my senior who was making a call could see this lying little rat who had made his mother spend money she wasn't supposed to on an X-ray and pain medications.
After about 5 mins of my senior being on a call, I finally got to show him what the boy was doing.
When I showed him, he had his own fun too touching the boy to see his exaggerated response.
They will open his Abdomen
My senior said this is malingering.
My senior said that we will write a consult to the surgery department because the boy needed to go in for surgery immediately to open his abdomen. Then we looked at the boy's face. His eye filled with tears, but he didn't say anything.
At that moment his mother had this "we've caught you smile on her face".
She is still going to spend more
Just so we are sure we don't miss out on anything. We still suggested the mother do an abdominal ultrasound and we referred him to Orthopedic surgery for a case of Cervical Arthralgia.
I forgot to tell the mother to take it easy while flogging him tonight. who knows she might not and save it till when the orthopedic surgeons confirm it.
Thanks for stopping by. Remember to Reply, Reblog, and Upvote!!! It keeps me writing.
References
---
---